Heads up! We're working hard to be accurate – but these are unusual times, so please always check before heading out.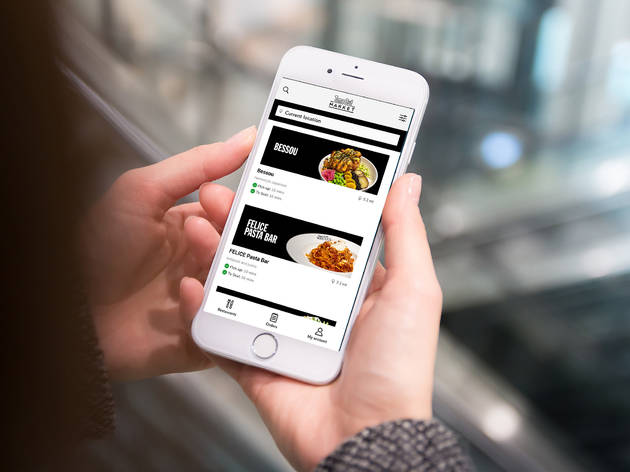 How to order at Time Out Market New York
Find out how to order at Time Out Market New York for dining outdoors, takeout and delivery.
The reopening of Time Out Market New York includes a host of safety precautions and sanitization procedures to keep everyone safe. When you're ready to dine with us, we've also rolled out a new process on how to order—whether you want to dine outdoors, get takeout or delivery. You can just as easily skip a line or dine in Dumbo with sweeping views of Manhattan from this side of the East River. If you'd rather stay at home and order from some of the best chefs and bartenders in the city, we can easily deliver to your doorstep, too. All payment methods are safe and contactless, plus easy to order and easy to track.
RECOMMENDED: Full guide to Time Out Market New York
Dining Outdoors & Ordering Takeout at Time Out Market New York
Whether you want to enjoy your food on Dock Street or come by to pick up some food, we're happy to have you. While we're encouraging customers to opt for contactless ordering via their phones, you can use cash at our bars.
But contactless paying is easy. All you need to do is download the Time Out Market app that's available for Apple and Android smartphones: Search for 'Time Out Market' via the App Store or Google Play to download the app for free.
Once you're there, select Time Out Market New York and check out the bar menu as well as the selection of eateries to order from. (Don't forget: you must bring a valid ID to the bar to pick up drink orders.) From there, you can place orders and have them tracked via email, text, and/or push notifications on your phone. A little reminder: just as it was when you could dine indoors at Time Out Market New York, orders from eateries cannot be combined; for example, two separate eateries require two separate orders.
There are a few other points to keep in mind: we ask everyone to please wash your hands upon entry using our bathrooms or sanitize them at the sanitization stations we've made available throughout the Market; it is required that you use a mask when you are not eating or drinking; practice safe social distancing from others; respect the floor signage; and keep groups to a minimum of six (6) people from a maximum of three (3) households.
Ordering Delivery from Time Out Market New York
Delivery is available from Time Out Market New York through DoorDash. You just need to create an account with a credit card, place your order and food the best chefs in the city will be brought straight to your door.
Here's who you'll be able to order from:
Note that orders from eateries cannot be combined; you'll have to treat each eatery as if it's a separate restaurant.
Your guide to the food and drink at Time Out Market New York
Time Out Market New York is sandwiched (mmm, sandwiches) between the Brooklyn and Manhattan bridges with the best waterfront restaurants—and views—this side of the East River. Just as impressive are the eateries that fill the expansive 21,000-square-foot space in the historic Dumbo warehouse Empire Stores (55 Water St, Brooklyn). As we reopen, we want to ensure our guests that we will be upholding strict safety measures (to learn more about the precautions we're taking, please see our FAQ guide). In addition, we're launching the option to have our food delivered or picked-up for takeout with our very own app for ordering. Our editors ate countless meals and drank more than a few cocktails to find the best the city has to offer under one roof. Now, your challenge: deciding what to order. Time Out Market New York offers a diverse roster of restaurants and bars, complemented by cultural experiences, so that you can taste classic New York dishes—think hot pastrami sandwiches and incredible pizza—as well as new fixations, including the best Thai seafood dishes in the city. Click on the eateries to learn more about the restaurants and for a preview of the menus. We promise you won't leave hungry.