Time Out Market New York
Everything you need to know about Time Out Market New York—the best of the city under one roof
The market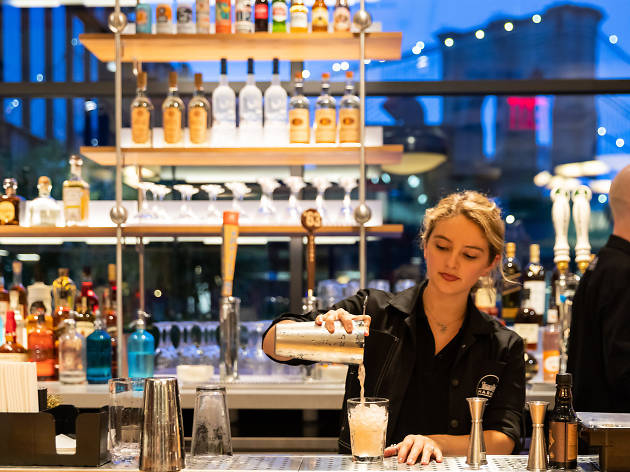 Winter Happy Hour
The best new happy hour in Dumbo is at Time Out Market New York, and it lasts all winter long. From January 6 through the end of March, you can stop by either floor of the waterfront dining destination to take advantage of some seriously solid deals on cocktails, beer and wine from any of the market's three world-class bars. From 5pm–8pm every single day, you can buy drinks starting at just $5. Because why should weekdays have all the fun? Beers available for $5 during the three-hour promotion include Modelo Especial as well as local brews Brooklyn Lager and Bronx No Resolutions IPA. A wide range of wines will be available for $7 including reds (Roger Perrin Cotes Du Rhone, Felino Malbec), a sparkling (Alasia Moscato D'Asti), whites (Matua Auvignon Blanc, Cavaliere D'Oro Pinot Grigio) and a rosé (Chateau Leoube 'Love' Rosé). Go ahead, drink a glass of rosé in winter! Why not? No one's stopping you! To top it off, select cocktails will be a mere $8. Three of the market's signature cocktails will be available including the Gin & Cider (Brooklyn gin, ginger, apple cider and lemon), Sangria Spritz (Bertoux Brandy, mulling spice, red wine blend and club soda) and Southsider (Spring 44 vodka, aloe, mint and cucumber). Additionally, the limited-time-only seasonal "Snow White-tini" will be on the happy hour menu, as well. Looking for a super-extra way to unwind after work? Take your discounted drink out to the market's brand-new Rooftop Iglounge to sip your drink with a view.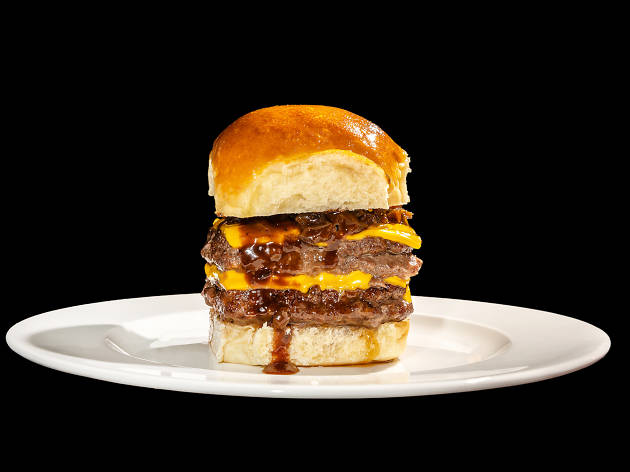 Time Out Market New York launches $12 lunch deal
Dumbo isn't the easiest place to find affordable lunch options, what with all the tourist traps taking advantage of the crowds. With that in mind, we've launched our own lunch specials at Time Out Market New York. It's one of the best deals in the neighborhood for both those that are new to the area and those who've loved it for a long time. From Monday through Friday, 11am until 3pm, participating vendors will offer a signature dish with a complimentary soft drink (and some with other bonuses), for $12. Here's what we're offering: Bessou What's the deal? Japanese chickpea curry rice bowl with a side of chicken karaage. Mr. Taka Ramen What's the deal? Spicy Tantan Men (soupless ramen) with wavy, flat noodles, ground pork, scallions, leeks sesame and spicy oil. The dish also comes with a house salad or soba noodles as a side. Photograph: Courtesy Time Out Market New York Alta Calidad Taqueria What's the deal? A quesadilla-roti (corn or flour) with chips and salsa. View this post on Instagram A post shared by Alta Calidad Taqueria (@actqloves) on Dec 3, 2019 at 2:13pm PST Pat LaFrieda What's the deal? Signature slider and fries. Clinton St. Baking Company What's the deal? A "B.E.L.T": Double smoked bacon, free range eggs, lettuce, tomato and mayo, on sourdough toast. Avocaderia What's the deal? Rotating salads and toasts that will change daily. Mondays will bring a seasonal salad, Tuesday
Time Out Market New York news
What's happening at Time Out Market New York?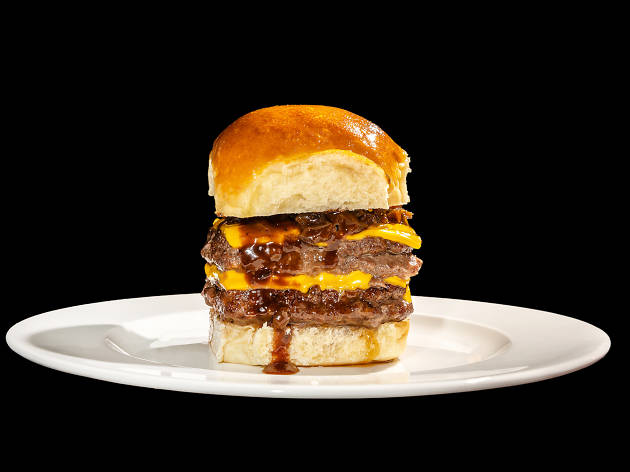 Time Out Market New York launches $12 lunch deal with Bessou, Alta Calidad and more
Dumbo isn't the easiest place to find affordable lunch options, what with all the tourist traps taking advantage of the crowds. With that in mind, we've launched our own lunch specials at Time Out Market New York. It's one of the best deals in the neighborhood for both those that are new to the area and those who've loved it for a long time. From Monday through Friday, 11am until 3pm, participating vendors will offer a signature dish with a complimentary soft drink (and some with other bonuses), for $12. Here's what we're offering: Bessou What's the deal? Japanese chickpea curry rice bowl with a side of chicken karaage.  Mr. Taka Ramen What's the deal?  Spicy Tantan Men (soupless ramen) with wavy, flat noodles, ground pork, scallions, leeks sesame and spicy oil. The dish also comes with a house salad or soba noodles as a side.   Photograph: Courtesy Time Out Market New York Alta Calidad Taqueria What's the deal? A quesadilla-roti (corn or flour) with chips and salsa. View this post on Instagram A post shared by Alta Calidad Taqueria (@actqloves) on Dec 3, 2019 at 2:13pm PST   Pat LaFrieda  What's the deal? Signature slider and fries.  Clinton St. Baking Company What's the deal? A "B.E.L.T": Double smoked bacon, free range eggs, lettuce, tomato and mayo, on sourdough toast.     Avocaderia  What's the deal? Rotating salads and toasts that will change daily. Mondays will bring a seasonal salad, Tuesdays it
Time Out Market chef interviews
See what's happening around Time Out Market New York