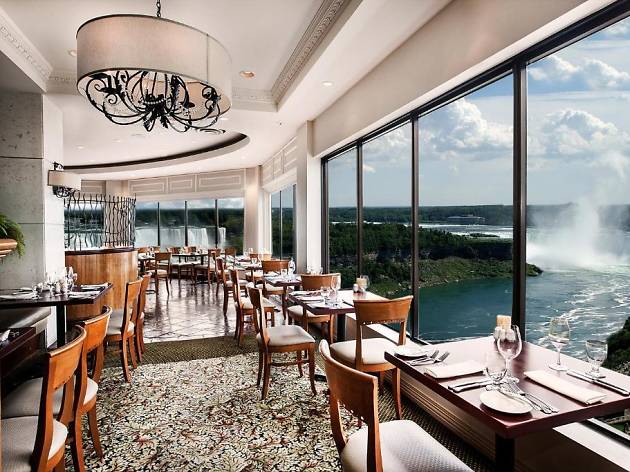 The 10 best hotels in Niagara Falls
Looking for a hotel with some of the best views in the entire world? (No exaggeration) You'll find it here.
The dramatic Niagara Falls, which straddle the US/Canada border, are undoubtedly a natural spectacle, but this is far from a wilderness. Both banks have developed as resorts, so there is plenty of things to do on offer, too, from casinos to water parks to 1,400 LED lights twinkling behind the cascades nightly. Visitors can also eat their way through a fine farm-to-table restaurant scene, complemented by a menu of local Ontario wines. The Canadian side is closer to the most dramatic torrents but also the more commercialised. Blockish hotels dominate the landscape, largely of the chain variety (for more characterful lodgings, try pretty Niagara-on-the-Lake, half an hour away). The sheer number of rooms makes for keen competition and off-season deals, but watch for inflated overheads. Here's our pick of the best hotels in and around Niagara Falls.
Best hotels in Niagara Falls
Booking.com
If the gimcrack tastelessness of Niagara Central is too much for you, retreat to this delectable B&B in the salubrious residential fringes, still within easy walking distance of the main attractions, the Falls included. It's a grand Georgian mansion with a tree-fringed porch overlooking the river, where, weather permitting, you can partake of a notably delicious cooked-to-order breakfast. Of the four rooms, the master suite is naturally the loveliest, with a four-poster bed, private deck and delicate rose and grey decoration, plus the plentiful amenities and tasteful antiques of the rest of the property. A little bit special.
Booking.com
The Sterling's claim to be Niagara's only boutique hotel is backed by a distinct individuality and some luxury touches. It's a former dairy – as the enormous milk bottle fronting the 1925 building announces loudly – whose 40 spacious rooms share a suave contemporary elegance. All have jetted tubs and fancy showers; some also offer fireplaces, Falls views and leather sofas. Every guest is served a lavish breakfast in bed, and shared luxuries include a spa with a couples suite (warm-chocolate drizzle, darling?) and a farm-to-table restaurant.
Booking.com
A glorious counterblast to Niagara's dull chain-hotel conventions, this Art Deco original trumpets its individuality through peacock-swagger decor and glamorous extravagance. Its bar/lounge has the cachet and cocktails of a private members' club, and its extra touches are a riot of indulgence (decadent chocolates, cookies at turndown, Italian linens). Rooms are spacious and kitted out in luxurious fabrics, some with fireplaces and spa baths (plus all the necessaries). Their views are limited (it's not dead-center), but there's a public gallery on the 19th floor. Continental breakfast is included.
Booking.com
4. Riverbend Inn & Vineyard
The Canadian side of the Niagara peninsula is Ontario's wine country, and the Riverbend, 30 minutes from the Falls, is one of its 100 vineyards. It's also a country-house hotel, the house in question being an 1820s mansion set in sweeping lawns. The 21 rooms are individual, luxe and antiques-filled, but the public areas are its particular charm. Sip an estate-bottled Chardonnay at the marble-pillared bar then dine on home-grown produce in the classy restaurant or, for maximum romance, in the gazebo.
Booking.com
With so many identikit high-rises around, this historic inn by the rapids on the US side contributes some welcome character. It's not even riotously expensive, given the luxury extras it offers, such as spa baths, treats in the fridge and Bose radios. Room/suite style is country-house meets baronial – think canopy beds, florals and wide fireplaces – and the dining room is timbered and chandeliered. If the mock-Tudor exterior is appealingly old-fashioned, the Tesla charging points are thoroughly 2010s.
Booking.com
6. Country Inn & Suites by Radisson
For the optimum convergence of price, quality, facilities and location, this can't be beaten. It's a well-kept, regularly updated and comfortable branch of the classy (if cookie-cutter) chain, with a faux but fun country-club feel. At a 15-20 minute walk from the Falls, less from the tourist attractions of Clifton Hill, it can offer larger rooms and cheaper parking, albeit at the cost of less jaw-dropping views, particularly from the lower floors. Other perks are a hot breakfast (included), large pool and complimentary cookies.
Book Now
Much loved in the area as a special-occasion destination, Niagara-on-the-Lake's Pillar and Post is a copybook example of a hotel, spa and restaurant that combine five-star international luxury with local character and a very personal vibe. Rooms are all about marble, thread-count, robes and turn-down surprises; the Italianesque dining room offers treats from the wood-fired oven and the spa centers on outdoor hot springs. The in-house florist provides gorgeous displays throughout.
Booking.com
From the outside the Cadillac is your typical small-town indy motel, with a single story of small rooms ranged around an off-street plaza (free parking!). The fab crown-shaped sign, then the neat turquoise paint job, are the first signs that something is different. Inside, the rooms are humble but pin-clean, paint-smart and well-specced, with fridge, microwave and air-con, plus a huge Caddy mural. No facilities beyond coffee and muffins in the morning, but prices are good and the location pretty central. Oh, and did we mention free parking?
Booking.com
This five-star outpost of the reliable top-end chain has a staggering 432 rooms offering views of the Falls – guaranteed, and also gob-smacking, as it stands on the very brink of the tumbling torrents. Rooms are all comfortable and spacious, with comforts and prices escalating, along with scope of the views, the higher you go. There's a highly rated spa plus several restaurants and bars, including a Morton's Grille, all with ringside seats.
Booking.com
10. Crowne Plaza Niagara Falls–Fallsview
This historic four-star hotel has hosted both screen royalty (Marilyn Monroe stayed in room 801) and the British Royal family. True, some of its glamour has been sacrificed to the popular diversions of a water park and casino, and some rooms are small by 21st-century standards, but it still boasts its original 1929 lobby and panoramic views of all three of Niagara's cataracts. You can gaze at these from the tenth-floor steakhouse and about half of the 230 tasteful taupe-y rooms.
Booking.com
11. Sheraton on the Falls
If we're being honest, we think that the four-star Sheraton is a teensy bit of an eyesore, with its name prominently emblazoned along the crest of its 22 stories. But that's if you're not staying in it. From within, it offers not only Route 1 access to many of Niagara's best-known attractions, but spectacular Falls views from hundreds of guestrooms. (For a taste, see here. Rooms have various levels of amenities and facilities, including Juliette balconies, fireplaces and spa baths at the top end, with Sheraton's international-classy ethos common to all. Numerous resort facilities include the Reef Beach Club with, yes, a shark tank, and a lavish spa.
Want to make the most of your trip?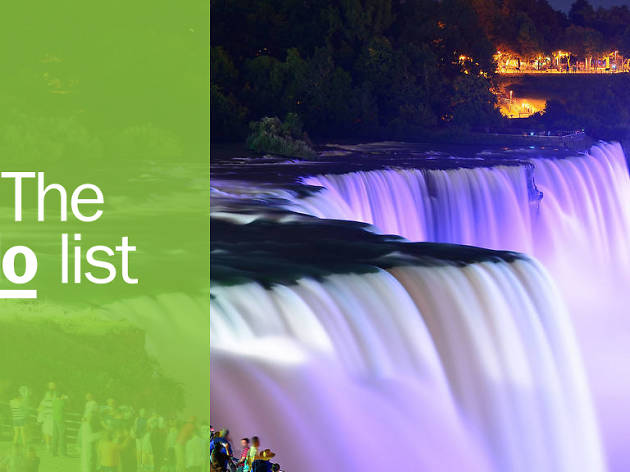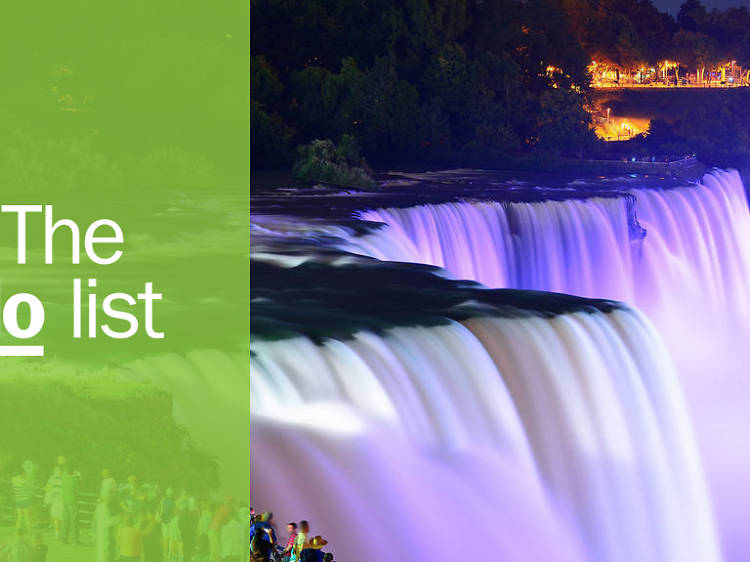 Whether you want to explore the Falls on foot or by boot, gamble at the casinos or get a taste of the farm-to-table restaurant scene, it's all here and more in our list of the best things to do in Niagara Falls.