Heads up! We're working hard to be accurate – but these are unusual times, so please always check before heading out.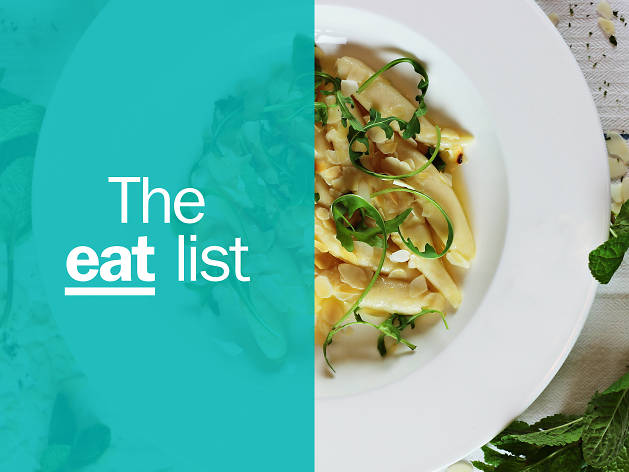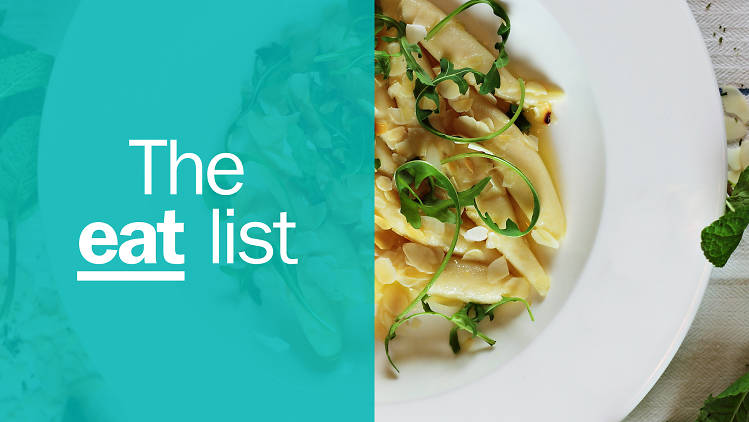 The 11 best restaurants in Niagara-on-the-Lake
Drink some of the world's best ice wine or enjoy ethically sourced dishes at the best restaurants in Niagara-on-the-lake
Niagara-on-the-Lake is not only one of the prettiest and most historic towns in Ontario, it's also the heart of one of Canada's most beloved wine regions, with a climate that produces some of the world's finest ice wine. Excellent restaurants rub shoulders here with overpriced tourist traps, so use this list to find the gems. From Queen Street's fine-dining to idyllic winery restaurants in the surrounding vineyards, Niagara takes its local agricultural bounty very seriously. It's a magical destination for foodies who are keen on the locavore ethos.
Best restaurants in Niagara-on-the-Lake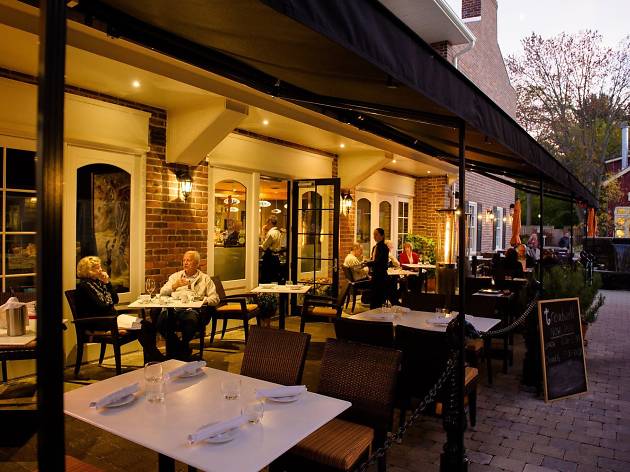 What is it? Treadwell is farm-to-table dining at its height in Niagara-on-the-Lake. Ingredients such as wild mushrooms, heirloom beets and pork belly are sourced from some of the best artisan producers in the region, and the wine list features smaller quality-focused producers like Five Rows, Leaning Post, 2027 Cellars and Pearl Morissette.
Why go? You'll find some of the freshest and most creative local fare here. This trendy spot is wildly popular, so avoid booking when the restaurant has a big event on.
Price: Pricey
What is it? This historic landmark is the oldest operating inn in Ontario, first established in 1789 and rebuilt following the War of 1812. It's the English-style rival to the town's Irish watering hole.
Why go? Legislators celebrated over dinner here after outlawing slavery in 1793. Drink in a major piece of Canadian history and perhaps run into resident ghost Captain Colin Swayze.
Price: Average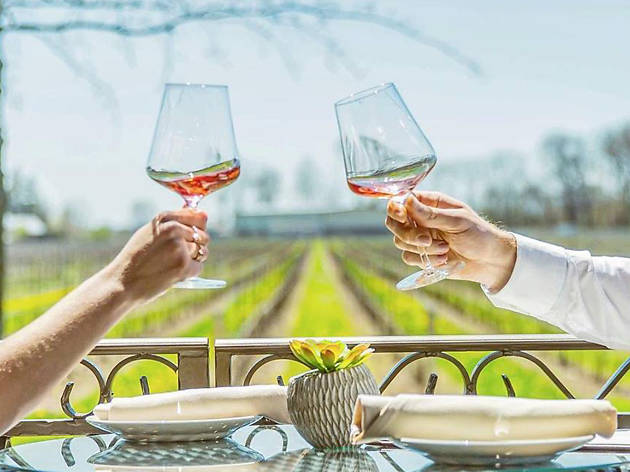 What is it? Kitchen76 at Two Sisters Vineyards has a turn-of-the-century-style logo that pretty much says it all: a hare wearing a stripey scarf riding a penny farthing bicycle with a basket full of heirloom carrots. Here you'll find a no-nonsense, rustic Italian-inspired menu with award-winning wines.
Why go? Enjoy the elevated simplicity of seasonal ingredients from the estate while you gaze over the vines.
Price: Pricey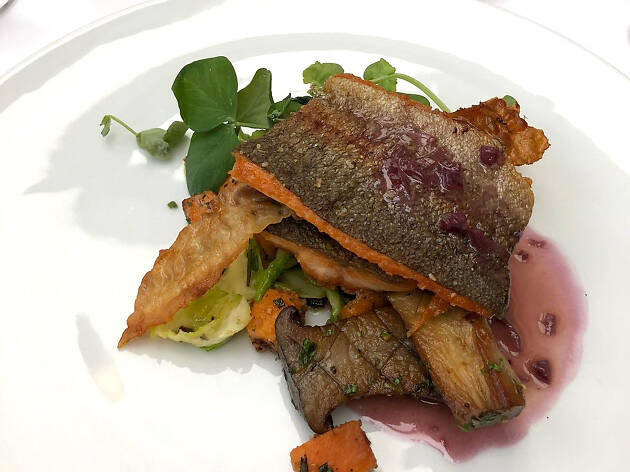 Photograph: Courtesy Tripadvisor/volkermtl
What is it? A luxurious, fine-dining restaurant based within the opulent Prince of Wales hotel. With a renowned menu and lush, vibrant, panoramic views enough to make a pilot jealous, Noble is all about finesse.
Why go? There's good reason as to why Noble is a four-diamond restaurant (and has been for several years). Firstly the food is absolutely impeccable - we're looking at you, pan-seared foie gras with ginger gold apple jelly. Also, the 20oz Canadian prime-rib steak is enough to feed three, and it's the best cut of meat you'll find in Canada. Secondly, the extensive wine list has earned Noble several honors, so be sure to check with one of the expert sommeliers for the perfect paining on your visit. Great for big celebrations or once in a lifetime romantic dinners, Noble's food is just as inspiring and picturesque as its views.
Price: Blowout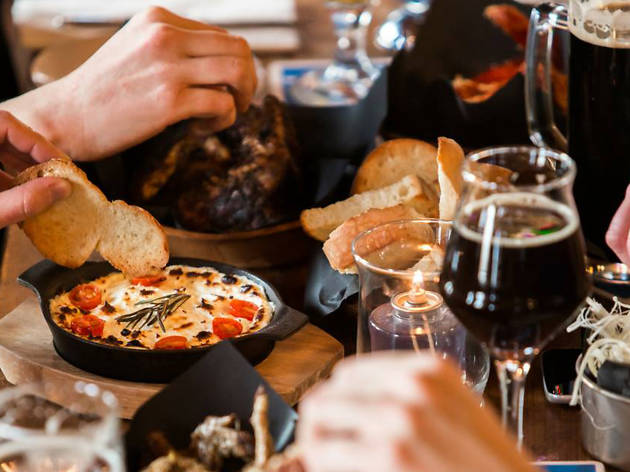 5. Silversmith Brewing Company
What is it? This new independent craft brewery is located just outside town in Virgil, in a gorgeous old church that dates back to the 1890s, with exposed beams, brick walls and a vaulted ceiling. Opt for a flight to try their top beers.
Why go? The food menu has an interesting mix of everything from soups and sandwiches to curry and bibimbap, providing comfort food that goes exceptionally well with beer. Besides, where else can you drink in church?
Price: Average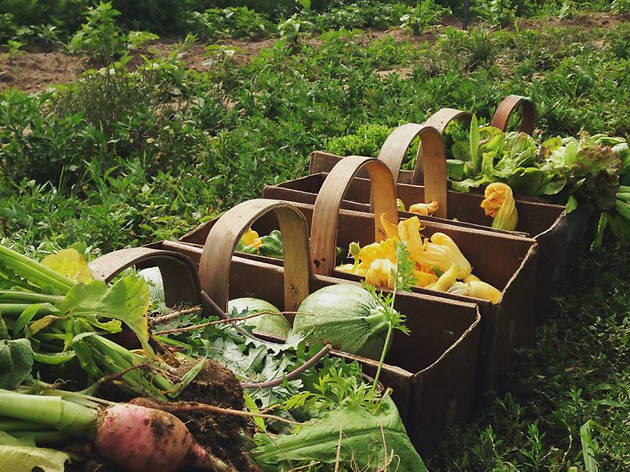 What is it? Backhouse is unassumingly located in a strip mall in uptown Niagara-on-the-Lake, but it's dedicated to cool-climate cuisine that shows off the richness of the regional soils.
Why go? Staff grow, pick and cook veggies from their own garden every day and make preserves for winter. They also serve ethically raised meat and do all their butchery in-house, cooking in a wood-fired oven and grill. There are three different tasting menus to choose from, each carefully paired with local wines.
Price: Pricey
What is it? This relaxed gastropub has generous portions (the burger and fries come highly recommended) and a casual atmosphere, as well as a good variety of local beers and ciders on tap.
Why go? This is the best place to satiate a big appetite in Niagara-on-the-Lake at an affordable price. Friendly service and a busy local vibe make this a great stop on your way in or out of town.
Price: Average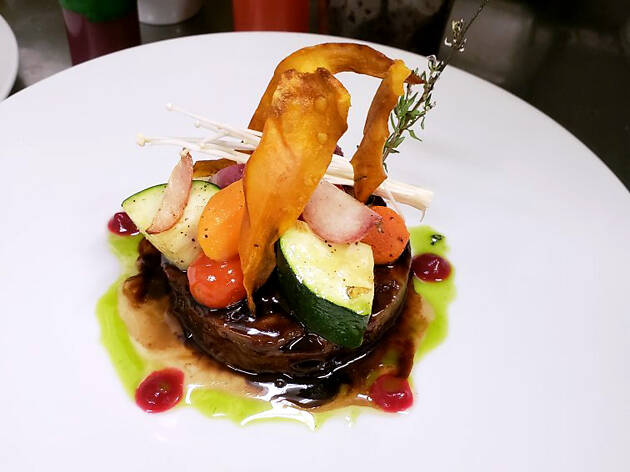 Photograph: Courtesy Tripadvisor/Arnaudevan
What is it? A beautiful white-tablecloth restaurant at The Charles Hotel, a restored manor house from 1832. The traditional, French-inspired cooking using local ingredients is right at home in this refined setting.
Why go? The tasting menu (ahi tuna, foie gras, coq au vin, beef tenderloin) with wine pairings is a great way to sample the best this elegant spot has to offer. Try for a table on the sunny terrace in summer.
Price: Blowout
Photograph: Jason Chow
What is it? Right next door to Silversmith Brewing Company, The Pie Plate is paradise for those with a sweet tooth.
Why go? This is the best way to try Niagara's famous peaches around harvest time: in pie form. Fruit-filled pies and house-baked pastries are made from scratch using seasonal ingredients from the surrounding orchards. Take a seat on the wraparound porch or sit among period furnishings inside this old house.
Price: Bargain
10. Peller Estates Winery & Restaurant
What is it? Peller Estates is one of the best-known wineries in the Niagara region, and there's a stellar on-site restaurant to match.
Why go? The warm ambiance with sweeping vineyard views is the perfect backdrop to the restaurant's evolving seasonal menus paired with Peller wines. It's a multiple award-winning restaurant that people come back to town for year after year. You can do everything from an à la carte lunch and weekend brunch to a five-course dinner menu here.
Price: Pricey
Photograph: Courtesy Tripadvisor/The Irish Harp Pub
What is it? This lively Irish pub is packed on weekends. Here you'll find traditional Irish fare and lots of beers on tap (23 to be exact) along with live Irish music from Thursday to Sunday nights. It's an upbeat, casual hangout that's loved by locals and tourists alike.
Why go? You can get super traditional with the St Pats Irish stew or the O'Riley's liver and onions, the perfect thing for a cooler night with a pint of Guinness (naturally).
Price: Average
Discover Time Out Market: the best of the city under one roof