Heads up! We're working hard to be accurate – but these are unusual times, so please always check before heading out.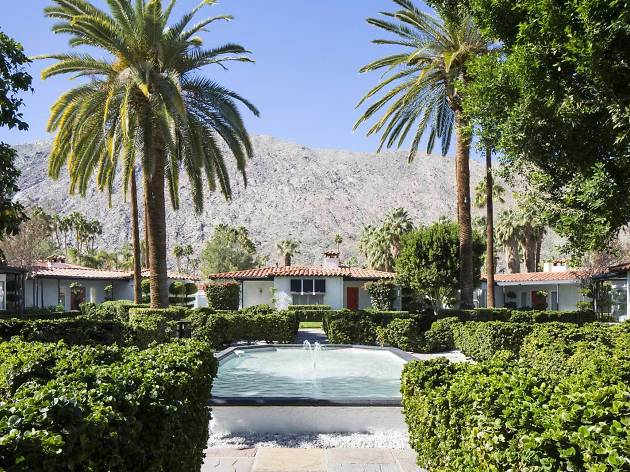 The 10 best hotels in Palm Springs
Whether planning a relaxing or party-filled getaway, the best hotels in Palm Springs will certainly cater to your needs
The Palm Springs hotel scene has gone from strength to strength in the last decade or so. You can now find something to suit any style, from cozy rustic spots to opulent five-star villas that are kitted out with every amenity you could imagine and fantastic restaurants to boot. One thing that hasn't changed though? The entrancing "desert modernism" aesthetic and discreet vibe; you're just as likely to catch a crew of European retirees scouting the famous Architecture and Design Center as a Hollywood A-lister lounging by the pool. Speaking of pools, every single hotel on this list has one, because with the dazzling sun overhead and mountain views all around, spending time poolside is practically a required thing to do for travelers who make their way out to this colorful, spirited town. So, whether you're making the trip for Coachella or are just looking for a fun getaway, take a scroll through the options below and make sure you pack shorts – it's gonna be hot.
This article includes affiliate links. These links have no influence on our editorial content. For more information, click here.
Best hotels in Palm Springs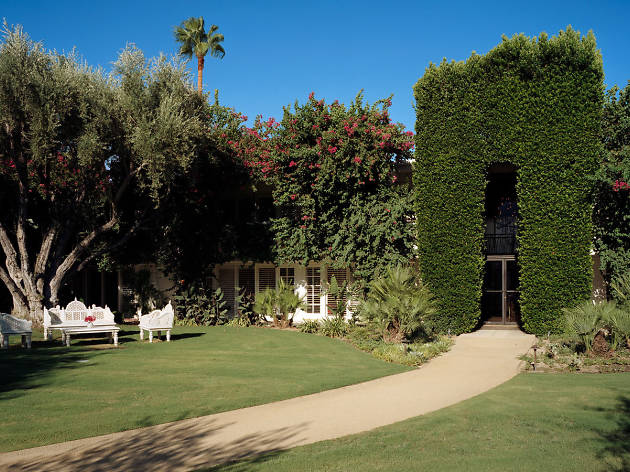 Photograph: Courtesy the Parker Palm Springs
1. The Parker Palm Springs
It comes as no surprise that Palm Springs' concept of luxury is as colorful and zany as something out of a Lewis Carroll story. While a stay at the Jonathan Adler-designed, 13-acre Eden is a bit of a splurge, once you're here, there's no need to leave. Start your day with a libation from the Lemonade Stand and explore the exquisitely manicured grounds. Take a nap on one of the palm-tree-slung hammocks or cozy up by one of the fire pits. Once you've gotten your second wind, reserve time at the clay tennis courts, petanque or croquet areas. Then take a dip in one of the saline pools or head to Palm Springs Yacht Club (PSYC), a 3,000-square-foot spa, to use the jacuzzi and steam room at no extra charge. End your day with dinner at Mister Parker's supper club, self-billed as a place for "fops, flaneurs and assorted other cronies".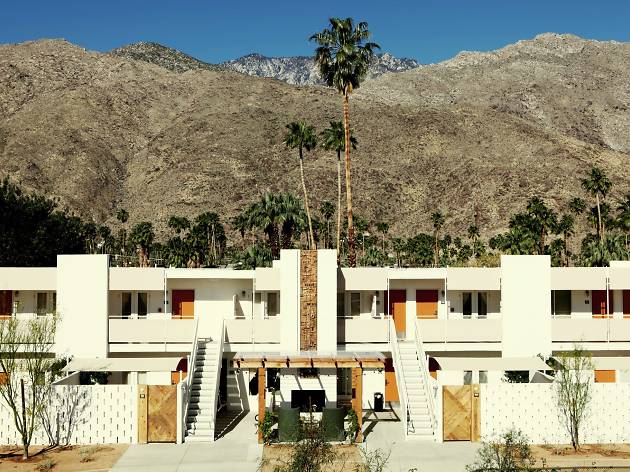 Photograph: Courtesy Ace Hotel & Swim Club
The Palm Springs Ace Hotel, housed in what was once a Motel 6, is the party destination for hip young travelers heading to the desert. They've got all the accoutrements, from a photo booth and retro macrame in the lobby to record players and vintage magazines in the rooms. There are also fancy robes and decked-out walking sticks for guests to use during their stay, which means that as the day goes on, more and more guests look like hippie cult members running around with hoods and canes. And it is a bit of a cult—the guests here are die-hard, looking to see and be seen by the pool, out on beach cruiser bikes or in the decent (but a little overpriced) restaurant, King's Highway (which used to be a 24-hour Denny's). The hotel offers $20 day passes ($30 on weekends) for pool use, which gives non-guests access to the scene: parties and live music often grace the grounds. The Ace is almost so hip that it's becoming a charicature of itself—if you're down to party all night with trendy 20-somethings, this is your spot, but the more sophisticated (or relaxed) traveler might look elsewhere.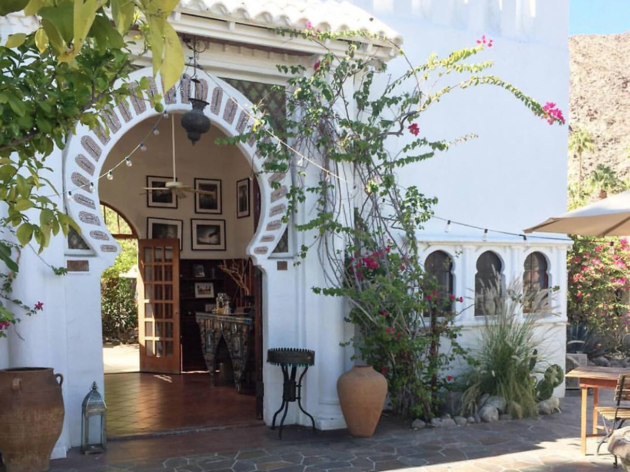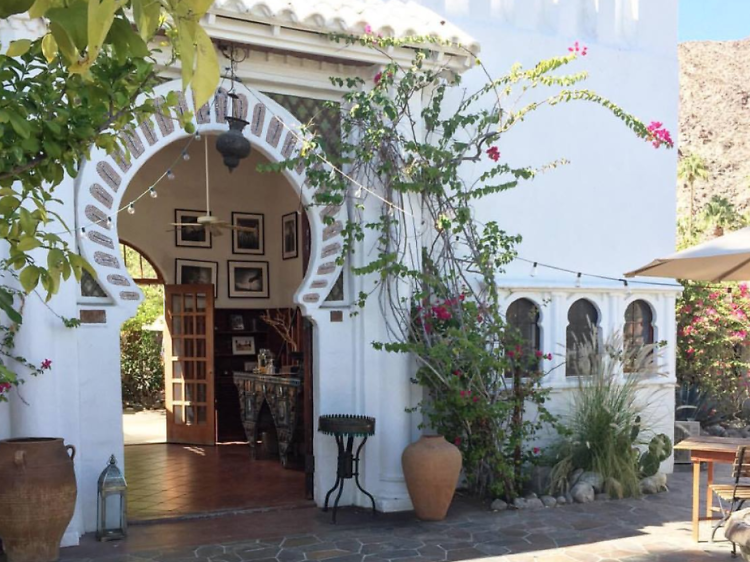 Photograph: Courtesy Korakia Pensione
Mediterranean vibes abound in olive-tree-lined compund, complete with hanging Moroccan lanterns. The rustic rooms are located throughout two beautifully restored villas that were built in the 1920s and 30s, and there are two heated pools to enjoy. It's impossible not to feel at home here. So much so that you may even find yourself failing to leave the lovely grounds, where you can throw bocce balls in the bougainvillea-scented courtyard and recline in great big granite bath tubs.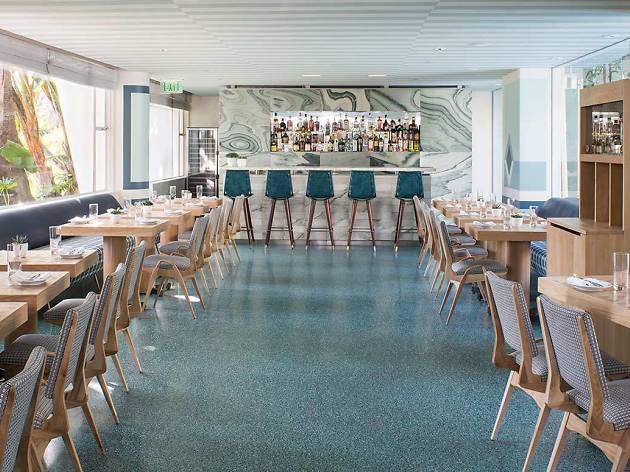 Photograph: Courtesy Avalon Palm Springs
In the middle of downtown Palm Springs, this quaint cluster of terra-cotta roof bungalows and cottages, set amid immaculately carved hedges and three (count 'em) pools, offers up a healthy dose of Beverly Hills decadence. Despite the veneer, rates are quite reasonable, though extras like spa treatments and meals at the appropriately-named Chi Chi restaurant will certainly set you back. Rooms are dressed up whiter than a snowflake (white porcelain floor tiles, white leather chairs, white marble bathrooms…you get the idea), with bold black and chrome accents for contrast. In short, whether you end up in a standard pool-facing room or one of the enviable bungalows, you'll either find yourself craving more varied colors, or surrendering helplessly to the alabaster mania.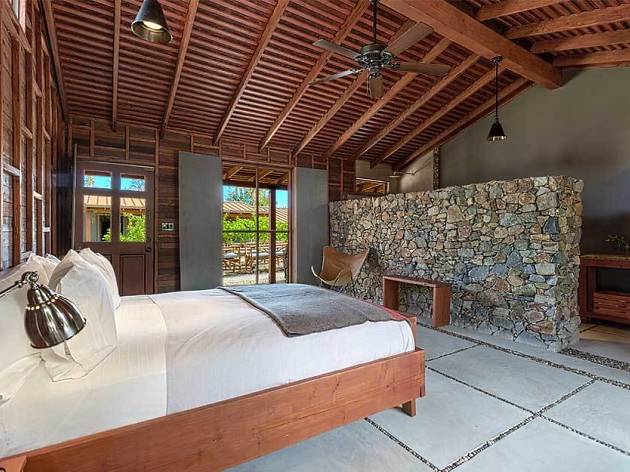 Photograph: Courtesy Sparrows Lodge
Remember when you pledged to "take a break" from social media and try living off the grid for a while? Well, this bite-size resort might be the closest you'll come to a psuedo-digital detox while still enjoying Palm Springs' languid desert vibes. There are no phones or TVs to be found in any of the guest rooms, though you will get plenty of rustic accoutrements, like a horse trough bathtub and rich, stained oak paneling. A highlight is the gorgeous communal barn—a restored 1952 structure where Bewitched's Elizabeth Montgomery was reportedly married—which functions as a bar, restaurant and general hang-out spot (it's also where the hotel serves a daily continental breakfast).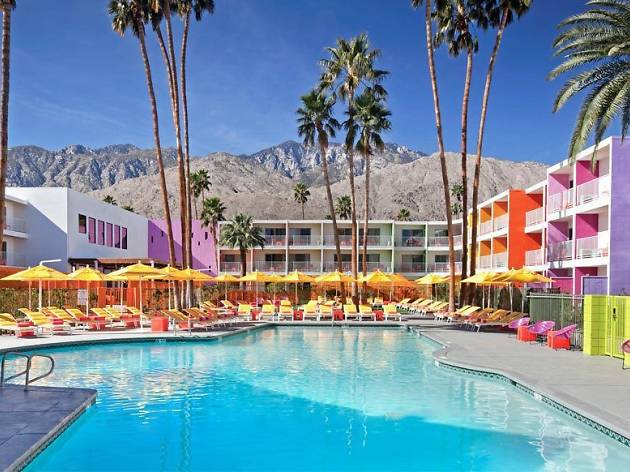 Photograph: Courtesy The Saguaro Palm Springs
6. The Saguaro Palm Springs
The Saguaro is way less cheesy than it looks. A bright, color-blocked facade and blue bedrooms with lime furniture and purple carpeting may sound like a designer's worst nightmare, but somehow this place pulls it off. Maybe because it's so pleasant to be here. The hotel is massive, but the amenities are plentiful, the staff is friendly and the spa and pool are quite nice (though they do blare poolside music rather loud). The food is nothing to write home about, but it's Palm Springs, so no one arrives expecting five-star fine dining anyway. If you're here at the weekend, it may feel a little Jersey Shore-ish, with lots of bachelor/ette parties and booze-fueled bros, but the place is set up so you can mostly avoid anyone you don't wish to lounge near.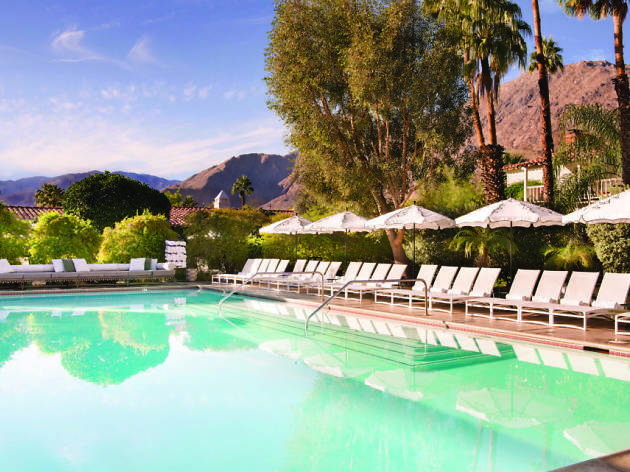 Photograph: Courtesy Colony Palms Hotel
Making the drive out to Palm Springs always lulls us into a dreamy, carefree stupor—and this intimate spot only adds to the town's glitzy appeal. Originally built by mobster Al Wertheimer in the 1930s (the pantry had a secret door leading to a brothel), the hotel has come a long way in its near-90-year history. Today, the rooms are luxurious without being over-the-top, while the thick greenery will make you feel like you're tucked away in a rustic Spanish hacienda (even though the town's main drag is a block away). The tree-shaded pool gets lively on the weekends, but never out of hand—and the downstairs speakeasy-style restaurant, Purple Palm, makes for a classy dinner spot after a day of bikini lounging.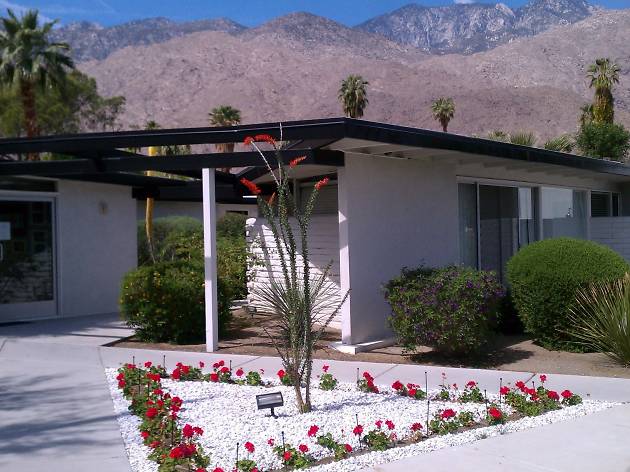 Photograph: Courtesy L'Horizon
The first thing you'll notice when checking into L'Horizon is the quiet. With its 25 delicately-appointed bungalows and sumptuous open-air spa, the property bills itself as Palm Springs' only luxury boutique hotel. And you kind of have to believe them. The design is razor-sharp: private outdoor showers and copper-hooded fireplaces add a homely touch, while the floor-to-ceiling windows flood each room with light. Steve Hermann, an accomplished Hollywood-based designer, has overseen the project, which explains the discreet, CEO-meets-desert-Maharaja vibe. The infinity pool is another highlight, with unobstructed views of the San Jacinto Mountains and the wide, blue California sky.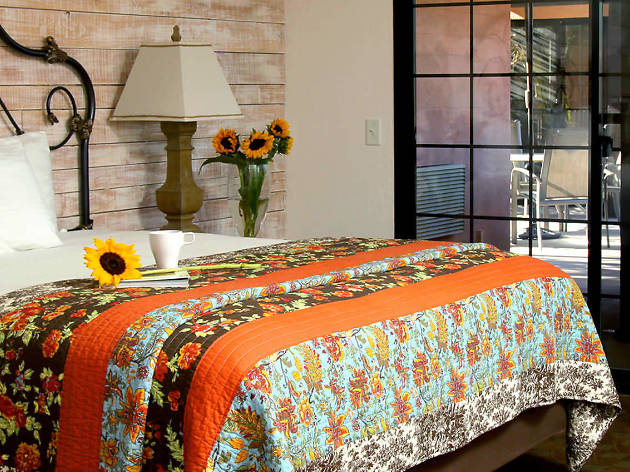 Photograph: Courtesy Hotel California
Sometimes you just need a place to stay without the fuss and frills, and Hotel California does a pretty great job of that. What it lacks in designer amenities, a spa and a restaurant, it makes up for in homey, unpretentious charm. Don't feel like dining out? There's a full kitchen for guests with all the utensils you'll need to blend your own date shakes or fry up an omelette in the morning (there are also two grills outside—BBQ by the pool, anyone?). Since there are only 15 rooms (plus a two-story townhouse with a private balcony), foot traffic through the lush courtyard, which is surrounded by towering banana palm trees and serenaded by a gurgling fountain, is minimal. Ditto for the guest lounge, which serves coffee and fresh fruit all day.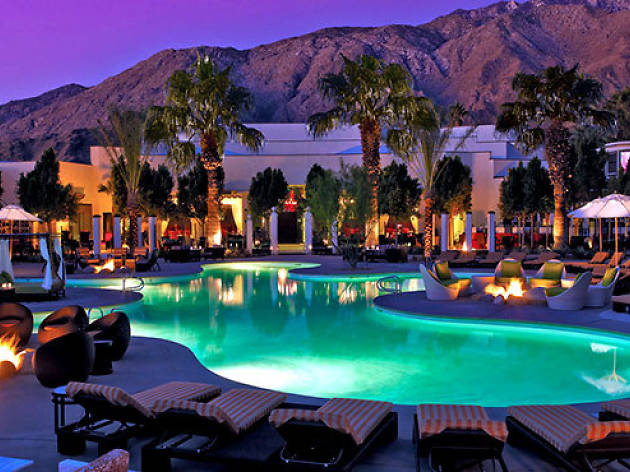 Photograph: Courtesy Riviera Palm Springs
10. Margaritaville Resort Palm Springs
Let's be honest, with a name like Margaritaville, you've probably already decided that you love (or hate) this place before you've even read our summary. But bear with us, it's worth a look at. The Margaritaville Resort, just on the outskirts of downtown Palm Springs, offers modern (if on the small side) rooms, friendly staff and a hoppin' pool, where you can get food and drinks all day long. There's also a small fitness center, a stunning spa and space for meetings and such. There are often weddings here, so the grounds can sometimes be off-limits aside from the groom and bridal parties. Margaritaville may lack the charm of some smaller properties in Palm Springs, but for an event or a weekend stay it's got all the amenities you'll need.
More of the best in Palm Springs
While many will spend their weekend simply lounging by hotel pools, there are plenty of other things to do in Palm Springs. Seasonally, it becomes the epicenter of cool during Coachella and hosts highlights like the design-focused Modernism Week and the quirky Christmas light display Robolights. Ready to explore?
If you're not familiar with the little enclave's restaurant scene, it can be easy to get suckered into dinner or drinks at a tourist trap or sub-par dive. As usual, we're here to help. Check out our list of the best spots for breakfast, lunch and dinner for your next desert adventure.