Coachella festival 2022 guide
Get your Coachella festival 2022 info here, including dates and presale—and, you know, the fact that it's happening.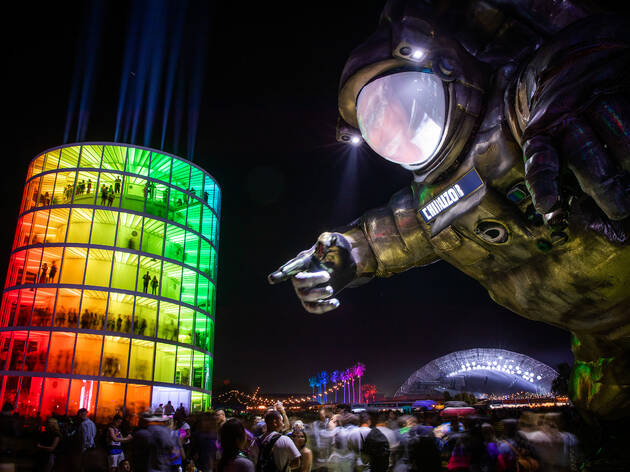 After a two-year hiatus, Coachella 2022 is set make its triumphant return. The Indio music festival typically marks one of the earliest live music weekends across the country (and maybe we're a bit biased, but we'd say its lineup outclasses nearly every other music festival, too). There's still a ways to go until the 2022 edition, so hang tight until we start previewing the best bands to see and the best things to eat and drink between sets (spoiler: food from some of the best restaurants in Los Angeles), along with recapping which special guest showed up what everyone was wearing. But until then, here's what you need to know.
What is Coachella?
The Coachella Valley Music and Arts Festival is an annual music festival held over two weekends in Indio, just east of Palm Springs.
When is Coachella?
The festival is held over two weekends, April 15–17 and April 22–24, 2022.
Wait… what about Coachella 2021?
Coachella was slated for April 2020, then postponed until October, then again until April 2021… and then finally(?) until April 2022. So unfortunately there's no 2021 event.
When do Coachella tickets go on sale?
Registration opened for presale on Friday, June 4 at 10am. It sold out (and quickly). Look out for the full lineup and any remaining tickets to drop in January 2022.
How much are Coachella tickets?
We hope you've been saving up over the past two years (all of the following prices are before fees): General admission passes range from $449 to $499, depending on when you buy them. Shuttle combo tickets cost $533. For VIP, it'll cost you $929 to $1,049. Check out the Coachella website for wide range of camping rates.
What will the Coachella lineup be like?
Your guess is as good as ours right now. Rage Against the Machine and Travis Scott were announced to top the 2020 lineup, and they'll carry over to the 2022 fest, with a third headliner to-be-named (it's possible that Swedish House Mafia, which was officially announced for the fest, will being taking that slot). Megan Thee Stallion and Doja Cat are also still on the lineup, but we don't really know anything about the rest. Frank Ocean, however, has been bumped to 2023. Look out for the full lineup around January.