The 11 best restaurants in Palm Springs
A desert oasis awaits: the best restaurants in Palm Springs will provide respite from the heat with delicious food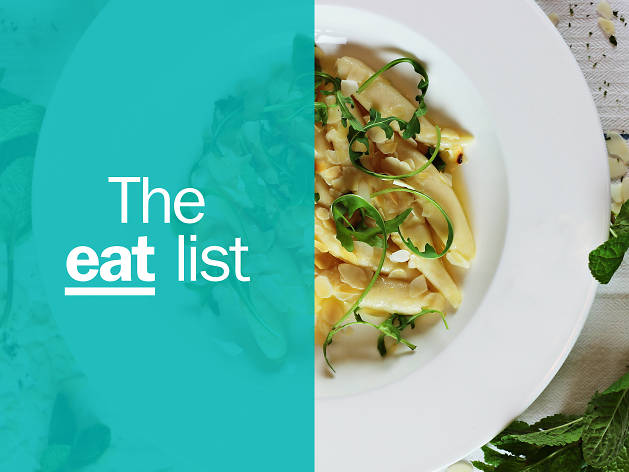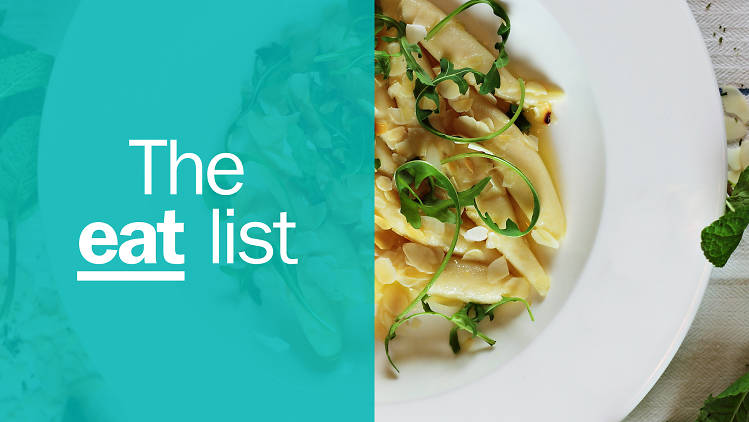 A trip to sunny Palm Springs is a rite of passage for every sort of traveler: the town's star-studded history, amazing architecture and—yes—pool parties aplenty, make it a no-brainer for an unforgettable trip. Add to that list a whole slew of fun things to do and some of the best restaurants in the country, and you've got yourself a guaranteed amazing vacation. Whether you're renting a house or splurging on one of the area's top hotels, if you're not familiar with the little enclave's restaurant and bar scene, it can be easy to get suckered into dinner or drinks at a tourist trap or sub-par dive. As usual, we're here to help. Here, we've compiled a list of the best spots for breakfast, lunch and dinner for your next desert adventure. You're very welcome, indeed.
Best restaurants in Palm Springs
1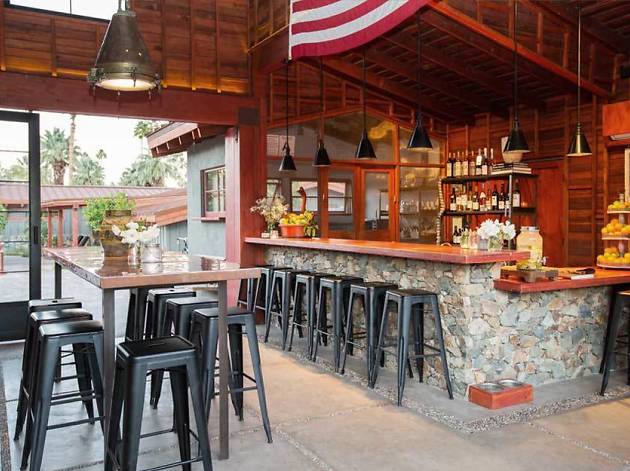 Photograph: Courtesy The Barn Kitchen
Tucked into the lovely little Sparrows Lodge, the Barn Kitchen is a casual eatery that now offers à la carte lunch and family-style suppers to the public from 11am to 6pm (you used to need a reservation at the hotel to dine here). Choose from easy-but-elevated options like smoked salmon spread or a fruit and burrata plate, and dine at the communal table or in an oversized outdoor patio chair. This place feels like a true hidden oasis, away from the bustle of downtown and perfect for relaxing with a cold drink on triple-digit days.
2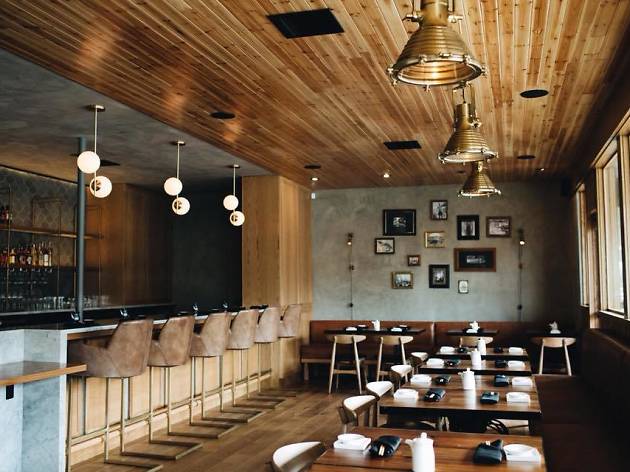 Photograph: Courtesy Sandfish Sushi & Whiskey
Chef-owner Engin Onural blends traditional Japanese technique with modernly global flair, resulting in one of Palm Springs's hottest—and most genre-bending—new dining spots. Sashimi, carpaccios and seasonal goods like squash blossoms may take the form of tostadas, aguachiles or sushi, and are best enjoyed with those cocktails sporting desert-foraged herbs. Looking for something straightforward? Sandfish is also home to one of the area's best whiskey collections.
3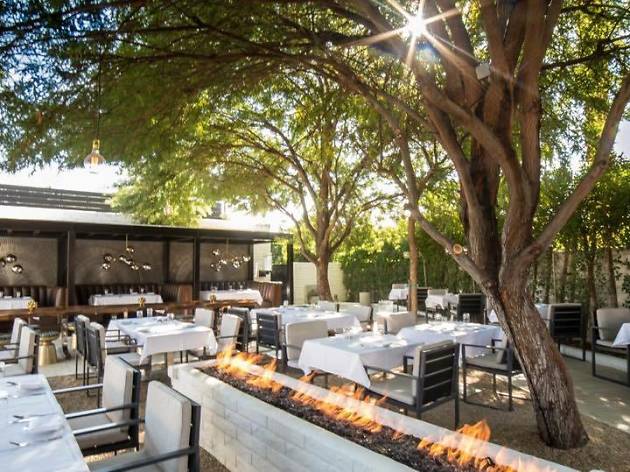 Photograph: Courtesy SO.PA
This gorgeous, all-day outdoor restaurant at L'Horizon offers contemporary dishes with a Middle Eastern flair, such as honey mussels with coconut, turmeric and sheaths of yogurt naan; roasted olives with sheep's milk feta; and Maine scallops in curry sauce—plus a perfect house-made labneh with grilled bread. If you're looking for upscale outdoor dining (or a great, twinkly-lighted date option), this is your spot.
4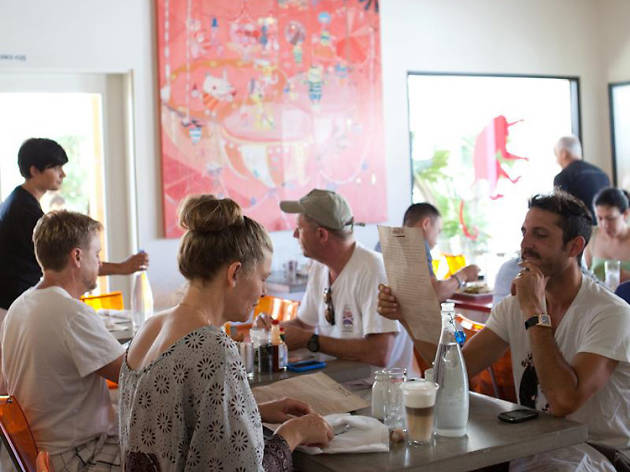 Photograph: Courtesy Cheeky's Palm Springs
Cheeky's is a Palm Springs institution. Yes, there's always a line, and yes, it's always a bit of a scene, but this place has been churning out consistently fresh and inventive breakfast and brunch fare for years, and is a favorite of both visitors and locals. The place is known for its drool-worthy bacon flight, custard-style scrambled eggs and house-made pastries and sausages—as well as a spicy (and stiff) Bloody Mary.
5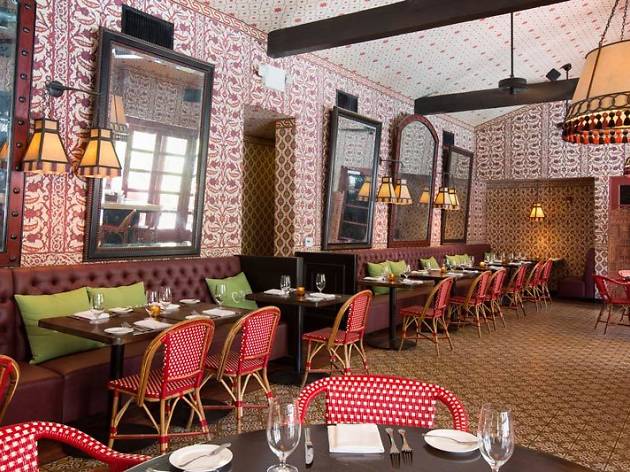 Photograph: Courtesy The Purple Palm
This stylish spot in the Colony Palms Hotel sports California dishes that almost always incorporate the freshest of organic veggies. Lounge poolside on the patio as you snack on black bean burgers, seared sea scallops and roasted cauliflower, all while sipping on sangria, spritzes and barrel-aged cocktails. Looking to drink with a side of golden desert light? Stop by from 3-6pm for Purple Palm's Sunset Hour, where you'll find $5 draft beers, $10 highballs, $12 specialty cocktails and a handful of shareable plates for a portion of the price.
6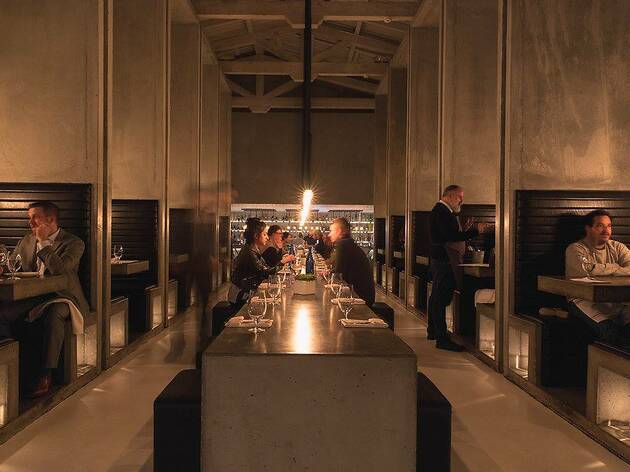 Photograph: Courtesy Audrey Ma
What was once a historic movie theater in the '20s is now a stark, concrete space with plush booths, minimal lighting and a spacious courtyard; the restaurant is a James Beard Award winner for best restaurant design, after all. Workshop is an elevated dining experience in the midst of a touristy stretch; the small plates are made with ingredients from local farms, most of which are within an hour of Palm Springs. Dinner is on the fancy side, but brunch is great too—try the blue crab eggs Benedict.
7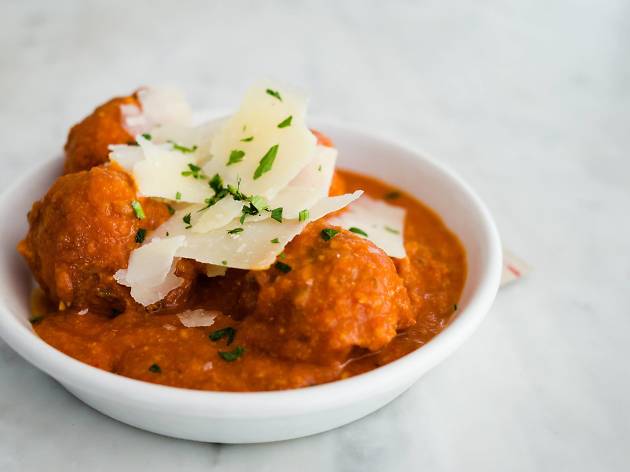 Photograph: Courtesy Sarah Dickenson
This beautifully modern, outdoor restaurant serves Italian dishes and creative cocktails that you can enjoy beneath a flowering tree and surrounded by romantic string lighting (the indoor bar offers dining for 10 people). Though it's the ideal outdoor dinner date spot in Palm Springs, Birba's friendly staff and comfortable ambiance make it a great choice for family-friendly dining as well. The most popular dish is nonna's meatballs, but Birba has options for everyone's dietary needs, including cauliflower and gluten-free crusts for the pizzas—and the menu changes every couple months, so every time you visit there's something new to try.
8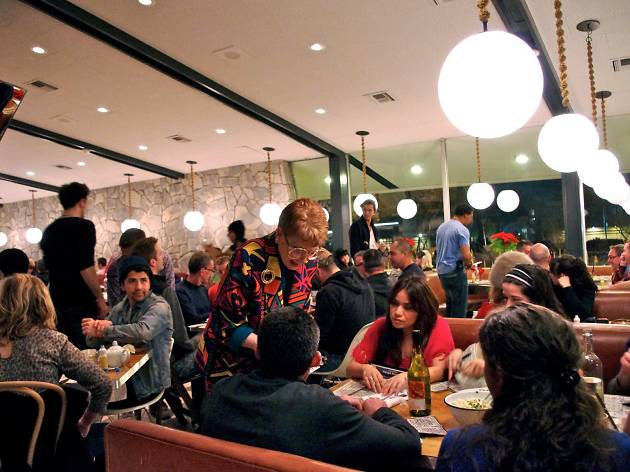 Photograph: Courtesy King's Highway
Formerly a Denny's, this retro-style diner got a makeover from the folks behind Ace Hotel Palm Springs, the hotel to which it's attached. The menu of solid fare hits the spot whether you're looking for a full meal (burgers, fried fish tacos) or a snack between pool lounging and a night on the town (avocado toast, marinated beet salad). If you're in town on a Monday, stop by for Fabulous Bingo with Shirley Claire, a former Palm Springs Follies charmer and star of America's Got Talent.
9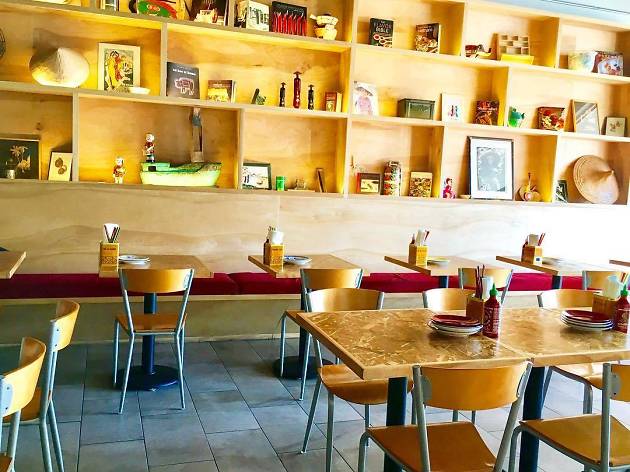 Photograph: Courtesy Rooster and the Pig
Show up early, because this beloved Vietnamese-American spot takes no reservations and almost always draws a crowd. It's worth the wait, though, with snacky small plates like crispy wood ear mushroom spring rolls and shareables such as lemongrass pork and shrimp rice noodles always rotating, keeping things fresher than the mango-stuffed rice paper rolls. Cool down in the desert heat with Vietnamese iced coffee, watermelon crush cocktails and sparkling wines.
10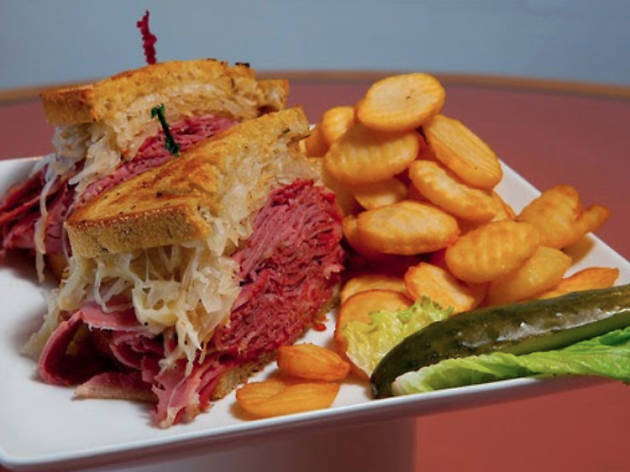 Photograph: Courtesy Sherman's Deli & Bakery
Believe it: There's a full-service kosher deli in the middle of the desert. Sherman's serves all the traditional favorites, including thick-cut pastrami and a matzo ball soup so yummy you'll be tempted to order it on 90-degree days. There's always a line, and unlucky ones will have to wait outside in the sun, so try to hit this spot early in the morning or just before closing.
11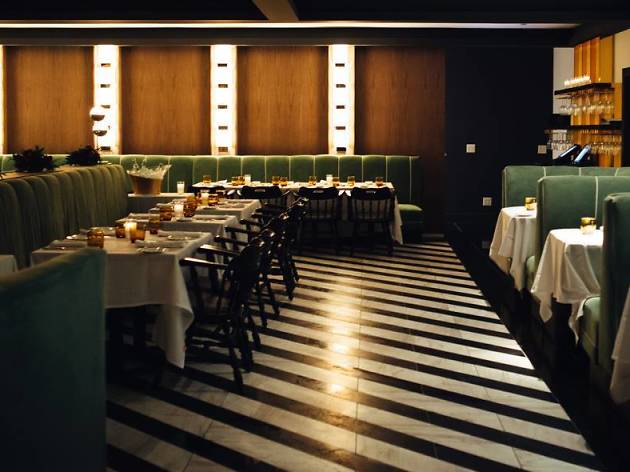 Photograph: Courtesy Mr. Lyons
This swanky, retro spot has Huy Nguyen (formerly the chef at L.A.'s Faith & Flower) at the helm, and boasts classics like steak frites, wedge salads and burgers, along with lighter, more modern fare like hamachi crudo and corn with jalapeños. If you're just here for drinks, try the well-designed back bar (no food served here), Seymour's.
More of the best in Palm Springs
While many will spend their weekend simply lounging by hotel pools, there are plenty of other things to do in Palm Springs. Seasonally, it becomes the epicenter of cool during Coachella and hosts highlights like the design-focused Modernism Week and the quirky Christmas light display Robolights. Ready to explore?
You won't find a single property on our list of best hotels in Palm Springs that doesn't have a pool—with the dazzling sun overhead and mountain views all around, spending time poolside is practically a requirement for travelers who make their way out to this colorful, spirited town.
More to explore