The 12 best things to do in Palm Springs
Admire midcentury modern homes, take a mountaintop tram ride and embark on plenty other things to do in Palm Springs
Palm Springs sprouted into a resort destination in the early 20th century. Ever since, it's been beckoning visitors with its arid landscape, golf courses, handsome midcentury vacation homes and excellent restaurant scene. While many will spend their weekend simply lounging by hotel pools, there are plenty of other things to do in Palm Springs. Seasonally, it becomes the epicenter of cool during Coachella and hosts highlights like the design-focused Modernism Week and the quirky Christmas light display Robolights. The oppressive heat keeps things pretty quiet in the summer, but no matter the time of year you can embark on fun home tours, visit botanical gardens and have loads of fun on one-of-a-kind tram rides if you just follow our very own guide.
RECOMMENDED: Book a tour of Palm Springs
Best things to do in Palm Springs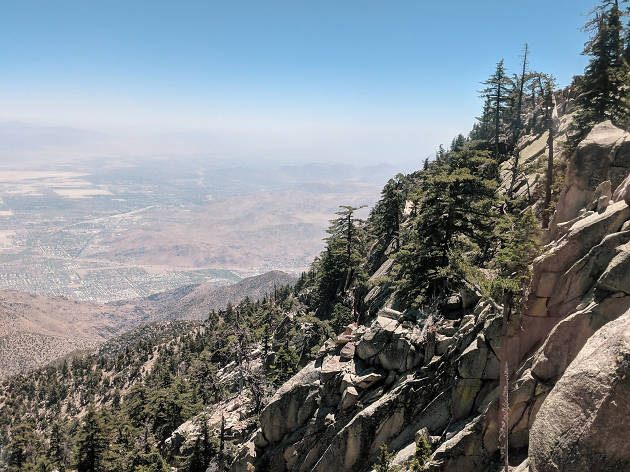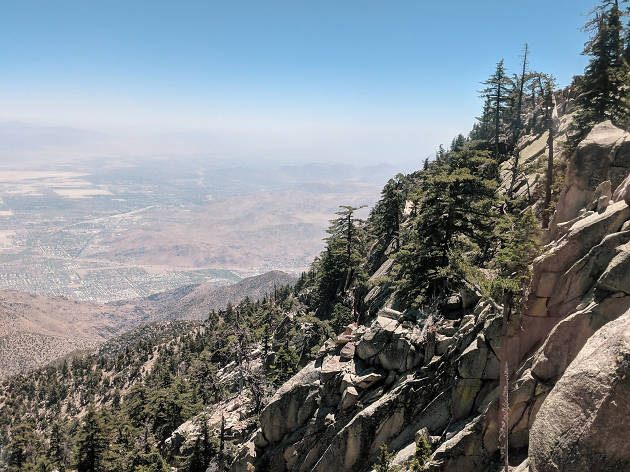 Photograph: Courtesy Unsplas/Jess Joyce
1. Take in the views aboard the Palm Springs Aerial Tramway
Reservations required.
Trek a couple of minutes onto Tramway Road as you roll into Palm Springs and you'll come across this classic canyon-hugging gondola ride. Board a rotating car inside an angular 1963 station and after 10 minutes and a double-digit temperature drop, you'll find yourself facing the entirety of the Coachella Valley below. Linger with a stop at the mountaintop restaurant, café or lounge, or hike deeper into the San Jacinto Mountains.
2. Feed a giraffe at the Living Desert Zoo & Gardens
True to its name, this zoo looks just like a living slice of the Sonoran Desert. Located a couple of miles outside of Palm Springs, the largely outdoor locale is broadly split into North American and African environments. Explore the grounds to find an assortment of wild cats and hoofed mammals, as well as giraffe feedings ($7).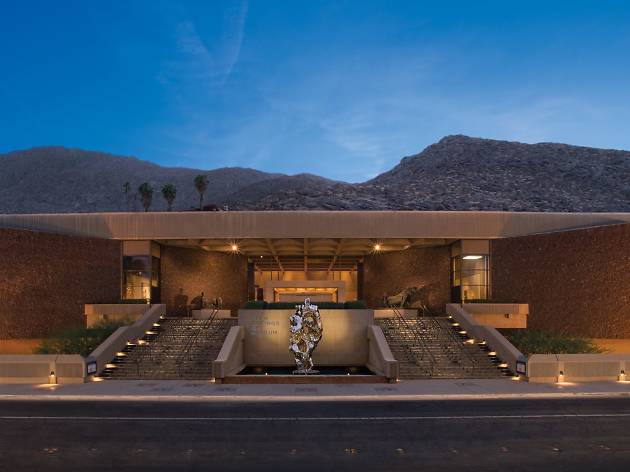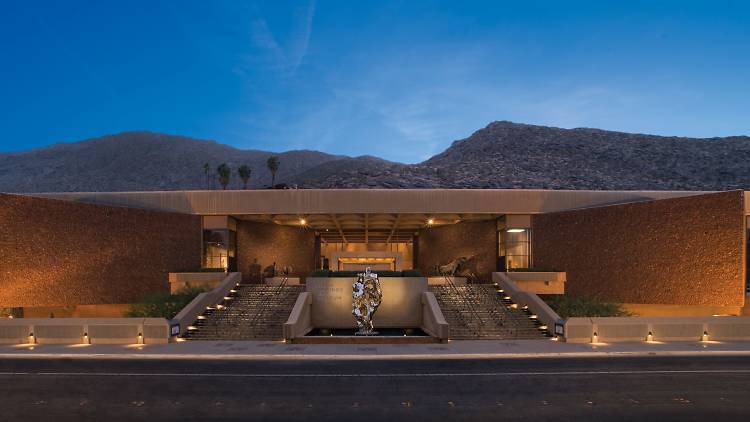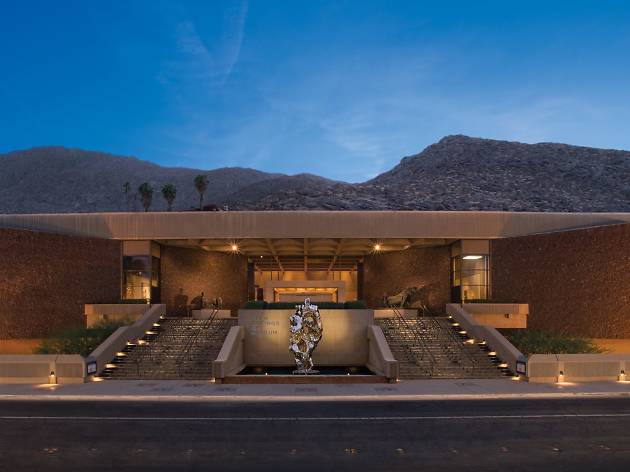 Photograph: Courtesy Palm Springs Art Museum
3. Admire works at the Palm Springs Art Museum
Reopens April 1; advance tickets required.
This mid-size museum houses a collection of contemporary paintings, sculpture and art glass from the likes of Henry Moore, Robert Motherwell and Helen Frankenthaler as well as West Coast artists like Sam Francis, Mark di Suvero and Edward Ruscha. Exhibitions often focus on the cultures and themes of the desert: Modernism, Native Americans and the American West. The museum also operates a satellite location in Palm Desert (free) as well as an architecture and design center in downtown Palm Springs ($5).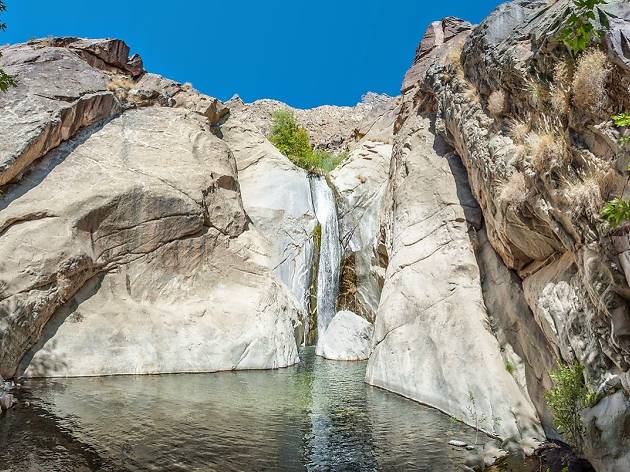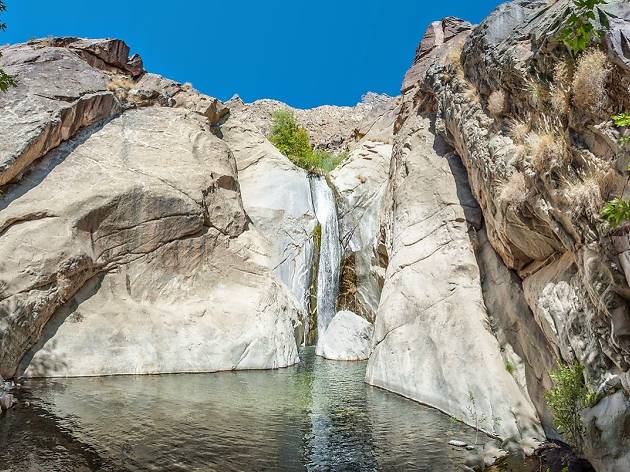 Photograph: Courtesy Don Zevchek/Coachella Valley
4. Hike to a waterfall oasis at Tahquitz Canyon
Flowing water? In the middle of the desert? Indeed, this two-mile loop leads to a 50-foot waterfall tucked into Tahquitz Canyon. The falls are located within the Agua Caliente Band of Cahuilla Indians reservation, so you'll need to pay a $12.50 admission fee. On the plus side, the fee keeps the trail impeccably maintained, unlike many of L.A.'s graffiti-filled waterfalls. Ranger-led hikes are also available.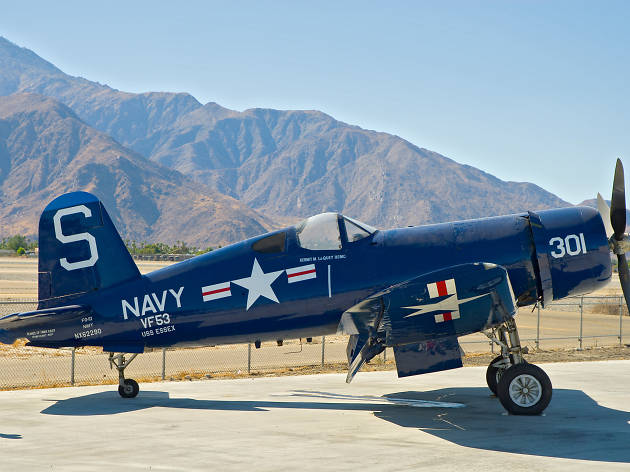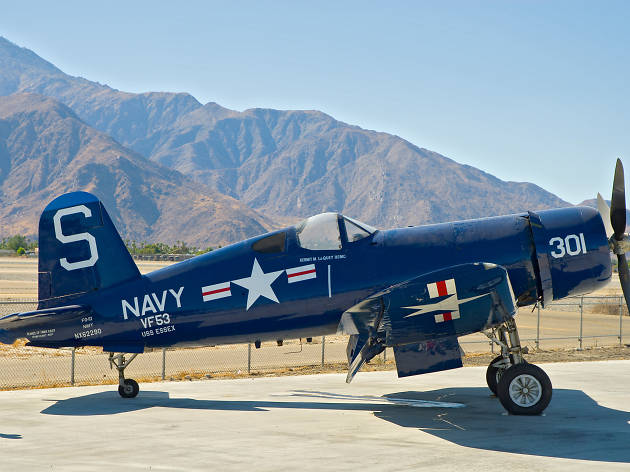 Photograph: Courtesy CC/Wikimedia/RufusTeleStrat
5. Take flight at the Palm Springs Air Museum
This air museum showcases primarily World War II as well as Korea- and Vietnam-era combat aircraft. You'll find more than 40 flyable and static planes across three warehouses, from the B-17 flying fortress to the F-4 fighter jet, as well as a couple of aircraft on the tarmac, like the C-47 and PBY Catalina Flying Boat. The museum also offers a limited number of high-priced flights aboard the C-47 Skytrain and P-51 Mustang.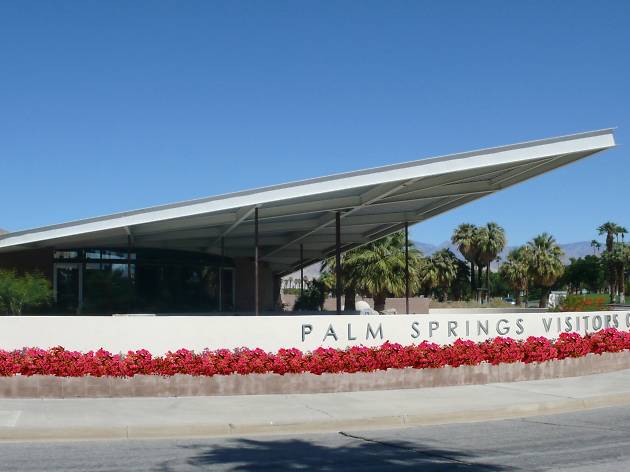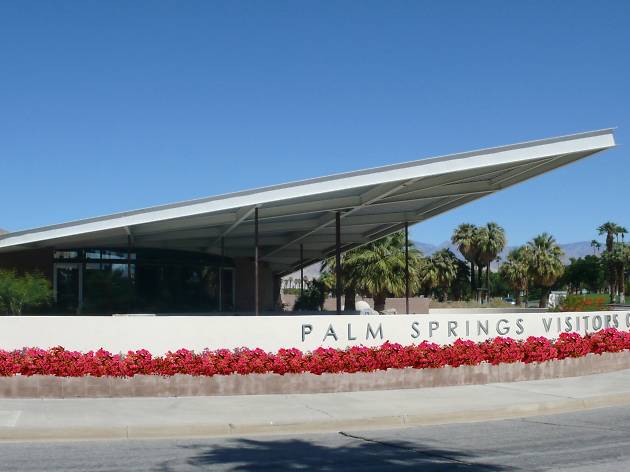 Photograph: Courtesy CC/Wikimedia/Bryanb7
6. Make a pit stop at the Palm Springs Visitors Center
Even if you don't need any information from the official Palm Springs welcome center, this distinctive spot is worth a stop to admire its architecture. The Space Age structure opened in 1965 as a gas station. When Albert Frey and Robson Chambers's retro design was slated for the wrecking ball in the '90s, it was saved and turned into a visitors center. If you do need some guidance, you can book a tour of Palm Springs right here.
Though only an acre in size, this botanical garden is packed with prickly varieties of cacti and other desert plants. The family-owned garden dates back to the 1930s and harbors more than 3,000 specimens of desert plants from around the world, grouped by region.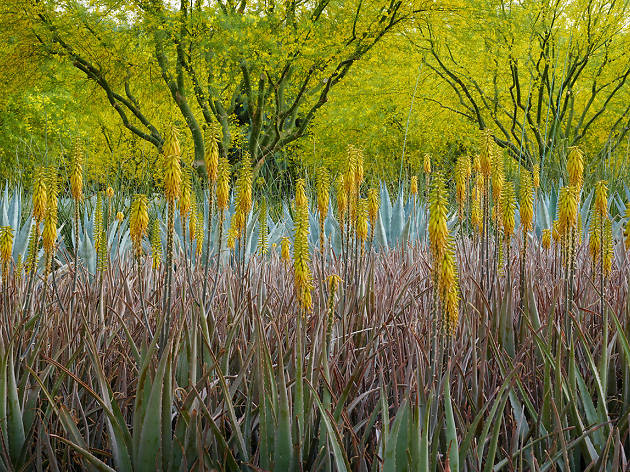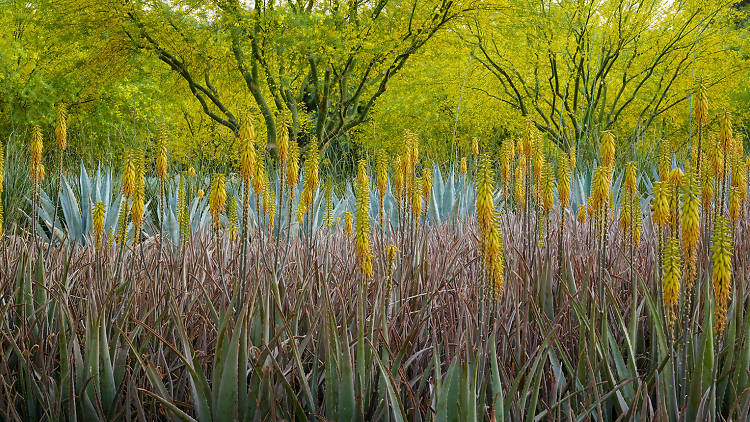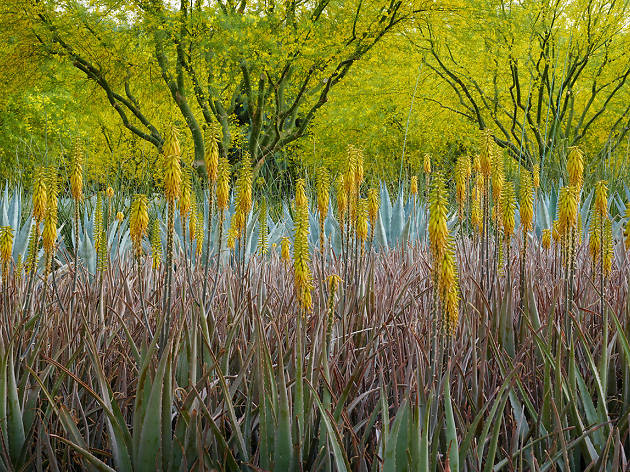 Photograph: Courtesy Marion Brenner/Sunnylands
8. Explore the massive estate at Sunnylands
Sunnylands, the former winter retreat for the wealthy Annenberg family and a popular summit space for decades of presidents, resides on a 200-acre plot of irrigated desert in Rancho Mirage. Though much of that space is occupied by a nine-hole golf course, 12 acres have been dedicated to public gardens and a visitor center with a rotating selection of artwork from the Annenberg collection. Tours of the mansion are available but regularly sell out months in advance.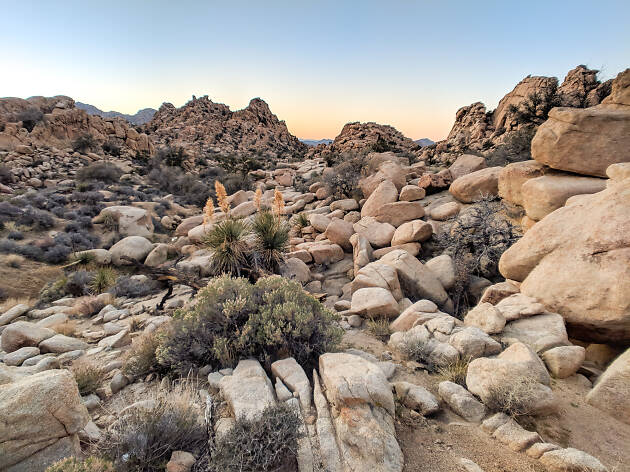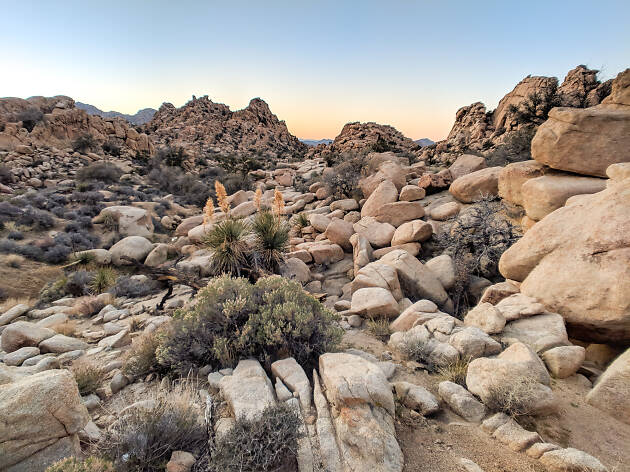 Photograph: Michael Juliano
9. Embark on a day trip to Joshua Tree
Craggy peaks, climbable boulders and those beloved yuccas are barely an hour car ride away. Joshua Tree National Park is a popular destination for overnight campers, but you can explore plenty in a single afternoon, too, from an easygoing hike around Hidden Valley to vistas from 5,000 feet up at Keys View. If you're coming from Palm Springs, you'll want to enter from the northwest entrance in Joshua Tree; if you're staying farther east into the Coachella Valley, you can use the south entrance but it'll put you—for better or worse—in a more desolate area that's farther from the park's main attractions.
These 100-ton Brontosaurus and T. Rex sculptures once beckoned motorists on their way to Palm Springs to a 24-hour diner. Today, they guard the entrance to a Creationist-themed dino museum with an interesting take on the facts. At the very least, pose for a photo with Mr. Rex and walk into the gift shop housed inside Dinny the Brontosaurus's belly.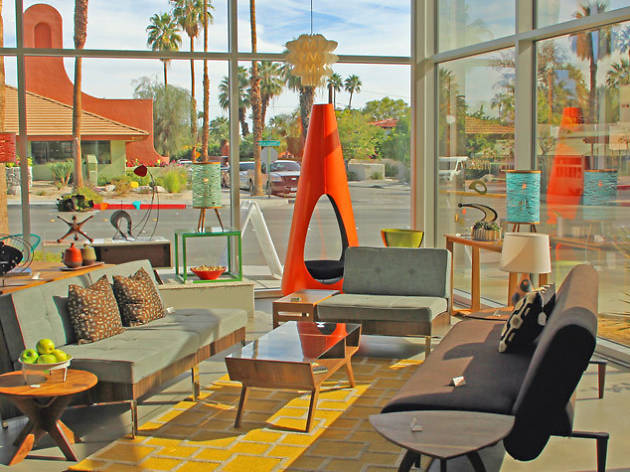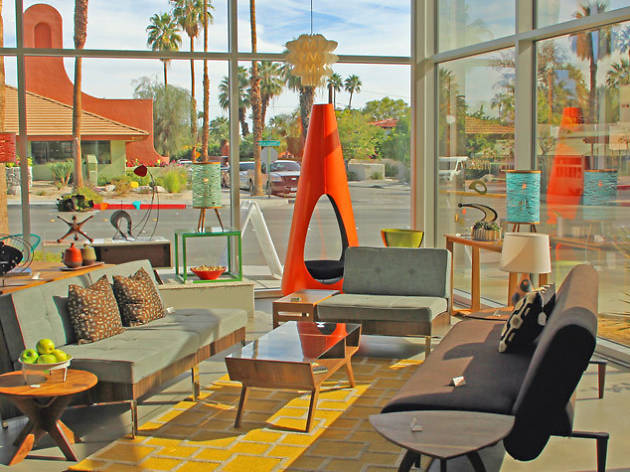 Photograph: Courtesy Just Modern
11. Window shop at art galleries and antique and furniture stores
You can barely walk a block along Palm Canyon Drive without stumbling upon an eye-catching gallery, antique or furniture showroom. Palm Springs and midcentury modernism go hand in hand, and you'll find plenty of galleries (notably a showroom from retro-inspired artist SHAG) and furniture stores dedicated to the jetsetting aesthetic.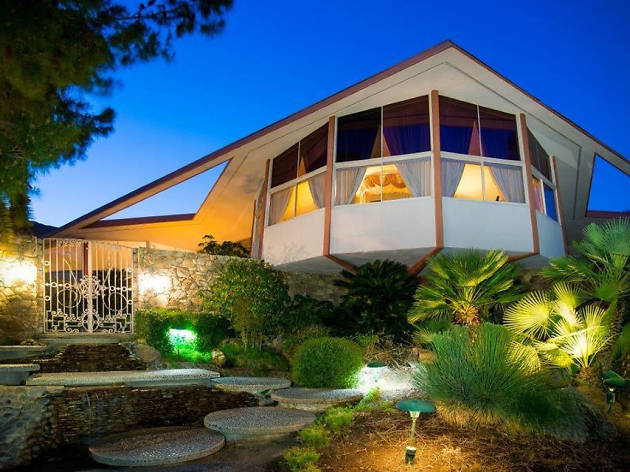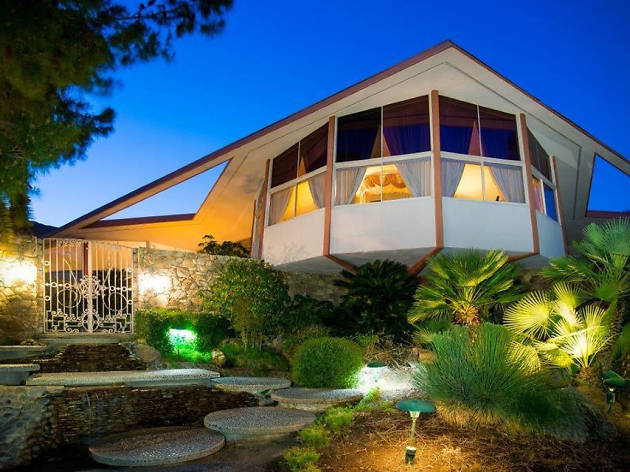 Photograph: Courtesy Honeymoon Hideaway
12. Take a DIY architecture tour through Tennis Club
Palm Springs is brimming with handsome midcentury modern homes. Keep in mind that most of these are private abodes, so you can't exactly knock on the front door. But cruise around some notable neighborhoods, from Tennis Club to Araby Cove, and you'll spot plenty or architectural gems along the way. Highlights include the Del Marcos Hotel, Elvis's Honeymoon Hideaway and the Edris House.
More of the best in Palm Springs
If you're not familiar with the little enclave's restaurant scene, it can be easy to get suckered into dinner or drinks at a tourist trap or sub-par dive. As usual, we're here to help. Check out our list of the best spots for breakfast, lunch and dinner for your next desert adventure.
You won't find a single property on our list of best hotels in Palm Springs that doesn't have a pool—with the dazzling sun overhead and mountain views all around, spending time poolside is practically a requirement for travelers who make their way out to this colorful, spirited town.
Best selling Time Out Offers