Heads up! We're working hard to be accurate – but these are unusual times, so please always check before heading out.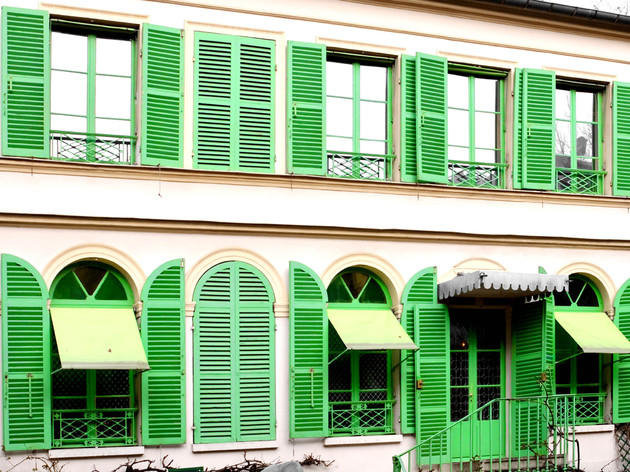 15 unmissable alternative museums
Ditch the crowds and head to the unsung heroes of the Paris museum scene
When it comes to culture, the City of Light has two faces: one overrun by millions of people seeking out the many masterpieces Paris has to offer - and another, much calmer one, a hidden face neglected by the public. We've picked out the more intimate, lesser known museums, which are just as full of artistic gems.
Quietly flourishing in the shadow of their big brothers – the Louvre, the Pompidou Centre, the Palais de Tokyo – they're not trying to rival these renowned Parisian institutions. All the same, they deserve an equal following – if not just for the ability to admire art without having your toes stepped on.
So if you've already done Paris' must-see museums and you're craving a calmer cultural experience, here are fifteen unmissable alternatives. Fifteen addresses removed from the touristic buzz, allowing you to escape the crowds and blockbuster exhibitions in favour of these more laid-back museums.
Painting
It's impossible to replace the Louvre. With a gargantuan collection of 568 000 works, this is the biggest, most visited museum in the world – its glass pyramid alone houses 38,000 masterpieces, including the must-see Mona Lisa. But if any institution was going to stand a chance of facing up to this (frankly unbeatable) art world Goliath, it would have to be the musée du Luxembourg. Its impressive collection of classical paintings – mostly by French artists, including Fragonard, Cezanne, Chagall and (soon) Fantin-Latour – gives the gallery a fighting chance against its formidable opponent.
The Musée Marmottan-Monet on the outskirts of the Bois de Boulogne is a serious adversary, housing the most important selection of Monet works in the world. But don't underestimate the seductive Musée de la Vie Romantique. The former artists' commune/villa built by Dutch painter Ary Scheffer in 1830 is an entrancing tribute to France's Romantic era. Dedicated to George Sand and Ary Scheffer, with a gorgeous secret garden hidden at the end of a cobbled pathway, the museum is bathed in a melancholy haze of neoclassicism and bourgeois dreams of a bygone era.
Pablo Picasso experimented with many different styles, (Cubism, primitivism, surrealism, sculpture…) but, eventually, you'll need a break from musée Picasso's one-artist focus. This is where the musée de Montmartre comes in, plus it's one of the few places in the 'Butte' area not teeming with tourists so make the most of it! Discover bitingly satirical French cartoons dating back to the 19th century, original posters by famous French painter and illustrator Henri Toulouse-Lautrec, paintings by Auguste Renoir, Maurice Utrillo, Raoul Dufy and Suzanne Valadon, and Renoir's former artist's workshop, seemingly frozen in time.
Contemporary Art
Palais de Tokyo is the ultimate 'place to be'. Considered the Parisian temple of contemporary art, this museum welcomes creativity in all its wonderful forms. Unfortunately, as a result, you can barely move for the excited hordes of art enthusiasts and curious tourists. For a calmer excursion, head for the Maison Rouge, a former printing house in the Bastille area. Now a gallery and museum, expect to find high quality contemporary art alongside carefully considered exhibitions.
Trying to escape Paris in search of some peace and quiet? Sometimes it's all you can do to ward off that city life migraine. So rather than spending the afternoon slaloming between the crowds at the Pompidou centre, try Vitry's MAC VAL. A symbol of cultural dynamism in a suburb which is becoming increasingly independent from Paris itself, the MAC VAL features work by some of the big names in contemporary art past and present, from Claude Leveque to Pierre Ardouvin. Worth a short trip on the RER C, surely?
Sculpture
Rodin vs. Zadkine, – the muscular power of the male form against the graceful female figure. An unfair fight you say? Don't be so sure. The Russian sculptor's plaster-based 'Rebecca' and his 'Stella' in walnut wood are just as impressive as Rodin's famous 'Le Baiser'. Zadkine's sculptures emit an elegance which echoes the ambiance of the gallery (also the artist's former home) – a charming space with airy rooms illuminated by natural light, concealed within a lush garden in the 6th arrondissement.
Photography
For photography, obviously you have to follow everyone else and go to the MEP right? Wrong. Open your eyes and leave that sheep mentality behind - Paris has an infinite number of galleries dedicated to the art form, including the famous BAL at la place Clichy. With retrospectives on Man Ray, Marcel Duchamp, Kourtney Roy and Gerard Petrus Fieret on top of their themed exhibitions, you'll be held in the gallery's grip from start to finish.
Global Art
If you're a tribal art enthusiast, you may be under the impression that the musée du Quai Branly is your only museum option (its foliage-covered exterior does command attention). But that's because you haven't yet heard of the musée Dapper, hidden just a stone's throw away from its more famous counterpart. Borrowing its name from 17th century Dutch humanist Olfert Dapper, the museum has been showcasing African and Caribbean art and culture since 1986 – 20 years before the Branly.
Type "Asian art" and "Paris" into any search engine and they'll tell you to go to "Musée Guimet". Instead, head for the Musée Cernushi: a magnificent 19th century building in the 8th arrondissement, housing over 900 Chinese, Korean and Japanese works of art, spread around the remarkable Bouddha de Meguro. A spectacular, unhurried journey through several dynasties, from 1500 BC right through to the middle ages - without hundreds of other people pushing you along. As the ancient Chinese proverb goes: he who hurries cannot walk with dignity…
Architecture
For general architecture, we can all agree that the impressive Cité de l'Architecture et du Patrimoine in the Palais de Chaillot is the place to go. However, when it comes to new building designs, hit up the Marais' Solo Galerie. In an unprecedented project, the gallery showcases architects' work based on their artistic technique and designs, instead of the actual realisation of their architectural plans. Pritzker Prize laureates and young international prodigies are amongst those featured.
History
You can discover Paris's history, from the Gallo-Roman era to the French revolution, at both Thermes de Cluny and Musée Carnavalet. The only difference is that the first tends to be jam-packed with people desperate to see the famous tapestry 'La Dame à la Licorne' (The Lady and the Unicorn), while the second allows for a calm, pleasant amble through half-deserted corridors.
Far from being adversaries, these two museums go together perfectly in their way of seeing the world and humanity. Recently re-opened after six years of renovations, the new Musée de l'Homme guides us to a better understanding of who we are and how we've evolved over time through fun, well-ordered displays and exhibits. Meanwhile the Cité Nationale de l'Histoire de l'Immigration - initially built (ironically) for the Paris Colonial Exposition the 1930s - is now an educational tribute to France's history with immigration. Both are incredibly important non-profit organisations you won't want to miss.
Exploring the Grande Galerie de l'Évolution in the Muséum national d'histoire naturelle feels a bit like watching the animals board Noah's ark. It's truly fascinating stuff but, unfortunately, it's teeming with equally fascinated people. So if you want to marvel at stuffed beasts without using your elbows as weapons against fellow museum-goers, go to the Musée de la Chasse et de la Nature. A true cabinet of curiosities, including stuffed owls and foxes lounging together on a Louis XVI armchair. Even better, there'll be next to nobody to disturb your unique safari trip.
Kids
It's a well-known fact that children (and grown-ups too) are more receptive to learning when they're having fun, something these two museums know very well. However, if you want to avoid your little sprogs throwing a tantrum in the long queues for the Citée des Science's immensely popular interactive installations, take them to the Musée des Arts Forains in Bercy. This funfair-themed museum has everything, from carrousels to a piano which constantly plays the music from 'Murder on the Orient Express' (the only installation with a slight queue).
The draw of the musée Grevin remains a mystery - those wax celebrity lookalike statues are tacky as hell. Still, we love it and we'll even pay the 20 entrance fee. The only thing is, we're not alone – far from it – and to have our photo taken with Angelina Jolie's waxen doppleganger, involves a 15-strong queue. So if the wait gets too much, leave those celeb doubles behind (it's not like they're going anywhere) and head for the Musée des Automates, full of curious mechanical figurines, brought to life.
Withlocals Universal Widget Paris