Daniel Buren: L'Observatoire de la lumière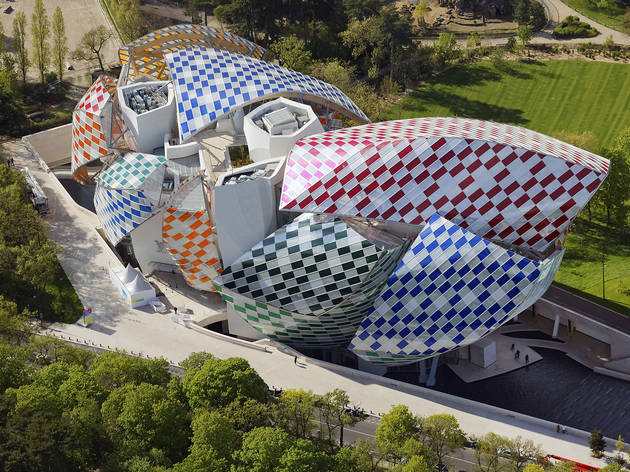 1/4
© Ph.GUIGNARD/AIR-IMAGES/Fondation Louis Vuitton
2/4
© Iwan Baan / Fondation Louis Vuitton
3/4
© Iwan Baan / Fondation Louis Vuitton
4/4
© Iwan Baan / Fondation Louis Vuitton
The French sculptor-painter has given the Fondation Louis Vuitton an exceptional rainbow makeover.
The glass shell exterior of the Fondation Louis Vuitton – a pretty magnificent work of art in itself – has recently received a full body makeover courtesy of veteran painter-sculptor Daniel Buren. A full rainbow now adorns the exhibition space, coloured panes alternating with the plain glass 'sails' of the building to particularly magical effect.

The work is at its most stunning when the sun illuminates the structure, projecting muted tints of colour onto the terraces below (fluctuating, constantly, depending on the position of the sun). From a distance, the colours seem to merge together, but on closer inspection, the clear glass that separates them offers a glimpse through to the Bois de Boulogne, ensuring the building still retains some link with the outside world.

And yet, despite its initial wow factor, the piece seems to play a purely decorative role – as if created by a skilled architect or designer, rather than the deeply subversive artist that most would recognise Buren to be. Art, some might contend, is supposed to interrogate existing structures, just as Buren's controversial columns at the Palais-Royal do. But his latest project feels more like a reflection of what's already there; a simple embellishment. Harsher critics might not even classify this as art at all. But maybe, deep down, that's Buren's aim here: simply, to provoke us to ask such questions.

TRANSLATION: FLORA HUDSON
Rating Breakdown
5 star:

0

4 star:

0

3 star:

0

2 star:

0

1 star:

1
Lovely building. Viewed from the outside. Unfortunately we queued for almost 2 hours in -2 degrees and eventually gave up. No signs in English so we weren't even sure if we were in the right queue. Sadly no communication from staff. Anyway really disappointed to miss the exhibition but alas. Not going to freeze to death waiting. Not even the locals had a clue what's potting.