Latest bar reviews
Follow our recommendations for new and outstanding Paris bars and pubs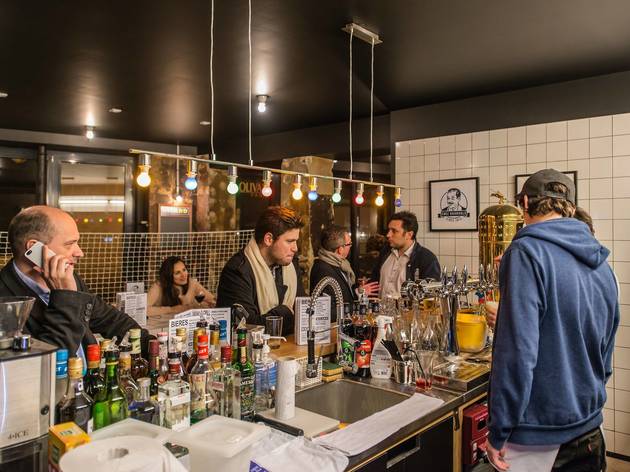 Golden Promise, a hidden whisky bar in 2nd arrondissement. All sounds rather James Bond doesn't it? Well, that's not far from the truth. Paris's first genuine whisky bar with over 1,000 whiskys collected from all over the world, Golden Promise is the fruit of La Maison du Whiskey and the founder of La Maison du Saké, Youlin Ly. You'll find it via La Maison du Saké on rue Tiquetonne, in ring-to-enter bar downstairs.  The name refers to an iconic type of barley that was used to manufacture some of the greatest single malt whiskeys in the 1960s. Despite being slightly more fallible than other specimens, it gave these bottles a distinct aroma that made them famous. Before you even step in, there's an expectation in terms of quality.  Golden Promise prides itself on being a tasting centre for everything around the drink – the bar has a full menu with over 200 whiskies. The cocktail menu is divided between a short (changing) cocktail list and an interpretation of 5 whiskies (Japanese, Irish, American, Scottish and Taiwanese) taken in one of the following ways: neat, whisky + chaser, and highball. The latter (€11-15) have fallen out of fashion in recent times, but while drinking the Super Nikka "Revivale" blended with Bergamotto Quaglia liqueur, tonic water and thyme which is both refreshing and complex, we think a revival is a-coming. Cocktails are competitively priced at €12-13, and surprisingly good given that the bar's focus is more the range of whiskies than cocktails. Golde
Read more
When its not Monday or Tuesday, its legit to go for a couple of cold beers in Belleville. As usual, La Folie terrace is packed and you're not quite ready to drag yourself to Relais. So it's natural to lead the charge to the coolest bar in the quarter, Culture Rapide. It has an XXL terrace, away from all the exhaust fumes, nestled in between high facades of graffiti. As it gets later, it does get a little bit chilly on that hill, so head into coloured and popular bar. Pints of stella set you back a mere €4.5 and it's a mixed planche for €10. Neither are memorable but who cares, this bar has a cool unpretentious vibe. It's the kind of spot which produces the next generation of poets. In short, we recommended to get hooked on this bar, and quickly.
Read more
The red and white flag which hangs outside leaves you with no doubt: you are in Savoyard territory. The two entrepreneur owners who run this Savoyard bar met each other at college in Chambery. In their épicerie-cum-wine bar, you can only find products that come direct from the producer. On the shelves downstairs, they sell the famous crozet (a square-shaped wheat pasta that often accompanies Savoyard dishes), such as ball of Beaufort cheese, small smoked sausage, génépi (a traditional herbal liqueur) and the bar's signature Mont Blanc beer.
Read more
Opened last July, Pignon is known for its double terrace near Jardin des Batignolles. Inside, we love the star of the bar: no, not the beautiful wooden counter but the football table that lives in the basement. Under the pretty wicker lamps, you can drink some good wines (mostly organic), or for beer lovers you can have a pint (1664 at €5.50) and a few bottled beers (but others are on their way we are assured).
Read more
Dupleix metro isn't a stop that's highly visited amongst the majority of Parisians. However, it seems that quite a few people live here and like it rather well. And with the arrival of Plan B and O Coffeeshop across the road, the neighbourhood is swiftly developping. Opening in February 2017 in an old PMU bar, this artisan beer bar had all the airs and graces of really knowing its stuff.
Read more
Hanging around Belleville at the weekend often turns into a 'who-can-be-trendiest' competition. Here, where more and more bars and bistros are unveiled, you're not exactly stumped for choice. But because we're always drawn to a newly-opened bar, we went to check out BLV. This one looks like springtime.
Read more
Show more