Heads up! We're working hard to be accurate – but these are unusual times, so please always check before heading out.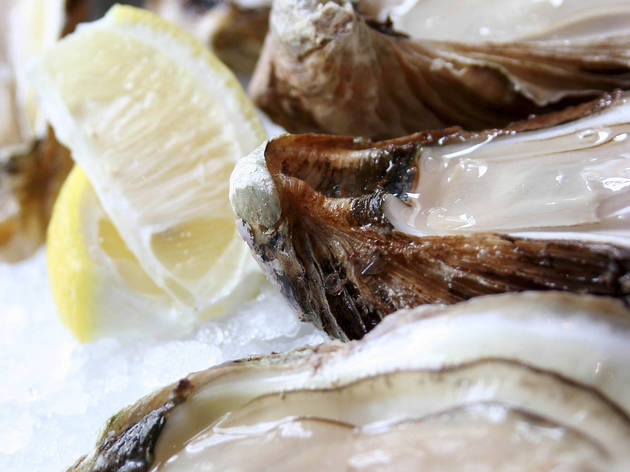 1/7
The hilly Left Bank neighbourhood dominated by its uncompromising tower is known for its regional galettes. Click on the arrow above to start exploring some of our favourites. Think we've missed a great restaurant in Montparnasse? Let us know in the comment box below.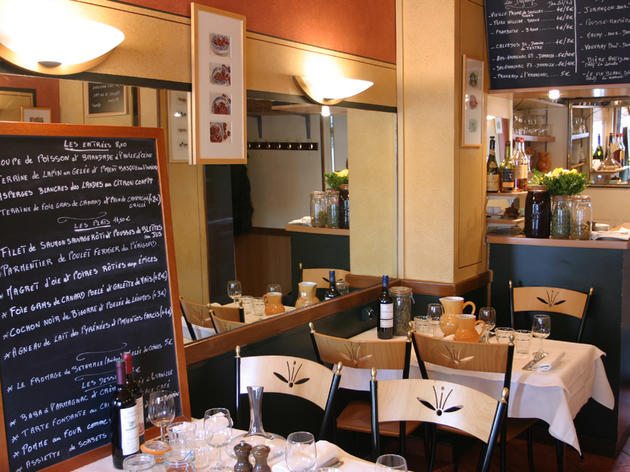 2/7
Nothing about La Cerisaie's unprepossessing red façade hints at the talent that lurks inside. With a simple starter of white asparagus served with preserved lemon and drizzled with bright green parsley oil, chef Cyril Lalanne proves his ability to select and prepare the finest produce. On the daily changing blackboard menu you might find bourride de maquereau, a thrifty take on the garlicky southern French fish stew, or cochon noir de Bigorre, an ancient breed of pig that puts ordinary pork to shame. Baba à l'armagnac, a variation on the usual rum cake, comes with stunningly good chantilly. For more info, please click here.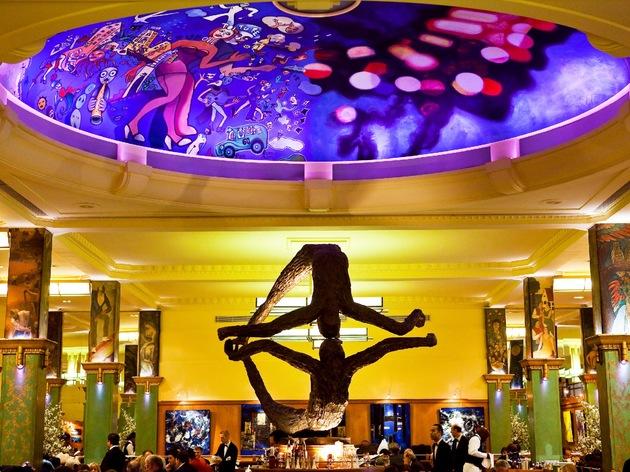 3/7
La Coupole in Montparnasse is the grandest of grand Parisian brasseries. An Art Deco triumph on an extraordinary scale, its famously vast dining room was once regularly graced by the top tiers of the artistic Rive Gauche set like Picasso, Jean-Paul Sartre and Simone de Beauvoir. People still come here from all over the world, to marvel at its splendour – all 1000 square metres and 33 pillars of it – and to people watch, a timeless La Coupole pastime. The terrace tables in particular are perfect for watching life go by over a coffee and a crêpe Suzette. If you want an absolutely classic Parisian grand brasserie experience without spending too much, try La Coupole. For more info, please click here.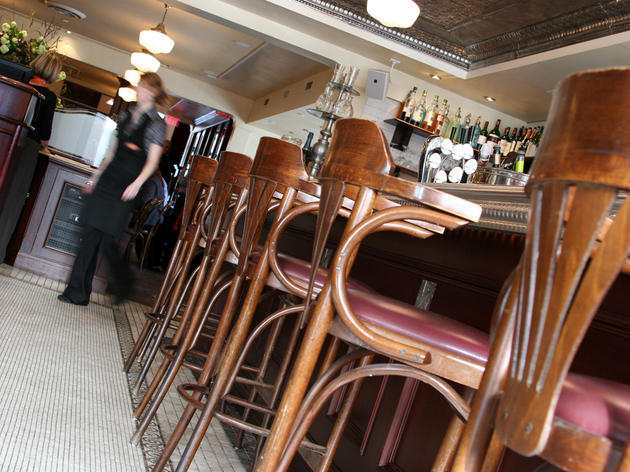 4/7
For a decade between the wars, the junction of boulevards Raspail and Montparnasse was the centre of the known universe. Man Ray, Cocteau and Lost Generation Americans hung out at its vast glass-fronted cafés, socialising, snubbing and snogging. Le Select is the best of these inevitable tourist traps. Sure, its overpriced menu is big on historical detail, short on authenticity, but generally Le Select hangs onto its heyday with dignity. For more info, please click here.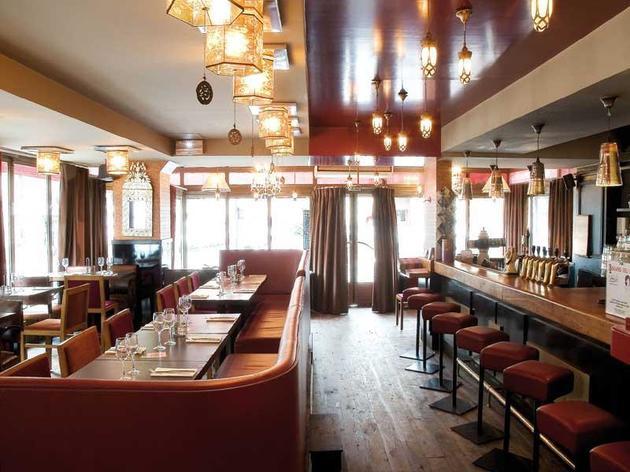 5/7
DR
On the chic Left Bank, in the artistic centre of early twentieth century Paris is Charlie Birdy, a cool hangout which would no doubt have pleased the likes of Modigliani, Picasso and Matisse, as it does now today's equally hip locals. Sitting somewhere between New York loft and traditional London hotel, Charlie Birdy has that distinctive sprinkling of Parisian styling which makes it just that little more gorgeous. Sweeping pink banquettes lay underneath quaintly mixed and matched chandeliers, large Chesterfield sofas sit in a street-scene window and touches of black and velvet hint at a possible past life as a movie star's boudoir. With eclectic music playing, enjoy fabulous cocktails and simple European and American dishes in a bar giving new meaning to the words glam rock.For more info, click here.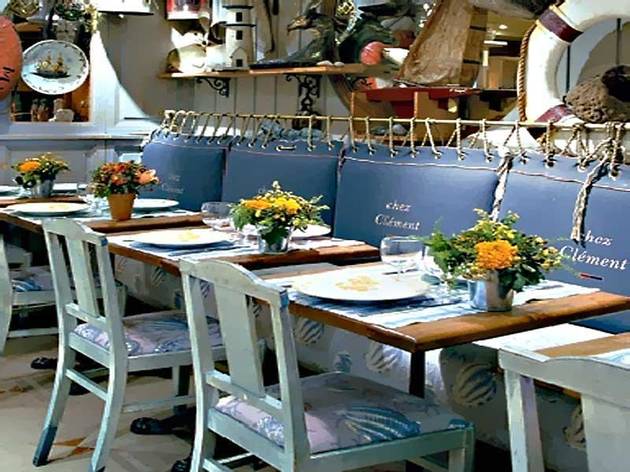 6/7
Toptable
Chez Clément bring their charming eccentricity to the Left Bank with this branch, set on one of the main boulevards, but feeling like a haven of peace and country tranquility. The provencal blue, the warm kitchen-y yellows, the sweet flowers, the collection of artefacts from around the world, the welcoming curved bar all combine to make this a comfortable and relaxing eating experience. The French menu varies with the season and includes dishes like starter of endive salad with curried apples, main course of platters of oysters and shellfish for oyster-lovers, and pudding of warm melted chocolate gateau with raspberry sorbet.For more info, click here.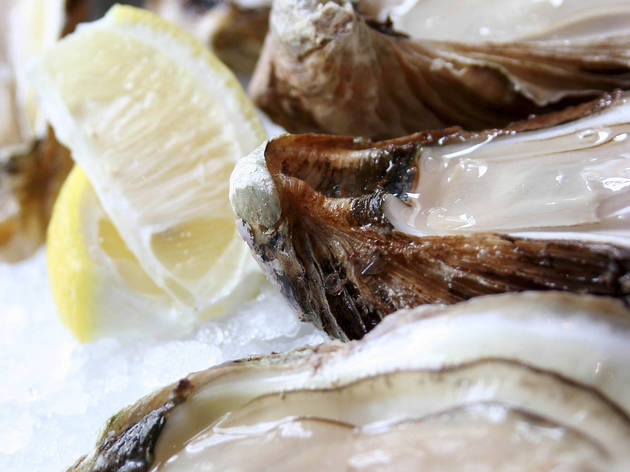 7/7
© Alys Tomlinson
When it comes to food, if it's seafood which floats your proverbial boat, look no further than Le Bar à Huîtres restaurant. A fine oyster bar with a strong seafood menu, Le Bar à Huîtres brings a touch of sophistication to the humble shellfish with its combination of beautiful surroundings and kitchen skill. Take a seat in the shell adorned dining room by the vast lobster tank inside or bask in the sun on the bustling terrace as you enjoy the varied menu of freshly caught fish and seafood including simple oysters enjoyed with wine, seasonal market selections and rather decadent platters. Le Bar à Huîtres also offers excellent value set menus and children's options too.For more info, click here.  
Restaurants in Montparnasse
Our recommendations for the best restaurants in Montparnasse
Related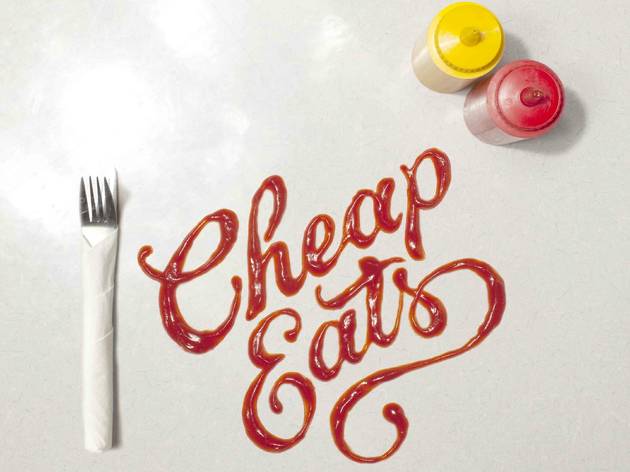 Great food and good-value restaurants and cafés in the capital Dining out in the gourmet capital of the world needn't cost the earth. We reveal the best places in Paris for those with big appetites but small budgets. Le Bambou The Vietnamese fare here is a notch above what is normally served in Paris. Seating is elbow to elbow and, should you come on your own, the waiter will draw a line down the middle of the paper tablecloth and seat a stranger on the other side. That stranger might offer pointers on how to eat certain dishes, such as the no.42: grilled marinated pork to be wrapped in lettuce with beansprouts and herbs and eaten by hand, dipped into the accompanying sauce (no.43 is the same thing, but with pre-soaked rice paper wrappers). Le Baratin Star pastry chef Pierre Hermé visits this cheerful little bistro and wine bar high up in Belleville at least every two weeks to fill up on Raquel Carena's homely cooking with the occasional exotic twist. Typical of her style, which draws on her native Argentina, are tuna carpaccio with cherries, roast Basque lamb with new potatoes and spinach, and hazelnut pudding. If the food weren't so fantastic, it would still be worth coming for the mostly organic wines. Le Baratin attracts gourmands from all over Paris - so be sure to book. A la Biche au Bois However crowded it gets here, it doesn't matter because everyone always seems so happy with the food and the convivial atmosphere. It's impossible not to be enthusiastic about the more than generous portions offered with the €25.90 prix fixe menu. Mains might include tasty portions of wild duck in blackcurrant sauce, partridge with cabbage or wild venison stew. If you can still do dessert, go for one of the home-made tarts laden with seasonal fruits. The wine list has a reputation as one of the best-value selections in town. Book in advance, but expect to wait anyway. A la Bière A la Bière looks like one of those nondescript corner brasseries, but what makes it stand out is an amazingly good-value €14.50 prix fixefull of fine bistro favourites. White tablecloths and fine kirs set the tone; starters of thinly sliced pig's cheek with a nice French dressing on the salad, and a home-made rabbit terrine exceed expectations. The mains live up to what's served before: charcoal-grilled entrecôte with hand-cut chips, and juicy Lyonnais sausages with potatoes drenched in olive oil, garlic and parsley. This is one of the few bargains left in Paris. Bistrot Victoires Bistros with vintage decor serving no-nonsense food at generous prices are growing thin on the ground in Paris, so it's no surprise that this gem is packed to the gills with bargain-loving office workers and locals every day. The steak-frites are exemplary, featuring a slab of entrecôte topped with a smoking sprig of thyme, but plats du jour such as blanquette de veau (veal in cream sauce) are equally comforting. The wines by the glass can be rough, but the authentic buzz should make up for any flaws. Breizh Café With its modern interior of pale wood and its choice of 15 artisanal ciders, this outpost of a restaurant in Cancale, Brittany, is a world away from the average crêperie. For the complete faux-seaside experience, you might start with a plate of creuse oysters from Cancale before indulging in an inventive buckwheat galette such as the Cancalaise, made with potato, smoked herring from Brittany and herring roe. The choice of fillings is fairly limited, but the ingredients are of high quality - including the use of Valrhona chocolate with 70% cocoa solids in the dessert crêpes. Cantine Merci The new fairtrade concept store Merci is all about feeling virtuous even as you indulge, and its basement canteen is a perfect example. Fresh and colourful salads, soup and risotto of the day, an organic salmon plate, and the assiette merci (perhaps chicken kefta with two salads) make up the brief, Rose Bakery-esque menu, complete with invigorating teas and juices. Rustic desserts add just the right handmade touch. Chez Hanna By noon on a Sunday there is a queue outside every falafel shop along rue des Rosiers. The long-established L'As du Fallafel, a little further up the street, still reigns supreme, whereas Hanna remains something of a locals' secret, quietly serving up falafel and shawarma sandwiches to rival any in the world. A pitta sandwich bursting with crunchy chickpea-and-herb balls, tahini sauce and vegetables costs €4 if you order from the takeaway window, €8 if you sit at one of the tables in the buzzy dining room overlooking the street. Either way, you really can't lose. Chez Omar The once-fashionable Omar doesn't take reservations, and the queue can stretch the length of the zinc bar and through the door. Everyone is waiting for the same thing: couscous. Prices range from €11 (vegetarian) to €24 (royale); there are no tagines or other traditional Maghreb mains, only a handful of French classics (duck, fish, steak). Overstretched waiters slip through the crowds with mounds of semolina, vats of vegetable-laden broth and steel platters heaving with meat, including the stellar merguez. Even on packed nights, there's an offer of seconds - gratis - to encourage you to stay a little while longer. Dong Huong The excellent food at this Vietnamese noodle joint attracts a buzzy crowd. The delicious bành cuôn, steamed Vietnamese ravioli stuffed with minced meat, mushrooms, bean sprouts, spring onions and deep-fried onion, are served piping hot. Com ga lui, chicken kebabs with tasty lemongrass, though not as delicate, come with tasty rice. Bò bùn chà giò (noodles with beef and small nem topped with onion strips, spring onion and crushed peanuts) makes a meal in itself. For dessert, the mandarin, lychee and mango sorbets are tasty and authentic. Higuma Higuma's no-nonsense food and service makes it one of the area's most popular destinations. On entering, customers are greeted by plumes of aromatic steam emanating from the open kitchen-cum-bar, where a small team of chefs ladle out giant bowls of noodle soup piled with meat, vegetables or seafood. You can slurp at the counter or sit at a plastic-topped table. Le Hide Ever since it opened, this snug bistro has been packed with a happy crowd of bistro-lovers who appreciate Japanese-born chef Hide Kobayashi's superb cooking and good-value prices. Expect dishes such as duck foie gras terrine with pear-and-thyme compôte to start, followed by tender faux-filet steak in a light foie gras sauce or skate wing with a lemon-accented beurre noisette. Desserts are excellent: perfect tarte tatin comes with crème fraîche from Normandy. Good, affordable wines explain the merriment, including a glass of the day for €2. Josselin The star crêperie of the area, and the one with the longest queues, is the prettily decorated Josselin, where the speciality is the Couple - two layers of galette with the filling in the middle. The savoury galette is followed by the dessert Crêpe de Froment, which comes in three varieties: classic (honey and lemon or wonderful caramel beurre salé); flambéed with calvados; or a fantasy creation oozing with chocolate, banana, ice cream and whipped cream. Wash it all down with bowls of cider, of which the brut is far better than the sweet. You'll be surprised how full you feel at the end and the bill should come to no more than €20 a head, a buckwheat bargain by Paris standards. La Madonnina La Madonnina flirts with kitsch so skilfully that it ends up coming off as cool. With its candles, mustard yellow walls and red-checked tablecloths, it's the perfect place for a romantic night out. La Madonnina describes itself as a trattoria napoletana, but most of the dishes are pan-southern Italian. The short menu changes monthly; don't miss the home-made pastas, such as artichoke and ricotta ravioli. The cassata, an extremely sweet Sicilian version of cheesecake, is authentic and unusual to see on menus outside Italy. Pétrelle Jean-Luc André is as inspired a decorator as he is a cook, and the quirky charm of his dining room has made it popular with fashion designers and film stars. But behind the style there's some serious substance. André seeks out the best ingredients from local producers, and the quality shines through. The €29 no-choice menu is very good value for money (marinated sardines with tomato relish, rosemary-scented rabbit with roasted vegetables, deep purple poached figs) - or you can splash out with luxurious à la carte dishes such as tournedos Rossini. Rose Bakery This English-themed café run by a Franco-British couple stands out for the quality of its ingredients - organic or from small producers - as well as the too-good-to-be-true puddings: carrot cake, sticky toffee pudding and, in winter, a chocolate-chestnut tart. The DIY salad plate is crunchily satisfying, but the thin-crusted pizzettes, daily soups and occasional risottos are equally good choices. Don't expect much beyond scones in the morning except at weekends, when brunch is served to a packed-out house. The dining room is minimalist but welcoming. Rouammit & Huong Lan Fans of South-east Asian food eventually learn to seek out Laotian holes-in-the-wall in Paris rather than splurge on flashier Thai restaurants. A perfect example is this Chinatown joint, easy to spot thanks to the queue outside the door. The food is cheap and delicious, and the service friendly. Among the highlights are lap neua, a tongue-tickling, chilli-spiked salad made with slivers of beef and tripe; khao nom kroc, Laotian ravioli filled with shrimp; and sweet, juicy prawns stir-fried with Thai basil. Even the sticky rice is exceptional.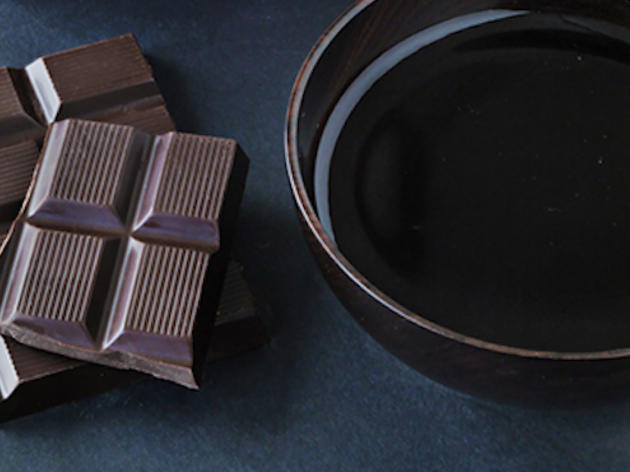 The best hot chocolate will banish all memories of milky bedtime cocoa – it's rich, complex and made with quality raw ingredients. Paris is starting to wake up to the idea of hot chocolate as a serious drink – here's our pick of some of the best purveyors in the city. Parisian hot chocolates to die for Charles Chocolatier Created in 1910, this family-run chocolate shop only uses natural ingredients. The hot chocolate is divine: made from 100% cacao powder (from the Ivory Coast), pure cacao butter, half-fat milk and very little sugar, it thickens naturally in a copper cauldron. You can't drink it in the shop, but on a cold winter's day there's nothing better than warming your hands (and soul) with a cup in the street. Berthillon This famed ice cream parlour is easily recognisable by the queue that forms year-round outside its doors – except at the height of summer, when the shop is closed! In winter, Berthillon doesn't offer old-fashioned hot chocolate, but an even classier treat: chocolate affogato. At the bottom of a white cup is a dollop of vanilla ice cream, decorated with melted chocolate, frothy milk and hazelnut-flavoured whipped cream. Choose from either the intense, sundae style version, or the 'long' version which makes it more of a more classic, drinkable hot chocolate. Tip: it's far easier to access the tea room here than the takeaway ice cream counter. Chloé Chocolat 'Food taster' Chloé Doutre-Roussel worked as a buyer for Fortnum & Mason's in London before opening her chocolate showroom here in Paris, where you can sign up for chocolate tasting lessons or a chocolate-themed city tour. The chocolate she sells (both in the boutique and online) is from the Bolivian chocolate cooperative El Ceibo. Her hot chocolate, melted in hot milk and sugared to taste, is an 85% pure elixir that is both complex and refined – a real treat for connoisseurs. Visit are by appointment only so don't be shy. Café de Flore According to some regulars, the Café de Flore serves the best hot chocolate in Paris – and for €6.80 it had better be a once-in-a-lifetime experience. There are more tourists than celebrities at this traditionally literary café these days, but there are few places where it is more fun watching the interaction between waiters and customers. The kitchen doesn't mess with the classic hot chocolate recipe: it's an intensely-flavoured jug, with a bowl of whipped cream for the greedy. Angelina Angelina is home to Paris's most lip-smackingly scrumptious desserts - all served in the faded grandeur of a belle époque salon just steps from the Louvre. The hot chocolate is pure decadence; try the speciality 'African', a velvety potion so thick that you need a spoon to consume it. Epicurean delights include the Mont Blanc dessert, a ball of meringue covered in whipped cream and sweet chestnut, and, for those with a waistline to watch, a brand new sugar- and butter-free brioche aux fruits rouges. The place heaves at weekends, so be prepared to queue. Jean-Paul Hévin A master of novel combinations, this young chocolatier spices things up at the 'chocolate bar' on the first floor of his flagship store. If you can't quite bring yourself to try the hot chocolate with oysters, iodized foam and strange jelly balls, try the energizing banana and chilli version or the subtle carrot hot chocolate. Hévin also offers more traditional hot chocolates, and three raw cocoa drinks. If you want something to take away, indulge in their chocolate spread – eat your heart out, Nutella. Ladurée Decadence permeates this elegant tearoom, from the 19th century-style interior and service to the labyrinthine corridors that lead to the toilets. While you bask in the warm glow of bygone wealth, indulge in tea, pastries (the pistachio pain au chocolat is heavenly) and, above all, the hot chocolate. It's a rich, bitter, velvety tar that will leave you in the requisite stupor for any lazy afternoon. Jacques Genin Jacques Genin has been providing major hotels and restaurants with chocolate and confectionery since well before opening this bright and modern shop/tea room with a laboratory upstairs. In winter it attracts crowds with its exquisite hot chocolate, made simply by melting Araguani de Valrhona chocolate in whole milk. It comes accompanied by small plate of ganaches and candied fruit, or the house specialty of caramel éclair. Don't miss the soft caramels, especially the famous mango-passion flavour. Mamie Gâteaux Created by a Japanese patissier trained at Dalloyau in Tokyo, this small tea room is reminiscent of a (French) grandmother's kitchen with its chequered tablecloths, enamelled cast iron stove and resolutely simple, traditional cakes placed on the counter top. The old-fashioned hot chocolate is served in a large earthenware bowl, and you can help yourself to whipped cream. The boss also has a bric-a-brac shop and a grocery in the same street, both inspired by his nostalgia for his childhood. Un Dimanche à Paris This concept store dedicated to chocolate, opened by Pierre Cluizel, quickly won over the chocophiles who used to queue at Patrick Roger and Jean-Charles Rochoux. In the tearoom, which turns into a restaurant for lunch and dinner, you can stop by between 3pm and 6pm to warm up with a luxury hot chocolate enriched with a little cream and lightly flavoured with vanilla and cinnamon. To complete the experience, they bring you a plate of three Lilliputian cakes – true masterpieces.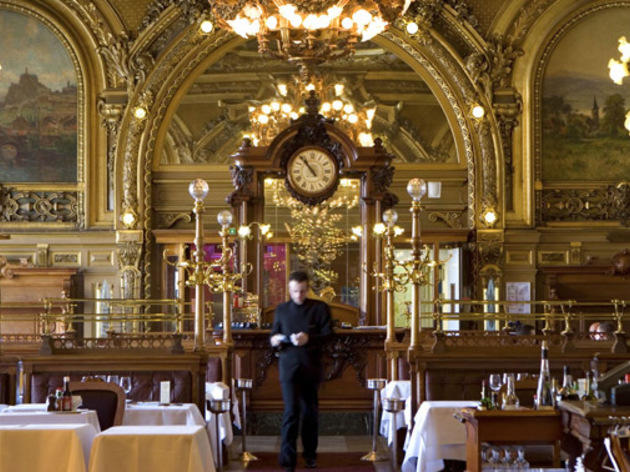 Paris is full of golden-era brasseries, dressed up to the nines in gilded, turn-of-the-century decor, as if stuck in a glorious time warp. The cuisine in these institutions is timeless too - specialities like Chateaubriand beef in Bearnaise sauce, sole meunière and rum baba with vanilla cream dot the menus, served by a ballet of black and white clad waiters. Tuck in and enjoy the show at the best brasseries in Paris, and expect to pay between €18 and €30 for a main course; €45-€90 for a 3-course meal - a worthy price for such an authentic Parisian experience... The top 10 brasseries... Brasserie Julien Undoubtedly one of Paris' most beautiful restaurants, Brasserie Julien is filled with fabulous Art Nouveau charm. From the sensuous curves of the doors to the grandly carved mirrors, the spectacular muted jewel colours of the painstakingly painted walls to the mahogany topped bar and the wonderfully detailed mosaic floor, Brasserie Julien is a study in typically Parisian design. Harking back to a time long gone, this restaurant takes diners on a journey to the city's heyday – one of jazz music, Hemingway, Dali and Picasso. It seems only fitting then that Brasserie Julien's kitchen produces elegant food typical of Parisian style and flavour but with a modern, creative twist of international inspiration. Brasserie Flo Tucked away almost entirely out of sight on a paved courtyard off the Rue Faubourg Saint-Denis, chic restaurant, Brasserie Flo, is well worth hunting down. Here, under a shielding porch, you'll find a world in which time has stood still. It comes as something of a surprise to find that Brasserie Flo is much less inspired by Parisian brasseries of years gone by than by the beer hall of the Alsace region, but for many years its interesting and beautiful combination of French and German dishes has delighted diners and drinkers. Equally surprising perhaps is Brasserie Flo's very modern menu which seeks out the best international combinations to produce a creative selection of dishes with just a hint of classicism. La Coupole La Coupole in Montparnasse is the grandest of grand Parisian brasseries. An Art Deco triumph on an extraordinary scale, its famously vast dining room was once regularly graced by the top tiers of the artistic Rive Gauche set like Picasso, Jean-Paul Sartre and Simone de Beauvoir. People still come here from all over the world, to marvel at its splendour - all 1000 square metres and 33 pillars of it - and to people watch, a timeless La Coupole pastime. The terrace tables in particular are perfect for watching life go by over a coffee and a crêpe Suzette. If you want an absolutely classic Parisian grand brasserie experience without spending too much, try La Couple. Bofinger Bofinger draws big crowds for its authentic art nouveau setting and its brasserie atmosphere. Downstairs is the prettiest place in which to eat, but the upstairs room is air-conditioned. An à la carte selection might start with plump, garlicky escargots or a well-made langoustine terrine, followed by an intensely seasoned salmon tartare, a generous (if unremarkable) cod steak, or calf's liver accompanied by cooked melon. Alternatively, you could have the foolproof brasserie meal of oysters and fillet steak, followed by a pungent plate of munster cheese and bowl of cumin, washed down by the fine Gigondas at €35.50 a bottle. Chez Jenny This charming and historic brasserie from the 1930's grew out of a foodstall owned by one Robert Jenny, a native of Strasbourg. Decorated with lovely marquetry and panelling, light bright windows, scarlet banquettes and antique details, Chez Jenny still offers the best of Alsatian cuisine to a loyal and ravenous clientele served by waitresses in regional costume. Try dishes like starter of Alsatian cervelas sausage in ravigote with warm potatoes, main course of roasted pork caramelised with honey on superb sauerkraut, and pudding of poached pears with pear sorbet and eau de vie. Terminus Nord Standing across the street from the international Gare du Nord, Terminus Nord – the epitome of the dream Parisian restaurant - welcomes visitors to the City of Light. Soaring decorative ceilings, deco style chandeliers, Mucha style prints and colourful stained glass give Terminus Nord that typically Art Nouveau style which will in turns charm and intrigue. Here a bustling, vibrant crowd of locals and visitors, businessmen and tourists come together to enjoy a typically French brasserie menu with Parisian style woven in to country and coastal dishes by head chef Pascal Boulogne. An introduction to French design and cuisine accompanied by fine regional wines, Terminus Nord is the ultimate Parisian experience. Le Rostand Le Rostand has a truly wonderful view of the Jardins du Luxembourg from its classy interior, decked out with Oriental paintings, a long mahogany bar and wall-length mirrors. It's a terribly well-behaved place and you should definitely consider arriving in fur or designer sunglasses if you want to fit in with the regulars. The drinks list is lined with whiskies and cocktails, pricey but not as steep as the brasserie menu. Still, with a heated terrace in winter, it's perfect for a civilised drink after a quick spin round the gardens. La Fermette Marbeuf La Fermette Marbeuf 1900 restaurant in Paris just a few steps from the Avenue George V and the Champs-Elysees is also the shortest route into Belle Epoque Paris of a century ago. This jewel of a restaurant, dating from 1898, was rediscovered in the course of renovation thirty years ago and it must have been like opening King Tut's tomb. There are wonderful things here: Art Nouveau mosaic and stained glass sunflowers, peacocks, dragonflies, beautiful women, cast iron pillars, and a soaring glass ceiling. Chef Gilbert Isaac mainly sticks to French classic dishes, like chicken liver pate with onion marmalade, whole grilled seabass flamed in anise, and rhum babas. This is a hotspot for celebrity France to see and be seen. Le Vaudeville Le Vaudeville is one of the few remaining grand Parisian brasseries decorated in the Art Deco 'Années Folles' style by the Solvet brothers. With mirrors, mosaics, marble, flamboyant light shades and elegant etched-glass panels, its charms are far from lost by the locals from the nearby stock exchange and Agence France Presse. Lunchtimes at Le Vaudeville are filled with news and business discussions over the dish of the day. Whilst in the evening, conversation of the convivial crowd turns to theatre and the arts. Built in the 1800s, Le Vaudeville was originally the bar of the theatre with the same name, and a great Parisian dining experience. Le Train Bleu This listed dining room - with vintage frescoes and big oak benches - exudes a grand air of expectation. Don't expect cutting-edge cooking, but rather fine renderings of French classics. Lobster served on walnut oil-dressed salad leaves is a generous, beautifully prepared starter, as is the pistachio-studded saucisson de Lyon with a warm salad of small ratte potatoes. Mains of veal chop topped with a cap of cheese, and sandre (pike-perch) with a 'risotto' of crozettes are also pleasant. A few reasonably priced wines would be welcome.