Heads up! We're working hard to be accurate – but these are unusual times, so please always check before heading out.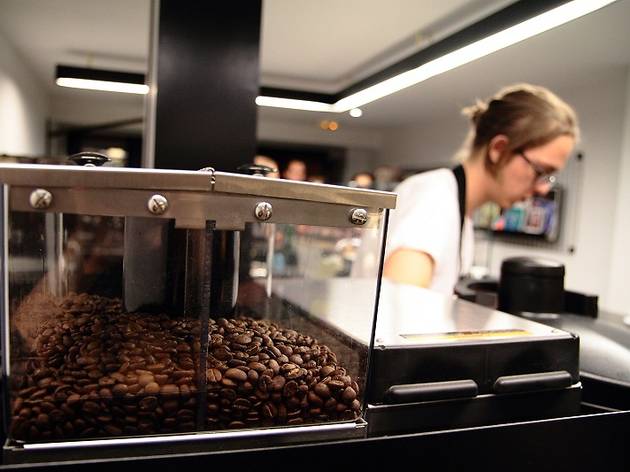 1/12
Canal St-Martin, Ourcq and Villette is undergoing a renaissance, and there are always treny new places to eat and drnk opening. Click on the arrow above to start exploring some of our favourites. Think we've missed a great restaurant near Canal St-Martin, Ourcq and Villette? Let us know in the comment box below.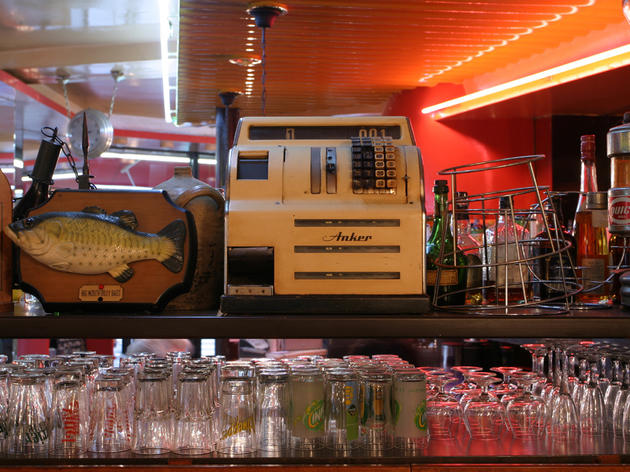 2/12
A la Bière looks like one of those non-descript corner brasseries with noisy pop music, but what makes it stand out is an amazingly good-value prix fixe full fine bistro favourites: home-made rabbit terrine, charcoal-grilled entrecôte with hand-cut chips, juicy Lyonnais sausages with potatoes drenched in olive oil, garlic and parsley. This is one of the few bargains left in Paris. For more info, please click here.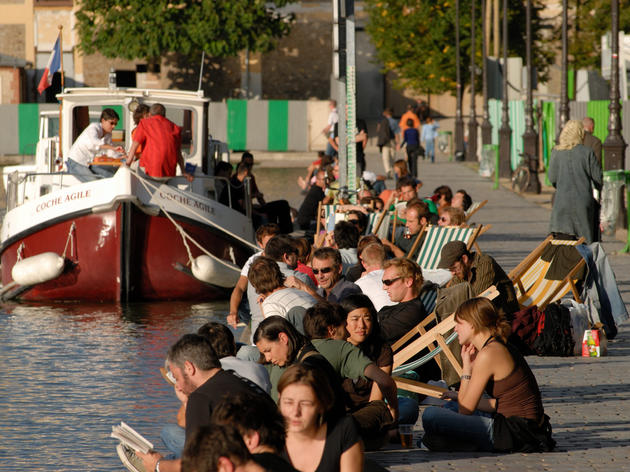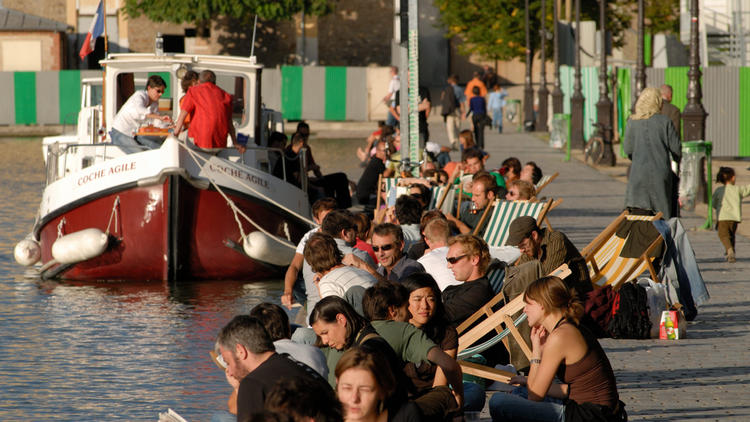 3/12
If chilling on a deckchair on the banks of a canal or playing pétanque gets you going, head to Bar Ourcq of an evening, where a flip-flop wearing, shorts-sporting clientele is welcomed with open arms. On summer days, crowds gather for open-air guitar jamming sessions or to picnic on the banks of the canal, refuelling at Bar Ourcq with plastic goblets of cold beer or bottles of wine. Things get pretty boozy as the day wears on, leading many a pétanque player to squint uncertainly at their target, and every throw draws 'oohs' and 'aahs' from the audience of fellow drinkers.It's much less busy here than on the Canal Saint-Martin, with no passing cars to pollute the tranquil atmosphere. What's more, you can eat and drink for next to nothing, with drinks from €2.5 and savoury snacks from €1.5. Apart from the busy summer terrace, the winter months offer many cosy corners in a cosy, pouf-strewn bar area where those in the know come to spend afternoons indulging in books, board games and free Wi-Fi. In sunnier months, DJs play electro from 5pm, the perfect soundtrack to celebratory after-work drinks in front of the sunset – and they spin on until midnight during the week, 2am at the weekends. For more info, please click here.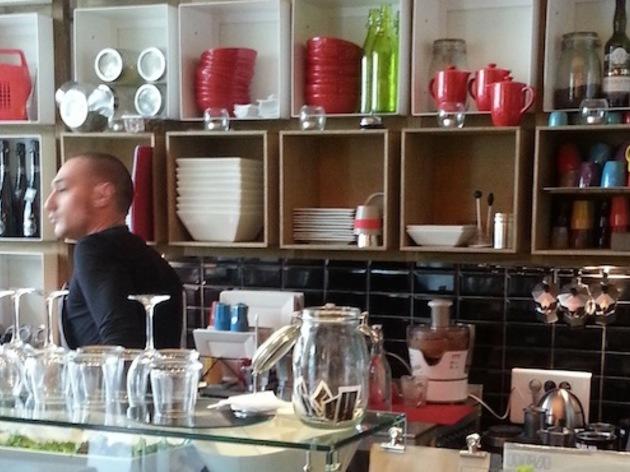 4/12
© Time Out
Ideally situated on the Canal Saint-Martin, L'Epicerie Musicale is a delightful hybrid of café-bar-restaurant-delicatessen-music store. The retro furniture gives the interior all the charm of an old Sicilian café, offset by graffiti art on the walls, a deli section with fish, wine, oils, hams fresh cheeses and more imported from Italy, and a jazz, soul, funk, tropical and retro-latino soundtrack from hundreds of vinyl records. Highly recommended.For more info, click here.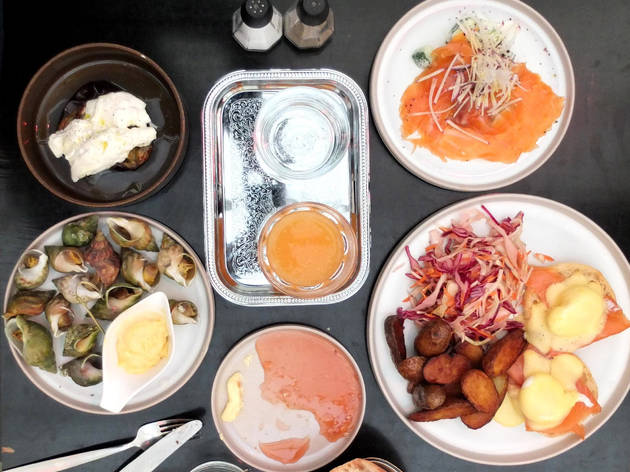 5/12
Every month Paris's alternative arts centre, 104 (set in a reconverted 19th-century funeral parlour), opens its doors to Omnivore, a dynamic culinary movement that supports and promotes France's most exciting young chefs across the world. Heading the association are star chefs Thierry Marx and Jean-François Piège – themselves famous for knocking up some of the most luscious and creative cooking in town. At the 104, Omnivore selects two chefs each month to concoct themed food nights for around a hundred hungry punters. It's a fabulous way for you to sample contemporary French cooking and get to grips with the emerging talent on Paris's culinary scene. It also won't break the bank: four courses and an apéro of natural sparkling wine cost just €39. Reservations open 3-weeks before the dinner; dates are announced online so check the website.For more info, click here.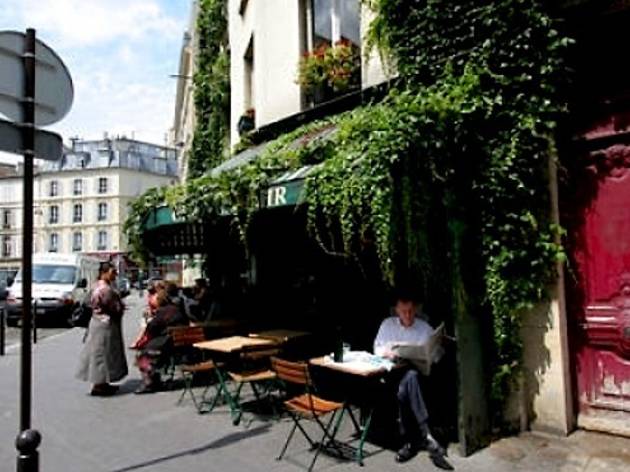 6/12
Thierry Breton, owner of Chez Michel and of this bistrot next door, takes the idea of generous servings to extremes. Here, this doesn't mean an American brunch experience – instead Chez Casimir lays on 'le Traou Mad' (meaning 'good things' in Breton), served continually from 10am to 7pm. You can fill your plate with delicious fare from Brittany and elsewhere, starting in simple fashion, with salted butter on exceptional country bread, and moving on to just about everything else: charcuterie, seafood, boudin, smoked salmon, salads, omelettes… Then come the casseroles of flaked cod, the beef bourguignon or similarly hearty dishes. Still hungry? Head towards the 'grandmother-style' dessert buffet. The atmosphere is noisy but convivial and the price (€26) is incredible in light of the quality. Not hard, then, to understand the place's success.For more info, click here.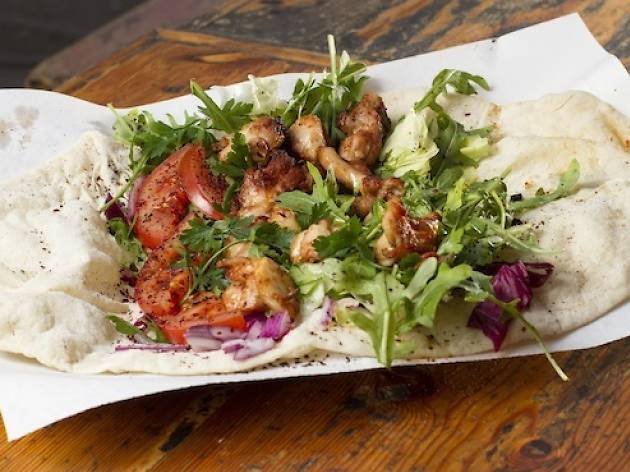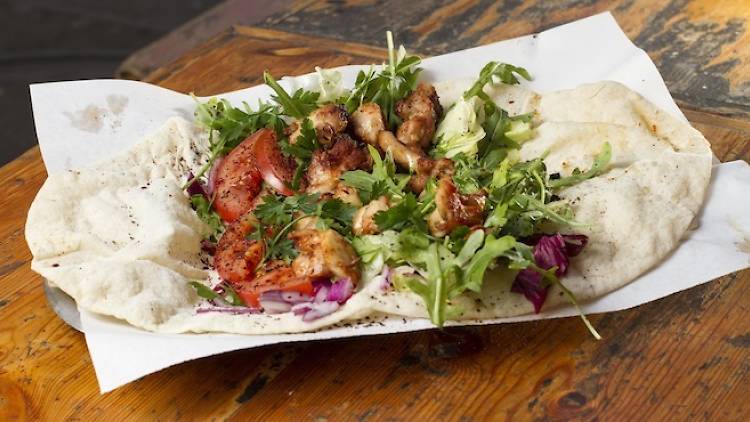 7/12
Hidden away in the heart of Strasbourg Saint-Denis, Urfa Dürüm is a tiny wood-panelled venue where you are greeted at the entrance by the owner, flour and rolling pin in hand, busily preparing the flatbread dough. Further inside, meat grills in the stone oven. On the chalkboard menu, there are two choices of house speciality: Lahmacun or Dürüm. Lahmacun is a small wrap prepared like a pizza with minced meat, tomatoes and onions, and rolled up with salad, red onions and a squeeze of lemon. Crunchy and delicious, it's hard to beat at just €2. You can have the famous Kurdish sandwich Dürüm with steak, chicken, lamb's liver (€6) or straight up lamb (€7.50). Just a few minutes' wait and it arrives perfectly cooked, wrapped in its flatbread, piping hot and accompanied by tomatoes, red onions, rocket, parsley and lettuce. No chips, mayo or harissa – this is to be eaten as it is. Since it's all superb, there's no need of any further extras. For more info, click here.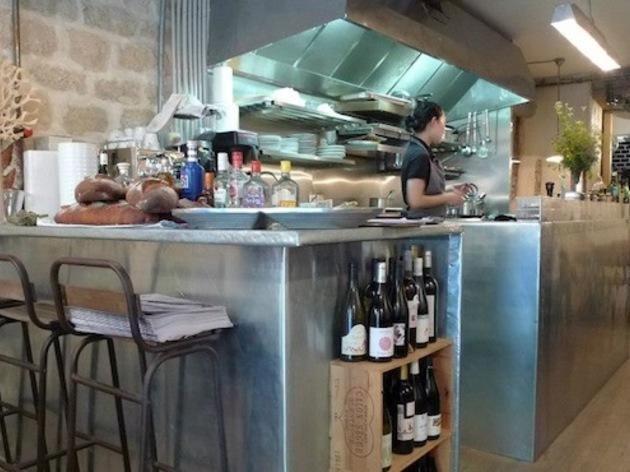 8/12
Mondays and Saturdays, 10am-5pm, there's only one reason to come to Abri ('shelter'), a pocket-sized restaurant next to the Poissonière metro: their multi-layered, super-stacked, millfeuille-esque sandwiches, put together by chef Katsuaki Okiyama. One regal specimen contained grilled bread, a deep and lovely sauce, a vegetable omelette, crusty breaded pork ('tonkatsu'), sweet and sour cauliflower purée and soft cheese.The rest of the week, there are plenty more of the young Japanese chef's talents to enjoy. His CV (Robuchon, Taillevent, Agapé) would already be impressive on a far older chef, and against a bare décor, he makes his experience felt with French cuisine enhanced by Japanese touches. It crops up, for example, in the sauce of the marinated mackerel, with its almost transparent sliced vegetables, or a winter squash soup with pumpkin seeds and coffee.For more info, click here.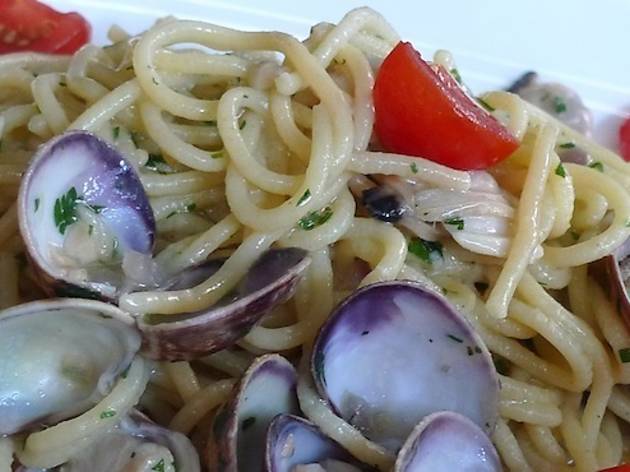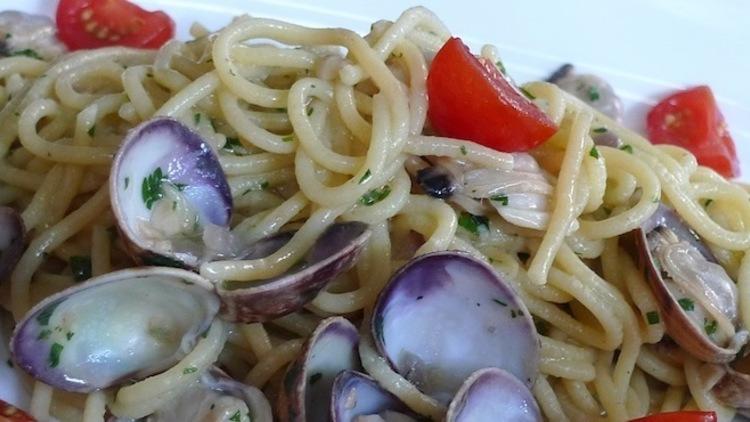 9/12
Head to Procopio Angelo for masterful fresh pasta; everything in this restaurant positively sings Tuscany. Even the prices, which are as dolce as any vita. The big ovens look out onto a big colourful room, a little interior terrace, a cool room for the fresh produce and, most important of all, a workstation for the virtuoso who makes all the trattoria's pasta by hand. The tour around Italy begins with perfectly crunchy fried mushrooms and courgettes, and incredibly light ricotta, artichoke and sun dried tomato fritters. Then move on to things like spaghetti alla vongole (with clams), and spinach and ricotta ravioli in a beautiful butter and sage sauce. The final stop is a perfect tiramisu, and a glass of Amaretto for the road, before heading out into Paris once more.For more info, click here.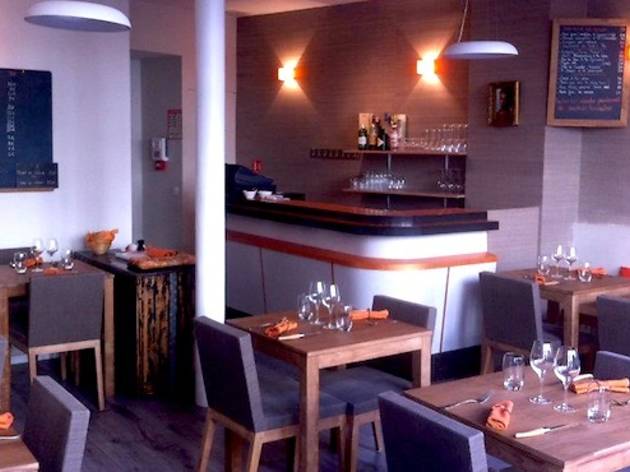 10/12
Some might think you'd be a bit mad to nurture gastronomic ambitions in the middle of Stalingrad, tucked between a métro station, a sketchy kebab stand and an evangelist mission. But for a year this has been the successful home of Louloucam, and its young chef Jean-Matthieu Frederic – a graduate of La Tour d'Argent and Le Meurice.The bistro is neat, with a subtle decor, despite the dozen or so photos of American film actors from the 80s that are somewhat strangely pinned up around the grey walls. The menu, written on a large slate, has pride of place among these fallen idols, honouring the great classics of French cuisine with some added twists. Leeks in vinaigrette with lemongrass, for example, or crispy pigs' feet, veal's liver à la lyonnaise, scallops à la provonçale, poached pear with salted caramel, or the 'Parce que vous le valez bien' ('because you're worth it') – a crispy praline feuilletine, covered in a handsome chocolat ganache.For more info, click here.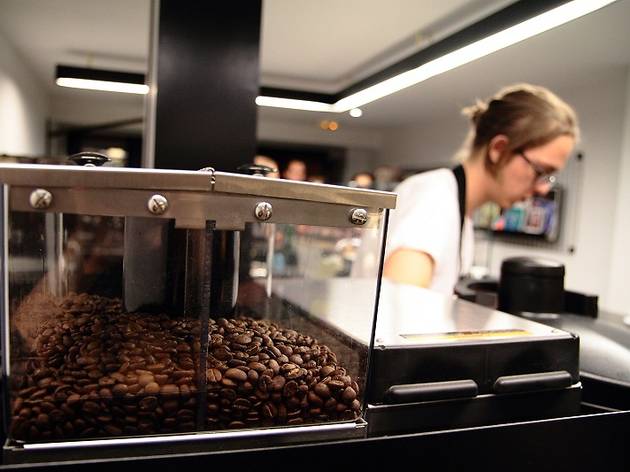 11/12
Paris is seeing a positive nouvelle vague of creative freelance Parisians keen to escape the confines of their apartments and find trendy cafés where they can work, get good coffee and look good all at the same time. More often than not they're stuck with the local bar (because red wine and work go so well together…), so with Café Craft, Augustin Blanchard is filling a gap in the market.In a quiet street just minutes from the Canal Saint-Martin, this café is a refuge for the new breed of wireless creative who are flocking to the trendy outskirts of eastern and northern Paris. With its high speed WiFi, studious atmosphere and minimalist yet welcoming design inherited from Brooklyn and Scandinavia, Craft Café represents a kind of place that is still relatively unusual in Paris.And like its ancestors in London and New York, Café Craft trumpets its coffee credentials, claiming to serve the best in Paris (a bold challenge, non?) – theirs is made from beans roasted by the famous Café Lomi. For blood sugar, there are sweet and savoury pastries (we recommend the red fruit crumble). For more info, click here.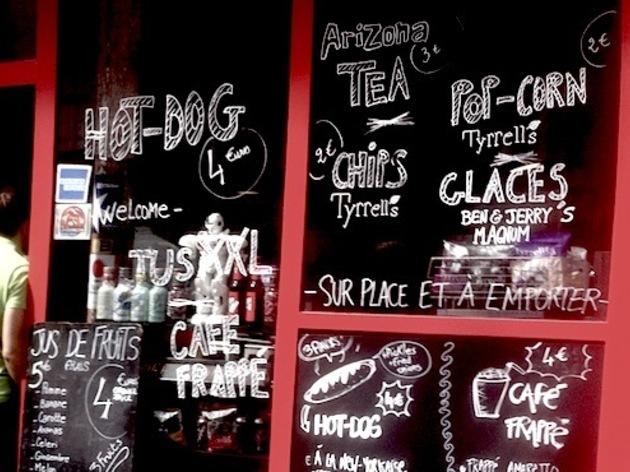 12/12
Over the last 12-months Parisians have gone USA crazy: After the burger trend that saw the opening of new joints like Big Fernand and Blend (see our Best Burger feature), and arrival of food trucks like the 104's pizza van, it's 'chien chaud' (hotdog) time at the new H*** Hot Dog House. Choose between three types of topping – pickled cabbage, chilli or caramelized onions – all served in squidgy white baps with mustard, ketchup and fried onions. The beef sausages are thin, but meaty and ample for 'normal' appetites – but hungry hounds should order two, or opt for a full menu, which includes crisps and desserts (think muffins, cookies, brownies, donuts, and ice cream). Wash it all down with a bottle of Bud, iced coffee, or fresh fruit juice (banana, orange, carot, ginger, melon, celery, pineapple or apple). Get there early and you might be lucky enough to grab an outside table (there are only two).For more info, click here.  
Restaurants near Canal St-Martin, Ourcq and Villette
Our recommendations for the best restaurants near Canal St-Martin, Ourcq and Villette
Related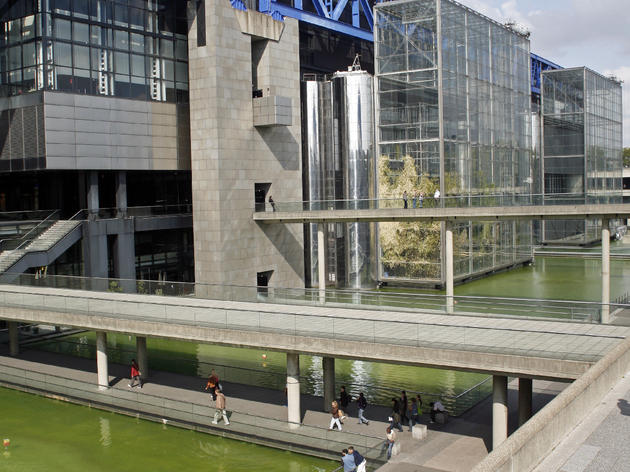 Hands up if you've seen 'Amélie', Jean-Pierre Jeunet's 2001 blockbuster. It was the Canal St-Martin's iron footbridges and tree-shaded quays that formed the backdrop for some of the film's most atmospheric scenes. Nowadays, this ever-gentrifying, 19th-century waterway draws a trendy crowd to its shabby-chic bars and appetizing bistros - starting with Chez Prune, the main magnet for bobo bière-drinkers. République, the point at which the Canal resurfaces after having travelled underground from Bastille, forms the frontier with the Marais. Its northern artery, rue du Faubourg-du-Temple is scruffy and cosmopolitan, lined with cheap grocers and discount stores, hidden courtyards and stalwarts of Paris nightlife like Le Gibus and vintage dancehall La Java. It leads to Belleville's Chinese quarter and provincial place Ste Marthe, with quirky boutiques and cafés. Heading north along the Canal, the must-see den of multidisciplinary artistic creation is Point Ephemère. From here the Canal widens into the Bassin de la Villette and Canal de l'Ourcq, famed for its twin MK2 cinemas, retro-futurist 70s tower blocks and watersports during August's Paris Plage. It's near here that you'll find the 104, Paris' flagship cultural centre, set in the city's eerie old 19th-century undertakers. Once you've crossed the quirky 1885 hydraulic lift bridge, pont de Crimée, you're in Parc de la Villette territory. Futuristic and cutting-edge, this is where you can visit major science and music museums, picnic on the lawns (especially during the summer open-air film festival) and take in concerts at big venues like Cité de la musique, the Cabaret Sauvage, Trabendo and the Zénith. Restaurants and Cafés in Canal St-Martin, Ourcq & Villette Favela Chic Past the usually steely-faced door attendants, the Brazilian-themed Favela Chic attracts an up-for-it, international and invariably dressy crowd for some serious samba and other full-on Latin dancing. There are decent DJs, live acts, and Brazilian food and drinks too. The opening of a sister bar in London's Shoreditch has seen the Favela Chic brand expand into other forms of music, such as disco punk and electro. L'Epicerie Musicale Ideally situated on the Canal Saint-Martin, L'Epicerie Musicale is a delightful hybrid of café-bar-restaurant-delicatessen-music store. The retro furniture gives the interior all the charm of an old Sicilian café, offset by graffiti art on the walls, a deli section with fish, wine, oils, hams fresh cheeses and more imported from Italy, and a jazz, soul, funk, tropical and retro-latino soundtrack from hundreds of vinyl records. Highly recommended. Chez Prune Chez Prune is an excellent lunch spot, and still one of the best places to spend an evening on the Canal St-Martin. The local bobo HQ, this traditional café, with high ceilings and low lighting, sticks to a simple formula: groups of friends crowd around the cosily ordered banquettes, picking at moderately priced cheese or meat platters. Mostly, though, they come for a few leisurely drinks or an apéro before heading to one of the late night venues in the area. Shopping in Canal St-Martin, Ourcq and Villette Epicerie Anglaise Ecossaise Irlandaise de Paris This tiny store, in an unlikely (if not austere) passageway in République has been providing expats with their weekly fixes of Cadbury's chocolate, HP sauce and even Pop Tarts since 1993. The boutique is so packed, it's all a blur of brightly coloured packaging; but let your eyes settle, and you'll find gems like Otter Vale chutneys, Heinz Picalilli, OXO cubes, Yorkshire and Barry's tea and Parsley sauce cooking mix. There's even a fridge area with Beckett's farm bacon, haggis and black pudding. Now sigh! Potemkine If you know what the name 'Potemkine' refers to (Russian cineaste Sergueï Eisenstein's 1925 silent movie "The Battleship Potemkin"), chances are this boutique just off the Canal St-Martin is for you. Its orderly walls are lined with shelves laden with DVDs covering everything from Fellini classics to rare experimental films by Stan Brakhage, and docu-dramas by Peter Watkins. In this age of virtual downloads, Potemkine is the antidote for film buffs in need of something to hold: Pick up the DVDs, read their blurbs, sniff 'em, caress them, and study the graphics on their covers without the flickering of a computer screen playing on your eyes. It makes a refreshing change to FNAC; and many of the films on sale aren't even readily available on the high-street. Artazart Step through Artazart's neo-70s orange façade and you're in another world – an Ali Baba land of design-related coffee-table tomes (think photography, graphic design, fashion, illustration and children's books) and Lomo cameras you can pick up for under 100€. Chances are you'll pop in for a quick browse, but beware: Artazart has ways of making you stay! Aside from thousands of books with eye-catching covers and content, your peepers will be drawn to the small art gallery section where selected local talents get to display their works. Before you know it, your ten-minute look-around has turned into a 45-minute jaunt and you're ready for a coffee somewhere along the Canal St-Martin, so you can show off the books you've just bought. Bars & Nightlife in Canal St-Martin, Ourcq and Villette What to see and do in Canal St-Martin, Ourcq and Villette Take in a concert at La Villette See a film along the Canal de l'Ourcq Walk or Cycle the old waterways Check out the art at 104 (Centquatre)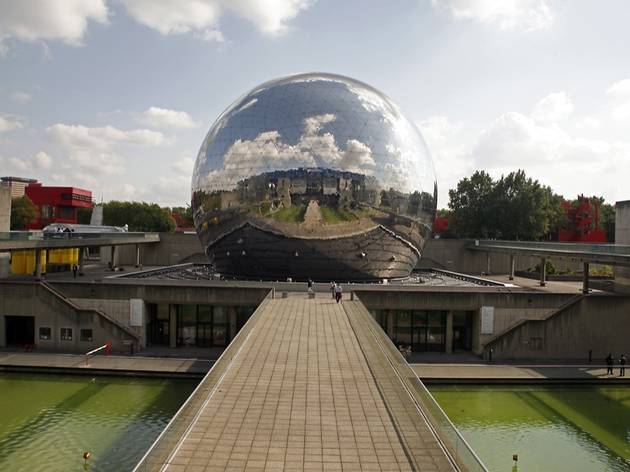 Mk2 Quai de Loire & Quai de Seine The twin MK2 cinemas on either side of the Canal de l'Ourcq offer an all-in-one night out: multi-screens, restaurants, decent waterside cafés and two-person 'love seats'. A paragon of imaginative programming, MK2 is growing all the time, cleverly appealing to both art-house puritans and blockbuster lovers with an eclectic range of films from around the globe (usually in VO - version originale).If you find yourself on the wrong side of the canal, don't worry: a boat called Zéro de Conduite (after Jean Vigo's 1933 film) carries passengers across the canal between the sites, so you don't have to walk all the way round. La Géode The IMAX cinema at the Cité des Sciences occupies a shiny geodesic sphere. The vast hemispheric screen lets you experience 3D plunges through natural scenery, and animated adventures where figures zoom out to grab you.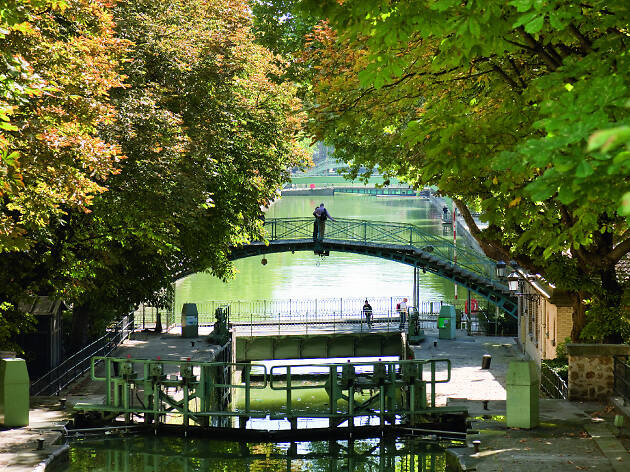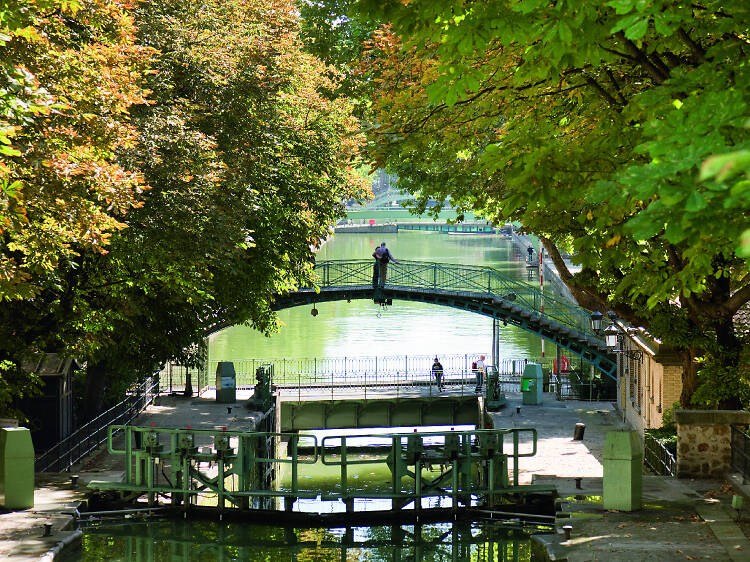 Canal Saint-Martin Before it harboured stalwarts of Paris's nightlife, Point Ephémère and Chez Prune, the Canal St-Martin served an entirely different purpose: Built under Napoleon between 1805 and 1825, it brought drinking water and merchandise to the Imperial capital; then from the late 19th-century onwards it housed factories and industrial warehouses.Nowadays, many of the factories have become lofts for Paris's ever-growing Bobo (Bohemian-Bourgeois) population, and dozens of bars, restaurants and shops line its quaysides, making its iron footbridges and locks coveted spots for weekend strolls and picnics – especially on Sundays and public holidays when the roads are reserved for walkers and cyclists.On the east edge of the canal, the Hôpital St-Louis was commissioned in 1607 by Henri IV to house plague victims, built in the same pink brick-and-stone style as Place des Vosges, far enough from the town to prevent infection. Behind the hospital (still working today), rue de la Granges-aux-Belles housed the Montfaucon gibbet in 1233, where victims were hanged and left to rot in the wind. Now that's food for thought while you're downing a quick bière on the water's edge! Canal de l'Ourcq After a gentle, 100km journey from the river Ourcq in Picardie, through the northern Seine-St-Denis suburb and into Paris via Porte de la Villette, the 19th-century Canal de l'Ourcq ends its journey in front of the arty MK2 cinemas at Stalingrad's Bassin de la Villette. It was originally created by Napoleon to provide Paris with drinking water, but largely used for freight haulage before its edges were bestowed with some of the worst 60s and 70s housing in Paris. Nowadays, like the Canal-St-Martin, further downstream, the Canal del'Ourcq draws a trendy crowd, from students to 30-somethings with young families, who come to play boules on the sandy stretches, picnic on the water's edge, and even play ping-pong in the playground areas. At the northern edge of the Bassin is an unusual 1885 hydraulic lifting bridge, Pont de Crimée, which leads to place de Joinville, where a cheap market (on Thursdays and Sundays) sells the best Portuguese chicken in town. Canauxrama If hell is other people, Paris can be hell. Between jam-packed metros, long museum queues and hoards of sharp-elbowed tourists, the chaos can leave even the most fervent Paris fan in need of time out. Before you contemplate yet another trip to Versailles, captain of the canals, Canauxrama, offers an alternative escapade much nearer to home.It's nostalgic cruises, angled at Paris old timers, glide along the Canal Saint-Martin and the Canal de l'Ourcq at a blissful snail pace, heading underground before resurfacing to go by four locks, and under the elegant footbridges Amélie sat on in Jean-Pierre Jeunet's 2001 film Amélie Poulain.Film buffs might also recognize the names of the boats - Arletty and Marcel Carné - respectively named after the leading lady and the director of the 1938 French classic Hôtel du Nord, also filmed along the canal. If you can't get enough of it all, sign up for a day's cruise (May-Sept) along the sleepy River Marne to Guinguette capital Joinville-le-Pont where cheesy accordion music awaits in riverside cafés. Standard cruise departure is from either Bastille's Port de l'Arsenal (opposite 50 bd de la Bastille) or Parc de la Villette.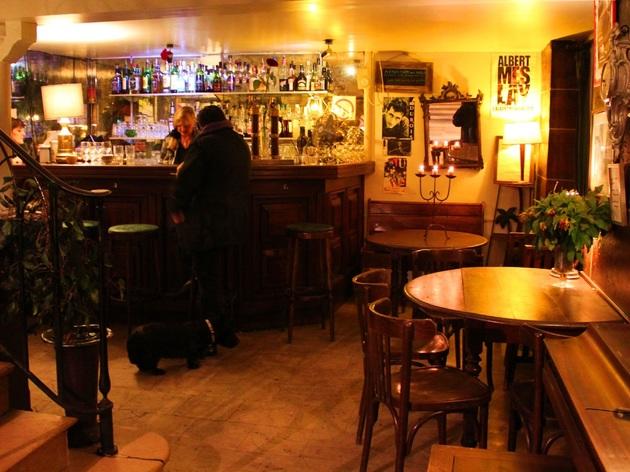 Our guide to drinking in style on a budget Aux Folies A Belleville drinker's institution, never empty of local youth imbibing black coffee with their afternoon papers or kicking off the evening with an aperitif or five. The Folies is named after an 18th-century watering hole at the gates of Paris, in then then-rural quarter of Courtille, famous for the annual debauches of the city carnival. Today, the outlook is a little less bucolic – the rows of vines have been replaced by winding streets, but the area still packs a distinct buzz. The packed terrace is the place to be winter and summer, as it's heated and lit until the last rays of the sun have died away. Finding a chair and a spot to wedge it into is a challenge, but the satisfaction is worth it – and at €2.50 for a beer and €4.50 for a cocktail, it's no trial to settle down and get in several rounds before closing time. In the evening, red lights go on beneath the bar, and the friendly, efficient staff remain cheerful despite the throng. In summer, the terrace crowds spill out on to the narrow Rue Dénoyez, and on weekends on the semi-pedestrianised street the art galleries set out stalls, bands strike up, and graffiti artists start tending to their frescoes. La Cordonnerie Loitering as it does in the shadows of peep shows and sex shops, for many years this little dive was merely the refuge of locals in search of pleasures less carnal and more alcoholic. Its happy hours offered probably the cheapest pints in Paris, as well as rums and cocktails at minimal prices, imported beers, and free couscous on Thursdays and Saturdays.Then, this old working-class tavern started to attract a younger clientele in search of a good deal – and today La Cordonnerie is an after-work drinks venue to be reckoned with. The terrace is crammed with students and arty types from 6pm right through the happy hour, and as the evening wears on the bar stays full of laughter and talk. Soul, rock and reggae sounds keep things going until 2am. Les Pères Populaires Ever get nostalgic for 70s youth hostel decor? Look no further – the trappings of table football, board games and musty old books have all been slavishly recreated at the Pères Populaires. One of the cheapest bars in the city, it's also a local canteen, complete with sticky table-tops and the tenacious smell of stale beer that bears witness to many a debauched evening. The décor is an incoherent mixture of second-hand furniture with some good pieces, and of bent wood hat stands with peeling wallpaper. One perches uncomfortably on chairs or on a knackered old sofa, knocking back jugs of beer or rum mixers and mopping it all up with a cheap charcuterie board (€5 to €8). During the day the place is tranquil and full of light, thanks to a huge picture window – and the area's students flock to its free Wi-Fi. Always full in the evenings, it gets busiest when the gigs start at 8pm, mostly local groups playing jazz or cheesy hits. A decidedly blue collar French venue, but none the worse for that. Bar Ourcq If chilling on a deckchair on the banks of a canal or playing pétanque gets you going, head to Bar Ourcq of an evening, where a flip-flop wearing, shorts-sporting clientele is welcomed with open arms. On summer days, crowds gather for open-air guitar jamming sessions or to picnic on the banks of the canal, refuelling at Bar Ourcq with plastic goblets of cold beer or bottles of wine. Things get pretty boozy as the day wears on, leading many a pétanque player to squint uncertainly at their target, and every throw draws 'oohs' and 'aahs' from the audience of fellow drinkers.It's much less busy here than on the Canal Saint-Martin, with no passing cars to pollute the tranquil atmosphere. What's more, you can eat and drink for next to nothing, with drinks from €2.5 and savoury snacks from €1.5. Apart from the busy summer terrace, the winter months offer many cosy corners in a cosy, pouf-strewn bar area where those in the know come to spend afternoons indulging in books, board games and free Wi-Fi. In sunnier months, DJs play electro from 5pm, the perfect soundtrack to celebratory after-work drinks in front of the sunset – and they spin on until midnight during the week, 2am at the weekends. La Fourmi The terrace of La Fourmi [the ant], whose name is a wink to the nearby concert hall La Cigale [the cicada], is a summer sun-trap for pretty girls with cute haircuts and skimpy dresses, attracting a throng of Pigalle street singers come to serenade their charms. As soon as they launch into song, the venue's crowd of arty bohos take up position behind the big bay windows of the big main room with its high ceilings and post-industrial décor – an enormous, yet warm and friendly wood-panelled space, with a stunning chandelier made of glass bottles.Come here to sip cocktails, glasses of wine and beers (€2.80 a pale ale) – all very affordable when compared to the neighbouring Café de la Cigale or the Petit Trianon. The area is full of Parisians helping out at concerts at the Cigale, the Boule Noire, the Trianon and the Divan du Monde, so be prepared to fight your way through to get to the bar, and for the attention of the perfectly nice but overstretched staff. If, by a miracle, you get a table, there's a menu of sandwiches, salads, charcuterie boards and some dishes of the day. Le Mauri7 Le Mauri7 is the perfect antidote to its rival over the road, the achingly hip Chez Jeanette. Where the one is always crammed with snooty drinkers, the other's clientele are a delightfully mixed bag, its atmosphere an appealing sort of ugly sexy kitsch. The walls are plastered with out-dated vinyl sleeves and film posters, while behind the bar a tacky neon sign proudly spells out the name. We love le Mauri7 because the place oozes a human warmth lacking in its neighbours. The prices are reasonable, the waiters always available and helpful (something you can't take for granted in Paris) – all in all, the perfect place to finish up a boozy evening in street style. La Caravane With all the wandering joie de vivre of its gypsy namesake, this lively little local bar just two steps from République specialises in slide shows, jam sessions, jazz and DJ sets against a backdrop of colourful, comfortable clutter, all poufs and window seats. Stop by for the entertainment, while sipping a few caipirinhas or beers at prices (€4 a pint) that are more than reasonable for the area. The fusion food is also a draw – it mixes Asian, French and Italian on a regularly changing menu, packing the rooms out for lunch and dinner. The staff are cool and relaxed, reflecting the vibe and the spirit of the local clientele. Rammed and raucous on weekends. Pili Pili As small and powerful as its name suggests, the sting in the tail is having to choose between numerous flavours of rum mixes or cocktails at unbeatable prices. There's a ton of character in the décor too, with winks to African culture but also to British punk: a real red telephone box takes pride of place in one corner. Attracting both regulars and interested new faces, the atmosphere is relaxed and intimate and the music always well chosen and eclectic – funk, rock and hip-hop, with gypsy jazz gigs or DJs mixing electro-swing at the weekend. Theme nights – God Save the Queen, Western Saloon or Prohibition Era – attract a dedicated crowd of dressing up fans. Le Bar Dix This local dive has been miraculously preserved (in sangria) since 1955. You'd be hard put to find something more 'real' than this tiny venue – more of a musty-smelling cave covered with posters and a patina of nicotine. Its clients occupy their time slipping Euros into the slot of the collector's jukebox, awakening it to play tunes from the era of Goldman, Brassens and Ferré. The moustachioed barmen are frequently drunk but always charming, mostly there to rein in clients whose carousing threatens to compete with the music, and to mop up spillages of the house sangria as the evening wears on. The menu is much as you'd expect: apart from a few bottled beers and chorizo and cheese sandwiches, you'll mostly be ordering sangria or sangria. But it's good and fruity and cheap, and we all keep coming back for more. Trucmush The front end of a Peugeot Twingo sheltering the DJ decks is only the first wacky design feature to grab your attention in this cool, lively, slightly trippy bar – the impression builds as you take in the stuffed flowers, the cheerful orange walls, and the car pressed into service as a table. The décor is a definite draw for this little bar hidden in a dead-end street near Bastille, almost as much as the rock-bottom prices. A word of warning – the clientele is very young (think freshers) and the mojitos aren't great, but the Grimm on tap does the job and the music is eclectic without being commercial. The tiny dance floor and the back room get pretty rammed on the weekends, so come during the week if you want to be able to hear yourself think. Best bars by area Bastille Oberkampf Belleville & Ménilmontant Montmartre & Pigalle Saint-Martin, Ourcq & Villette Quartier Latin Saint Michel Le Marais Les Halles & Châtelet