The best Galette des Rois in Paris
Celebrate Epiphany Paris-style with the city's best Galette des Rois, Wednesday January 6 2016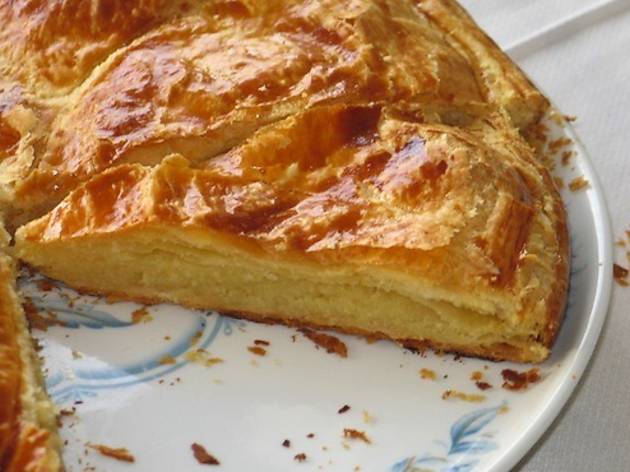 What? Officially celebrates the coming of the Three Kings to the infant Jesus.
When? Wednesday January 6 2016 (officially – pastries in stores on either side of this date).
Where? Patisseries everywhere.

In northern France Galette des Rois are buttery, almond-filled pastries, traditionally reserved for Epiphany celebrations at the end of the Christmas period (Wednesday January 6 2016). But Paris's bakers are ahead of the game these days, and the moreish dessert starts appearing in the shops before Christmas and stays there until late January, adding to the general seasonal feeding frenzy.

A proper Galette party will probably take place closer to the official date, though. The traditional Galette des Rois comes topped with a paper crown, and hidden inside is a ceramic or plastic fève or figurine (originally, it would have been a bean). Whoever's lucky enough to get the slice with the fève gets to wear the crown, and is then king for the day. This sweet tradition is a staple around family tables across France (though in the south, the Galette has a different recipe).

High-end bakeries really go to town on this, as you might expect. Jean-Paul Hévin's version has boasted green tea and chocolate drops, while Fauchon have added pineapple and coconut notes. Whether you splash out on a top tier Galette or go traditional, this is our pick of patisseries for your 2016 Galette des Rois.
For the best Galette des Rois in Paris
Hugues Pouget cut his teeth in the kitchens of some of the city's biggest restaurants and hotels – Le Bristol, Guy Savoy and the Il Palazzo (where he created an all chocolate buffet) – before opening his own boutique with his childhood friend, marketing specialist Sylvain Blanc...
Read more
Generously sized ganaches, crunchy nougat, velvety truffles… Any attempt to describe Pierre Hermé's products unfailingly degenerates into a rapturous ode to gluttony...
Book now
Read more
Dominique Saibron uses spices to give inimitable flavour to his organic sourdough boule. Every day about 2,000 bread-lovers visit this boutique, which also produces one of the city's best baguettes...
Read more
Finally, a shop that lives up to its own hyperbolic name: the 'genius éclair' really does reinvent the classic French patisserie to great effect. The Marais-based baker has been specialising in éclairs since 2012 thanks to a former cooking TV show finalist...
Read more
Voted the 'best chocolatier in the world' by critic Mort Rosenblum, Jacques Génin's creations could previously only be tasted in top restaurants. But now his impressive boutique allows you to taste sur place or take a bag home...
Read more
Arnaud Delmontel is as much a baker as a pâtissier. Visit his semi-legendary shop on Rue des Martyrs, and you're just as likely to end up buying a crispy baguette – voted the best in Paris in 2007 – as one of his famous cakes...
Read more
His creations are as much art as they are confection. Chocolate shoes, guitars, and diamond rings decorate the dark wooden counters, prompting dropped jaws among passersby...
Read more
Robert Linxe opened his first Paris shop in 1977, and has been inventing new chocolates ever since, using Asian spices, fresh fruits and herbal infusions. The apricot-infused truffles, salted caramel macarons and hazelnut pralines are all worth courting a cavity for...
Read more