Marais and Beaubourg area guide
Galleries and good times in the heart of Gay Paree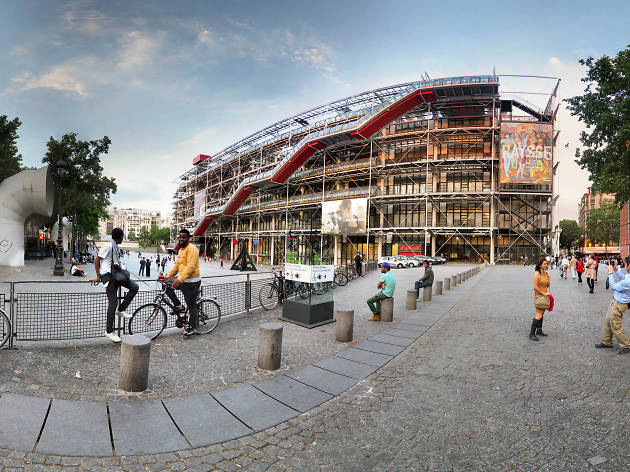 For the last two decades the Marais (sandwiched between St-Paul and République) has been one of the hippest parts of the city, packed with modish hotels, vintage boutiques, restaurants and bars – in no small part due to its popularity with the gay crowd (this is the only part of Paris where the blokes get winked at more than the ladies). But it's also prime territory for art lovers, with a vast concentration of art galleries (both small and important) and museums, more often than not set in aristocratic 18th-century mansions spared by Haussmann. Two of the most sumptuous hôtels particuliers, Hôtel Guénégaud and Hôtel Carnavalet, contain (respectively) the wonderful Musée de la Chasse et de la Nature (hunting museum) and fascinating Musée Carnavalet, which retraces Paris's history. The Marais has also long been the focus of the Jewish community: amble along rue des Rosiers, rue des Ecouffes and rue Pavée (where there's a synagogue designed by Guimard, the brain behind Paris's iconic Métro stations) and the air fills with the scent of falafels and sizzling shawarmas, sold in their hundreds from stalwarts Chez Hanna and L'As du Fallafel.
The Marais's western neighbour is Beaubourg, whose focal point is the Centre Pompidou modern art museum, a benchmark of inside-out high-tech design signed Richard Rogers and Renzo Piano. This is also where you'll find the Atelier Brancusi, the sculptor's former workshop left to the state, and moved here from the 15th. Wander north of here for two of Paris's lesser-known gems: The first, the Gaïté Lyrique (set in Offenbach's former theatre) is a temple to digital arts, with streams of digital installations and live electro concerts; the second is the Musée des Arts et Métiers – a fabulous science museum with early flying machines displayed in a 12th-century chapel.
L'Art Brut This rustic tavern on the rue Quincampoix runs counter to all current trends – no electro-house or sophisticated design here, but a down-to-earth, hippyish vibe, with plain tables in a narrow room done out in wood, stone and iron. Cheerful waiters maintain their smiles even during the rammed happy hour, and prices are low (Pastis and Amstel at €2.50)...
Cirque d'Hiver Bouglione This circus has been in the same family for decades. It now has a new façade to match its revamped interior, and crowds flock for its twice-yearly seasons (including the Winter Circus from October to March) which include tigers, horses and very silly clowns. IRCAM The underground bunker next to the Centre Pompidou, set up in 1969...
Le CUD Bar When the bars and restaurants start close, the party is far from over in the Marais. Things at the Cud, an unfortunately-named but sinfully fun venue, start to heat up around 2am as party-seekers leave other venues for this classic and basic cave bar. Located off Rue du Temple on a tiny street, this is one of the best late-night spots in the Marais...
Museums Musée de la Chasse et de la Nature A two-year overhaul turned the three-floor hunting museum from a musty old-timer into something really rather special. When it reopened in 2007, it had kept the basic layout and proportions of the two adjoining 17th-century mansions it occupies, but many of its new exhibits and settings seem more suited to an art gallery...
Breizh Café With its modern interior of pale wood and its choice of 15 artisanal ciders, this outpost of a restaurant in Cancale, Brittany, is a world away from the average crêperie. For the complete faux-seaside experience, you might start with a plate of creuse oysters from Cancale before indulging in an inventive buckwheat galette such as the Cancalaise, made with potato, smoked herring from Brittany and herring roe...
Fleux' Suffering from IKEA fatigue? Don't panic, there is furniture made outside Sweden. Spread over nearly 350 square metres, Fleux offers a plethora of decorative and colourful design pieces. Opened in 2005, Luc Moulin's and Gaétan Aucher's boutique focuses on two key concepts: the superfluous and the luxurious. So rather than practical flat pack, expect to find anything from...
Place des Vosges Paris's first planned square was commissioned in 1605 by Henri IV and inaugurated by his son Louis XIII in 1612. With harmonious red-brick and stone arcaded façades and steeply pitched slate roofs, it differs from the later pomp of the Bourbons. Laid out symmetrically with carriageways through Pavillon de la Reine...