Daorae Korean BBQ Restaurant Tanjung Tokong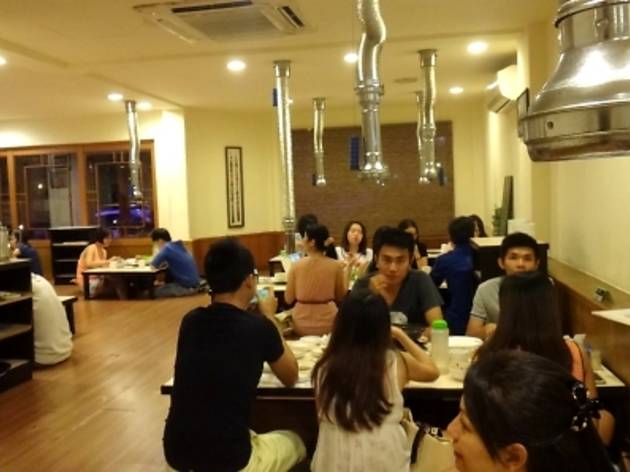 December 2013

Of all the places to eat in Penang, here was the spot Psy popped in for a meal during his one-song performance on the island. After a meal there ourselves, we can see why. Simple in terms of interior, efficient in terms of service and tasty in terms of flavours, Daorae certainly stood to the test well with the numerous Korean barbecue restaurants currently mushrooming in Penang.
There are two sorts of dining area – one is the usual tables and chairs more suitable for hot pots and the other is shoe-free area dotted with sunken eating areas where you sit on the floor and tuck your feet under, suitable for barbecuing with silver suction pipes to minimise the clinging scent.

Side dishes accompanying the barbecue sets
From their extensive menu, we picked the gai-bi-sal at RM65+ that was pieces of beef short rib marinated in a secret Daorae sauce of sweet and umami tastes that seemed to heighten the beefy flavours of the medium done barbecued pieces. While the wait staff attended to the cooking process that happened right there in the middle of our table, we picked on the countless very small side dishes that appeared – kimchi, cold bean sprouts, cold green leaves, salad, lotus root and the like.
The other protein we picked was their Pork Special at RM38+ that consisted of juicy, tender chunks of pork, barbecued well done and dipped into a delicious seasoned sesame oil sauce. Each choice of meats are good for one person or two small eaters. However, a mix of two different choices gave us variety and a chance to experience just how fresh their produce were.

A barbecue in progress right on the table
While a plate of kucai leaves-filled pancake was given as a tasty carbohydrate offering, we enjoyed an order of starchy, fat Korean rice at RM5+ per bowl good for two small eaters. Eating a barbecue here is hassle-free since their efficient wait staff will come around to cook the meats for you.
There are Korean noodle sets, a range of side dishes and also rice sets if you prefer or if you choose not to leave the restaurant smelling of sizzling meat. A good match with the barbecue, we found, was the light sting of alcohol and undertone of rice-sweetness of soju or Korean rice wine at 19 per cent alcohol content and RM25+ per small bottle. A match made in (Korean) heaven, we say! Kitty Kaye
Venue name:
Daorae Korean BBQ Restaurant Tanjung Tokong
Contact:
Address:
No 104, Jalan Tanjung Tokong
Penang
11200

Opening hours:
Daily, 11.30am-3pm, 5.30pm-11pm