Arts & Entertainment
Your complete guide to Penang's art exhibitions, theatre plays, musicals, comedy, movie reviews and film trailers
Latest film reviews and releases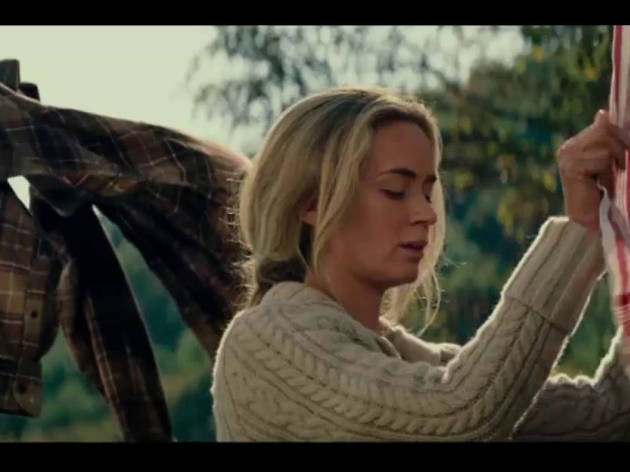 A Quiet Place
'A Quiet Place' is like 'Aliens' retooled as a militant librarian's fantasy. Actor-director John Krasinski's relentless shocker thrives on a nifty premise: in a post-apocalyptic near future, a family must survive in a world where the slightest sound brings out deadly monsters. With minimal dialogue – characters communicate by (subtitled) sign language, eye contact and whispers – 'A Quiet Place' is pure, bold cinema, its images and creepy sounds working together to scare the bejesus out of you. Save for some late-in-the-day news headlines, Krasinski admirably gives us little backstory for the monsters. Instead, mum (Emily Blunt), dad (Krasinski), son (Noah Jupe) and daughter (Millicent Simmonds), whose deafness means she can't hear the beasties coming, are just shoved through the mill. Nerve-shredding set pieces revolve around a nail sticking out of a stair, a flooding basement and a 'Jurassic Park'-like run through a field. All done with ruthless brio. The rules of this world are fast and loose, so the monsters can't hear over waterfalls but can listen through walls. It's a neat allegory for the challenges of parenting in a crazy world. The family dynamics lack nuance, but real-life husband and wife Krasinski and Blunt bring poignancy, the CG beasties are striking and the film pulses with ideas. It all adds up to a monster movie to shout about. Or maybe not.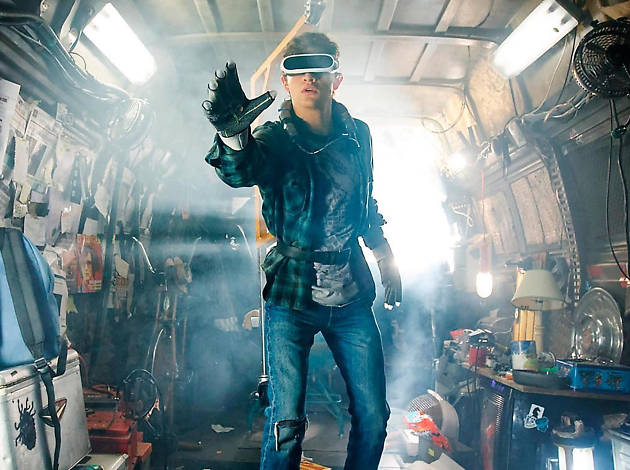 Ready Player One
Ernest Cline's pulp sci-fi novel 'Ready Player One' is a wiki's worth of pop-culture references stitched together with a derivative plot. It has many readers but substantially fewer devotees. Steven Spielberg's fun but forgettable adaptation may run into the same difficulties. It's a CGI-heavy fantasia that will pop your eyeballs, but giddy as it is, it never quite sells its characters or gets much purchase on your emotions.Like 'Tron' being given a state-of-the-art update, it's mostly set in an AI entity called the Oasis. A world of wish-fulfilment, it's accessed by the downtrodden citizens of a dystopian 2045 with the fervour of addicts. Our tour guide is Wade Watts (Tye Sheridan), an orphaned teenager who scours the Oasis in the guise of his avatar, Parzival, looking for '80s-referencing clues, or Easter eggs, left by its founder (Mark Rylance). Teaming up with Wade/Parzival – though with a more political agenda – is spiky hacktivist Art3mis (Olivia Cooke). Corporate villain Nolan Sorrento (Ben Mendelsohn, having a ball) brings oily zeal.Unusually for Spielberg, the emotional grace-notes that elevate his best work in the genre – Elliott's flying bicycle in 'ET', the first dinosaur reveal in 'Jurassic Park' – are substituted with the sugar rush of VFX cyberscapes. But there's spectacle in abundance, along with more '80s and '90s references than you can shake an arcade joystick at. Our introduction to the Oasis is a breakneck race through an ever-shifting New York cityscape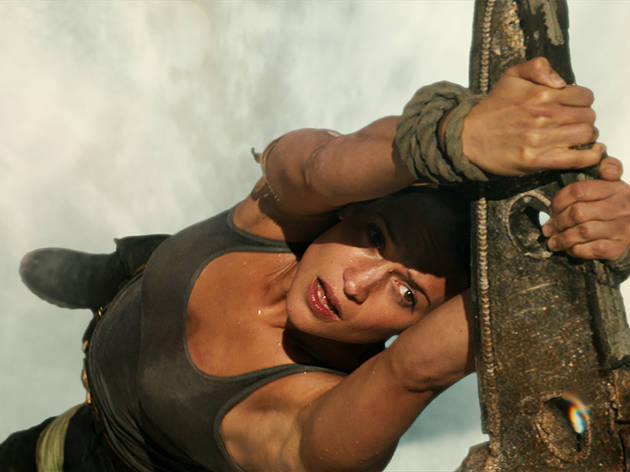 Tomb Raider
In some respects, 'Tomb Raider' has come a long way. Lara Croft, 2018-style, is now less of a geek's voluptuous fantasy; as portrayed by Alicia Vikander ('The Danish Girl'), she's sinewy and serious. Moreover, Lara's not such an anomaly these days, with plenty of female company when it comes to action heroics: Katniss Everdeen rocks a bow and arrow, Imperator Furiosa flings herself into battle and Wonder Woman suddenly has a bright future.  Then again, we're still talking about the same limited formula: take a recent Oscar-winner (once Angelina Jolie, now Vikander), put her in a tank top and see how fast she can run while furrowing her brow. Living in London, Lara's barely making the rent on the flat she shares with best friend Sophie by working as a motorcycle courier. Today's 'Tomb Raider' benefits from an occasionally sneaky line reading from its star but inevitably plays like warmed-over 'Raiders of the Lost Ark', too trapped inside its digital punishments to feel truly dangerous. There's no way to hate a movie that has spiked poles, booby-trapped caves and zombies, but you can fault it for not trying as hard as it should. Effectively starting from zero, these screenwriters do a better job of giving Lara, heiress to the Croft fortune, a believable daddy complex (Dominic West plays her missing adventurer father). She's also got a deranged competitor for buried junk (Walter Goggins) and a sidekick (Daniel Wu, who you wish rated some romantic sparks). Norwegian director Ro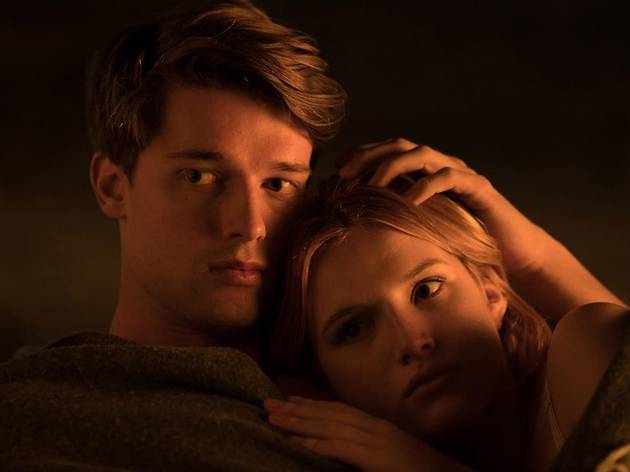 Midnight Sun
After the 'Twilight' saga, we're well used to young adult romances involving mysterious, pale sun-dodgers with attractive depths. The twist with this one is that there's nothing supernatural about nocturnal teenage guitarist Katie (Bella Thorne). She suffers from a rare genetic disorder called xeroderma pigmentosum (XP), which means her body is unable to repair the damage caused by ultraviolet light. In other words, the sun can literally kill her.It's an extreme obstacle to put in the way of her finding happiness with childhood crush Charlie – a boy she's watched from her window most of her life, and who's grown into the handsome form of Patrick 'Son of Arnold' Schwarzenegger – but certainly a novel one. (Although, it's worth noting this is a relatively straight adaptation of 2006 Japanese teen drama 'Taiyo No Uta', not that its target audience will have seen the original, of course.) To be frank, it's about the only aspect of this story that lends it any distinction. 'Midnight Sun' is, otherwise, a bland mix of familiar types (the caring, doofus Dad; the quirky best friend who wears woolly hats indoors) who all trundle along the rails of a predictable plot, which relies on Katie preposterously keeping her illness a secret from Charlie until it inevitably catches up with her in a Cinderella-ish manner. Leads Thorne and Schwarzenegger are mildly charming in a TV-soap way, but it's all so desperately clean and savoury (even her XP is photogenic – unlike in reality). They strugg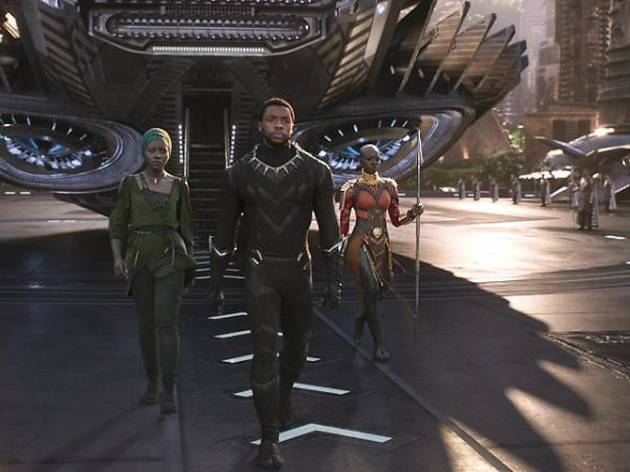 Black Panther
For all their global dominance, everybody wants these superhero movies to be better: funnier, smarter, more inclusive, more super. A huge step in the right direction, 'Black Panther' is that dream come true. Proudly African – even if its Africa comes in the form of the fictional country of Wakanda, a powerhouse of secret technologies – Marvel's latest is, from top to bottom, a conscious reversal of racial paradigms. Handsomely mounted by 'Creed' director Ryan Coogler and starring an enviable slate of black actors that makes cameoing comics godhead Stan Lee almost seem lost, the film is provocative and satisfying in ways that are long overdue, like its ornate, culturally dense production design and the deeper subtexts of honor, compassion and destiny. Wakanda's young king, T'Challa (a dignified Chadwick Boseman, well-seasoned after playing onscreen versions of James Brown, Jackie Robinson and Thurgood Marshall), recognizes that the world outside his peaceful realm is a divisive place. Still, even as his own armor-clad excursions as Black Panther set up an internal tension between isolationism and responsibility (yes, this is the rare blockbuster with something on its mind), tensions within Wakanda—fomented by exile-turned-rebel Erik Killmonger (Michael B. Jordan, on fire)—threaten to bring him down. In their script, Coogler and Joe Robert Cole take inspiration from the Black Panther's 50-year history on the page, including a dazzling current run by author Ta-Nehisi Coates, an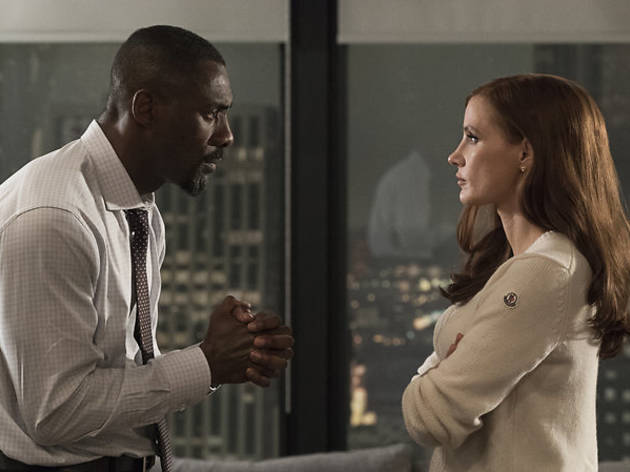 Molly's Game
Aaron Sorkin's distinct verbal cadences have been so recognisable in so many movies and TV shows, it's strange to think that he's never directed any of them himself. Rise-and-fall poker tale 'Molly's Game' finally changes that. It's a real-life story about a regular high-stakes Hollywood game. Unsurprisingly, the one-upmanship among arrogant gamblers and big cheeses fits effortlessly into Sorkin's universe, resulting in a wild ride with smarts to burn. We meet soon-to-be-ex-Olympic-skier Molly Bloom (a terrific Jessica Chastain) moments before a freak accident curtails her career. Following her recovery, she halts her law school plans and moves to LA, where a shady businessman (Jeremy Strong) offers an intro to his underground poker games. From there, she takes over, upgrades them and unwittingly gets mixed up with organised crime. When the FBI raids her home, she hires New York lawyer Charlie Jaffey (Idris Elba) to run her defence. Despite an underbaked effort to boil Molly's defiance down to a father-daughter story – an overindulged Sorkin instinct in 'Jobs' too – 'Molly's Game' rips along at pace. A sharply judged edit stitches together three separate timelines, shaping Molly as a complex and razor-sharp character in a world dominated by entitled mansplainers. Forget 'Rounders' – here's a poker movie to go all-in on.
See all Time Out film reviews