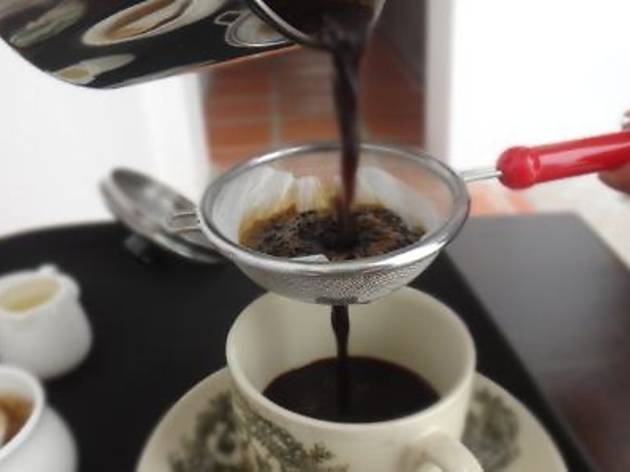 November 2012

Just off Lebuh Pantai, between the lovely Whiteaway buildings, is where this new café sits on Lebuh Bishop. Its brown and white signage scrawls 'Goh Kaki' café and with a few Chinese characters. Inside, the old, narrow and long building is basking in its new white painted walls and brown, wooden furniture. Its little courtyard's wall has a black and white mural that complements the water feature in large clay pots housing flourishing water plants.

Since they opened on October 1, they serve nothing more than freshly blended juices cooled by frozen fruit cubes and thick as molasses local coffee served in a variety of styles from long gone days. Their drinks menu begins at RM4.50++ for straightforward tea to RM13.50++ for ingenuous fruit and vegetable concoctions with frozen fruit cubes that will not dilute your drink once melted.

For once-a-week juice dieters, here's where their mixture of beetroot, green apple and sweet pineapple will sustain you. With absolutely no sugar added, the sweetness of the drink stems from the petite pineapple variety that they use. Prettily called Dream of Red Chamber, the appetising deep red colour of the drink comes from the beetroot and will unfailingly entice.

Dream of Red Chamber

A little adventure can be got from their Coffee We Knew that comes in a tray consisting of condensed milk, sugar, a small pot of spoon-standing thick freshly brewed local ground coffee and a cup with a little sieve or sifter sitting on top. Be warned a cup of this one will get you going for the next five hours, at least!

While their drinks may charm, their plans for the place beginning this November will certainly make it a place not to miss. They plan to turn the second floor of the building into a geomancy academy and their food menu will consist of kok za bi dishes that are born of the old-fashioned way of home-styled cooking. What's more, while you wait for your food, there will be childhood games such as liew qian – a game involving picking out half-coloured sticks from a narrow and long bamboo case and matching colours of two sticks to win against the odds you've dictated – to distract you from your hunger.

Liew qian

As I stumble in for respite from a scorching afternoon, a geomancy student not only serves me with their very welcomed drink menu, tells me what Goh Kaki will become when it is fully operational but he earnestly reads my fortune through the numerology method.

The latter – although not a service offered but may be made available when coaxed – certainly punctuates my afternoon coffee and gives insights to what my life journey holds. And for now, according to the numbers, it is pointing towards discovering more unique, newly opened cafes such as this! Su Aziz
Venue name:
Goh Kaki Lebuh Bishop
Contact:
Address:
34 & 36, Lebuh Bishop
Penang
10300

Opening hours:
Daily, 11.30am-11.30pm