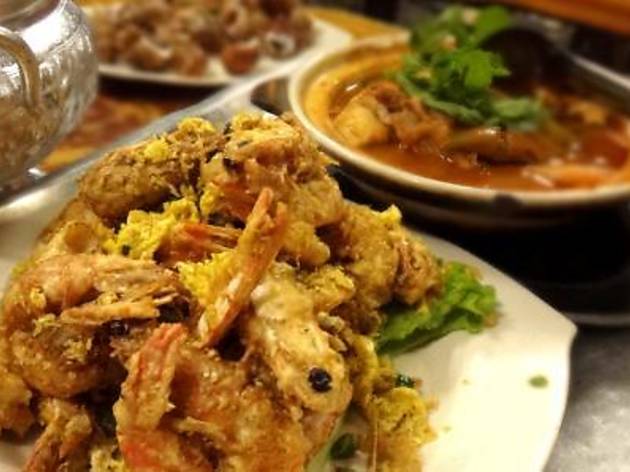 June 2013
Under a huge tree on Weld Quay, across from the ferry terminal, is this seafood place called Weld Quay Restaurant– it's pretty easy to miss it but not the tree. We've been told that the restaurant's been there for three decades and its seafood menu has grown exponentially since then and so has the tree it's located under – its root is almost swallowing part of the dining area and gives you a feeling that you're dining in a forest!

The restaurant's really simple and rustic ambience simply offsets the straightforward but satisfying flavours they serve. You start off your dining experience here by choosing the seafood you prefer from an impressive display of them on ice trays. To help you decide, we recommend their Nestum-batter deep-fried prawns at RM6 per 100gm is crispy and fleshy. Another deep-fried favourite here is their softshell crab coated in thin egg batter that's around RM30 for a large plate good for six to eight people.
If you were to order a whole fresh fish, let's say one from the snapper family at around RM90 for more than half a kilogram in weight – that's enough to feed around 10 adults along with three other dishes – you're allowed to request the fish to be halved and cooked in two different styles. While some may opt for steamed, deep fried or grilled, we opted for one-half to be cooked in lightly spicy curry with vegetables and the other in real thick, tangy-sweet assam sauce. They're such perfect accompaniments with white rice too.
Besides seafood, they have delectable deep fried chicken drizzled in marmite sauce but it's their aromatic chicken steamed in a tin foil steeping in herbal gravy that's both quite sexy and appetising. A host of pork dishes are also available and what's popular is their braised pork knuckle that holds thick and comforting flavours.
It's not all about meats and seafood here. Part of their vegetable dishes includes blanched lettuce leaves and belacan stir-fried kangkong are served fresh and crispy, priced between RM10 and RM14. Although, the yummiest find here is the minced meat filled cakoi – which is deep-fried fritter and lightly drizzled with a delicate thick sauce. You've simply got to try the latter as an appetiser. Another one is the steamed snails of rubbery texture and nondescript flavour but when dipped in chilli sauce, it's quite a crowd pleaser.
What else to look forward to? The very small price you pay when the bill arrives! It'll average to around RM25 per person with at least seven dishes and that'll include of a whole fish, prawns, softshell crabs, two sorts of chicken dishes, pork knuckles and two vegetables. Drinks are not included but fear not, a glass of Chinese tea is less than RM1 here.

If you're planning to dine there with a big group, it's advisable to make a reservation during weekends and public holidays since the place is pretty popular among the locals. Kitty Kaye
Venue name:
Weld Quay Restaurant
Contact:
Address:
21, Pengkalan Weld
Penang
10300

Opening hours:
Daily, 12noon-2.30pm, 6pm-10.30pm, closed on Wed