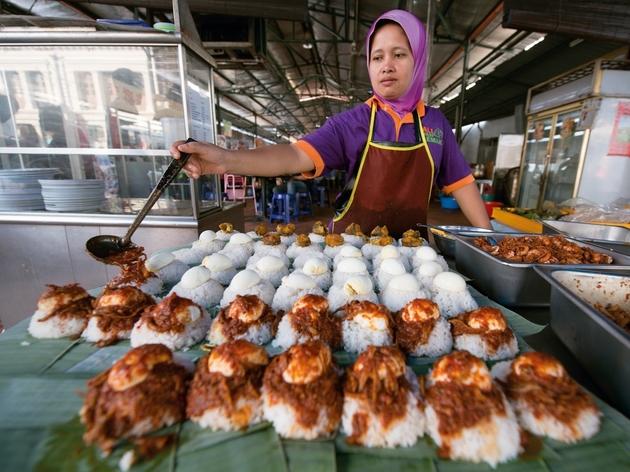 Best food courts in Penang
The best places to get everything you need under one roof
Travel host and food writer Anthony Bourdain wants to open a Malaysian-style food court in New York featuring a whopping 50 food stalls. Neatly sectioned into Asian (mainly Singapore and Malaysia dishes), international (from Mexican to American) and pop-up stalls of different city and country (to be rotated every three months to keep things exciting). Each stall will be represented by one or two of its best specialities such as Vietnamese pho, Chinese lamb noodles, Iberico ham and Sarawak laksa. If inspiration is needed from the king of street food (ahem, that's us!), here are our five favourite food courts to go with.
The irrefutable crowd favourite, Sri Weld Food Court is known for two stalls, namely the spicy Ali's nasi lemak (pictured) and the beef koay teow. A food court, well-shaded from the island heat and surrounded by tourist sites, make great refuge for tourists and locals alike. It's open only in the day.
If you're a regular at Long Beach Café, we bet you've had one or more of the crunchy Hainanese spring roll. The food court's offering of Indian cuisine such as the generous portion of tandoori chicken with a side of flavourful biryani are also worthy of a try. The close promixity to Batu Ferringhi mean you'll get to savour it all with view of the sea. It opens after 5pm.
Join the Penangites and occupy the tables closest to the sea where boats leisurely bobbing about. The grilled ikan bakar is almost a customary in every table, as well as the grilled stingray thickly slathered with mildly spicy paste. Too much heat? Order a bowl of ais kacang for dessert. It opens after 5pm.

There are over a dozen halal or pork-free food stalls in this food court, perched atop the Penang Hill. Enjoy the funicular train ride up and diners will be rewarded with a tasty serving of laksa and char koay teow. Cleaner and better furnished, Cliff Cafe is entirely sprawled with wooden floors, furniture and marble-topped tables, in benefit of comfort. Opens only in the daytime.
RU Food Court, Butterworth
Butterworth's food court gem has a name and it's simply known as RU after the road name it's on, Jalan Raja Uda. There are food stalls to sample from, be it for lunch or dinner, but we must recommend one dish in particular, the homemade Million Mee that's popular with the locals.