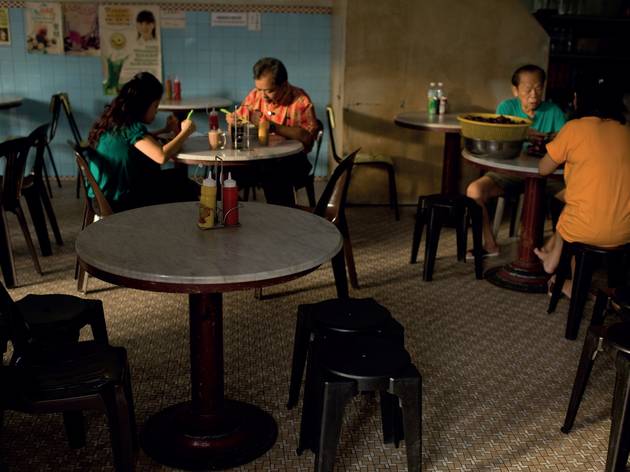 Melting pot: Getting to know Penang's food culture
World-renowned critic and expert on Southeast cuisine – and now a proud Penangite – Robyn Eckhardt explores the many ethnic groups of Penang and how they came to influence local cuisine
On Lebuh Kimberley in the heart of George Town, Penang, most evenings find locals and tourists milling around a rubber-wheeled stainless steel cart parked halfway between Jalan Pintal Tali and Lebuh Cintra. There, beneath the harsh glow of a fluorescent strip, Por Beng Kuan and his round-faced son – the spitting image of his dad, whose signature look is a backwards baseball cap pulled tight to his skull – assemble bowls of koay chiap. Whether the crowd is heaving or tiny the two work at lightning speed, chucking duck meat and duck and pig offal, five spice-simmered hard-boiled egg halves, and tube-like curled noodles into bowls before sloshing in mahogany hued soup. Finally, the garnish: Chinese celery and a smidge (or a sizeable spoonful, if you ask) of oily crushed dried red chilli sauce.
It's a fine version of a classic Teochew dish, reflecting a talent honed over 30 years of preparing the dish day after day, month after month. The soup is bewitchingly fragrant (you can smell it half a block away), and Por Beng Kuan's way with pig ears and duck giblets has been known to sway the most ardent anti offal-ist. The pleasantly tender yet elastic koay chiap (the dish is named after its noodles), assembled from tapioca, rice and mung bean flours, are made 'in-house'; this I know after strolling the one-block length of Jalan Cheong Fatt Tze (which runs parallel to Lebuh Kimberley) one day. There I found, arrayed on a stoop across the street from a butter yellow Chinese temple, round rattan trays of snow-white koay chiap drying in the mid-afternoon sun.
A three-decade veteran cook serving small-batch noodles made a ten-minute walk from where they're served – the is the sort of locavore, artisan eating that sends western foodies over the moon. But for Penangites it's no big deal. And that's why the island's edibles have long been the stuff of legend.

Is there a Malaysian who hasn't made a pilgrimage to sup at the knees of George Town's renowned hawkers? I didn't think so. And the buzz about what's good to eat in Penang doesn't stop at Malaysia's borders. Step into a kopitiam in George Town on a weekend or school holiday and there's a good chance half the tables will be occupied by hungry Singaporeans. Penang's cheap rooms and tumbledown colonial charm have been attracting foreign backpackers for years, but these days the island is gaining international notice as an Asian culinary destination par excellence. Singapore, 'southeast Asian street food capital'? No one who has experienced hawker food on Penang could utter those words with a straight face.
Come to Penang and you'll eat incredibly well. Hokkien mee (pork and prawn and chilli-based noodle soup), lor bak (five-spiced pork wrapped in bean curd skin and deepfried), koay teow th'ng (smooth, silky rice noodles with pork and fish balls in a clear soup), rojak (mixed fruit and vegetable salad) dressed with sweet and pungent black shrimp paste, char koay teow (flat rice noodles fried with black soy sauce, eggs, bean sprouts, prawns and Chinese sausage), wonton mee with crisply fried dumplings crisply fried, sup kambing (richly spiced mutton soup), fish cooked in fire engine-red, sour-spicy gravy, prawns thickly coated in fresh tamarind sauce. And that's only the tip of the island's gastronomic iceberg.
But there's more than tastiness to account for the appeal of eating on this island once known as the Pearl of the Orient. Think decades – in some cases a century or more – of experience, long-standing traditions, elderly aunties and uncles watching over pots and working woks, recipes passed down from generation to generation. The island's coffee shops and hawker stalls and restaurants are scented with nostalgia; Penang's bygone days live on, deliciously, in its food. Nowhere else in Malaysia – or in the region, for that matter – is history so clearly, and deliciously, writ on what you put in your mouth.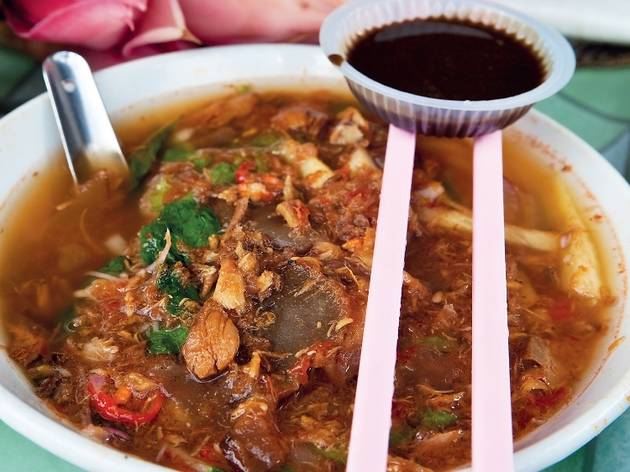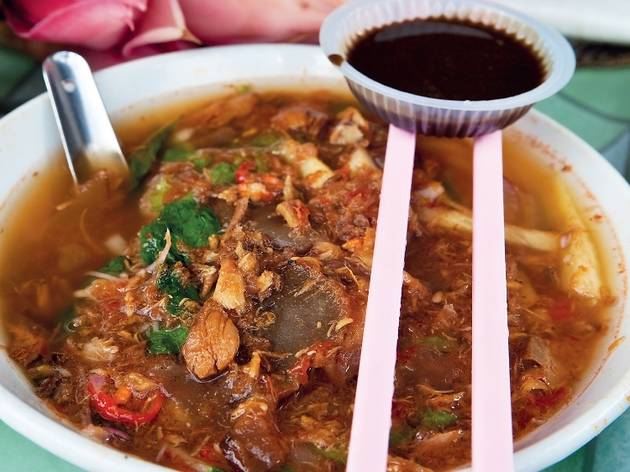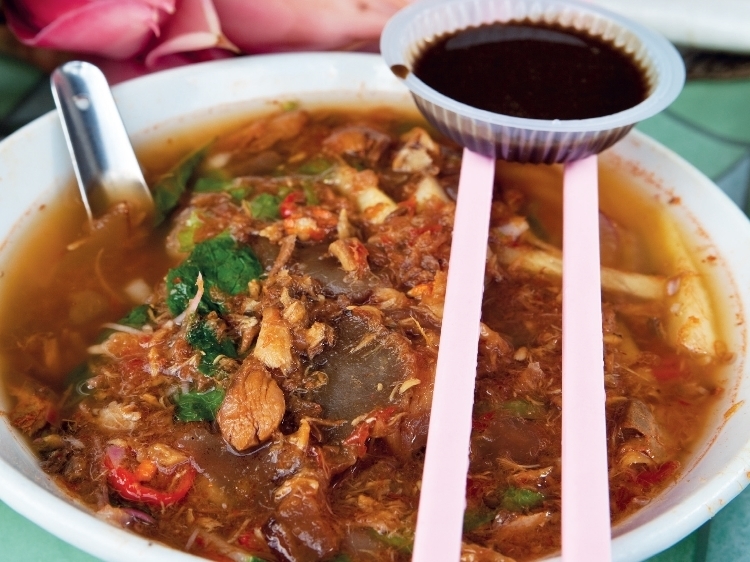 Photo: David Hagerman
History on a plate
For centuries, Penang, with George Town as its capital, was an entrepot drawing settlers from around the word. From the 16th century Hokkienese, from the eastern Chinese province of Fujian, became known throughout Southeast Asia as skilled seafarers and even more talented traders. They landed first in the Philippines, then moved west, arriving in Penang after lighting on Malacca and before moving up the coast to Phuket. Waves of Chinese immigrants to Penang followed – Teochew, Cantonese, Hakka and Hainanese – but today, Penang (Malaysia's only Chinese Malaysian-majority state) remains largely Hokkien. The Hokkien influence is seen in George Town's grand clan associations (many are clustered on or around Lebuh Armenian), in the patois most often heard in kopitiam around town, and in two distinct cuisines: Nyonya and Hokkien.
Leaving their wives in China to manage the household in their absence, most Hokkien arrived in Penang alone and many married local women. Those marriages sired a unique culture and what is arguably Penang's most celebrated cuisine: Nyonya are female descendents of these marriages (male descendents are known as 'baba') and their recipes – also referred to as Straits Chinese or Peranakan – incorporate both kitchen staples introduced from China, like soy sauce, bean curd and fermented yellow bean sauce (taucu) and local ingredients such as tamarind, galangal, lemon grass, daun kesom (an astringent, peppery herb also known as Vietnamese cilantro), coconut milk and the pretty pink flower bud of the torch ginger plant.

To tuck into a mound of nasi ulam (rice mixed with Penang's own belacan, chillies, coconut and twenty-some finely chopped fresh herbs, roots and aromatics), a wobbly lemongrass and wild pepper leaf-scented steamed fish custard (otak-otak), or a serving of deep-fried fish marinated in turmeric-tinted, vinegar-soured oil is to taste a time when such labour-intensive and time consuming dishes were a daily affair in Penang's grand gold leaf-embellished Peranakan mansions.
These days, those not lucky enough to count a Penang Nyonya among their friends can taste a hint of those days at restaurants and a few number of hawker stalls dishing up the specialities mentioned above. A signature Penang hawker dish, assam laksa, also bears the Nyonya imprint. One of a number of variations on the Malaysian laksa theme (Sarawak, Johor, and Kelantan states all have their own), it consists of thick round rice noodles submerged in a spicy orange-red broth tart from tamarind and thickened with flakes of fish. A hillock of fresh ingredients (whole mint leaves, sliced red chili, and shredded cucumber, red onion, pineapple and bunga kantan) crowns noodles and soup. Hae koh, black sweetened shrimp paste – a made-in- Penang condiment – is usually served in the bowl of a soup spoon balanced on the surface of the soup.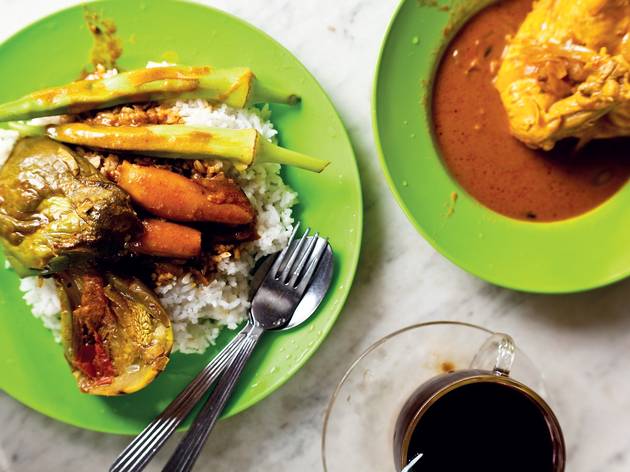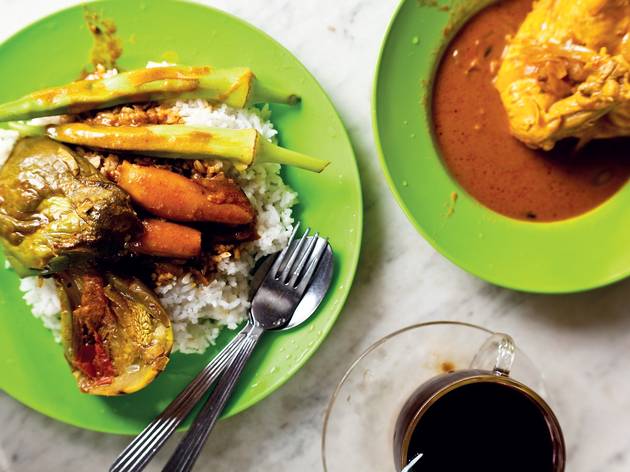 Photo: David Hagerman
In addition to contributing to the creation of Nyonya cuisine, Hokkienese held fast to culinary traditions carried from their home province, adding dishes like Hokkien mee to Penang's culinary mosaic. In Penang, Hokkien mee consists not of thick noodles fried with pork and black soy sauce, as it does down south, but is a light, zesty soup made with pork bones, prawn heads and chillies that's ladled over yellow noodles and beehoon (rice vermicelli), bean sprouts and prawns, sprinkled with fried shallots and spiked with thick chilli paste. A good Hokkien mee pulls a strong crustacean punch, a nod back to the days when fishermen pulled prawns from the Penang's (then) unpolluted waters by the ton. Poh piah, or soft spring rolls, are another Hokkien contribution; stroll the lane on the east side of George Town's Chow Rasta Market building early in the morning and you'll see a poh piah skin seller making the wrappers by hand the old fashioned way, circling a ball of sticky dough on the surface of a hot griddle, lifting the skin off to add to a stack sitting nearby and repeating, again and again. Poh piah aren't exclusive to Penang but many claim that here they're the tastiest, probably with the poh piah of a certain renowned crusty vendor at Padang Brown food court, who makes his with fresh crab, in mind.
Before there were Hokkien or Nyonya on Penang there were Malays, cooking with coconut milk, aromatics like garlic and shallots, roots like ginger and galangal and turmeric, and all manner of leaves cultivated and foraged and spiking it all with belacan and chillies, which combined make the Malay table staple sambal belacan (chilli and shrimp paste). Indian, Arab and Acehnese arrivals to Penang introduced to Malay cooks dried spices like cumin and coriander seeds. In simple kitchens they used granite pestles to pound pastes in matching mortar; the rempah, or spice paste, is a defining element of Malay dishes, never added to a dish without being pre-cooked in oil (coconut oil, laboriously extracted from fresh grated coconut meat, in the old days).
Though not quite as elaborate or time-consuming to prepare as Nyonya dishes, Malay cuisine still requires a degree of dedication. Luckily for Penangites, there are still housewives and grannies all too willing to put the time in, and they're mostly found at nasi lemak stalls around the island. Often they'll wrap their santan (coconut milk)-enriched rice, island-fresh fish, sambal belacan and whatever other accompaniments the diner selects will be wrapped in a banana leaf, a throwback to the days before plastic bags and brown paper.

As lovers of sugar, Malays have raised the preparation of desserts and sweet snacks to a high art; one of their greatest, and most humble masterpieces is the sweet porridge. Made with glutinous black (which is actually dark purple in appearance) rice, inky bubur pulut hitam is usually served with a dramatic swirl of coconut milk. Before the days of refrigerators, the coconut milk was salted to prevent spoiling. The habit lives on, and the dish tastes all the more deliciously sweet for the addition of savoury. Pengat is another throwback to the centuries-old ingenuity of Malay cooks. Another coconut milk-based treat made with fruit or 'sweet' vegetables (banana, jackfruit, pumpkin, breadfruit, taro), pengat is sweetened with gula Melaka, sugar made by boiling down the sap collected from the cut stalk of an immature coconut palm flower. Ponder, while you enjoy this sophisticated dessert, the fact that two centuries ago Malays living on Penang were probably making it from coconuts, coconut palm sap, and fruits all harvested from their backyards.
Penang's Little India is the country's largest and most vibrant; in the mornings bells from Hindu Sri Mariamman temple answer the call to prayer from Jalan Masjid Kapitan Keling just opposite as the smell of fresh curry leaves frying in oil and dried seeds being processed in small spice mills in the enclave mingles with the scent of incense from the always busy Chinese Goddess of Mercy Temple. Settlers from the subcontinent – southern India and the Punjab, mostly – began arriving in the latter half of the 1700s, the earliest sent by the British as convict labour. Their most immediately visible contribution to Penang gastronomy is roti Bengali, the soft white bread loaves with crispy crusts that are a must for grilled or steamed toast with kaya (coconut jam). It's believed that Punjabis brought the recipe to Penang in the early twentieth century and the bread is still made today in a bakery on Transfer Road in George Town (follow your nose). Roving vendors – Indian men of a certain age – sell the bread from glasssided wood display cases affixed to their bicycle or pushcart, announcing their presence on the street by ringing a brass bell.
Once upon a time other itinerant vendors of Indian foods could be seen around the island. Nasi kandar, rice served with various meat and vegetable curries, is a holdover from the days when strong men carried kandar, or shoulder poles, with baskets of rice and curry suspended from either end. At George Town, coffee shop Toon Leong (on the corner of Jalan Transfer and Jalan Argyle), an unassuming vendor of nasi kandar carries on the more than century-old tradition, serving rice and wonderfully tender beef – one among many curries – made with recipes handed down from his grandfather, an immigrant from Tamil Nadu. Likewise Shahul Hameed, a serious-faced Mamak (Indian Muslim) and talented cook of mee goreng working out of the food court next to Fort Cornwallis. This isn't just any any mee goreng, but a carrot-hued nest of noodles cradling a tangle of squid simmered in a fiery blood red sauce made by Hameed himself from dried, roasted and ground red chillies. When you place a forkful of his gloriously sloppy, utterly scrumptious noodles into your mouth, you're tasting a dish passed from father – who began selling mee goreng from a stall at Penang's old port in 1942 when the island was under Japanese occupation – to son. A family's, and an island's, history on a plate. You're tasting the essence of what makes Penang such a uniquely wonderful place to eat.