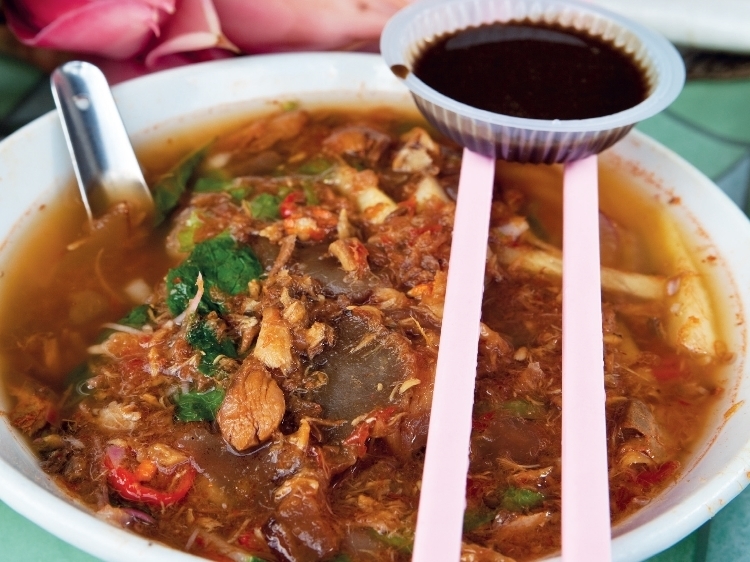 Photo: David Hagerman
History on a plate
For centuries, Penang, with George Town as its capital, was an entrepot drawing settlers from around the word. From the 16th century Hokkienese, from the eastern Chinese province of Fujian, became known throughout Southeast Asia as skilled seafarers and even more talented traders. They landed first in the Philippines, then moved west, arriving in Penang after lighting on Malacca and before moving up the coast to Phuket. Waves of Chinese immigrants to Penang followed – Teochew, Cantonese, Hakka and Hainanese – but today, Penang (Malaysia's only Chinese Malaysian-majority state) remains largely Hokkien. The Hokkien influence is seen in George Town's grand clan associations (many are clustered on or around Lebuh Armenian), in the patois most often heard in kopitiam around town, and in two distinct cuisines: Nyonya and Hokkien.
Leaving their wives in China to manage the household in their absence, most Hokkien arrived in Penang alone and many married local women. Those marriages sired a unique culture and what is arguably Penang's most celebrated cuisine: Nyonya are female descendents of these marriages (male descendents are known as 'baba') and their recipes – also referred to as Straits Chinese or Peranakan – incorporate both kitchen staples introduced from China, like soy sauce, bean curd and fermented yellow bean sauce (taucu) and local ingredients such as tamarind, galangal, lemon grass, daun kesom (an astringent, peppery herb also known as Vietnamese cilantro), coconut milk and the pretty pink flower bud of the torch ginger plant.

To tuck into a mound of nasi ulam (rice mixed with Penang's own belacan, chillies, coconut and twenty-some finely chopped fresh herbs, roots and aromatics), a wobbly lemongrass and wild pepper leaf-scented steamed fish custard (otak-otak), or a serving of deep-fried fish marinated in turmeric-tinted, vinegar-soured oil is to taste a time when such labour-intensive and time consuming dishes were a daily affair in Penang's grand gold leaf-embellished Peranakan mansions.
These days, those not lucky enough to count a Penang Nyonya among their friends can taste a hint of those days at restaurants and a few number of hawker stalls dishing up the specialities mentioned above. A signature Penang hawker dish, assam laksa, also bears the Nyonya imprint. One of a number of variations on the Malaysian laksa theme (Sarawak, Johor, and Kelantan states all have their own), it consists of thick round rice noodles submerged in a spicy orange-red broth tart from tamarind and thickened with flakes of fish. A hillock of fresh ingredients (whole mint leaves, sliced red chili, and shredded cucumber, red onion, pineapple and bunga kantan) crowns noodles and soup. Hae koh, black sweetened shrimp paste – a made-in- Penang condiment – is usually served in the bowl of a soup spoon balanced on the surface of the soup.