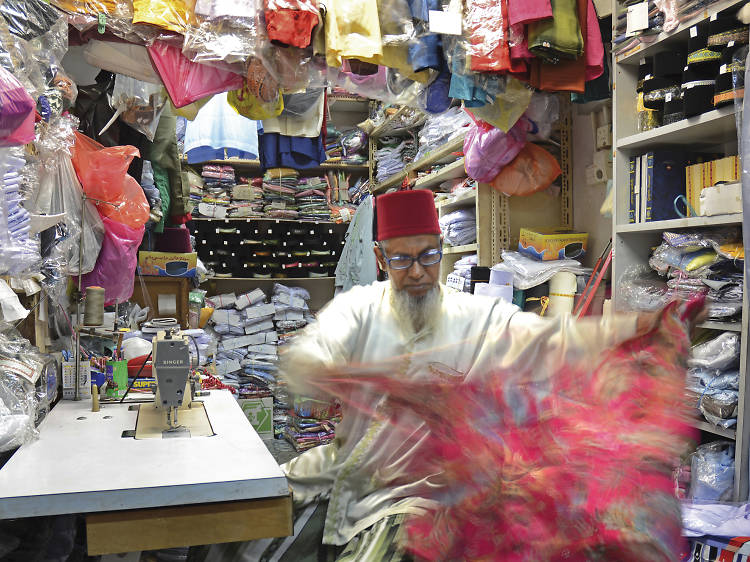 This little piggy went to market
No little piggy should ever stay home and risk missing out on the gems that can be found in Penang markets such as
Chowrasta Bazaar
on Jalan Penang that encompass fresh produce as well as inexpensive clothing, second hand books, hawker food of all types and knick-knacks. Another interesting one is the
Thieves' Market
each evening at the end (or beginning) of
Armenian Street
. Old objects such as watches and a manual iron, the sort that needs hot coal, can be found here.
Then there are weekly night markets that rotate from one neighbourhood to another. What's predominantly sold in these night markets is local food hence making these places a good place to sample local flavours at very cheap prices. Besides food, it's also a good place to shop for fresh produce such as local fruits and when the durian or king of fruits is in season, you'd be able to identify it from a distance through a sniff of its sharp, pungent scent that cannot be ignored. This one's an acquired taste! More often than not, there are one or two stalls selling practical household things like plastic buckets, scrubbing brushes, pots and pans.
Now, there's one night market that opens daily and is known through the length and breadth of this region and that's the
Batu Ferringhi night market
right on Jalan Batu Ferringhi that begins at around 5pm and only shuts a little after midnight. This has been a shopping haven for tourists to buy clothes, hats, sunglasses, knickknacks and playful beach things like floats, spades and the like.
Big spender's tip
: The nutmeg is unique to Penang but funnily enough, it's not as ubiquitous as one would like it to be. Luckily, the pickled variety, which is the more favoured, is sold at Chowrasta market on Jalan Penang in airtight packs which is convenient for a long journey.