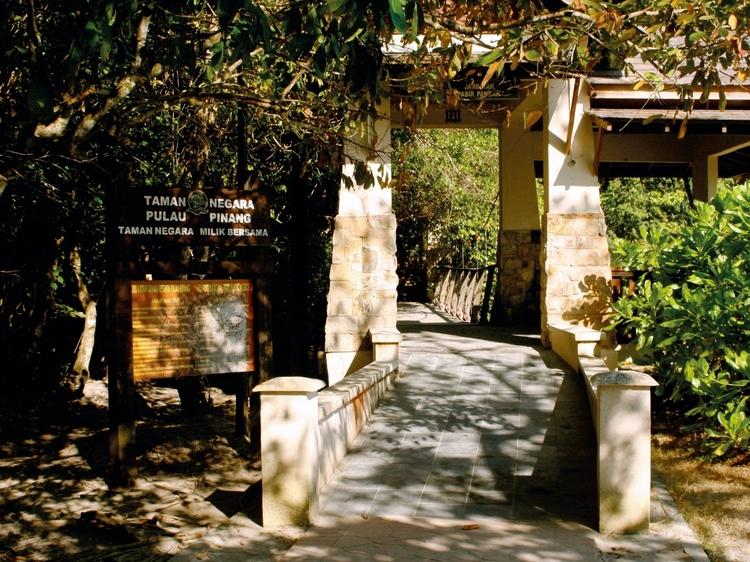 It is here, in their ancestral hunting grounds, that long-tailed macaques, civet cats and flying lemurs forage. White-bellied sea eagles, brahminy kites and crested serpent eagles soar from high nests. Human footsteps, loud on the leaf-strewn floor of the peaceful jungle, send shy monitor lizards and squirrels suddenly skittering into the undergrowth.

At the expanses of sandy beaches that flank the park along its coastline – Pantai Kerachut, Teluk Duyung, Teluk Tukun, Tanjung Aling, Teluk Ketapang, Teluk Kampi, Pantai Mas – the lucky visitor may also spot wild dolphins or otters at play in the sea.

It is reasonably easy to get to this park, located on the north-western corner of Penang island: a 45-minute drive will transport you from the hubbub of traffic and the urban activity of George Town to this scenic natural haven. The modern, wellkept entrance to the park, which also features an information centre, belies the natural wonders within it. The trails that lead into the jungle begin easily enough, with a paved half-kilometre-long path that meanders gently along the coastline.

At the end of the paved path, a little suspension bridge signals the start of the two main trails that will take the visitor into the park proper, whether through winding trails deep into the heart of the green jungle towards Pantai Kerachut, or along the wavelapped shore towards Muka Head. At this point, the paved and landscaped path ends, and narrow dirt trails start.