The gorgeous late-summer weather looks like it's going to continue through the weekend. Get out and make the most of it with our guide to the best things to do in Philly this weekend, which includes the Fall for the Arts Festival in Chestnut Hill, a pop-up beer garden in Northern Liberties and Philly's Cheesesteak and Food Fest at Citizens Bank Park. Remember, if you're out and about Sunday, SEPTA is offering free rides on the Broad Street Line from 9am to 9pm.
Friday, September 23
International House Oktoberfest at International House; 6pm; $15
The University City cultural center is hosting a German takeover night in honor of Oktoberfest complete with pilsner, polka and pretzels.
Works by Luke O'Sullivan at Paradigm Gallery + Studio; 6pm; free
Journey into a world of fantastical, diorama-esque sculptures at this enchanting exhibit. Artist O'Sullivan draws inspiration from sci-fi and dystopian films and creates intricate, three-dimensional works that explore the relationship between our physical world and the underworld.
Terror Behind the Walls at Eastern State Penitentiary; 7pm; $19–$89
Haunted attraction Terror Behind the Walls involves six segments that add up to about an hour's worth of character interaction, bone-chilling scares, prison exploration and elaborate costuming and makeup. This year's brand-new attraction, "Blood Yard," posits what it might be like to prepare human flesh for the tasting. Guests walk through a prison yard into a lair where a butcher and an empress await, flanked by a horde of cannibals wearing muzzles. Those who choose to interact could be asked to salt and prepare prosthetic limbs alongside the impatient flesh-hungry characters.
Jen Kirkman at the Trocadero Theatre; 8pm; $20–$22
Brazen funny gal Jen Kirkman, most known for her work on Chelsea Lately! and After Lately, comes to Philadelphia on her All New Material, Girl tour. As the name suggests, the standup gig promises all new jokes that you didn't see on her recent Netflix specials, including her experience visiting fraudulent spiritual healers, spending the holidays without her family and dealing with too-cool-for-school young people. Her opener is Philly comedian Alejandro Morales.
A Period of Animate Existence at the Annenberg Center; $39–$49
Pig Iron Theatre Company pulls off its largest production to date; a marriage of original music, sweeping set design and theater. The five-movement work features a cast of no fewer than 80 people of all ages, colors and walks of life who contemplate their existence in a time when climate change threatens to wipe them off the earth. It sounds terrifying, yes, but the coming together of so many individuals who realize they have more in common than not promises to leave you all goose-pimply and inspired. Bring a tissue.
Cabaret at Arden Theatre Company; 8pm; $15–$52
The show that brought us Broadway classics like "Don't Tell Mama" and "Cabaret" comes to Old City to kick off Arden Theatre Company's 2017–18 season. The story takes you into a Berlin nightclub in the late 1920s where a peppy showgirl named Sally Bowles falls for American writer Cliff Bradshaw. It stars Bearded Ladies artistis director John Jarboe as the emcee.
A Love Supreme at FringeArts; 8pm; $35
John Coltrane, who lived in Philadelphia in the 1940s and '50s, is the subject of this latest work by dance company Rosas. Four dancers perform both improvised and composed movements to the jazz innovator's 1965 album that's an "ode to divine love," A Love Supreme. Sit back and see how the cast interprets the seminal work, which begins with a simple tenor saxophone riff before eventually reaching crescendo in a cacophony of piano, bass, drums and more of Trane's sweet, sweet sax.
Saturday, September 24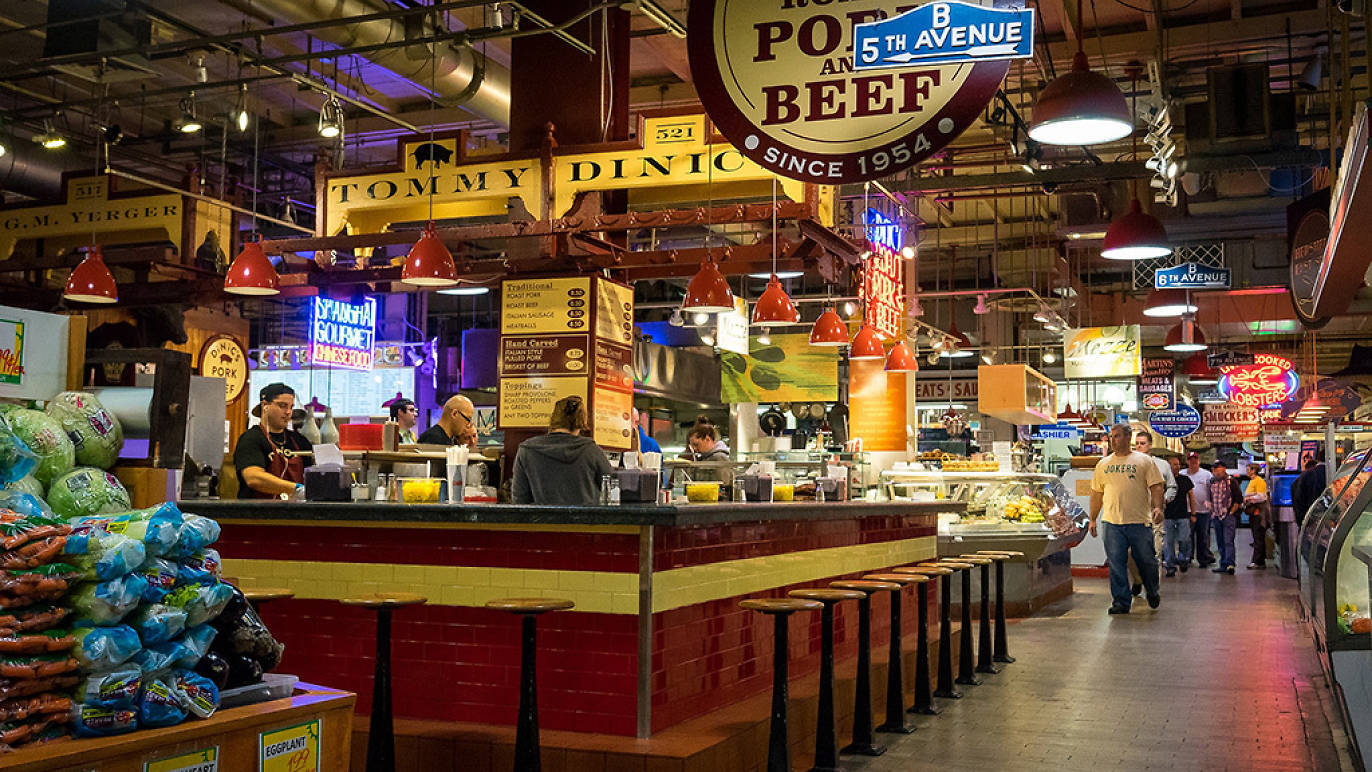 Global Feast at Reading Terminal Market; 10am–4pm; pay as you go
Taste the flavors of the world under the roof of one of the best Philadelphia attractions at this annual culinary festival. Besides food vendors selling food throughout the market, guests can take part in live world-fusion music, family-friendly activities and an interactive public art project.
Piazza Pop-Up Beer Garden at Schmidt's Commons; 10am–9pm; pay as you go
This two-day pop-up beer garden in Northern Liberties happens in conjunction with the Piazza's monthly Maker's Market, so swing by to peruse locally made goods while drinking yourself silly. The beer garden portion of the event continues into Sunday from 10am to 6pm, FYI.
Uptoberfest Oktobefest at Uptown Beer Garden; noon; pay as you go
Uptown Beer Garden is getting a weekend-long makeover in honor of the holiday complete with an all-German draft list and a menu focused on street eats, namely a quartet of grilled brats and currywurst, Berlin's go-to post-last-call snack.
Philly's Cheesesteak and Food Fest at Citizens Bank Park; 12:30pm; pay as you go
Citizens Bank Park beckons growling bellies everywhere for a day starring all of the flavors Philly is known for. Food trucks line up to serve everything from cheesesteaks and roast-pork sandwiches to soft pretzels and water ice. A craft beer garden takes care of you in the beverage department. The day's activities include a cheesesteak-eating contest, live music and carnival-style tailgating and games.
Chinatown Mid-Autumn Festival at China Friendship Gate; 12:45–7pm; pay as you go
Meet under the historic Chinatown gate for this 22nd annual festival that includes a stunning lantern parade, a dragon dance and and of course all the delicious foods that you can only get in this cultural haven of the city. It's a great complement to the Cai Guo-Qiang: Fireflies happening all weekend along the Benjamin Franklin Parkway.
Ardmore Oktoberfest in Downtown Ardmore; 2pm; $1–$50
Oktoberfest in the burbs means a serious line up of carbs including mac and cheese with beer sauce, potato pancakes and apple fritters—all accompanied with flowing beers and live music to boot.
That Big '80s Party at Coda; 7pm; $15
Frizz up your hair and prep-roll your jeans for this neon-hued dance party that transports you to the 1980s. San Francisco DJ Dave Paul—who's been at the turntable since 1984—spins new wave, hip-hop and pop favorites from the era.
Sunday, September 25
Fall for the Arts Festival at between Willow Grove and Rex avenues in Chestnut Hill; 11am–5pm; free
Chestnut Hill celebrates this 33rd annual free-to-attend event by transforming its main thoroughfare into an outdoor market featuring handmade good by more than 150 artists and crafters from here to Hawaii. The day also features tons of family-friendly, fall-centric entertainment such as a straw maze, hands-on activities, live music on two stages and the Makers Village, where you can take classes in things like blacksmithing, weaving and yarn bombing. For more on what's happening in this charming urban village, check out our guide to how to spend a perfect day in Chestnut Hill.
Spruce Street Harbor Park Fall Fest at Spruce Street Harbor Park; 11am; pay as you go
Riverside beers, live music and family-friendly, autumn-centric activities are on the roster for Fall Fest. Highlights include a partnership with Greensgrow Farms for onsite farmers' markets, apple cider-pressing and performances by local artists Killiam Shakespeare, Stella Ruze and Louie Louie with The Whips.
McGillin's Oktoberfest Philadelphia at McGillin's; 11am; pay as you go
Philly's oldest continuously operating tavern is home to one of the city's longest Oktoberfest celebrations. For more than a month taps are taken over with seasonal beers from Sly Fox, Lancaster Brewing and Stoudt's along with a slew of pumpkin brews. Also be sure to try the special pour that was made through a collaboration between McGillin's and Fordham & Dominion Brewing Company.
Ongoing
Philadelphia Fringe Festival at various locations; various times and prices
The Philadelphia Fringe Festival is a two-plus-week showcase of national and local cutting-edge works of theater, dance, opera and more. Shows take place in venues and neighborhood's across the city—from South Philly basements and community centers to major theaters like the Wilma or Academy of Arts. There's even a Digital Fringe, which features shows playing out online. Follow our guide of must-see Philadelphia Fringe Festival shows to help navigate the fest, which features more than 100 shows.
O17 Festival at various locations
If you're still waiting for the fat lady to sing, your idea of opera is hopelessly outmoded. Opera Philadelphia's 12-day O17 Festival redefines perceptions of the genre with seven innovative operas—both classics and quirky, site-specific new works—in nontraditional venues across the city. Overwhelmed by the choices? Here, we narrow down three must-see shows to take in.
Cai Guo-Qiang: Fireflies at Benjamin Franklin Parkway; 6pm; free
For three weeks this fall, the Benjamin Franklin Parkway will light up with glowing pedicabs that locals can ride along a route between Sister Cities Park and Iroquois Park. The interactive exhibition, which comprises 27 moving sculptures bedecked with glowing lanterns, is one of several events happening this fall in celebration of the 100th anniversary of the Parkway.
Monument Lab at various locations
A new Mural Arts Philadelphia project called Monument Lab tasks 20 local and national artists with creating monuments to the city. They will be displayed in 10 public parks around town between September 16 and November 19. The works in Monument Lab come in all shapes, sizes and formats—from a giant Afro pick at Thomas Paine Plaza to a collection of stoops in Washington Square—and are meant to give voice to overlooked communities and address current social issues facing this city. Here are five projects we're excited about and where to find them.