The best Airbnbs in Porto
Looking for a high-quality place to stay? We've scoured the internet for the best Airbnbs in Porto, so all you have to do is get here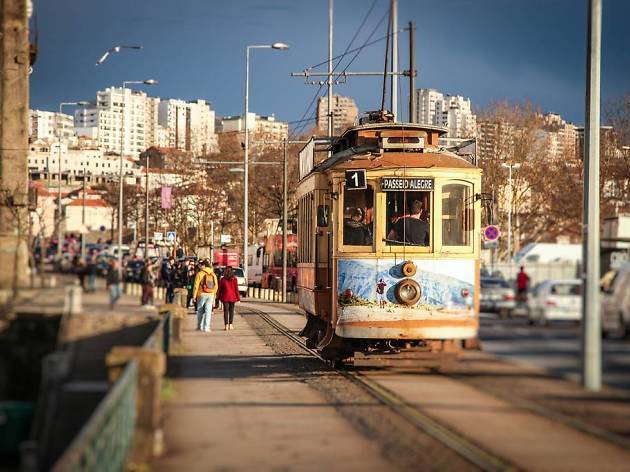 With its beautiful royal blue tiled architecture, sloping cobbled streets and traditional riverside restaurants, you can't possibly let mediocre accommodation ruin your trip to Portugal's second biggest city. But before you splash out on a luxury hotel or boutique B&B consider an Airbnb property. After all, if you want to explore this fascinating city's incredible attractions and raft of great things to do like a true local, it's probably best to stay like one, too. So whether you're after character, a balcony or even a boat, check out our selection of plush Porto pads that won't cost you the earth.
Porto's best Airbnbs
Charming one-bed apartment near Sao Bento station
Planning to visit one of the world's most beautiful bookshops? Book this apartment located in a charming historic building and you can be first in line to marvel at the ornate Livraria Lello. The balcony provides ample opportunities for port drinking and people watching, while the triple glazing ensures you can shut the bustle out when it's time for bed.
Image ©Airbnb
Light, airy penthouse apartment in the centre of the Old Town
This centrally located, one-bed apartment is the perfect place to throw open those balcony doors and pull that head-thrown-back, sunglasses-on, 'I'm-on-holiday' pose you've been perfecting. Any sound from the streets below will be sorted out by a glass of port or three.
Image ©Airbnb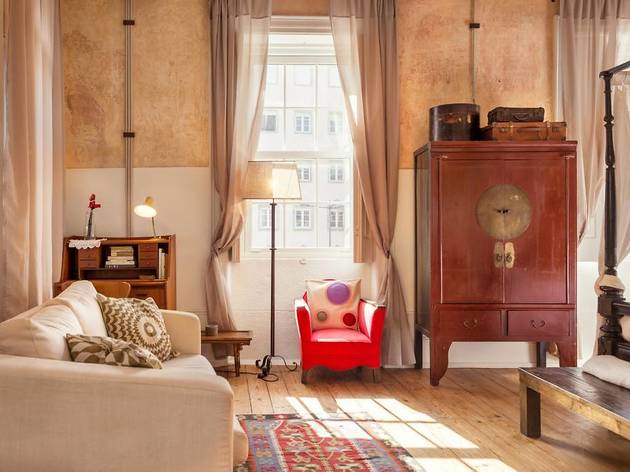 Gorgeous old-world flat on the Rua do Almada
If you prefer warm terracotta shades over clinical white walls, then this beautiful 200-year-old apartment is a good base from which to explore the city. It's cosy enough to feel like a space you can relax in, yet spacious enough to accommodate four guests.
Image ©Airbnb
Riverside three-bed in the city centre
When the pictures look this good and guests still comment that they don't do the property justice, you know you're on to a winner! Not only does this spacious apartment offer swoon-worthy balcony views over the Douro River, it's sandwiched between the beach and the city centre– but you'll have to tear yourself away from that heated pool first.
Image ©Airbnb
Rustic one-bed flat in the Bairro das Artes area
This lovely, light-filled apartment with original features is well located for culture vultures who want to swoop between Porto's little arty shops and the area's nearby delis. Plus, if you fancy eating in, there's a suntrap overlooking Porto's terracotta rooftops, which would make the perfect spot for brunch or a bit of evening boozing.
Image ©Airbnb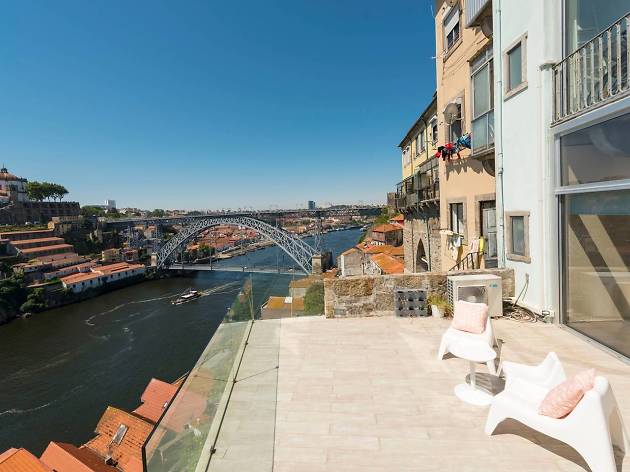 A three-bed townhouse with breathtaking views
We could talk about the modern interior, the sleek kitchen appliances and the floor length windows in the bedroom – but the real reason you're here is for those jaw-achingly gorgeous views. Just think of those sunset Instagram opportunities!
Image ©Airbnb
An opulent villa near the Douro River
This place is regal with a capital R: think fur throws, totally ostentatious chandeliers and gold accents on just about every piece of furniture and accessory. Basically, if you're throwing a party, a work do, a wedding or a hen/stag and you want to show off, this'll do the job. Not convinced? Wait until you see the enormous pool out back.
Image ©Airbnb
Cosy two-bed in Unesco World Heritage area
When we say something is postcard-perfect, we usually don't mean it actually appears in the postcards but this comfortable apartment, located near Porto's cathedral in the Unesco World Heritage area, does just that. Pretty cool, huh? It also comes with a woodburning stove and is cheaper than most pads you'll find in this part of town.
Image ©Airbnb
Large period two-bed in the Old Town
This two-bed apartment is large enough for an eight-person getaway or a big family holiday. Although you might be tempted to spend the whole holiday marveling at those pretty period cornices, don't forget to make use of the lush beer garden, a perfect suntrap covered in orange, fig and passionfruit trees.
Image ©Airbnb
Romantic getaway on a boat in Freixo
After a little romance on the high seas (or Douro River in the case)? Ditch the dry land and snuggle up with your beau on this fully equipped boat. It 's got leather furnishings, a surprisingly large double bed, plus two singles if you've got mates in tow.
Image ©Airbnb
Show more
Check out Porto's best attractions
Life is short, so here are the top 10 places you mustn't miss in Porto