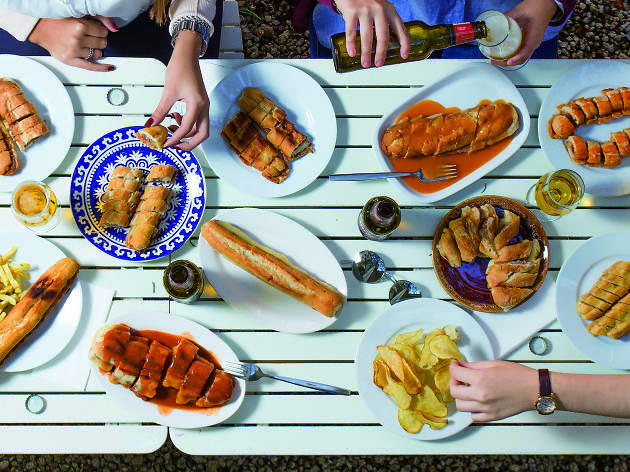 The nine best cachorrinhos you absolutely need to try in Porto
The cachorrinhos in Porto are an institution of the city. With fine slices of bread, crispy and spicy, they are a must try.
Everyone knows the classic dishes of Invicta, but there is a famous one that rivals with the mythical francesinha. Those who never tried a cachorrinho made in this city, have no idea what they are missing. It is the ideal snack to accompany an afternoon with friends and a cold beer, for example, while you take a break from discovering the best of Porto. It comes in thin crusty bread, is stuffed with fresh sausage (sometimes alheira), and brushed with a spicy sauce. Here is a list of the best cachorrinhos in Porto. Try them out: we promise you will not regret it.
Recommended: The best francesinhas in Porto
The nine best cachorrinhos in Porto
Discover some of the delicious Porto food
Portuguese francesinhas deserve all the honors possible. This typical Invicta dish, created in the 50's, conquers both hearts and bellies every day, and even the tourists can't seem to resist it. Scattered throughout the city, there are examples of francesinhas for all tastes and even less traditional variations, such as vegetarian or chicken instead of red meat. Always ready for a good meal, we took on the arduous task of discovering the best francesinhas in Porto.
Porto loves food, from traditional local dishes like the francesinha to cutting-edge cuisine. That's a decidedly good thing for visitors, but it can make things tough too: of all the city's many restaurants, where can you find the best francesinha? And what are the other dishes in town you absolutely have to try? We've narrowed it down to a mouthwatering top ten: a culinary hit list that'll make you glad you packed those big trousers. Bom proveito!
Porto's got no shortage of fancy expensive places to eat (plus plenty of tourist-bait dining). But we reckon these are the city's top eateries that combine great food and low prices. Your wallet will be eternally grateful.