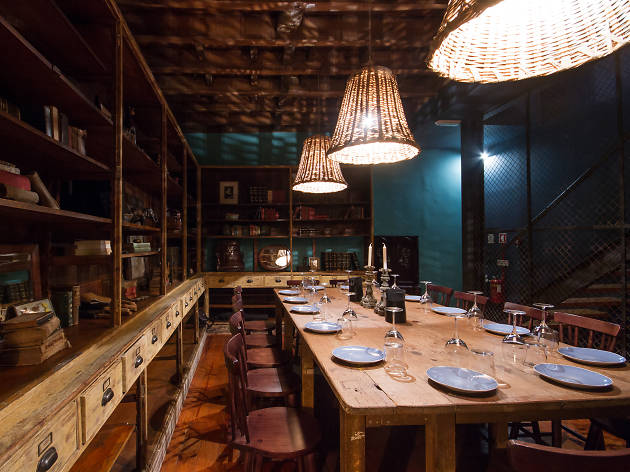 The best romantic restaurants in Porto
Visiting as a couple, or got a hot date? These are the most romantic places to eat in Porto
Porto's already a super-romantic city, full of intimate parks, swoonsome art and chic bars. But if you're looking for somewhere to take a date, celebrate an anniversary or even pop the question, these are its most romantic restaurants
The best romantic restaurants in Porto
Add one of the city's most beautiful panoramic views to the area's best pizzas and the result has to be a success story. That's exactly what happened with Casa D'Ora, located on the Marginal Road, where Italian-born Maria Paola Porru has opened a restaurant and a pizzeria. The only thing the two have in common is being Italian – the upstairs pizzeria is a lot more relaxed than the more formal restaurant. There are plenty of Italian specialities to enjoy, from the popular diavola (devil) pizza to the ossobuco alla milanese. The restaurant also offers an incredible view of the Douro river, ideal for a romantic evening.
Time Out tips:
– Don't be overwhelmed by choice. You can order different toppings for each half of your pizza.
– Besides pizzas, the rotolo di spinaci is a best-seller.
– Pretend like you're in Italy, and be Italian: drink one of their typical beverages.
Chef Arnaldo Azevedo is one of the youngest and most promising chefs in town. The 31-year-old has led Palco for the last six years, having worked at Sheraton Pine Cliffs in the Algarve, at chef Luís Américo's Mesa and also in Loulé at Amadeus. At the Hotel Teatro he updates the lunch menu on a weekly basis (you get to pick from two choices of appetiser, main course and dessert); at dinner time, Palco offers just two tasting menus, one with six courses, the other with seven.
Time Out tips:
Lunch is served in the hotel's inner courtyard.
You don't have to be a hotel guest to make a reservation.
The names of dishes and menus all have theatrical references.
Portugal's first mozzarella bar was opened in Porto's city centre by chef Luís Américo. There are several varieties of the cheese on offer: fresh, bocconcini (ball-shaped, with a little more texture) and affumicata (smoked). You're encouraged to mix and match mozzarella varieties with vegetables such as purple leaf lettuce, Italian chicory or green lollo lettuce, and Italian deli stuff like Parma ham. If that sounds like a lot of hard work, there are also set dishes, such as chilled tomato cream with burrata, olive oil and basil, or the layered courgette with affumicata mozzarella, pepper jam and boiled pear. Cheese! Sorry, cheers!