Best seafood restaurants in Porto
Dive into the ocean without getting wet – the sea is coming to your table. Here are the best seafood restaurants in Porto.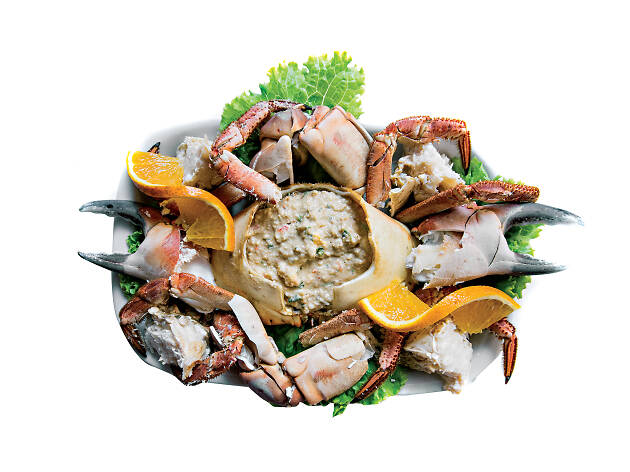 Porto has seafood for all tastes: from grilled, roasted and served in bready açordas (bread soup) or with pasta, steamed, seared or even raw. You can find it all at these restaurants – the top eateries in Porto where you can sample the best of the ocean's bounty.
Best seafood restaurants in Porto
It's been a classic for decades now and remains a safe haven where seafood is concerned. The amêijoas à bulhão pato (clams with garlic and coriander), percebes (goose barnacles), camarões (shrimps) or the filetes de pescada (hake fillets) – the top seller here – are all good excuses to head for Matosinhos, seafood central.
Read more
This was Matosinhos's first marisqueira (it opened its doors in 1957) and 60 years on it still draws huge numbers of locals and tourists in search of proper shellfish, including locally caught shrimp, oysters, lobster and crab.
Read more
Straight from the sea to the grill: that's the fate of fish at Toupeirinho, a Matosinhos classic. If you prefer shellfish, try the stuffed sapateira or navalheira (types of crabs).
Read more
It's not so easy to find good fish and shellfish in downtown Porto. Or at least it wasn't until Ostras & Coisas opened. The oysters from the ria (estuary) at Aveiro are much a popular choice here but don't rule out the fresh fish, displayed at the entrance.
Read more
This restaurant run by Rui Paula, one of the region's leading chefs, is in a striking building by local architect Álvaro Siza Vieira. The 'Atlantic' menu, with fish and shellfish at its heart, is a good option here.
Read more
One of those restaurants that is good for any occasion, whether a romantic dinner, a family lunch or just to snack with friends. For shellfish, you could hardly do better than heading for Marisqueira de Matosinhos. Don't forget to try the lavagante (lobster), the top house speciality.
Read more