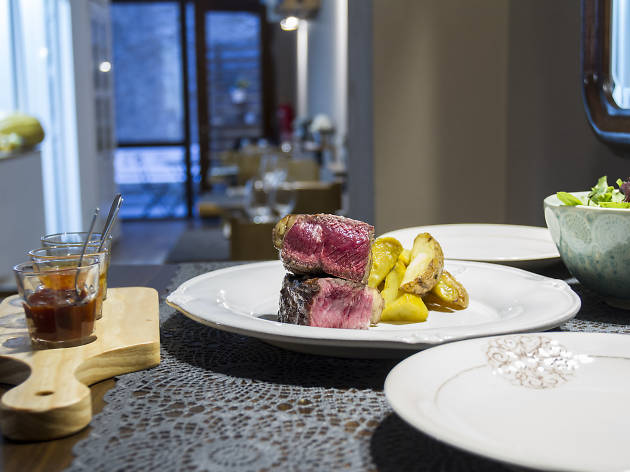 Porto's best steak restaurants
Meat lovers of all kinds: gather yourselves around this list. Here are Porto's best steak restaurants
Are you the rare, medium or well-done type? This is a question of major importance when it comes to meat, isn't it? Follow our guide to Porto's best steak restaurants to find the juiciest cuts in town. Then pick one, book a table and choose the type of meat and how you like it cooked.
Do you agree with our choices? Use the comments box below or tweet your suggestions.
Porto's best steak restaurants
This downtown restaurant joins Portuguese and Argentinian cuisines at the same table. That's how Portuguese-born Elisabete Martins and her Argentinian chef husband Mauricio Ghiglione want it. They serve dishes such as oven-roasted cod with corn bread but if you really want to leave Belos Aires with an open mouth and a full stomach, go for the Argentinian side of the menu, including the 'criola' with veal, raisins, cumin and sweet chilli. Move on to the beef, grilled. The steak ojo is a great choice, and so is the colita de cuadril (a sort of rump steak). Don't even think about leaving before picking your dessert: we suggest dulce de leche pancakes.
Time Out tips:
– Empanadas are a great appetiser.
– If you don't have the energy to walk after the meal, you can stay at the Belos Aires apartments.
– A €6 breakfast is served, including fresh bread, mini-croissants, cookies and homemade cake...
Is it risky to open a two-for-one restaurant? Yes. But the risk is worth it if you can offer high quality products in two areas at once. That's what they do at Reitoria, located in an alley near Leões Square. Downstairs, they serve the city's best focaccia, made from homemade bread in a relaxed setting with high tables and a small outdoor area in an Italian style. Upstairs is a steakhouse with some of the best beef cuts in the city, many of them cooked in a Josper oven.
Time Out tips:
– Focaccia and other snacks are served throughout the afternoon.
– New bread batches come out of the oven every 20 minutes.
– The beef entrecôte is the best bet for carnivores; that's their most popular aged beef dish.
The new Leixões Harbour is the talk of the town – even more so now with this steakhouse. You reach it through a passageway that leads to a room with a check-in counter. One of the menu highlights is a beef rib platter – or, to be more precise, a board. The ribs are cooked in a vacuum for several hours and then braised in a grill. They are served with chips, mashed potatoes, fried rice, mashed spinach, salad, black beans, coleslaw, fried polenta sticks, grilled portobello mushrooms or onion rings. Plenty to choose from.
Time Out tips:
– The menus resemble passports, in keeping with the theme.
– Critic Francisco Beltrão described the Black Angus as 'historic'.
– Don't overlook the chives and pickles jar.