The 15 best restaurants in Raleigh
Specializing in fried chicken and Southern food, the best restaurants in Raleigh elevate the city's culinary scene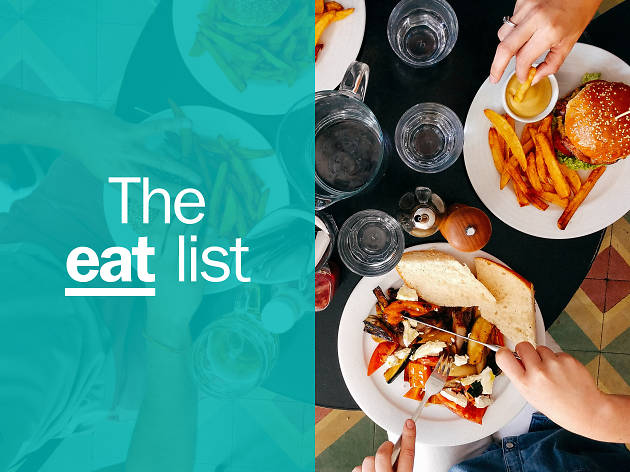 Despite the city's abundance of talented, James Beard award-recognized chefs, Raleigh's food scene is only just beginning to receive the national attention it deserves, slowly but surely gaining the kind of prominence usually reserved for other Southern cities like Nashville, Atlanta and Charleston. In the last decade, an influx of transplants and locals alike have embraced the city's urban-rural duality, imbuing the dining industry with tastes seamlessly merging their own culinary backgrounds and traditional Southern flavors. Much of the work by the local chefs and restaurateurs has also ended up revitalizing and reshaping historic buildings downtown to fit their needs, crafting buzzworthy eateries in captivating, visually intriguing locales. So, when considering what to do in Raleigh, where to eat should top your list. To help you out, we present to you our well-curated list of best restaurants in Raleigh.
Best restaurants in Raleigh
1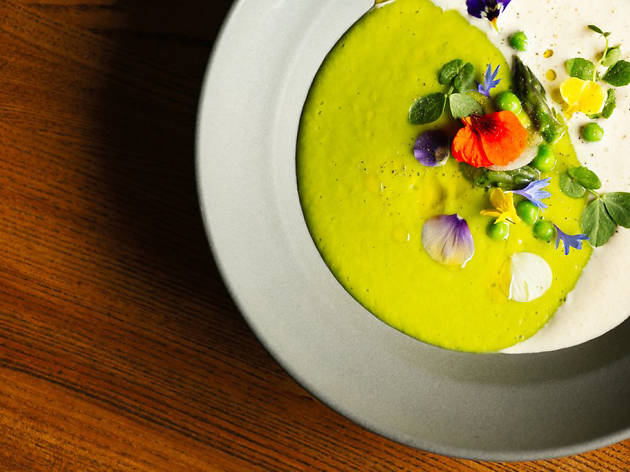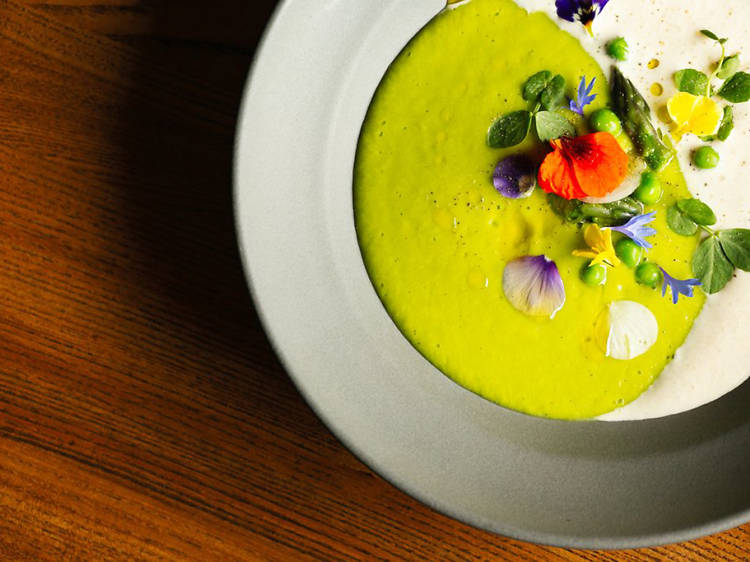 Photograph: Courtesy Yelp/Crawford & Son
What is it: Chef Scott Crawford honed his chops working at the beloved Herons Restaurant at the Umstead Hotel & Spa and, more recently, Standard Foods. In late 2016, he opened his own eatery in the Person St. neighborhood of Raleigh, just around the corner from Standard Foods.
Why go: Chef Crawford has time and time again proven himself worthy of the praise he's received, and Crawford & Son is no different: there's just nothing else like it around. The food is just as good as his previous ventures, but instead of feeling like a stuffy, formal affair, it's comfortable—cozy, even. It is exactly the "casual neighborhood restaurant" Crawford sought to create when he struck out on his own. The yellowtail crudo, now a staple on the seasonal menu, is essential, but don't sleep on the simple but perfect warm malted wheat rolls with that hickory butter. (And get more than one order, you'll thank us later.)
Price: Blowout
2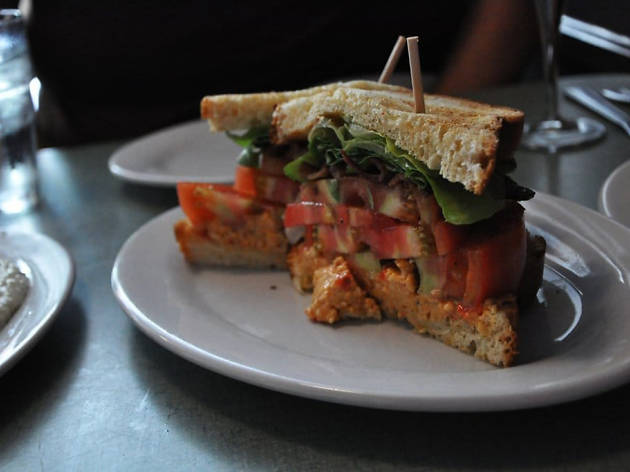 Photograph: Courtesy Yelp/Tonya P.
What is it: A contemporary diner with hip, of-the-moment comfort food, Poole's is helmed by multiple James Beard award-nominee (and winner, for Best Chef: Southeast) Ashley Christensen, the mother of the modern Raleigh restaurant scene.
Why go: If you were to ask us how many types of cheese it would take to reach nirvana, we would tell you resolutely, without hesitation: three. Three decadent, delicious, expertly combined cheeses, plus some pasta, a little cream and a pinch of salt. (Grana Padano, Jarlsberg and sharp cheddar, if you're wondering.) There's a reason the most requested dish on the menu at Poole's is also one of the few consistently available. While the dishes at Poole's are seasonal, showcasing Christensen's impeccable ability to marry fresh, local ingredients with unique, Southern-inspired classics, the macaroni au gratin is the standard-bearer of side orders. It's truly worth every creamy, crunchy, cheesy bite—extravagance be damned. Grab a seat at one of the two horseshoe-shaped counters for an intimate diner-esque experience—and the best unobstructed view of the rotating chalkboard menus.
Price: Pricey
3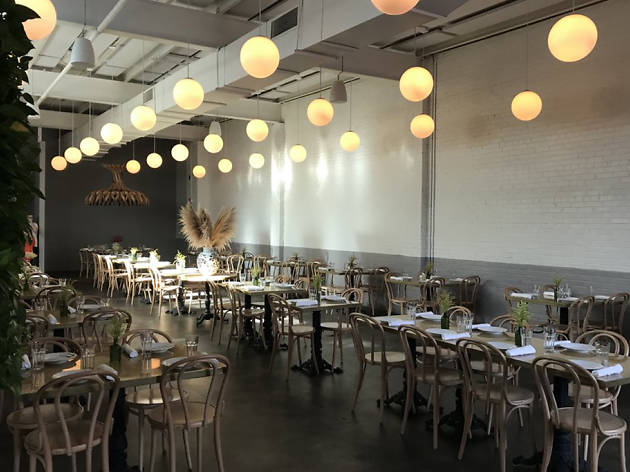 Photograph: Courtesy Yelp/Martin H.
What is it: Brewery, dim sum, book and flower shop: Brewery Bhavana is a modern-day urban bazaar in the heart of Raleigh.
Why go: Dim sum—and then some. Brewery Bhavana excels at dim sum—the seafood dumplings, peking duck and Xiao Long Bao soup dumplings are absolutely can't-miss—but where this unique and highly lauded Raleigh newcomer shines is in its multi-faceted concept. With a bookstore, flower shop, restaurant and brewery all under one beautiful, airy roof, the project is as ambitious as it is exceptional. Marvel at the white granite tap wall, featuring an impressive 40 house and local brews, and relax under the skylight in the garden area with a good book from the in-house library. (Bida Manda, the next door sister Laotian restaurant, is also worth a visit.)
Price: Pricey
4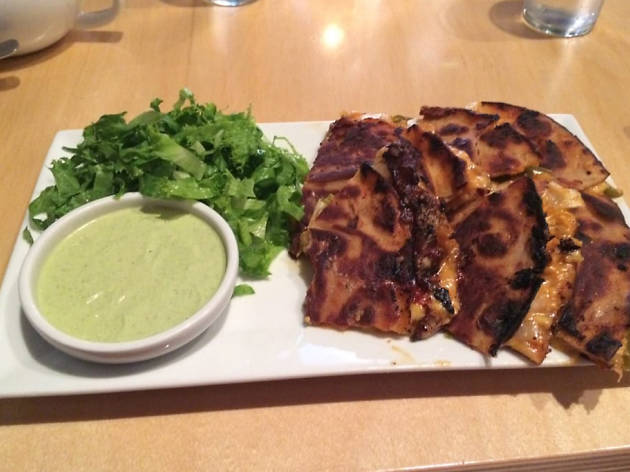 Photograph: Courtesy Yelp/Olivia P.
What is it: The menu at Garland focuses on the spice-driven flavors of Indian and Asian cuisines, crafting unique dishes that bridge the divide between traditional Asian food and Southern flair. The result is unexpected yet familiar, served in a funky, friendly space.
Why go: Owner and head cook Cheetie Kumar is a rock star. Yes, she's a James Beard award-nominated, rock star chef—but she's also an actual rock star, touring and recording with her band, Birds of Avalon. Her menu at Garland shows off both these sensibilities alongside her multinational background, doling out Indian and Asian foods bursting with Southern touches. Everything about Garland is charming, from the exciting mix of foods to the eclectic furnishings and even its location, sandwiched between local favorites Kings, a funky bar and music venue, and Neptune's Parlour, an old-school underground bar decked out with classic video game consoles.
Price: Pricey
5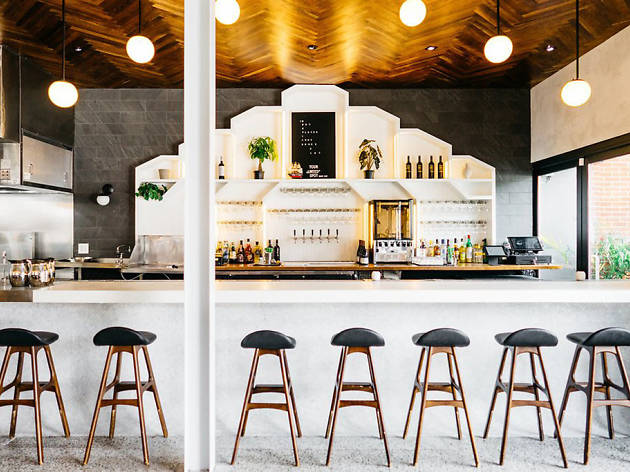 Photograph: Courtesy Yelp/The Cortez
What is it: Offering seafood and small plates prepared with both Mexican and American influences in mind, Cortez draws from North Carolina's resources, including the freshest catches and produce available.
Why go: Raleigh isn't exactly coastal, so there's an understandable hesitation about a seafood-focused joint this far inland. Chef Oscar Diaz and Cortez put these fears to rest, working with local fishermen and producers to dish out the freshest, most flavorful seafood straight from the Carolina coast. The oysters—especially the baked ones, gasp!—are a reliable starting point. You can also make a meal out of the daily dollar oyster special, from 5 to 6pm on Tuesdays through Sundays. Plus, the selection of ceviche concoctions is interesting, unexpected and oh-so-satisfying. Cortez is rather small, but the decor is fun, vibrant and tropical, instantly transporting you to a lively beachside party.
Price: Pricey
6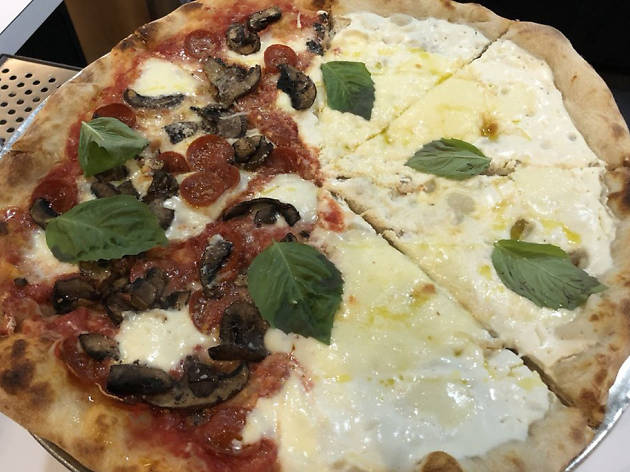 Photograph: Courtesy Yelp/Michael R.
What is it: A little, old-school neighborhood pizza joint serving impeccable pizza by the slice, 18-inch pies, cold beer and more.
Why go: Pizza is experiencing a real resurgence in the Triangle—as if pizza is something that could ever truly go away—and no place better exemplifies the delight of a perfectly crafted slice than Oakwood Pizza Box. Owner Anthony Guerra took the New York-style pizza of his childhood and elevated it to an art form. The secret here is the crust: beautifully blistered and resilient enough to withstand a boatload of fresh toppings, all without being overly doughy. And if you're a red sauce fan, you can't go wrong with the made-from-scratch recipe, a robust base flavor that gives the perfect bite of sweet and savory without overpowering the other ingredients. But be forewarned: it's hard to stop after just one slice.
Price: Average
7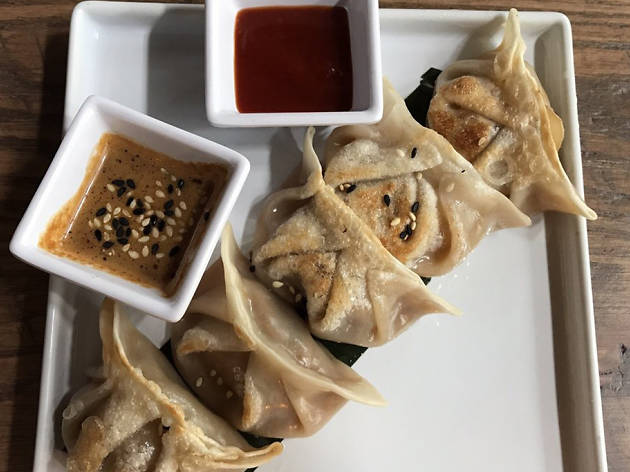 Photograph: Courtesy Yelp/Julia Z.
What is it: In the last five years, the Triangle's food truck scene has exploded and few have received as much praise or attention as Pho Nomenal Dumpling Truck, winner of the 2015 Food Network Great Food Truck Race. The truck, slinging dumplings, drool-worthy cheerwine bulgogi sloppy Joes, bubble tea and more, has become a fixture at regional food truck rodeos and the like, and the owners have since expanded their efforts to a brick-and-mortar shop in downtown Raleigh's City Market. Founded on the Pho Nomenal team's Food Network winnings, MOFU Shoppe's menu draws from diverse, creative sources, including the stellar team assembled to get the effort off the ground.
Why go: The Vietnamese coffee mousse dessert is reason enough to check out MOFU Shoppe, but the ambiance is a nice added bonus. The updated car dealership retains its charming garage doors, making it the supreme spot to enjoy a summer dinner. The dumplings are, of course, worthy of an order or two, but don't skimp on the honey Sriracha Brussels sprouts with pork belly, either.
Price: Pricey
8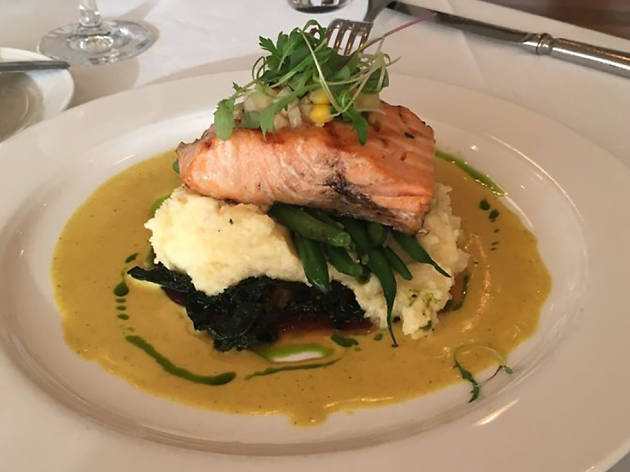 Photograph: Courtesy Yelp/Casey B.
Second Empire Restaurant and Tavern
What is it: Second Empire Restaurant and Tavern, housed in a late 19th century home in downtown Raleigh, is the quintessential fine dining establishment. Its menu is largely contemporary American, inspired by French cuisine with a decidedly Southern twist.
Why go: If you're celebrating an extra-special occasion or trying to impress a more traditional palate, you can't go wrong with Second Empire. The space, inside the historic and fully restored Victorian Dodd-Hinsdale House, is impeccably polished, as is the menu. The food is elegant and the venue unique, making your meal feel like an intimate, lavish dinner party at one of Raleigh's nicest classic homes.
Price: Blowout
9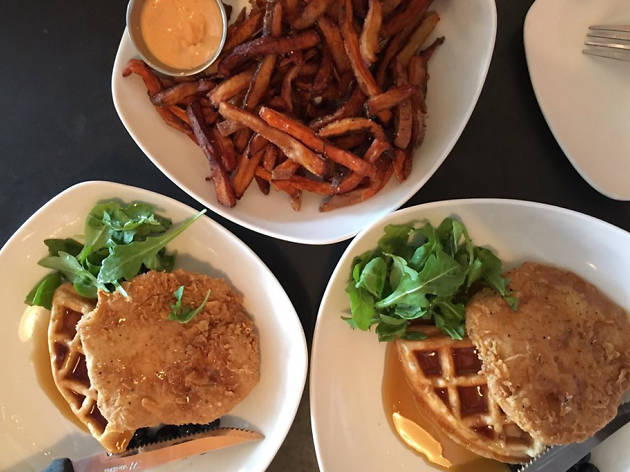 Photograph: Courtesy Yelp/Victoria N.
What is it: Delicious, thoughtfully prepared Southern cuisine—all 100% vegetarian.

Why go: Let's go ahead and get this out of the way: if you're an every-meal meat-eater, you may be skeptical about Fiction Kitchen, a place that prides itself on its strictly vegetarian (and often vegan) menu. But that reluctance would be ill-placed, as Raleigh's sole vegetarian restaurant crafts locally sourced dishes so flavorful, so full of depth, that you'd be hard-pressed to miss meat at all. The crispy fried "chicken" and waffles is a fan-favorite, and for good reason—it's an absolutely beautiful vegetarian rendering of a beloved Southern delicacy.

Price: Average
10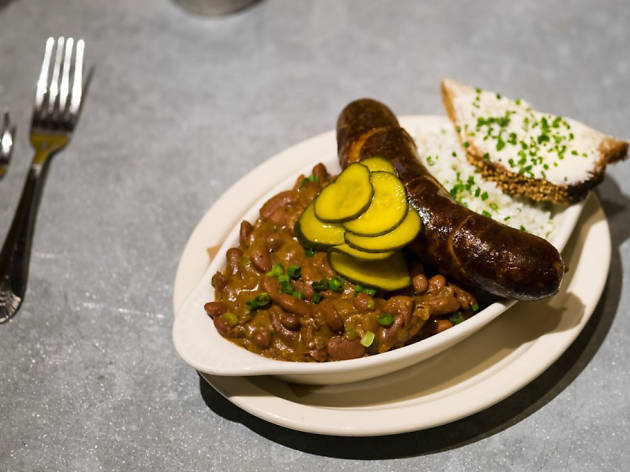 Photograph: Courtesy Yelp/St. Roch Fine Oysters + Bar
St. Roch Fine Oysters + Bar
What is it: A Cajun-inspired oyster bar headed by New Orleans native and former Ashley Christensen disciple Sunny Gerhart.
Why go: St. Roch is the greenest oyster bar in Raleigh, a local hangout still in its infancy, particularly when compared to the more seasoned 42nd Street Oyster Bar. But what St. Roch lacks in years it makes up for in sheer ingenuity. On its face, St. Roch is a straightforward if old-fashioned oyster bar with the occasional seafood offering. But chef Gerhart's menu lets the briny, beautiful oysters shine while pairing them with an assortment of condiments that can send a true Southerner's heart aflutter. The menu, which includes the best beignets in town, is remarkable in both its simplicity and its brilliance. There isn't anything particularly showy on the pared-down dinner menu here, but it's executed so perfectly that there's hardly room to quibble. Stop by during the week for happy hour, when those glorious oysters on the half shell are merely $1.
Price: Pricey
11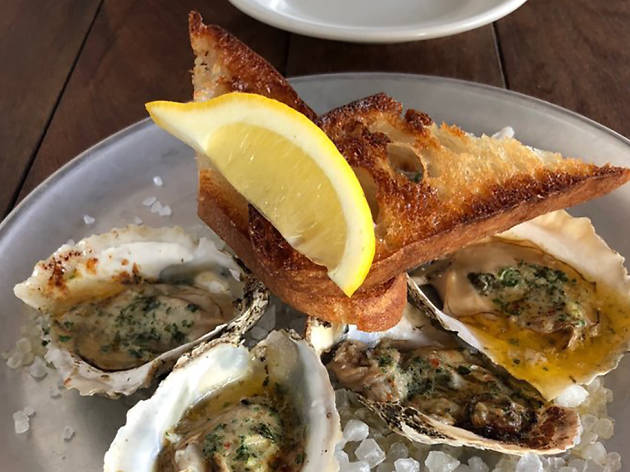 Photograph: Courtesy Yelp/Holly K.
What is it: Hummingbird aims to establish itself as a neighborhood gathering spot, and with its quiet, unassuming, unadorned persona, shareable small plates and craft cocktails, it's sure to succeed—and quickly.
Why go: One of Raleigh's newest hip spots, Hummingbird still feels like a well-kept secret. Tucked into a refurbished warehouse space just off downtown, the mint tiled backsplash, marble countertop and vintage yellow stools—plus the cracking paint and exposed wiring—give it an aura of a beloved old-school diner, but the small plate and cocktail menus are anything but. You could write a delighted magnum opus about the muffuletta on Hummingbird's lunch menu, while the easily shareable ricotta fritters, served atop mascarpone and a seasonal jam, are worth a starring role at brunch.
Price: Average
12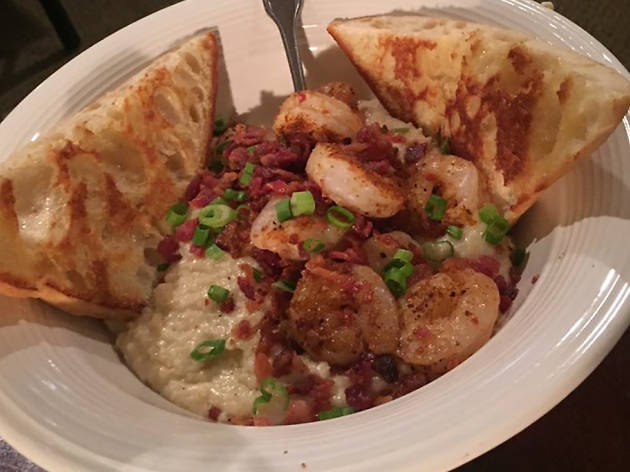 Photograph: Courtesy Yelp/Lyndenise B.
Relish Craft Kitchen & Bourbon Bar
What is it: A North Raleigh neighborhood favorite, Relish embodies "new Southern cuisine," taking the comforting, nostalgia-inducing indulgences synonymous with local cuisine and updating them with fresh, local, gourmet ingredients.
Why go: Relish Craft Kitchen & Bourbon Bar may just have the best pimento cheese in town. (It does.) But the team behind Relish isn't content to coast on that honor alone: in addition to the standard Southern comfort fare, the menu incorporates inventive dishes from the test kitchen—think bourbon bacon jam and NC boiled peanut hummus—that they're always working to refine. Plus, with an extensive collection of whiskeys and a sizeable retail market on premise, featuring goods from local vendors (and that pimento!), Relish captures the heart and soul of the city's dedication to food.
Price: Average
13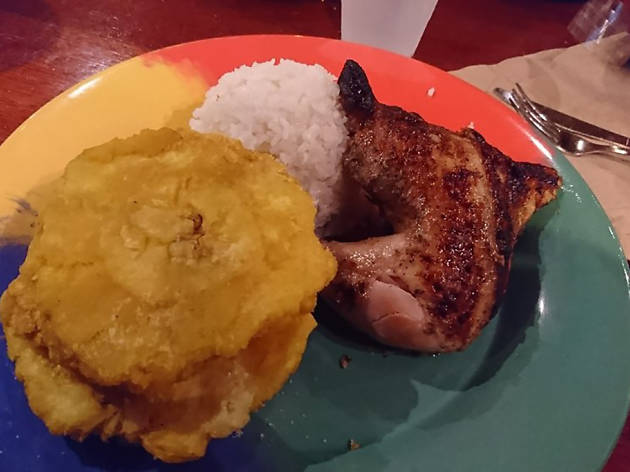 Photograph: Courtesy Yelp/Katherine M.
Mami Nora's Rotisserie Chicken
What is it: Specializing in Peruvian cuisine, particularly marinated rotisserie chicken, Mami Nora's offers a simple, bare bones menu to satisfy the whole family.
Why go: Southerners know chicken and while the region's specialty may be of the fried variety, the fall-off-the-fork tender rotisserie chicken at Mami Nora's is just as finger-lickin' good as any other you might adore. Take home a size that suits you—whole, half or quarter—with a side of plantains (either tostones or maduros) for the best mouth-watering bargain around town.
Price: Bargain
14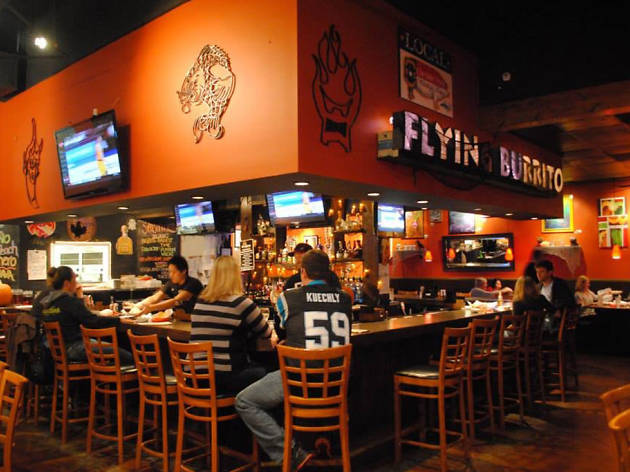 Photograph: Courtesy Yelp/Original Flying Burrito
What is it: Original Flying Burrito is a culinary collision of Southeast and Southwest flavors, boasting gut-busting burritos, homemade salsas, a glut of taco options and fresh margaritas.
Why go: There's something about burritos bigger than your face that can seem overly indulgent, and Original Flying Burrito is no exception. If you're looking for an easy, portable, self-contained meal, you're out of luck: you should just expect to surrender and become one with the leather booth if you're tucking into one of their monster burritos. But that massive mess is also massively delicious. Get the raging bull, with hand-pulled beef and pinto beans, topped with melted cheese and house-made spicy pork green chili sauce. It's like pot roast in a burrito, the comfort food hybrid of your dreams. If you're more faint of heart, you can always opt for the tacos instead. With more than two dozen options and specials each Tuesday and nightly after 10pm, you're bound to find something to satisfy your appetite.
Price: Bargain