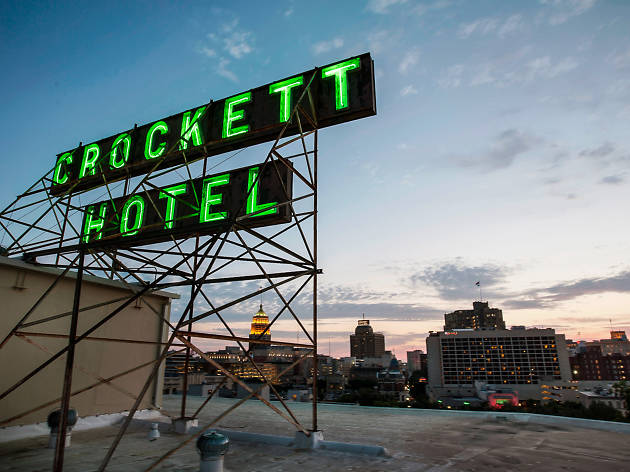 The 9 best hotels in San Antonio
Visiting the Alamo? Stay at the best hotels in San Antonio for a trip filled with history, art and food.
As one of the best weekend or day trips to take from Austin, San Antonio offers a rich variety of things to do, combing history, revelry, great restaurants and museums that rival some of Austin's best museums. And if you're staying for more than a day, you'll want to check into one of the best hotels in San Antonio for a comfortable homebase to rest your head between adventures. From hotels planted on the tourist-driven River Walk and boutique digs by the historic Alamo to family-friendly spots in Downtown, the best hotels in San Antonio are reason enough to visit this growing Texas city.
Best hotels in San Antonio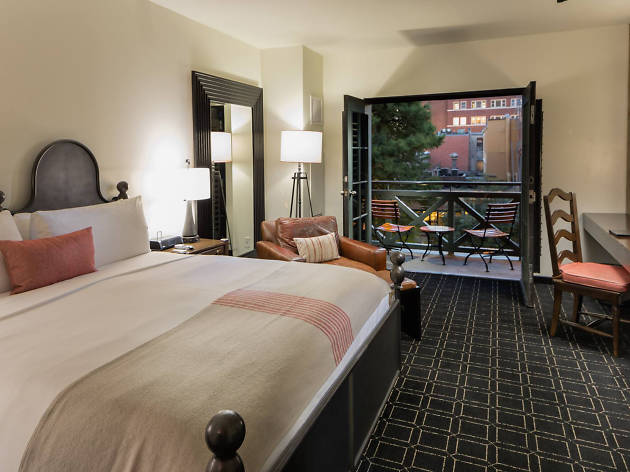 Photograph: Courtesy Hotel Valencia Riverwalk
1. Hotel Valencia Riverwalk
True to its name, this charming boutique hotel is situated on a more mellow stretch of San Antonio's normally-bustling River Walk. Spanish and Mediterranean touches lend the Hotel Valencia a more European feel than some of the city's other digs, and the 213 rooms are outfitted for ultimate luxury: Italian marble bathrooms, breezy balconies and oversized leather armchairs. Take advantage of the complimentary breakfast or the state-of-the-art fitness center before stepping out to walk along the river.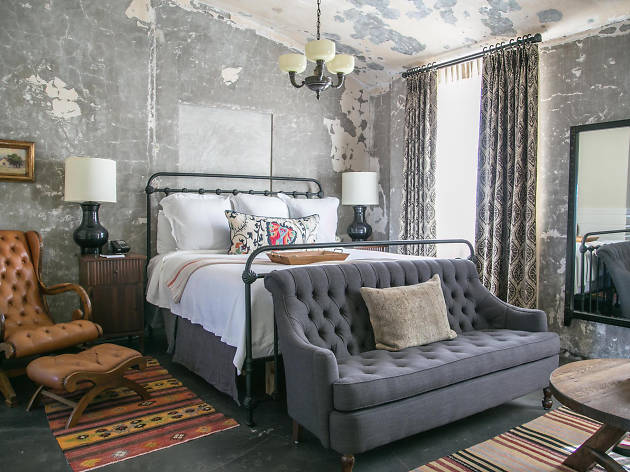 Photograph: Courtesy Hotel Emma
One of the hottest hotels in San Antonio at the moment, Hotel Emma offers luxury accommodations conveniently located in the heart of the trendy Pearl District. The building was originally built as a brewery in 1894 and has been transformed into a handsome space that expertly combines historic industrial accents with refined modern touches.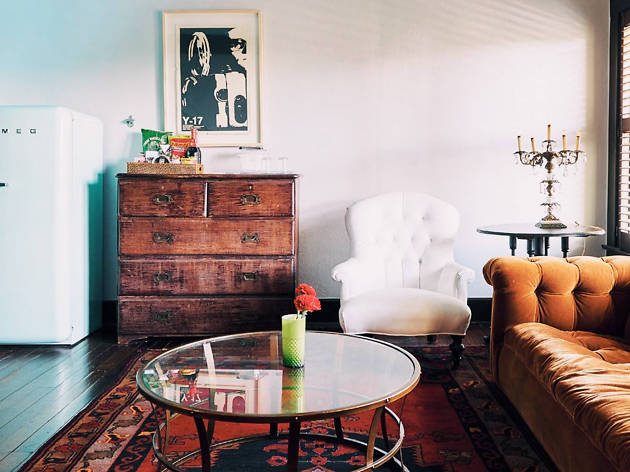 Photograph: Courtesy Hotel Havana
Hotel Havana provides a vibrant burst of color to the San Antonio River Walk—and its large colonial windows and spacious terraces help to up the charm. Austin hotelier Liz Lambert and her team at Bunkhouse run the hotel, which is listed in the National Register of Historic Places (it was originally opened by Edward Franz Melcher, a local grocer, in 1914). Each room is meticulously decorated in a colorful, playful style, and the restaurant Ocho and Havana Bar serve as casual places to drink and dine during your stay. Sip on a refreshing mojito and you just might think you're in Cuba.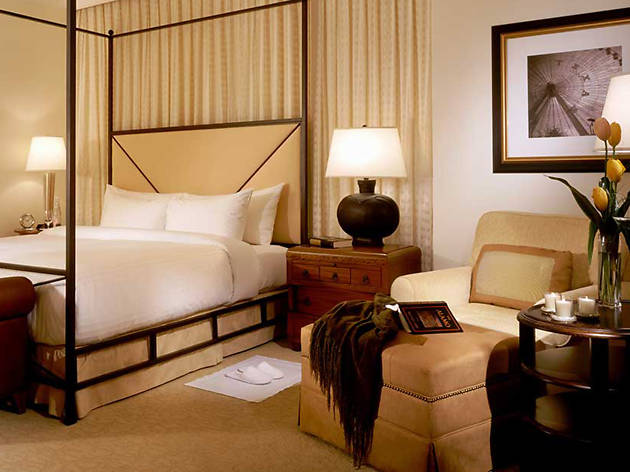 Photograph: Courtesy Mokara Hotel & Spa
As part of the Omni Resort family, Mokara Hotel & Spa is one of San Antonio's more luxury options—perfect for couples retreats, a girlfriends weekend or, hell, just treating yourself to Swedish massages, a seafood dinner at in-house restaurant Ostra, and swims in the heated rooftop pool. Its central setting on the River Walk makes it an ideal location for exploring the city or doing some serious shopping, but you'll want to return every night for a dip in your room's oversized soaking tub.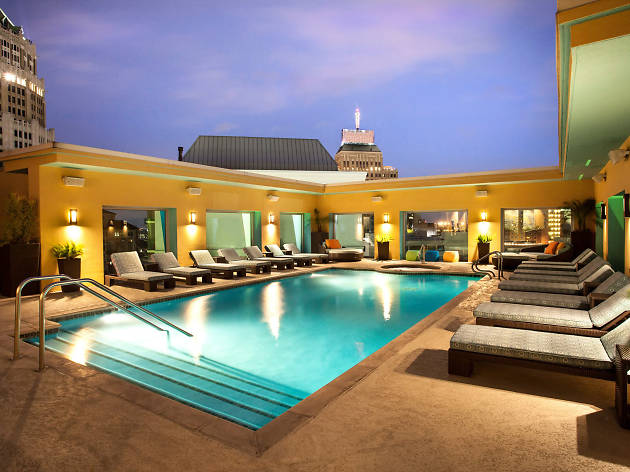 Photograph: Courtesy Hotel Contessa
Another River Walk hotel, the Contessa offers sleek, modern rooms that convey more of an urban loft experience than other hotels around town. Exposed brick and private bedrooms are features in every room, and a number of on-site dining and drinking spots (like Las Ramblas, which has prime people-watching views) makes spending the weekend here a breeze. Be sure to stop by the Woodhouse Day Spa, where "The Woodhouse Escape" offers seven head-to-toe treatments for a full-body wind down.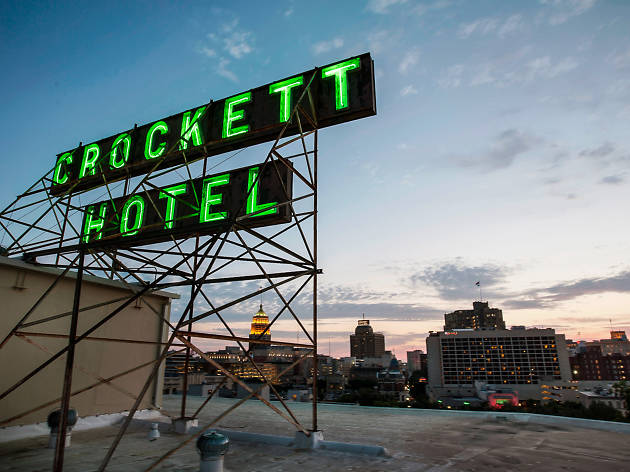 Photograph: Courtesy Crockett Hotel
Every city has at least one haunted hotel, and in San Antonio, the Crockett is rumored to have ghosts and ghouls aplenty. It's easy to see why: Situated just steps from the Alamo, the historic hotel is a stone's throw away from Texas' most epic battleground. Named after Davy Crockett, it offers 138 rooms, plus bars and restaurants (and complimentary breakfast!), an outdoor swimming pool and access to the spa next door. Of course, you'll have to keep an eye out for the spirit of old Davy himself—rumored to have taken his last breath in the current patio area.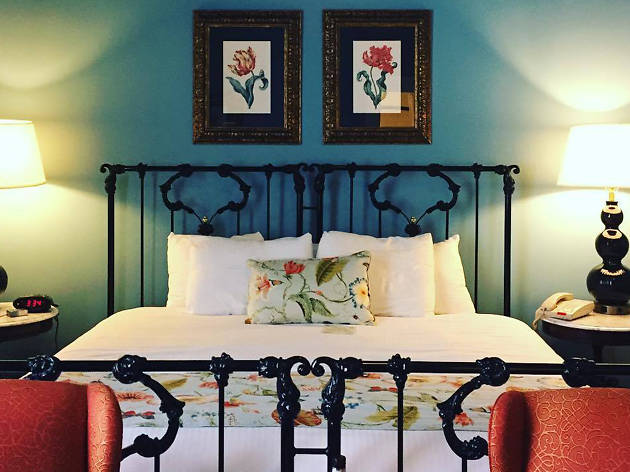 Photograph: Courtesy Menger Hotel
Quite possibly the only hotel known for its mango ice cream, the Menger is a San Antonio institution—and it's legendary dessert has been on the Colonial Dining room's menu for over 100 years. The hotel opened in 1859, and has since come to serve as a both a landmark and historic hotel in the city's center, just a short stroll from the Alamo. While the Victorian decor in the 316 rooms can seem a little dated, it's all part of the charm at this elegant hotel.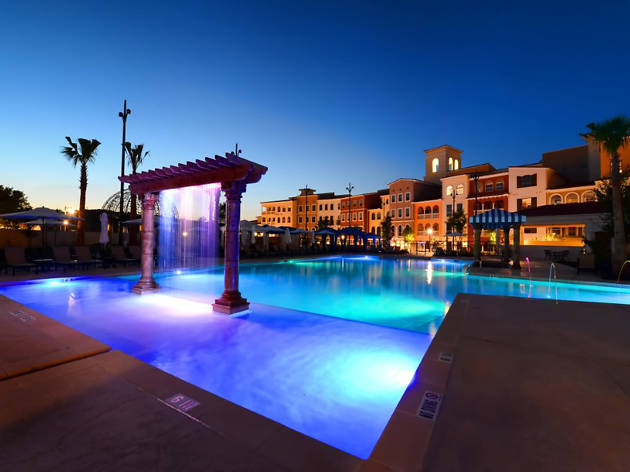 Photograph: Courtesy Eilan Hotel & Spa
Tucked away on 100 acres of Texas Hill Country, Eilan Hotel & Spa is arguably San Antonio's most luxe hotel. The Italian-inspired grounds include an outdoor pool with cabanas, an indoor Olympic-sized lap pool, tennis courts, a spa and a virtual golf room. While its surrounds are fairy tale-like enough to host plenty of weddings throughout the year, it's also a great place to escape into the rolling hills of Texas, with San Antonio just a short, 25-minute drive away.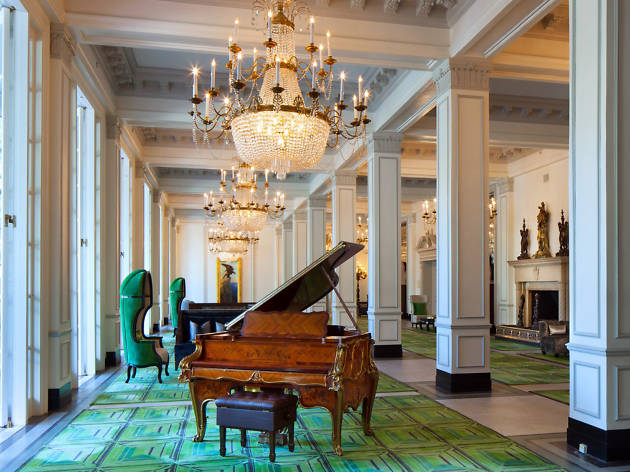 Photograph: Courtesy St. Anthony
In the heart of Downtown San Antonio, the St. Anthony is another historic landmark that has plenty of stories in its old (but recently renovated) halls. Whether you're staying in one of the superior or deluxe rooms or suites, the modern rooms are a comfortable respite after a day of exploring the city. Swimming pools with private cabanas, a health and fitness center, a rooftop bar and multiple dining experiences make this all-in-one hotel a splurge that's hard to resist.
More of the best in San Antonio
Although most tourists flock to the city to gaze at the Alamo and enjoy the River Walk, locals knows that the city is about so much more. Ready to explore San Antonio properly? Here are the very best things to do while in town.
The city's gastronomic scene is sure to deliver: From delicious Italian pasta to out-of-this-world sushi, eaters of all stripes will fall in love with the food in San Antonio.