The 11 best restaurants in San Antonio
There's a reason why foodies are flocking to the city: the best restaurants in San Antonio are killing the culinary game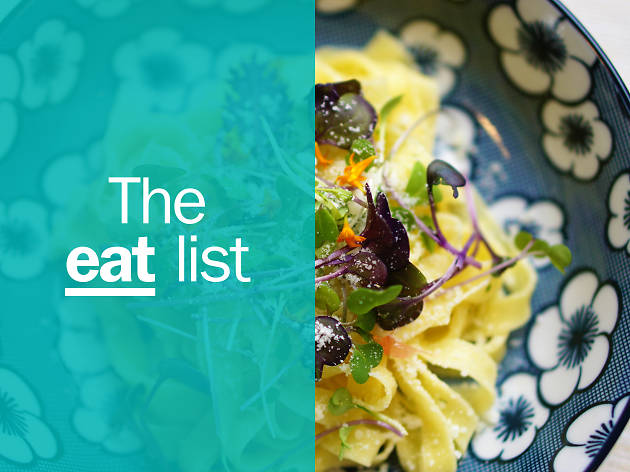 San Antonio is quickly becoming one of the most popular culinary destinations in the U.S. and just browsing through this list of best restaurants in town makes it easy to see why. Whether you're on a budget or looking to splurge, in the mood for delicious Italian pasta or craving sushi, a tourist staying at the best hotels in town or a local itching to discover San Antonio's foodie realm more thoroughly—the city's gastronomic scene will deliver. After spending the day tackling our list of the best things to do in San Antonio, there is only one thing left to do: Eat your way through the town. Are you ready?
Best restaurants in San Antonio
1
Photograph: Courtesy Yelp/Ryu C.
Located in Southtown, a rapidly growing culinary neighborhood, Feast serves small plates with a twist. Expect one of the best brunches in town, a killer cocktail menu and an ambiance so trendy, you'll want to bring your next date here. With so much going for it, the restaurant is clearly a home run for your taste buds. Pro tip: Sit outdoors to get in some great people watching while you're eating.
2
Photograph: Courtesy Yelp/
When it comes to BBQ, people in Texas know how to throw down. Starting off as a food truck, Smoke Shack has moved up the ranks in the last four years and is now one of the most sought-after BBQ joints around. Don't let the rustic retro vibe fool you: The restaurant serves some of the most flavorful meat you will find in the Lone Star State. Be sure to order both the pulled pork and brisket with a side of creamy mac and cheese and vinegar slaw.
3
Photograph: Courtesy Yelp/
If you're after authentic tacos, then you've come to the right place. This local spot serves some of the best puffy tacos you'll likely ever have. What are puffy tacos, you ask? A famous local delicacy consisting of a corn tortilla fried to perfection that puffs up in all the right places, boasting a signature airy lightness. Think big portions, flavorful meat, cheese melted to perfection and guacamole heaven.
4
Photograph: Courtesy Yelp/
Situated in a renovated historic building in the Pearl District, Cured is the way to go if you're looking for something in the charcuterie and pickling department. All the meats are made in-house and are aged for three months to a year—how awesome? The decor is casually elegant, which translates well during any time of the day—so feel free to come here for a casual brunch, a fancy dinner or when you're out with friends for happy hour.
5
Photograph: Courtesy Yelp/Ryu C.
If you're looking for a more upscale dinner spot or want to impress a date, head to Bliss. The restaurant busted onto the San Antonio food scene over 20 years ago and has been impressing diners ever scene. Housed in a former gas station—a fact that adds to the eclectic vibe of the place—Bliss offers a menu that emphasizes the importance of local, seasonal ingredients coupled with a just-as-great cocktail and wine list.
6
Photograph: Courtesy Yelp/Ryu C.
Borrowing flavor profiles from across the globe, Botika is truly "exploring the crossroads between South Asia and South America." Chef Geronimo Lopez's vision is offset by an equally impressive cocktail menu that spans the gamut. Try a pisco sour and pair it with empanadas and spicy eggplant noodles—you won't be disappointed.
7
Photograph: Courtesy Yelp/Melissa H.
Known for its local, quirky menu, The Cove is a multifaceted eatery that allows customers to bring along their dogs. What to expect on premises: A laundromat, a playground, a car wash, a beer garden and a whole lot of live music. The food is farm-to-table, served in a homey, low-key atmosphere that will undoubtedly convince you to come back for more. There are even 60 beers on tap to choose from!
8
Photograph: Courtesy Yelp/Paul S.
Taco House is a no-frills spot serving some of the best Tex-Mex this side of the border. If tacos, breakfast or a combo of both is what you're craving, then this is the spot for you. Order the puffy tacos or the traditional corn tortilla if you want to be safe but certainly browse through the entire menu, even if you order at the drive-through part of the eatery.
9
Photograph: Courtesy Yelp/Mary J.
MK Davis Restaurant and Bar
This hole in the wall has been serving delicious fried food for over 50 years. Opened in 1956, this is a San Antonian institution. If you're craving true Southern food or even Mexican cuisine, get ready to have your taste buds rocked. Be sure to order the famous fried chicken steaks, a schooner of beer and other fried delicacies that have put this place on the map.
10
Photograph: Courtesy Yelp/Cindy P.
Opening their doors for the first time almost 20 years ago, the Pancake Haus has become a beloved mainstay for both locals and tourists. Eat the best breakfast in the city right here—pancakes for everyone! The spot doesn't take reservations so be sure to call ahead and ask how busy it is before you make your way down.
11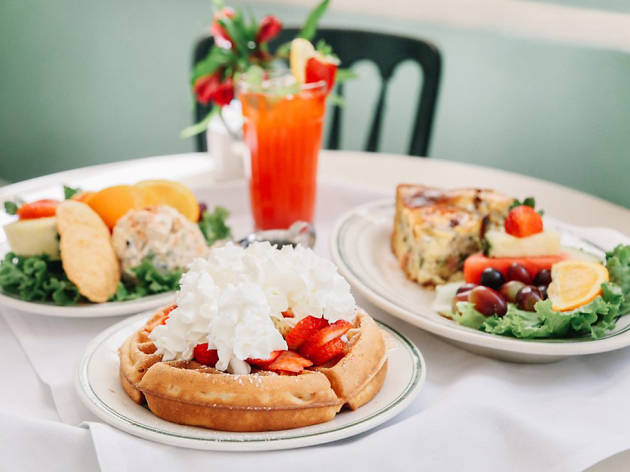 Photograph: Courtesy Yelp/Guenther House
Originally built in the 1850s as a private residence, the Guenther House eventually became part of a larger operation for the Pioneer Flour Mills. Today, the Guenther House operates as a museum, store and restaurant, even hosting private events. Many of the historic details have been preserved so, when you step through the doors, you'll feel transported back in time. You absolutely must try the eatery's cookies and sandwiches. Trust us on that one.
Discover Time Out Market: the best of the city under one roof
More of the best in San Antonio
Although most tourists flock to the city to gaze at the Alamo and enjoy the River Walk, locals knows that the city is about so much more. Ready to explore San Antonio properly? Here are the very best things to do while in town.
From hotels planted on the tourist-driven River Walk and boutique digs by the historic Alamo to family-friendly spots in Downtown, the best hotels in San Antonio are reason enough to visit this growing Texas city.