The 10 best things to do with kids in San Diego
Whether you're after beach days, theme parks or cool museums, here are the best things to do with kids in San Diego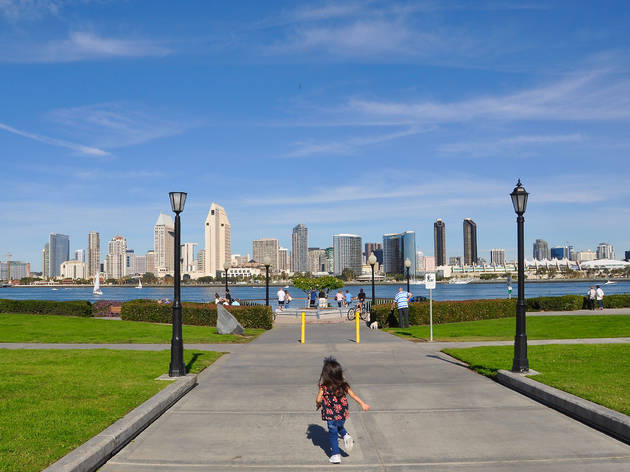 With sunny beaches, fantastical theme parks, and the world's largest comic book convention, bored children don't stand a chance with all the things to do in San Diego. Kiddos can mingle with exotic animals, splash through waterfront fountains, and marvel at towering Lego sculptures. Plus, like a good Pixar flick, the best kids activities won't leave adults gaping at their phones. An artisanal ice cream shop means parents can enjoy a scoop, and a destination park features al fresco drinks to wind down the day. If your plans include numerous attractions, consider the Go San Diego Card which bundles discounted admission for 41 spots—enough to make your little one forget about that iPad.
Best things to do with kids in San Diego
1
What is it? The 102-year-old crowd pleaser is world-renowned with over 4,000 animals and an exotic garden setting.
Why go? With 100 acres of diverse habitats, the zoo might feel like its own continent. Start with a narrated, double-decker bus tour which lends a quick overview of major attractions. Highlights include cuddly koalas of Australian Outback, celebrity pandas of Asian Passage, and adorable penguins of African Rocks. When tykes get restless waiting for koalas to wake, hop aboard the SkyFari Aerial Tram which soars above treetops to another kid fave, Discovery Playground.
2
What is it? Outsizing New York City's Central Park, this sprawling urban oasis is like a mini European town with kid-friendly museums, striking architecture, and dazzling gardens.
Why go? Whirl around a historic carousel, catch a free amphitheater concert, and scratch and sniff fragrant plants in the breathtaking Botanical Building. An Explorer Pass offers discount admission to all 16 museums including the popular Model Railroad Museum. Cool your heels at al fresco Panama 66 with Nutella & banana sammies for kids and local draft beer for parents.
3
Photograph: Courtesy Yelp/Belmont Park
What is it? This spiffy seaside amusement park is abuzz with thrill rides, midway games, and beachfront eats.
Why go? The recently restored 1925 amusement center exudes timeless charm with none of the grit. Hurl balls to topple clowns, putt candy-colored golf balls through tiki island, and squeal in delight aboard the historic Giant Dipper coaster. Food choices come deep-fried, glazed, or frozen, but you'll find more substantial options at waterfront restaurants such as Beach House Grill.
4
Photograph: Courtesy Yelp/Vin T.
Legoland California Resort
What is it? Everything is awesome at this vibrant Lego-constructed world.
Why go? Geared toward the 12-and-under set, the park's themed lands and painstaking, large-scale models put that Lego aisle at Target to shame. Ooh and ahh at mini reproductions of San Francisco, Las Vegas, and the Star Wars galaxy, and ride a Dragon coaster that zips through a castle of animated Lego figures. The resort features a separately ticketed aquarium and water park, plus two Lego-themed hotels to rest your weary bricks.
5
Photograph: Courtesy Yelp/M L.
What is it? This sheltered bay and surrounding beaches make up a 4,300-acre outdoor, aquatic playground teeming with water sports.
Why go? Strap on the life-jackets and choose your vessel. Numerous vendors rent every watercraft imaginable—from sleek pedal boats to jet skis to family pontoon boats—to explore the bay's many coves and waterways. Or rent bikes and cruise the park's 27 miles of coastline.
6
Photograph: Courtesy Yelp/Aj S.
What is it? Modern play structures, splash fountains and picnic spots lure families to this 12-acre kids zone overlooking San Diego Bay.
Why go? Let the little ones run loose while you rest and enjoy views of the bay. On warm days, barefoot kids splash about a large fountain. The park fronts the touristed Embarcadero promenade, making it an easy detour after the historic Star of India, Maritime Museum, and, locals' fave, Carnitas Snack Shack.
7
Photograph: Courtesy Yelp/Huy T.
What is it? Superheroes and super-fans turn San Diego into a virtual Justice League during the city's biggest event of the year.
Why go? Kids 12 and under get free admission to the four-day comic convention, but consider Sunday for the smallest crowds and special kids activities such as drawing workshops and cartoon premieres. There's also plenty of fun to be had outside the conference center including free events—the Nintendo Lounge is a biggie—and marveling at an endless parade of Wookies and Wonder Women.
8
Photograph: Courtesy Yelp/Soo H.
What is it? This creamy, handmade gelato shop with a dry cleaning theme honors the historic storefront's former tenant.
Why go? This is probably the closest your kids will come to helping with the laundry. The fun, stylized space features a rack of crisp dress shirts, ironing board table, and menu of flavors that read like clothing labels—order Linen for pineapple basil, Velour for carmel salt, and Chiffon for strawberry ginger. Add "starch" and get it in a waffle cone.
9
Photograph: Courtesy Yelp/Christina F.
What is it? San Diego's sunny beach culture is on full display along this bustling waterfront promenade.
Why go? Linking the spirited Pacific Beach and Mission Beach hoods, the three-and-a-half mile beachfront path teems with inspiring ocean vistas and fun diversions that make for a pleasant, inexpensive afternoon. Stroll out to Crystal Pier to watch surfers, stop for ice cream at one of the many stands, or plop down on the beach and bury your toes in the soft sand. Numerous bike rentals dot the route, but cycling the busy thoroughfare can be challenging, especially for the training wheels crowd.
10
Photograph: Courtesy Yelp/Nine S.
What is it? The waterfront marine park bubbles over with aquatic exhibits, insightful shows and themed thrill rides.
Why go? After finding themselves in hot water over captivity concerns, Sea World ditched the theatrical animal shows for thrill rides and educational presentations such as Orca Encounter which showcases killer whales in a naturalistic setting. Shows are held in large outdoor arenas, but you can reserve up-close visits with a Beluga whale or behind-the-scenes tour of the penguin habitat. Young children will delight in the Sesame Street-themed Bay of Play with gentle rides and visits from Elmo, while tweens will opt for the twirling loops of Electric Eel, San Diego's tallest and fastest coaster.
Looking for more bucket list activities in San Diego?
Thanks to historical districts, a thriving restaurant scene, galleries and museums aplenty, San Diego has plenty to keep you busy and entertained. Find all the very best things to do in San Diego for both locals and tourists alike.