The best events during SF Beer Week
Not that we need an excuse to drink more beer, but these SF Beer Week events certainly don't hurt. Cheers!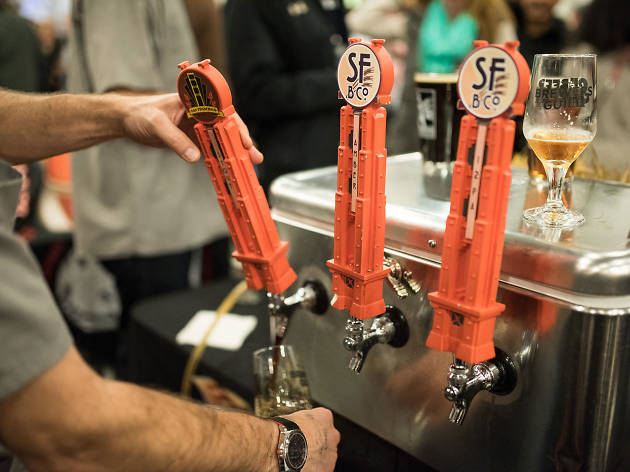 SF Beer Week is back for its eighth year, and there are more opportunities than ever to hammer back (er, responsibly drink) some truly outstanding brews. From January 22-31, craft beer bars, restaurants and even a few cocktail bars are playing host to tap takeovers, dinners, brunches and more, giving beer lovers in the Bay the chance to try brews both old and new. You can peruse SF Beer Week's massive schedule, or just take it from us: these are the best events every day during beer week.
Some events require tickets, which can be purchased through SF Beer Week's site.
SF Beer Week's best events
Friday 1/22: SF Beer Week Opening Gala
This is actually the only event happening on day one of Beer Week—and, unfortunately, tickets happen to be sold out. But if you can beg, borrow or, uh, buy one off a friend, you'll be in good company. Over 100 breweries will be present, along with incredible food from Rosamunde Sausage Grill, Bacon Bacon and more. January 22, 6-10pm, Pier 35, $80
Saturday 1/23: Fort Point Dim Sum Beer Brunch
Dim sum and beer go together like the Giants and a World Series win, so we're pretty stoked about this match made in heaven. Hong Kong Lounge will host Fort Point Beer Company for a private brunch, featuring steamed pork buns, shrimp dumplings, plenty of beer and more. January 23, 11am-2pm, Hong Kong Lounge, $50
Sunday 1/24: Beer Pancakapocalypse
Sunday is filled with boozy brunches during SF Beer Week, but we've got our eyes set on this beauty of a breakfast. Pacific Coast Brewing Co. is offering all you can eat beer pancakes and plenty of PCB pints (sold separately). Don't worry—the carbs will absorb all that alcohol. January 24, 11am-1pm, Pacific Coast Brewing Co., $15
Monday 1/25: Belga's First Annual Sausage Fest
Head to the Marina for a true sausagefest at Belga, where both new and classic sausages will be available along with plenty of craft beer and a Bro Board (naked sausages—they said it, we didn't). January 25, 5-9pm, Belga, prices vary
Tuesday 1/26: Oyster & Beer Extravaganza
Class it up mid-week with freshly shucked oysters at Magnolia Gastropub and Brewery. The pub will be releasing their Oysterhead Stout brewed with Hog Island oysters, and plenty of bivalve variations will be available for slurping: fried, smoked, butter poached, you name it. January 26, Magnolia Gastropub and Brewery, 10am-11pm, prices vary
Wednesday 1/27: Firestone Walker 'Jeffers drops acid'
Head over to Mikkeller for a guided tasting from Firestone Walker barrelmeister Jeffers Richardson, where you'll learn about sour beers (hence the 'acid') in an intimate setting. Held in the Tivoli Sour Room in Mikkeller's basement, a small group will sample Lil Opal Barrel Aged Brett Saison, Agrestic Oak Aged Sour DBA, Bretta Weisse wheat beer and more. January 27, 7-9:30pm, Mikkeller Bar, $50
Thursday 1/28: Stone's Dirty Stinky Secrets
Stone Brewing is a popular brand, but their secret beers aren't on everyone's radar. Mission Cheese is stepping in to expose Stone's lesser known brews, pairing five of the rarest on tap with an American cheese. Does it get better than beer and cheese? Does it? January 28, 11am-9pm, Mission Cheese, prices vary
Friday 1/29: Battle of the Beer Bands
As SF Beer Week starts winding down, celebrate with the more musically-inclined brewers at Battle of the Beer Bands. There will be plenty of jams, plenty of beer and, by the end of the night, everyone will be convinced that they can sing. January 29, 8-11:30pm, Woods Bar and Brewery, prices vary
Satuday 1/30: Sour Fest 6.0
Saturday is all about sours; if you're not already a fan, now is a good time to dip your toe in. Sour Fest returns for its sixth year at the Original Gravity Public House in San Jose, featuring over 20 sour beers on draft as well as some extremely limited release bottles. You'll find Russian River Supplication, Bruery Sour in the Rye, Anderson Valley Thribble and more, along with boozy sweet beers across the street at Good Karma Artisan Ales & Cafe. January 30, Noon-11:30pm, Original Gravity Public House, prices vary
Sunday 1/31: Death by Coconut Luau
Cry your boozy eyes out: today is the last day of SF Beer Week, and a lot of bars and breweries are throwing parties to kick the last keg or finish any leftovers. We're partial to going out with a bang, so head to Beer Revolution for a full-on Hawaiian luau. Colorado's Oskar Blues brewery will be offering their rare specialty Death by Coconut, along with some other barrel aged brews, to be accompanied by a whole hog roast, leis and plenty of island vibes. January 31, Noon-6pm, Beer Revolution, prices vary