It's been an eventful year in the Bay Area beer scene. In May, Lagunitas Brewing Co. founder Toby Magee shocked craft purists when he sold his remaining 50 percent stake in the Petaluma brewery to Heineken (which already owned the other 50 percent). Then in August the news hit that Anchor Brewing, one of the champions of craft brewing, was bought by Japan's Sapporo. Days later, Dave McLean's Magnolia Brewing Co. was purchased by Colorado's New Belgium Brewing Company. And just like that, the city that started the craft-beer movement more than 50 years ago was suddenly down three of its favorites.
But as these SF-born breweries outgrow the 7x7, a new crop of small-batch beer makers has popped up in the past few years to keep the craft spirit alive. From warehouses in Berkeley and Alameda to San Francisco's Dogpatch, these modest but rapidly expanding productions use experimental techniques and exotic ingredients to make interesting new brews worthy of the Bay Area's historic scene.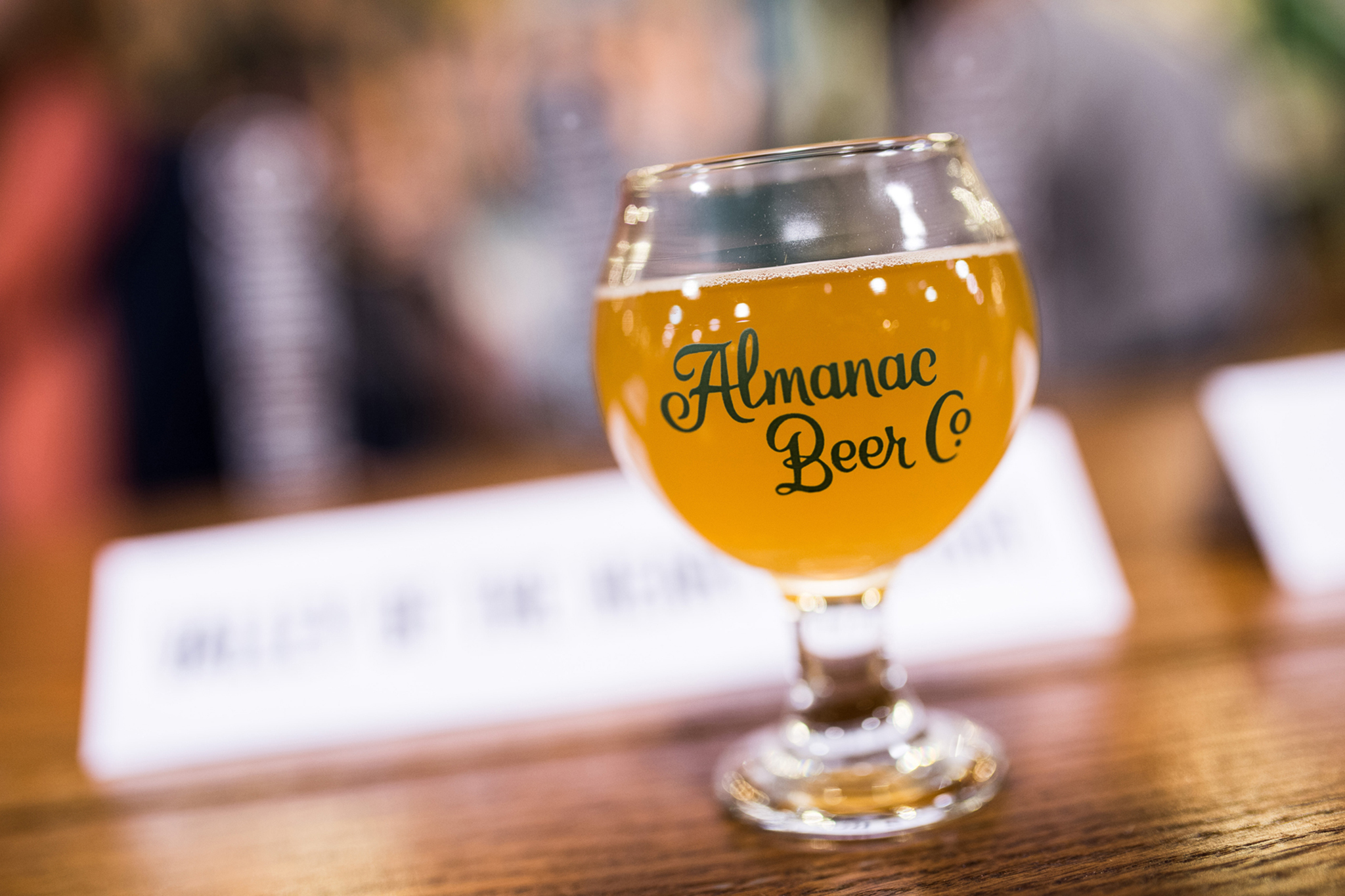 Few beers are as refreshing as those at Almanac Beer Co., known for its saison beers, farm-to-barrel brewing technique and use of fresh fruits (such as pluots and strawberries) sourced from regional family-run farms. Founded in 2010 by Jesse Friedman and Damian Fagan, Almanac is following in the steps of local brewery giant 21st Amendment by opening a massive new facility in the East Bay. "We wanted to grow the business but be mindful of growing it in smart ways," says Friedman. "We never knew exactly what the future would hold, but being able to open a cathedral to barrel-aged beer was really the dream."
Besides providing room to age more beers—a time-consuming endeavor limited by the amount of space the brewery has in SF—the new 30,000-square-foot spot in Alameda will also allow Almanac to source and store more California-grown grains than ever before. "We're in 27 states right now," explains Friedman, "but we send a very small amount of beer to most of those states. We're constantly sold out. The brewery will enable growth in volume, but it's also growing the quality." Fans can look forward to a seasonal heirloom-pumpkin beer or a hoppy sour at the new beer-garden–style tasting room and taproom this month.
651 W Tower Ave, Alameda (almanacbeer.com)
Opened in the SoMa district in 2013 by cofounders Tim Sciascia, Connor Casey and Kelly Caveney, this brewery instantly caught people's attention by making cellar-aged, extremely small-batch beers without a set production schedule. Inspired by their time at Marin Brewing Company, the trio kept the brewery focused on local production—they create only one kind of beer at a time—while trying out unique yeasts and flavors. Each bottle is date-stamped and batches sell out quickly, whether it's the tropical Dank Williams double IPA or the Mt. Nelson pale ale recently in the hopper.
Cellarmaker is also known for experimental beers like the Coffee & Cigarettes, a smoked coffee porter with beans from Sightglass Coffee, and the Lost Wisdom saison, aged using the labor-intensive solera technique so that each year's batch contains some beer from not only the first year of production but also each subsequent year. At the brewery, look for gems with fun names like the Way Chill Vibes or Manhattan Vastness of Space on the ever-rotating tap list, and feel free to order takeout from nearby eateries like Deli Board, Vive la Tarte, Tu Lan and CatHead's BBQ.
1150 Howard St (415-863-3940, cellarmakerbrewing.com)
Fieldwork Brewing Company has had an almost meteoric rise since officially opening its Berkeley taproom in early 2015. The brewery was immediately loved by locals for the huge tap list and innovative beers, and soon founders Alex Tweet and Barry Braden opened a Napa taproom in Oxbow Market, then another in Sacramento, and two more in San Mateo and Monterey last summer. "Four taprooms in one year is a lot. We're going to take a little bit of time and let everything settle in—work on our operations, make service the best it can be," says Braden.
Producing more than 200 beers in just about every style—popular brews include the Chocolate Thunder God imperial milk stout and Destination Unknown double IPA—each location features constantly changing taps including stations to fill growlers and 32-ounce cans for day-drinking on the go. "The key is being able to give our guests something new and different all the time," says Braden. "That's what craft beer is all about."
1160 Sixth St, Berkeley (510-898-1203, fieldworkbrewing.com)
"We're just three longtime friends who became jaded by corporate life and wanted to pursue a dream of running our own business and making a product we were all extremely passionate about: beer," says Jon Verna, who, along with Eddie Gobbo and Eric Tisch, founded Harmonic Brewing in 2015.
Harmonic keeps it hyperlocal with growlers available to take home from the brewery and beers on draft at neighboring restaurants like Alta on Minnesota Street. Their beers are balanced and come in a variety of styles including a popular Kölsch-style ale, chocolaty stout, rye old-fashioned pale (inspired by the cocktail) and the Yonder Wall Wit Belgian white ale, brewed with coriander and lemon zest.
Inspired by the entrepreneurial and communal spirit of the Dogpatch neighborhood, Harmonics' warehouse brewery is always a good time with live music, bring-your-own-grub grilling events and cold beer. This fall, look for the Out on the Tiles IPA, a 100 percent–Mosaic-hopped brew that packs a punch of tropical flavor.
1050 26th St (415-872-6817, harmonicbrewing.com)
In a historic military building that once housed an Army motor pool, Fort Point Beer Company takes inspiration from its setting to produce three staple brews: The KSA Kölsch-style ale, Westfalia Nuremberg red ale and Park hoppy wheat. Brothers and cofounders Tyler and Justin Catalana, along with head brewer Mike Schnebeck, have grown the brand from hyperlocal to a major player in California by producing approachable quality beers with lower alcohol by volume (ABV) that pair equally well with an upscale meal or a football game. Sticking to a self-distribution model, the brewery opened a kiosk in the Ferry Building Marketplace in 2015 with growlers to-go, a tasting bar and a small beer garden. The expansion plan continues into 2018 with a large Mission District brewpub in the factory space occupied by bag company Timbuk2. The new brewpub will offer bar bites like sausages and specialty beers brewed on-site and offered only in the Mission.
44 Old Mason St (415-906-4021, fortpointbeer.com)
This is ground zero for smooth, drinkable sour beers in Berkeley. Cofounders Alex Wallash, Jay Goodwin and Brad Goodwin were clear about their mission from the start. "Our original vision was to explore the spectrum of flavors possible in sour beer and make it as easy as possible to drink them," says Wallash. "While we restrict ourselves to sours only, we like to think that constraint breeds creativity. We love exploring new flavor profiles, whether it's a delicate and lightly tart golden sour or a bourbon-barrel-aged dark sour with cherries."
The Rare Barrel painstakingly ages hundreds of barrels in its brewery to achieve the tart and acidic flavors associated with sour beers, and the taproom menu is constantly changing, with seasonal flavors like the Mad Plum or Outlaw Bound (made with prickly pear and lime zest). "Not everyone brews sours, so we try to make it as convenient as possible to get our beers," adds Wallash. "Join our beer club and new releases can be shipped right to your door." But unlike some of the company's Bay Area compatriots, don't expect fast growth. "We plan to do what's best for the beer and expand slowly," says Wallash, "while always being sure to maintain quality."
940 Parker St, Berkeley (510-984-6585, therarebarrel.com)