Heads up! We're working hard to be accurate – but these are unusual times, so please always check before heading out.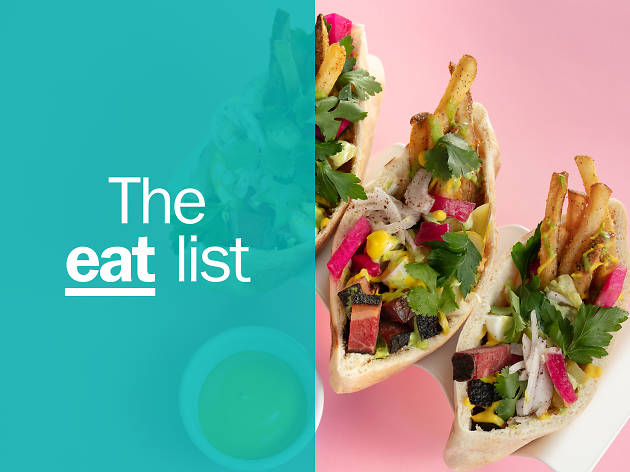 The 50 best San Francisco restaurants to eat at right now
From the Michelin-starred to classic tastes of the city, our top San Francisco restaurants will melt in your mouth
October 2019: Summer is behind us and it's time to eat with abandon! The fall update to our list of the best restauarants in San Francisco swaps out some older eateries to make room for exciting new spots and this time we've topped out at 50(!) stellar restaurants. For Instagram-worthy dining, we've added the Ghirardelli Square dim sum parlor Palette Tea House (#15), downtown fine dining at O' by Claude Le Tohic (our new #1 spot!) and Nari (#2), the latest modern Thai spot in Japantown. In accordance with the comfy season, comfort food takes new shapes and forms from American classics at Corridor (#26) and hearty vegetarian dishes at Wildseed (#39) to warming bowls of ramen in SOMA and meaty favorites at Al's Deli (#18). Last but not least, Aziza (#8) returns to the scene, filling a void in the Richmond neighborhood.
It's no exaggeration to say that San Francisco is one of the best cities for food in the world. But with so many interesting dining destinations packed into just 7x7 square miles, it can be as overwhelming to decide where to eat as it can be to choose from our list of the best things to do in the city. But we're here to help, with 50 picks for the greatest places to eat in this city right now: the freshest, most memorable, most inventive. The ones changing the gastronomic landscape and the ones that have been holding it up for decades.
Our experts scour the city for great dishes, great value and insider info (like a certain restaurant's off-the-menu homemade Spam). So, the EAT List is a unique, authentic snapshot of SF's ever-evolving dining experience right now: we update it regularly, whenever somewhere we think is truly spectacular opens. It could be a mega-hyped destination restaurant or a pop-up-turned-permanent joint in a shipping container: if it's on the list we think it's terrific, and reckon you will too.
Eaten something you love on this list? Share it under the hashtag #TimeOutEatList to show your appreciation.
Best San Francisco restaurants
More places to eat in San Francisco
With the highest percentage of Chinese residents of any major city in the country, there's no shortage of delicious Chinese restaurants in San Francisco ranging from dim sum to hand-pulled noodles and bakeries to fine dining. Whether it's Szechuan, Cantonese, Hunan, or fusion-cuisine you're seeking, San Francisco's Chinese restaurants have got it all and more. And just one note: There are outstanding Chinese restaurants scattered all over town, from Downtown to the Richmond, so don't be afraid to venture outside of Chinatown. RECOMMENDED: The full guide to Chinatown, San Francisco
Which breakfast restaurants are worth getting out of bed for on a weekend morning?
San Franciscans have a long history of fighting over who makes the best burritos in San Francisco. To start, the city is famous for its Mission-style burritos, which date back to the 1960s. Various taquerias claim to have originated the ultimate to-go meal, which typically includes meat, rice, beans and in the case of super burritos, much more. (Side note: these joints are also whipping up some of the best tacos in San Francisco.) But Mexican burritos aren't the only game in town. Pretty much anything wrapped in a tortilla qualifies and these days you can find fusion versions that stuff Indian, Filipino and Korean ingredients (and even sushi!) into a tortilla. Versatile, customizable, affordable, quick, convenient and quite frankly delicious, burritos may evolve, but the best burritos in San Francisco will never go out of style. RECOMMENDED: The best restaurants in San Francisco
Show more