The best brunch in San Francisco
When you want more than just avocado toast, these top brunch places in San Francisco are worth the wait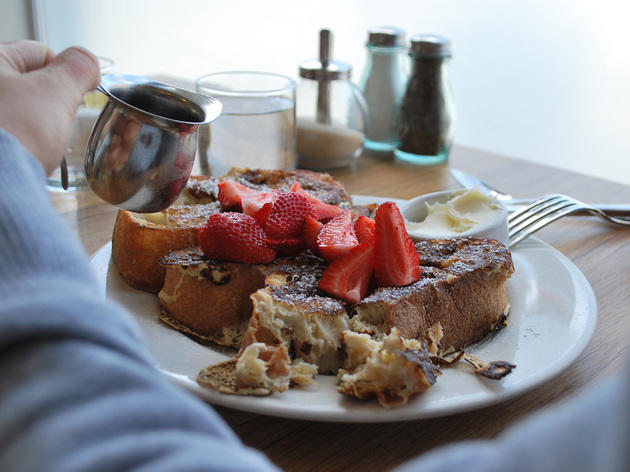 Which breakfast restaurants are worth getting out of bed for on a weekend morning? We've gathered the best brunch places in San Francisco, serving everything from American classics to Indian specialties (and tons of mimosas, of course). Not in the mood for a full-blown meal? Swing by one of our favorite coffee shops instead to fuel up for a day of hiking or lazy urban wandering.
RECOMMENDED: Best new restaurants in San Francisco
San Francisco brunch
1
With a New Orleans-inspired atmosphere and menu, Brenda's French Soul Food is an SF staple. Menu highlights include chicory coffee, filled beignets, fried chicken eggs Benedict and brioche French toast (with butter-pecan sauce), so it's no wonder why people regularly wait an hour to for a table at this much-loved comfort foot hot spot in the Tenderloin.
Read more
2
Simply outfitted with gleaming reclaimed wood tables and floor-to-ceiling windows, Plow is a beautiful space to spend a morning. You'll find standout dishes on the sweet and savory ends of the spectrum, from the legendary lemon ricotta pancakes and rhubarb coffee to the cold-smoked salmon toast and house-made biscuits topped in honey butter, scallions and ham or sausage. (Nab a biscuit while you can—they've been known to run out on busy mornings.) Even lighter fare is memorable here, like the chia seed pudding served with almond milk, bananas, coconut, almonds, honey and bee pollen.
Read more
3
Flores is a new, traditional Mexican spot featuring fresh tortillas and strong cocktails. Tortillas are made by hand daily using fresh masa and served warm paired with classic dishes such as corn pancakes, chicken mole, huevos poblanos and carne asada with eggs. A proper brunch wouldn't be complete without an equally indulgent mimosa; Flores has you covered with their passion fruit-infused iteration.
Book now
Read more
4
Alta Group (Daniel Patterson's restaurant group) and chef/co-owner Nigel Jones of Oakland's Kingston 11 Cuisine opened Kaya with smoldering hot, modern Jamaican dishes, festive island cocktails and hard-to-find Jamaican films showcased on the wall. On the weekend, stop by for the coconut French toast, brown sugar plantains and jerk chicken sandwiches and stay for the rum cocktails. It doesn't hurt that Kaya has one of the longest brunches in SF (Saturday 10am–3pm, Sunday 10am–5pm).
Book now
Read more
5
Weekday breakfast is an under-the-radar highlight at this driftwood-paneled Outer Sunset spot. Some stick to coffee and the rotating array of inventive baked goods by pastry chef Brooke Mosley; others dig into seasonal spicy-savory breakfast dishes like the "everything" plancha bread (fried egg, goat labneh, avocado, and pickles atop a thick slab of house-made bread) and the cornbread benedict. Most everything on the menu is vegetarian-friendly, but carnivores can add a fried egg or slabs of bacon to any item for two bucks.
Read more
7
The restaurant that redefined a neighborhood remains one of the most popular in San Francisco a decade after first opening in 2006. Popular happy hour, late night snack and brunch menus (saffron honey brioche bun! strawberry marzipan coffee cake!) are equally as worthy of a sit-down. If you come without a reservation at peak hours, be prepared to wait for seats at both the bar and restaurant.
Book now
Read more
8
A trip to the Presidio Social Club feels like you've taken an hour journey outside the city. The former military officers' club located in a picturesque park offers hearty dishes all-day-long like the Cuban sandwich, mac n cheese and polenta bowl topped with wild mushrooms and poached eggs as well as craft cocktails and glasses of champagne to wash it all down.
Book now
Read more
9
Dim Sum heaven by day, Hong Kong-style bites by night, the second Hong Kong Lounge located in the Inner Richmond will cure your craving for quality Chinese food. Their extensive dumpling menu includes crowd pleasers like crispy fried seafood and more traditional options like steamed chicken feet.
Book now
Read more
10
Beretta's weekend brunch menu offers special cocktails and handcrafted pizzas along with an array of other small, finger-friendly Mediterranean bites at great prices. The "seasonal cauldron of booze" changes weekly, but is never more than $10 per glass during brunch. Outdoor seating is ample, as long as you get there around 11am to avoid a long wait.
Read more