The best San Francisco restaurants
From well-established local favorites to the latest hot tables, these are the San Francisco restaurants you need to know about right now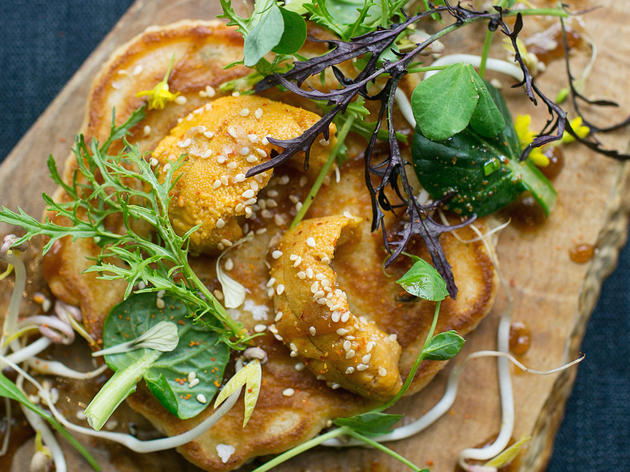 In a city that's been at the center, if not the birthplace, of innumerable nationwide culinary trends ranging from slow food and pop-up restaurants to fusion, farm-to-table, and artisanal toast, it's a wonder that chefs in San Francisco restaurants continually find ways to raise their game. But this is a town that loves—and is occasionally required—to reinvent itself, never feeling satisfied to just rest on its (bay) laurels. On any given night, you might find yourself dining on American dim sum, 900-degree-oven-fired Neapolitan pizza, smoked meat by-the-pound, and just about every hybrid ethnic cuisine you can imagine—Asian-Italian and Hungarian-Japanese to Cal-Moroccan, French-Japanese, and Korean burritos. There are further culinary riches in the best bars in San Francisco, many of which lay on restaurant-caliber snacks and small plates to accompany the creative cocktails.
Chinese
This three-level restaurant is teeming with all kinds of delicious Cantonese fare, but is best known for a single dish: the salt and pepper, deep-fried Dungeness crab (battered and deep-fried legs and claws with tender morsels of crab meat, seasoned with a secret salt and pepper sauce and served with the carapace for effect). In addition to their iconic dish, try the special R&G beef, lobster sticky rice, and oxtail, seafood or vegetable clay pots.
A San Francisco staple, Mission Chinese gives traditional Chinese fare a modern twist with dishes like lamb and squid ink pappardelle, tiki pork belly, and thrice-cooked bacon with rice cakes. There are some classics on the menu—pork or mushroom mapo tofu and steamed market greens, for example—but you can't go wrong with anything from this Mission gem. Be warned though, it will be spicy!
See more Chinese restaurants
French
Legendary chef Jacqueline Margulis, now in her 80s, makes each soufflé herself at Cafe Jacqueline in North Beach. Behind mountains of eggs in the tiny kitchen, Margulis has worked with the same prep cook for over 30 years, while the head waiter has been there nearly as long. Her textbook perfect soufflés—including crab, lobster, Gruyère and mushroom and lime and Grand Marnier for dessert—have not changed for decades. We wish she could live forever.
Philippe Gardelle has maintained a welcoming spirit (complete with a handshake or kiss on each cheek) and authentic French bistro fare since 1996 Regulars return for perfect veal sweetbreads, bouillabaisse, cassoulet and stellar soups like French onion and the seasonal yellow roasted corn in white truffle oil. The early bird prix fixe is a steal—$40 for 3 courses served from 5–6pm.
See more French restaurants
Italian
Montesacro, the country's first pinseria opened in 2015, introducing the U.S. to the joys of the ancient Roman flatbread. The oval, pizza-like breads are made of a soy, rice and wheat crust, and come laden with different toppings direct from Rome. The restaurant even boasts a 100-year-old oven.
Pizza master Tony Gemignani nails Chicago-style pizza at Capo's. In the brick-walled, red-boothed, Prohibition-era North Beach dining room, the restaurant also serves an amazing baked clams casino, quattro forni breads, sweet-spicy house Calabrese sausage and mostaccioli and conchiglie pastas baked in a wood-fired oven.
This cozy Noe Valley restaurant showcases the cuisine of Chef Massimilliano Conti's homeland, Sardinia, paired with a thoughtful Italian wine list. Don't miss longtime greats like the octopus stew or spaghittusu cun allu ollu e bottarga (spaghetti in spicy oil and bottarga).
See more Italian restaurants
Japanese
A downtown standby for over 30 years, this family-owned restaurant specializes in rare fish, creatively prepared. The space is moody and modern, with exposed brick walls, slatted wood ceilings, and imported rosewood floors underfoot. Ray Lee took over the restaurant from his parents in 2011, introducing a slew of new dishes alongside chef Naoyuki Hashimoto. The menu is divided into leaner white fish and fatty "vibrant" fish—diners are encouraged to pace their meal accordingly. The fish can be ordered as nigiri, sashimi, or sushi, but the optimal approach is to order the omakase. Akiko's seasonal nama menu changes daily, sourced domestically (from Alaska to Boston) and from Tsukiji Market. On a given night, the menu might include delicacies like madai (while black sea bream), aodai (blue fusilier), or kinki (thorny head), interspersed with sea urchin, shrimp, or awabi—Japanese black abalone. Choose from a selection of over 30 sakes.
This hip newcomer serves contemporary, local omakase in a bright, chic setting—from the fuchsia and rose mosaic tiles behind the bar to the camel-hued leather seats and watercolor blue wallpaper. Chef-owner Adam Tortosa trained under Katsuya Uechi in Los Angeles and previously worked at Akiko's. The seasonal omakase-style menu progresses from lean to fatty fish; guests can expect standouts like starry flounder served with Meyer lemon, shiso, and blood-orange kosho and a bluefin shoulder marinated in poblano soy. The fish is interspersed with more hearty dishes like hand-pulled noodles covered in shaved black truffles and Japanese chimichurri and a milk bread toast topped with uni, uni butter, smoked maple-soy, and citrus.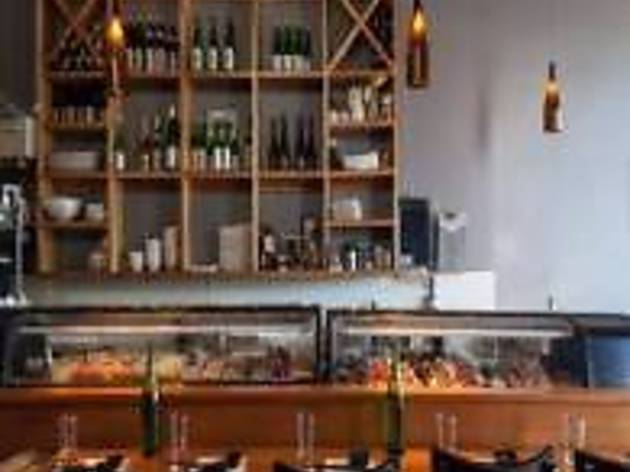 The fish is taken seriously at this decade-old Mission sushi bar, but the ambiance is unintimidating and fun, from the pop art mural to the greeting shouted by staff when you enter. After expanding to a larger location up the street in 2014, executive chef Tim Archuleta and his partner, Erin Archuleta, went back to their roots, reopening in their original 21-seat Mission Street location in early 2017. Tim trained in Japantown before honing his skills at Ace Wasabi and Tokyo Go Go. The fish selection changes daily—look for specials like Japanese golden eye snapper. While the menu emphasizes nigiri, omakase service is available. The fish is deftly complemented by a variety of citrus, salts, and house-made ponzu in flavors like garlic ginger and yuzu. Trust us, you won't miss the soy sauce.
See more Japanese restaurants
Mexican
A offshoot of the popular, acclaimed Nopa restaurant, Nopalito offers authentic, from-scratch Mexican cooking made with local, sustainable and organic ingredients. This is the antithesis of slapped-together street food. Dishes are carefully composed with subtle flavors to create deliciously complex interpretations of traditional Mexican meals: carnitas is slow-cooked and braised in orange, bay leaf, milk, cinnamon and beer; mole coloradito con pollo is made with toasted chiles, almonds, Ibarra chocolate, dried plums and a huge array of spices. Don't miss any version of tangy, tender nopales (cactus leaves), frequently on the menu in the form of tamales or in dishes such as queso flameado con chorizo y nopales (flamed Oaxacan and jack cheese with grilled cactus and chorizo).
The Mission burrito, as iconic to San Francisco as fog and cable cars, is the star at La Taqueria, a stalwart of the Mission District for more than 40 years. While some quibble over the exclusion of rice, no one argues over the tastiness of their behemoth foil-wrapped burrito bombs, filled with beans, cheese, salsa and meats ranging from carne and pollo asada to carnitas, chorizo and lengua. The tidy, no-frills spot also features tacos, quesadillas and a full selection of aguas frescas. Whatever your preference, start off with a basket of chips and the super-fresh guacamole.
See more Mexican restaurants
Seafood
Decked in lush tropical wallpaper and checkerboard tile by San Francisco design guru Ken Fulk, this buzzy oyster bar is modeled after the glam cocktail lounges of the '50s. Start with the Leo's Plateau: two tiers of oysters, shrimp cocktail, and snow crab claws. Entrees are rich and decadent like the warm buttered lobster roll glistening with uni butter and champagne-steamed mussels, served with a side of frites and dijon.
Terry and Roseann Grimm have owned this Castro seafood spot and fish market for more than 40 years. It's known for oysters, of course, as well as sustainably caught shellfish, crab, and fish. The starters are simple and classic, like salads topped with shrimp, crabmeat, and prawns (or a combo of all three) or a perfect shrimp cocktail. The golden-brown crab cakes are served with house-made tartar; order it as an entree and it comes with a cup of Boston clam chowder. But the specialty is the the cracked Dungeness crab, available seasonally.
See more seafood restaurants
Steakhouses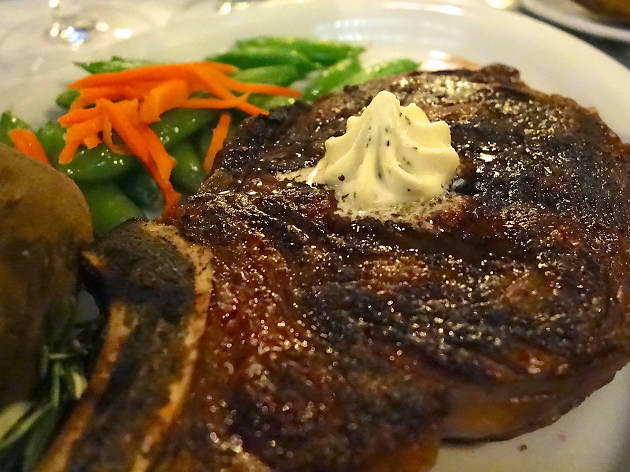 One of San Francisco's steakhouse veterans, Harris' offers classy old-style dining, with big steaks, big martinis, and big bills at meal's end. Sink into your booth, start with a strong cocktail, then proceed with a textbook Caesar salad (put together at your table), a prime piece of carefully aged steak (from Harris' own ranch) and a baked potato with all the trimmings. Hefty desserts follow.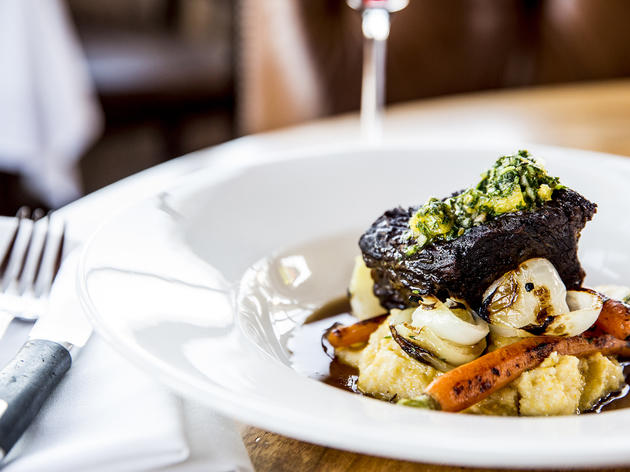 The first destination restaurant to be built on the Embarcadero waterfront in decades, Epic Roasthouse and its adjoining sister, Waterbar, co-opted a pristine piece of real estate with spectacular views of the Bay Bridge for their haute surf and turf. Out of the wood-fired oven come daily procured selections of dry aged ribeye, côte de boeuf, porterhouse, prime rib and filet mignon, which you can augment with your choice of béarnaise, madeira, chimichurri or horseradish. Accompany your steak with sides such as späetzle gratin, sautéed spinach and fried green tomatoes.
See more steakhouses
Thai
The ambiance is colorful and informal at this Michelin-starred Thai restaurant, from the decor to the bold curries. Kin Khao—which translates to "eat rice"—is the passion project of chef Pim Techamuanvivit, who was born and raised in Bangkok. (Her stated mission: "To liberate her beloved Thai cuisine from the tyranny of peanut sauce.") All Techamuanvivit's produce, mushrooms, meat, and seafood is sourced from local Northern California purveyors, from Half Moon Bay to Napa. The menu is separated into bites, meats, seafood, greens, and curries. The dishes are shareable and generously spiced, from the "Pretty Hot Wings" glazed with fish sauce, garlic marinade, tamarind, and Sriracha to the dry-fried Duroc pork ribs in a turmeric curry paste. Don't miss Kin Khao's modern spin on curries, like the rabbit green curry or the mackerel gaeng som sour curry.
Chef Chai Siriyarn opened the first Marnee Thai in 1986, well before Thai food became the takeout staple it is today. Siriyam grew up in Bangkok and learned how to cook from his mother; her influence is evident in the traditional flavors and bold spices of his dishes. Today, Siryam's two restaurants—one in the Inner Sunset, the other in the Outer Sunset—specialize in aromatic, tongue-tingling dishes from Central Thailand. Specialties include the kao soi chicken and mussamun chicken curry.
See more Thai restaurants
Other international cuisines
More to explore