The best San Francisco restaurants
From well-established local favorites to the latest hot tables, these are the San Francisco restaurants you need to know about right now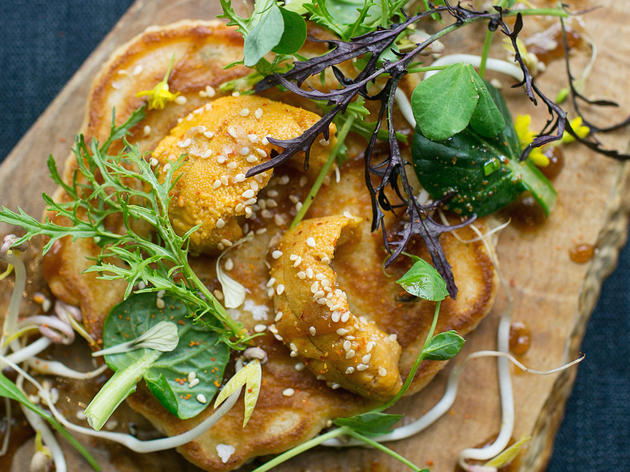 In a city that's been at the center, if not the birthplace, of innumerable nationwide culinary trends ranging from slow food and pop-up restaurants to fusion, farm-to-table, and artisanal toast, it's a wonder that chefs in San Francisco restaurants continually find ways to raise their game. But this is a town that loves—and is occasionally required—to reinvent itself, never feeling satisfied to just rest on its (bay) laurels. On any given night, you might find yourself dining on American dim sum, 900-degree-oven-fired Neapolitan pizza, smoked meat by-the-pound, and just about every hybrid ethnic cuisine you can imagine—Asian-Italian and Hungarian-Japanese to Cal-Moroccan, French-Japanese, and Korean burritos. There are further culinary riches in the best bars in San Francisco, many of which lay on restaurant-caliber snacks and small plates to accompany the creative cocktails.
Chinese
The aromas coming from the steamed and fried dumplings at Yank Sing are so tantalizing, you'll likely gobble them down before finding out what's in them. Exceptionally fresh and flavorful dim sum is undoubtedly what keeps this longtime restaurant thriving in an unlikely corner of a massive office complex. Ordering is half the fun: Just point at what looks good as the waiters roll their carts past your table. Favorites include shanghai dumplings with pork, scallion, ginger and a shot of hot broth, stuffed crab claws, and goldfish dumplings filled with crunchy shrimp and bamboo shoot tips.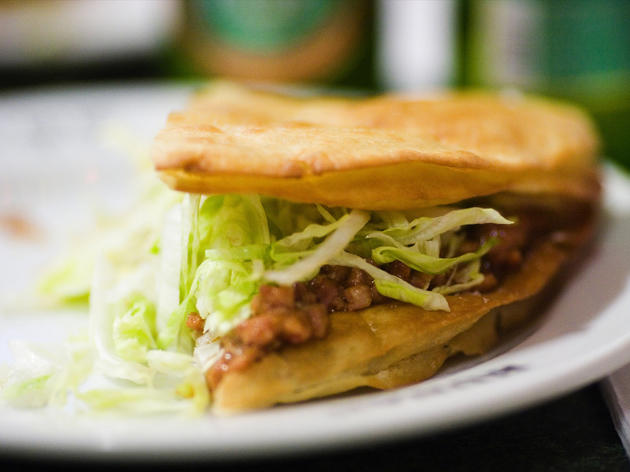 Henry and Diana Chung started this local chain of Chinese restaurants in 1974, introducing the spicy, smoky dishes of their native Hunan province to San Francisco. It's been a love affair ever since, with locals flocking to their downtown and neighborhood locations for the Marty's Special (hot and spicy smoked ham and chicken with vegetables in black bean sauce), cold noodle salad (shredded chicken, cucumbers and peanut sauce), deep-fried onion cakes, hot and sour soup, and Diana's legendary meat pie—ground pork in garlicky chili sauce topped with shredded lettuce sandwiched between circles of flaky fried bread. In recent years, grandsons Jeff and Eddie have opened branches in the Excelsior and Noe Valley that cater to a more health-conscious crowd, with lighter sauces, less oil, lean meats, and options such as brown rice. If you're averse to spicy food, make sure you specify "mild" when ordering.
See more Chinese restaurants
French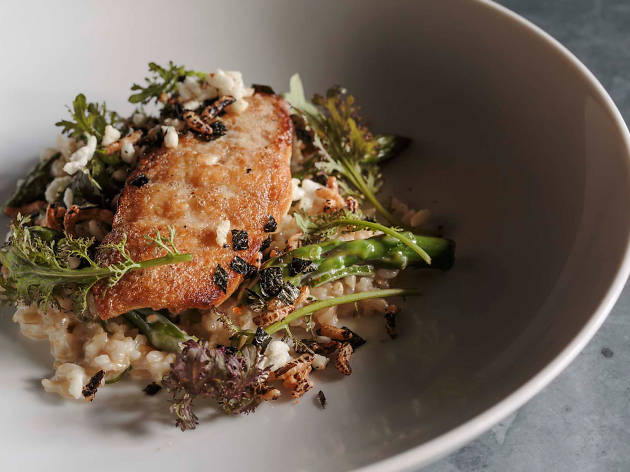 This beautiful, whimsically designed restaurant (it's meant to resemble an overturned champagne glass) is one of the best high-dollar special-occasion establishments in the city. Located a short walk from Davies Symphony Hall and the Opera House, it delivers a menu as opulent as the decor. Chef Traci Des Jardins continues to seek out the best local ingredients for a menu that features caviar, oysters, black truffles, duck breast confit, diver scallops, and bacon-wrapped rabbit. For an extra-special occasion, spring for the prix fixe menu with wine pairings—and the cheese course. The wine list includes an extensive selection of champagne and sparkling wines.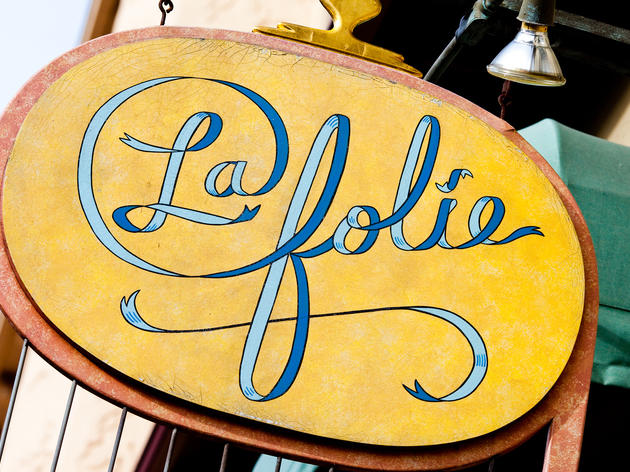 This is one of the few truly French restaurants that has never bowed to the whims of fashion. For 26 years, Chef Roland Passot has enjoyed a passionate following. Opt for the five- or seven-course tasting menus and you'll understand why: meticulously prepared updated classics such as frog legs with trumpet mushroom ragout and butter-poached lobster with carrot sauce. The Provençal decor and attentive staff add to the charm of this delightfully haute but not at all haughty establishment. The adjoining Green Room is a good option for intimate dining.
See more French restaurants
Italian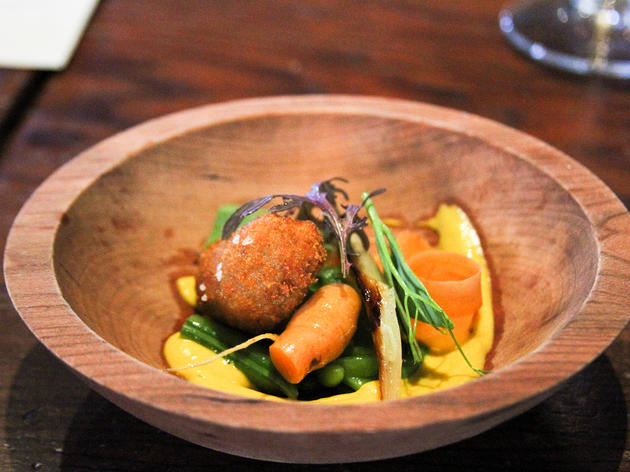 Though Flour + Water's menu has recently been expanded with two to three meat, poultry and fish options, pasta and pizza are still the stars of the show. The kitchen staff slaves over every ingredient, cultivating and coddling textures and flavors until they meet the restaurant's exacting standards. Melt-in-your-mouth pastas are house-made daily, as is the salumi—whole animals are butchered on site and each part is used, from snout to tail. Pizzas from the Italian wood-fired 900-degree oven take exactly two minutes to cook, and arrive exquisitely thin with perfectly blistered crusts, topped with delicacies like fior di latte, squash blossoms, house-made pork sausage, and calabrian chili. The $65 five-course pasta tasting menu is worth the splurge. Book as far in advance as you can—the place is ridiculously popular. Or get there at 5:30pm and try for one of the walk-in spots.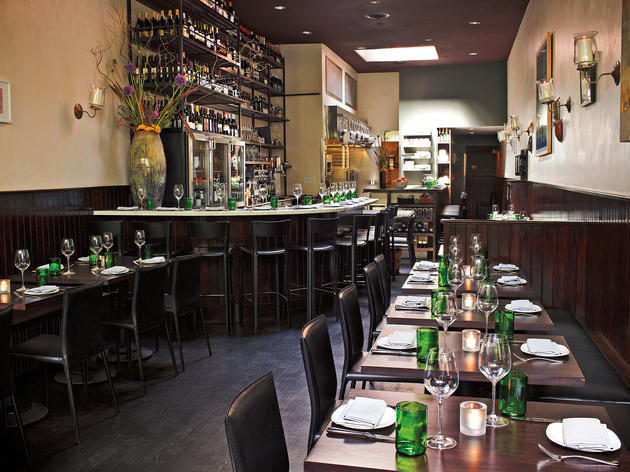 The spirit of both Northern California and Italy shine through in this small, lively dining space. SPQR (an acronym for Senatus Populesque Romanus) has hit new heights under chef Matthew Accarrino, garnering a Michelin star and several James Beard nominations. His menu reflects a philosophy that is at once modern and traditional, with every detail of texture, flavor and presentation bearing a personal stamp. Raves are rightly earned for antipasti such as caramelized sweet onion panna cotta with sturgeon bacon and accarrino caviar, and for any of his handmade pastas (the meyer lemon fettuccini in an albalone alfredo will bowl you over). Pair them with owner/sommelier Shelley Lindgren's spectacular Italian wine list and it'll be an evening to remember.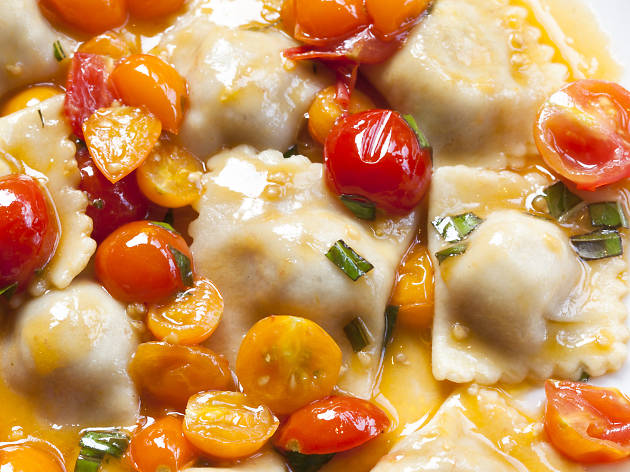 Chef/owner Craig Stoll favors simplicity over whimsy, and tradition over fashion. Yet his food is never ordinary: Fresh pasta, fish and braised meats find the perfect balance of flair and flavor. The menu changes daily, reflecting Stoll's desire to stay on his toes. Recent standouts include garganelli pasta with liberty duck ragů and pancetta-wrapped rabbit saddle. Stoll's casual Pizzeria Delfina (415-437-6800) is next door, serving some of the best thin-crust pizzas in town. The Clam Pie with cherrystone clams and hot peppers is a perennial favorite.
See more Italian restaurants
Japanese
A downtown standby for over 30 years, this family-owned restaurant specializes in rare fish, creatively prepared. The space is moody and modern, with exposed brick walls, slatted wood ceilings, and imported rosewood floors underfoot. Ray Lee took over the restaurant from his parents in 2011, introducing a slew of new dishes alongside chef Naoyuki Hashimoto. The menu is divided into leaner white fish and fatty "vibrant" fish—diners are encouraged to pace their meal accordingly. The fish can be ordered as nigiri, sashimi, or sushi, but the optimal approach is to order the omakase. Akiko's seasonal nama menu changes daily, sourced domestically (from Alaska to Boston) and from Tsukiji Market. On a given night, the menu might include delicacies like madai (while black sea bream), aodai (blue fusilier), or kinki (thorny head), interspersed with sea urchin, shrimp, or awabi—Japanese black abalone. Choose from a selection of over 30 sakes.
This hip newcomer serves contemporary, local omakase in a bright, chic setting—from the fuchsia and rose mosaic tiles behind the bar to the camel-hued leather seats and watercolor blue wallpaper. Chef-owner Adam Tortosa trained under Katsuya Uechi in Los Angeles and previously worked at Akiko's. The seasonal omakase-style menu progresses from lean to fatty fish; guests can expect standouts like starry flounder served with Meyer lemon, shiso, and blood-orange kosho and a bluefin shoulder marinated in poblano soy. The fish is interspersed with more hearty dishes like hand-pulled noodles covered in shaved black truffles and Japanese chimichurri and a milk bread toast topped with uni, uni butter, smoked maple-soy, and citrus.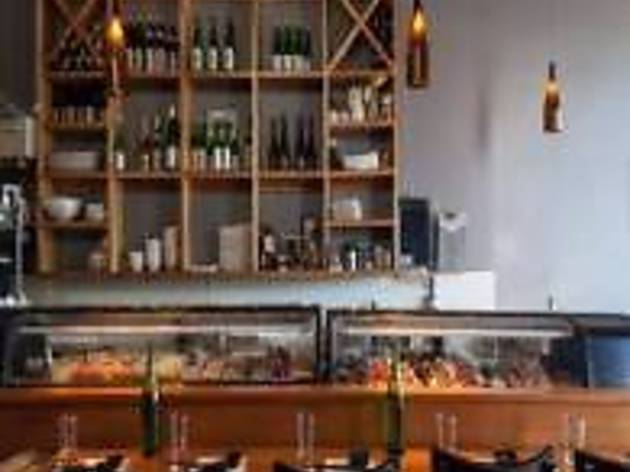 The fish is taken seriously at this decade-old Mission sushi bar, but the ambiance is unintimidating and fun, from the pop art mural to the greeting shouted by staff when you enter. After expanding to a larger location up the street in 2014, executive chef Tim Archuleta and his partner, Erin Archuleta, went back to their roots, reopening in their original 21-seat Mission Street location in early 2017. Tim trained in Japantown before honing his skills at Ace Wasabi and Tokyo Go Go. The fish selection changes daily—look for specials like Japanese golden eye snapper. While the menu emphasizes nigiri, omakase service is available. The fish is deftly complemented by a variety of citrus, salts, and house-made ponzu in flavors like garlic ginger and yuzu. Trust us, you won't miss the soy sauce.
See more Japanese restaurants
Mexican
A offshoot of the popular, acclaimed Nopa restaurant, Nopalito offers authentic, from-scratch Mexican cooking made with local, sustainable and organic ingredients. This is the antithesis of slapped-together street food. Dishes are carefully composed with subtle flavors to create deliciously complex interpretations of traditional Mexican meals: carnitas is slow-cooked and braised in orange, bay leaf, milk, cinnamon and beer; mole coloradito con pollo is made with toasted chiles, almonds, Ibarra chocolate, dried plums and a huge array of spices. Don't miss any version of tangy, tender nopales (cactus leaves), frequently on the menu in the form of tamales or in dishes such as queso flameado con chorizo y nopales (flamed Oaxacan and jack cheese with grilled cactus and chorizo).
The Mission burrito, as iconic to San Francisco as fog and cable cars, is the star at La Taqueria, a stalwart of the Mission District for more than 40 years. While some quibble over the exclusion of rice, no one argues over the tastiness of their behemoth foil-wrapped burrito bombs, filled with beans, cheese, salsa and meats ranging from carne and pollo asada to carnitas, chorizo and lengua. The tidy, no-frills spot also features tacos, quesadillas and a full selection of aguas frescas. Whatever your preference, start off with a basket of chips and the super-fresh guacamole.
See more Mexican restaurants
Seafood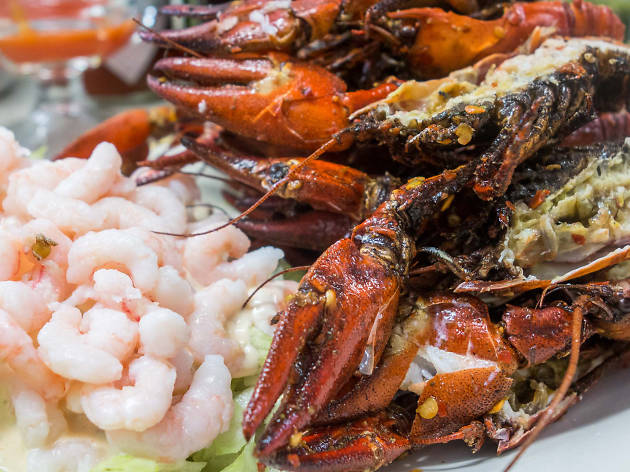 Opened more than a century ago as a fish market-cum-lunch counter, Swan's has been dishing up fresh, no frills seafood—filleted, cracked and shucked before your eyes—ever since. Belly up to the marble counter and start with a bowl of clam chowder, served with a hunk of fresh San Francisco sourdough. Move on to a plate of fresh-cracked Dungeness crab, thinly sliced smoked salmon, half a dozen Miyagi oysters, or mixed seafood cocktail/salad topped off with a dollop of cocktail sauce or house-made horseradish. Accompany everything with a pint of local Anchor Steam beer and you can scratch authentic SF seafood experience off your bucket list. Cash only.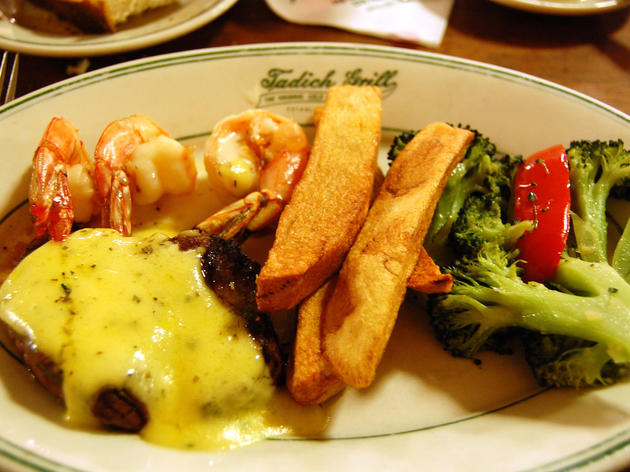 Established in 1849, Tadich is the city's oldest restaurant, and still one of its most popular. Power-lunching politicians, techies and tourists alike belly up to the classic mahogany horseshoe bar and tuck into old-school San Francisco dishes such as crab Louis, shrimp a la Newburg, Hangtown Fry (oysters and eggs), and giant bowls of San Francisco cioppino (shellfish stew) accompanied by a big hunk of sourdough bread. If you prefer more private seating, let one of the white-coated waiters usher you into a wooden booth (with service bell). No reservations are accepted and there's invariably a line out the door, but it's worth it to experience a bit of Barbary Coast San Francisco.
See more seafood restaurants
Steakhouses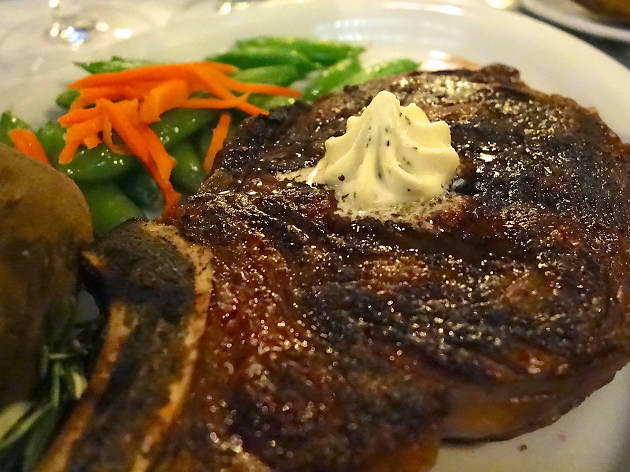 One of San Francisco's steakhouse veterans, Harris' offers classy old-style dining, with big steaks, big martinis, and big bills at meal's end. Sink into your booth, start with a strong cocktail, then proceed with a textbook Caesar salad (put together at your table), a prime piece of carefully aged steak (from Harris' own ranch) and a baked potato with all the trimmings. Hefty desserts follow.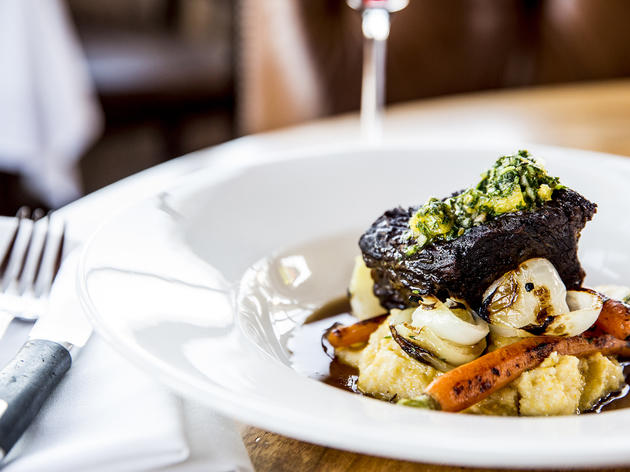 The first destination restaurant to be built on the Embarcadero waterfront in decades, Epic Roasthouse and its adjoining sister, Waterbar, co-opted a pristine piece of real estate with spectacular views of the Bay Bridge for their haute surf and turf. Out of the wood-fired oven come daily procured selections of dry aged ribeye, côte de boeuf, porterhouse, prime rib and filet mignon, which you can augment with your choice of béarnaise, madeira, chimichurri or horseradish. Accompany your steak with sides such as späetzle gratin, sautéed spinach and fried green tomatoes.
See more steakhouses
Thai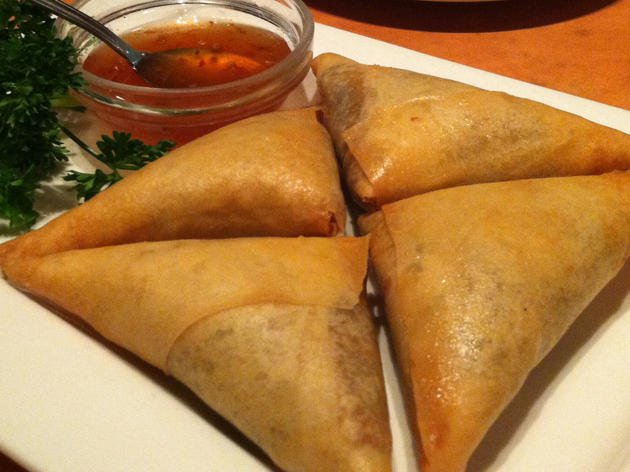 With a menu of more than 50 items (not including the daily specials), Marnee Thai offers a deep dive into regional cuisine. Chef Chai Siriyarn's menu focuses mainly on Siamese fare from Central Thailand, but he also covers specialties from the north and south, including turmeric- and ginger-seasoned noodle curries and Indonesian-style chicken satay. Local favorites include green papaya salad, Tom Ka Gai (sour-spicy coconut chicken soup), Hor Mok (steamed snapper in curry mousse with cabbage in a banana leaf bowl), pad Thai, and curry dishes. If it's on the menu, don't miss the morning glory—a delicate spinach-like green—sautéed in soy bean and garlic sauce.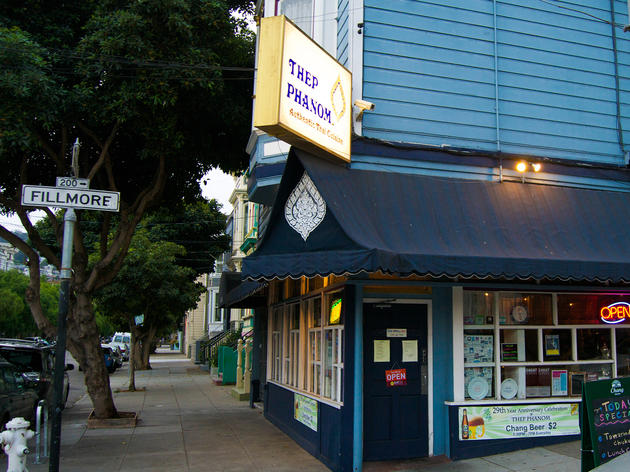 Be sure to book in advance at Thep Phanom—and once you're there, be sure to order the tom ka gai (coconut chicken soup) as a starter. The "angel wings"—fried chicken wings stuffed with glass noodles, grilled prawns stuffed with crabmeat, and prawn and pumpkin curry—are universally popular choices. After more than 25 years, chef Pat Parikanont's neighborhood fave is still going strong, often touted as one of the top Thai restaurants in San Francisco.
See more Thai restaurants
Other international cuisines