The best shopping in San Francisco
Whether you're on the hunt for clothing, gifts, vintage goods, books or sex toys, or just browsing, consult our guide to shopping in San Francisco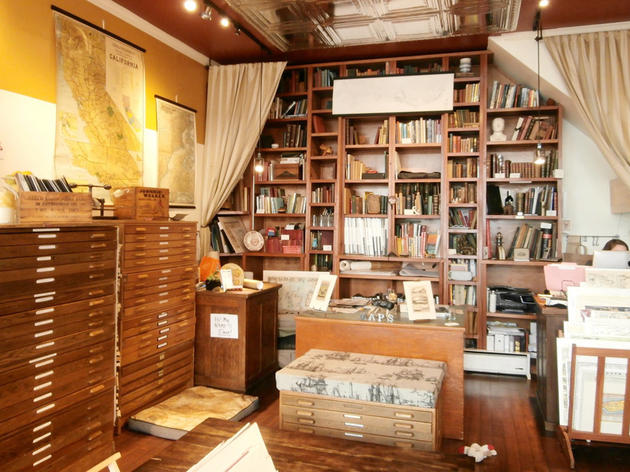 A high concentration of makers, innovators, entrepreneurs and design buffs makes shopping in San Francisco an inimitable experience. Hayes Street in Hayes Valley and Fillmore Street in Pacific Heights are among the top sartorial stretches for contemporary fashion, featuring perennial favorites like Marc Jacobs, Joie and Steven Alan alongside well-curated local boutiques. In the Mission, the heavily foot-trafficked thoroughfare Valencia Street has a decidedly quirkier feel. It's liberally dotted with home design shops, bookstores, and only-in-SF novelties like the Pirate Supply Store. Grant Avenue, on an off-the-beaten-path strip of North Beach, serves as a mini-hub for lovers of the old, where oddities trove Aria Antiques meets storied record shop 101 Music and rare map dealers Schein & Schein. Union Square is designer central; the manicured lawn is surrounded by European heavy-hitters like Valentino, Prada, Louis Vuitton, Gucci, Chanel and Saint Laurent. (Find respite from the tourist packs with a detour down Maiden Lane, a two-block, cobblestone-paved street lined with luxury boutiques.) And while it maintains its traditional grungy, marijuana-scented affect, Haight Street in Haight-Ashbury has become an impressive trove of thrift and vintage clothing, whether you're hunting for a '20s-era tuxedo or a mod, Mad Men-evoking sheath dress.
Clothing stores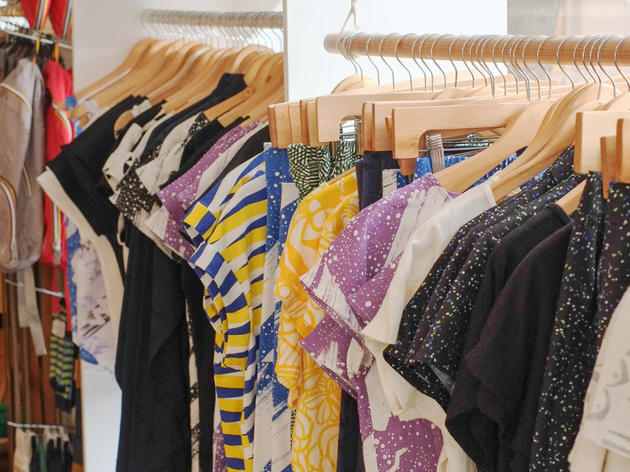 This weirdly, wonderfully San Franciscan store isn't afraid to be irreverent: The best-selling Boob Bag is covered with a black-and-white print of breasts (the pattern is also splashed across tees, tanks and pillowcases). The in-house designed G&G collection often draws upon the talents of local illustrators, painters and designers, but never skews twee or kitsch. If you're not a fan of over-the-top prints, fear not—the store also stocks understated striped tanks, dresses and tees galore. Many of the shop clerks are also designers and artists themselves. Look out for leather sandals by sometime-shopgirl Rachel Corry, Jenny Pennywood bags and clutches by local fine artist Jen Garrido, and Ursa Major jewelry by recent New York transplant Kate Jones. The shop also doubles as a community hub for the surrounding Mission, regularly hosting art openings, launch parties and design workshops.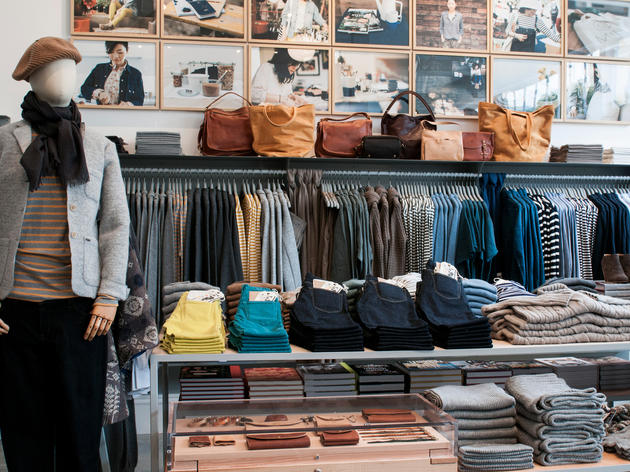 The sister store of menswear purveyor Unionmade, Mill caters to a particular San Francisco archetype: The sort of woman who prefers her leather totes sans designer logo, who fetishizes indigo, and who favors wood soles over stilettos. The sunny, soothing store is Japanese inspired, all white walls, wood shelving, and deep blue accents. Though the clothes here aren't body-conscious—tunics, long knits, cropped trousers, midi skirts and dresses—they carry casually chic sex appeal. The assortment of labels skews particularly toward Japan and France, but mixes in stateside favorites like Billy Reid, Chance, Lauren Manoogian and Mociun. Defining characteristics on the racks are meticulous construction and luxurious materials, whether linen, raw silk, pima cotton, or alpaca. Don't miss the housewares at the register, including handcrafted ceramics, kitchenware and stationery.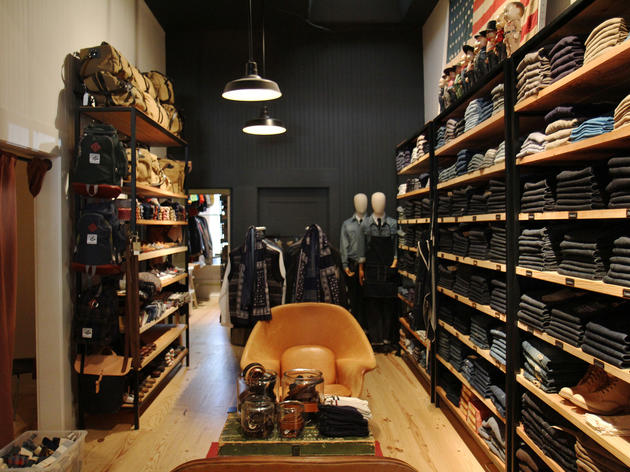 This Castro mainstay is credited with creating the daily uniform of the San Francisco man—not entirely in jest. Its racks are filled with everything a casually stylish guy needs, including twill and waxed cotton jackets, nautical-stripe tees, hardy leather boots, jeans, and plaid and chambray button-downs. Everything is selected with an eye for craftsmanship and quality, from the Golden Bear blazers and Hillside ties to weekend-wear like Chimala terry cloth tees and Todd Snyder sweatshirts. The store is divided into two rooms, one side bearing denim, button-downs, shoes, and giftables, the other devoted to outerwear and accessories. A midpoint of sorts between the Castro and the Mission, it draws regulars from both neighborhoods, many who pop in to browse the book and zine selection, which includes aspirational lifestyle pubs like Inventory, Man of the World, Kinfolk, and Fantastic Man.
See more clothing stores
Vintage clothing and furniture stores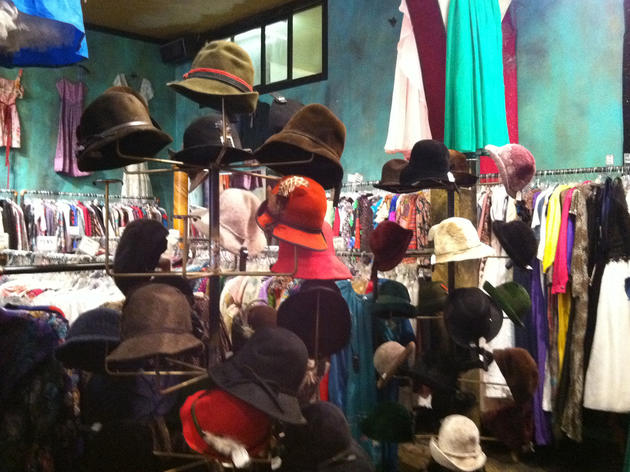 Don't let the neon sign reading "Meat Locker" dissuade you: This is one of the best vintage stores on the Haight's row. It stands apart for its generous size (no squeezing among packed racks here), and refreshing organization. The store's wares are cataloged like a library, whether you're looking for retro jumpsuits, pillbox hats, naval uniforms, fur coats or letterman jackets. While other vintage stores are apt to heap an armful of dresses onto the same rack, here they're divided into discerning subsections: long '80s prom, hippie chic, '70s disco and Victorian among them. The store is loosely arranged from casual to formal, with tie-dyed and graphic tees up front and blazers, suits and gowns in the back. Two giant stands hold retro hats, and the tall shoe racks are rife with cowboy and riding boots.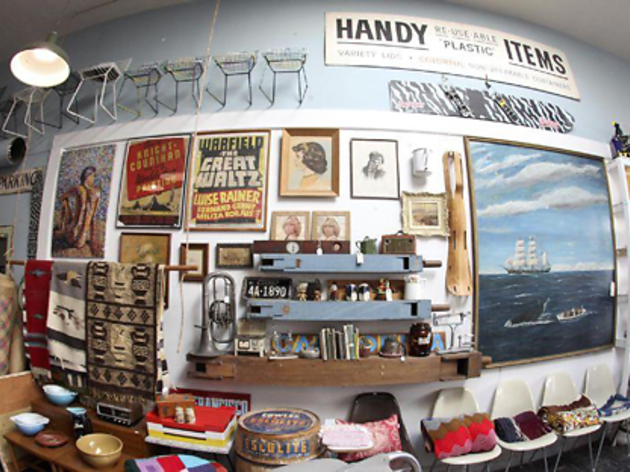 Shopping, Design and interiors
There are two Mixed Nuts—the more recent one is a nook in Hayes Valley—but the original Outer Richmond location is the larger and the better stocked. The spot is off the beaten path, to be sure; this area is better known for ethnic restaurants than retail stores. The upside, however, is that even on weekends you're likely to be the lone browser among the makeshift aisles. One of the store's three owners, Jon Rolston, owns a hauling business, and keeps Mixed Nuts stocked with treasures from the '40s to the '60s through his day job and obsessive garage-sale scouring. The trio shares a passion for iconic seating, and dozens of Henry Miller and Eames chairs line floor-to-ceiling shelves spanning one wall of the store. The facing shelves contain dated ephemera with an industrial slant: electric fans, desk lamps, aluminum signage, globes, cameras and more. Postcards and pins sell for $1 apiece, while collectible designer chairs and dining tables can run into the thousands.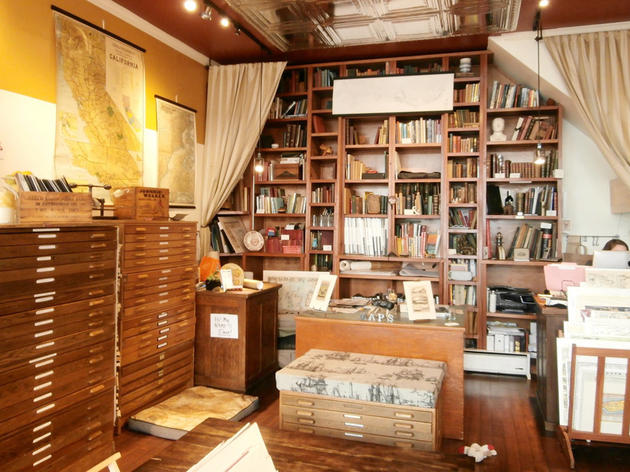 Tucked away on a slow-moving strip of North Beach, Schein & Schein is worth the detour. Owners Jim and Marti Schein specialize in antique maps, particularly those of San Francisco and greater California, but you'll also find a variety of printed treasures including hotel and travel brochures; lithographs; scientific, medical, astrological and anatomical illustrations; rare atlases; and copper and steel engravings. Stepping into the quiet, sunny shop feels like entering a time warp. The walls are adorned with cartography, and maps and prints are organized in vintage produce and shipping crates and letterpress-type cabinets. Jim is a history buff and can offer up tidbits on the history of San Francisco and the art of map-making for any print you purchase. Though rare maps can run into the thousands, you can find prints for as little as $5 in the discount crates near the entryway.
Show more
See more vintage clothing and furniture stores
Bookstores
Set in an intimate, 900-square-foot space, this Outer Sunset newcomer opened in 2017. Now you can nab a book alongside a cup of Trouble Coffee while waiting for a table at Outerlands. (The Trouble parklet out front has become a popular spot for reading on sunny days.) Black Bird owner Kathryn Grantham comes with a literary pedigree: She was formerly the founder of New York's famed feminist collective bookshop, Bluestockings. This airy, uncrowded space is thoughtfully curated, showcasing fewer than 300 titles. Rather than dusty, packed shelves, you'll find a thoughtful selection of contemporary fiction and nonfiction, most displayed alongside handwritten notes from the staff. In back, a treehouse mural stretches over the sizeable children's section. Stop by for free kids' storytime every Saturday at 9:30am.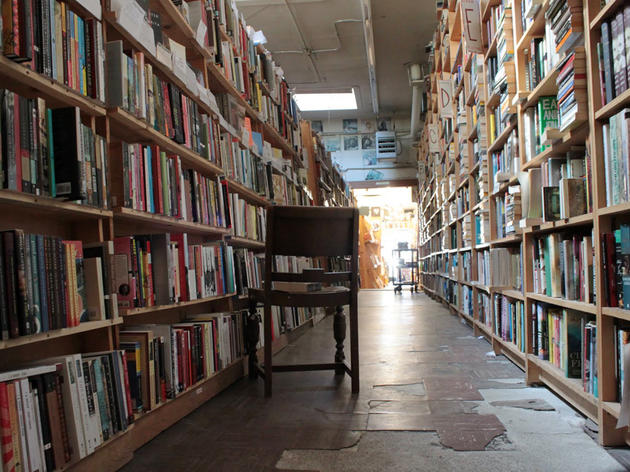 Green Apple Books on Clement Street was founded in 1967 as a 750-square-foot used-book nook. Since then, it has steadily upsized, taking over several storefronts on a block of the misty Inner Richmond surrounded by Chinese restaurants and grocers. One bi-level storefront houses all new books, including an excellent section of staff picks and quirky categorizing designations. Two doors down, the used book arm of Green Apple is a little quieter, inviting lingering. The shelves are lined with dusty tomes—hardcover and paperback, popular and rare—and the aisles are moodily lit by overhead skylights. Finds might range from antique classics and rare first editions to sixties-era comic books and graphic novels. In 2014, the mini-chain opened a third location near Golden Gate Park. The newest Green Apple outpost is spacious and modern, known for new fiction and nonfiction releases. The Parkside store hosts regular readings and author events, including heavy-hitters like Jennifer Egan, Lauren Groff, Sloane Crosley, and Dave Eggers.
Show more
See more bookstores
Department stores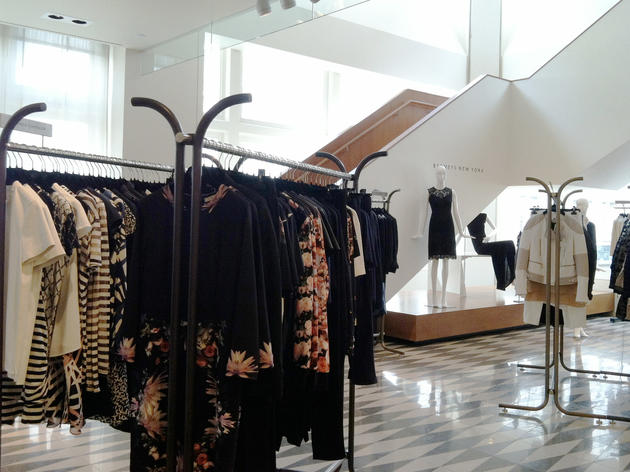 Shopping, Bags and luggage
Though the store is full of designer wares, the floor-plan at Barneys New York makes it feel more manageable and easy to navigate than the other Union Square heavy-hitters. The main entryway draws shoppers into the jewelry and bag salon, where in-the-round, glass-topped counters allow for easy browsing (and attentive customer assistance). An iron spiral staircase leads the way to the women's shoe salon, where you'll find heels, booties and flats from Alaïa, Chloé, Miu Miu, and Barneys' in-house line. The women's designer and contemporary collections are arranged on labeled rolling racks positioned on the checkerboard-tiled floors. Another winding staircase leads up to the top floor men's salon, where shirts of every shade are shelved in orderly rows. The impeccably dressed store clerks are known for efficient service.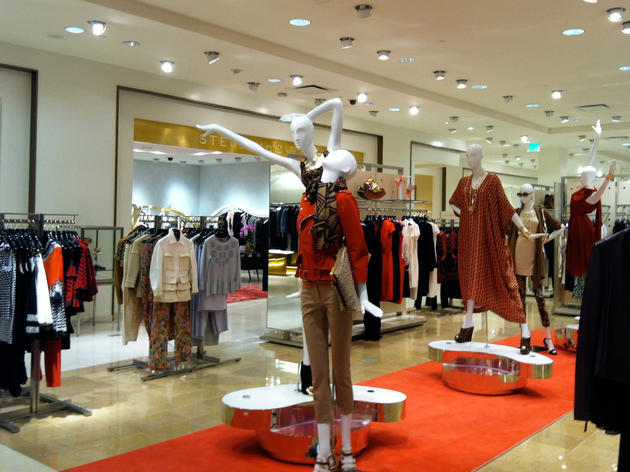 Shopping, Bags and luggage
In a city square flanked on all sides by luxury retailers, the Neiman Marcus building is arguably the most impressive. Though the revolving doors feed shoppers directly into the bustle of the cosmetics department, first-timers often stop in their tracks to gape at the opulent rotunda. The structure is topped by an elaborate stained-glass dome, which was salvaged from the famed (and since demolished) department store City of Paris. As you ascend to the two levels above, floor-to-ceiling glass windows afford views of Union Square. Escalators to each floor reveal a central shopping corridor with the season's latest offerings, and designer shops line either side. (Offerings include Prada, Chanel, Gucci, Oscar de la Renta, Stella McCartney and many more.) Head all the way to the top for the home and kids section, where you'll find fine crystal, china and a colorful array of toys and clothes for tots.
Show more
See more department stores
Shoe stores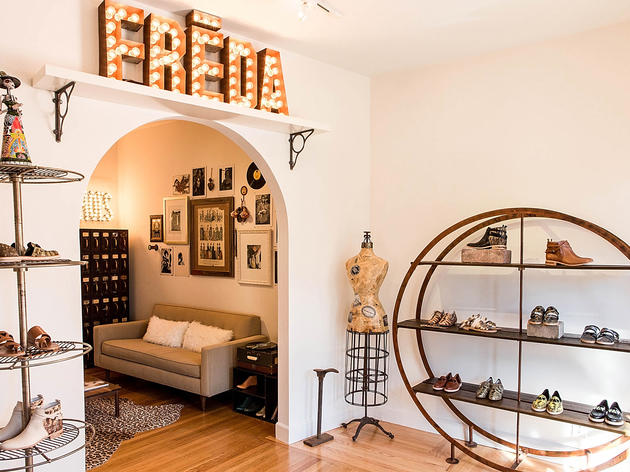 Local co-designers Megan Papay and Cristina Palomo Nelson make wear-everywhere shoes that can tackle San Francisco's steep terrain without sacrificing style. The duo launched their label in fall 2012 with a collection of convertible leather ankle boots and snakeskin-print leather loafers that were an instant hit among Bay Area style bloggers. (Vogue, Harper's Bazaar and Elle caught on shortly thereafter.) Since then, the pair has branched into chunky heeled booties, multi-strap sandals, and wedge sneakers, all artfully displayed across bookshelves and coffee tables in their Cow Hollow design studio and shop. The store itself looks more like an it-girl's apartment, decked with mid-century modern couches, repurposed theater seating, cowhide rugs, and artful vignettes that mash up family heirlooms, fashion collages, flea market ephemera, and glamorous depictions of the store's namesake, Frida Kahlo. Though the shoes are distinctively chic, they're built for the long haul. Palomo Nelson hails from a family of shoemakers, and the collection is produced at one of their factories in Spain.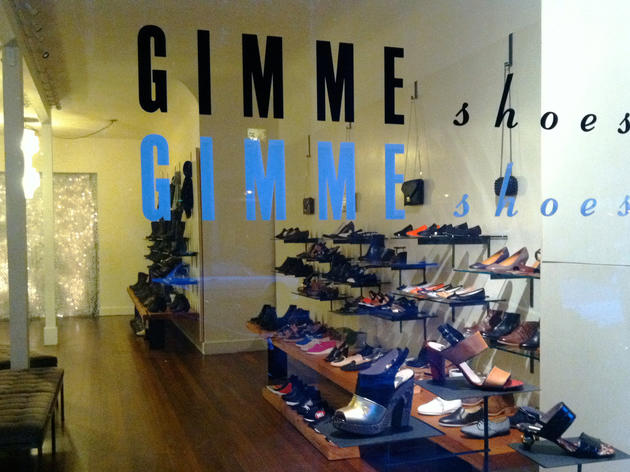 It's indicative of the sought-after shoes here that Gimme maintains two Hayes Valley stores less than a block away from one another and that both are perpetually packed. Located amid Hayes Street's bustling restaurants and bars, it's a regular post-brunch stop for locals and an easy time killer while waiting for a table for dinner. The mini-chain offers a range of hard-to-find brands for women and men, from international labels (Coclico, Repetto, Chie Mihara, Costume National among them) to homegrown designers like Rag + Bone, Loeffler Randall and Jeffrey Campbell. In fact, Gimme was among the first Bay Area stores to import European labels like YMC, Dries Van Noten, and Veronique Branquinho. Though many of the shoes here are splurges, locals keep tabs on the sale nook in back, where past-season styles are marked up to 60 percent off.
Show more
See more shoe stores
Design and gift shops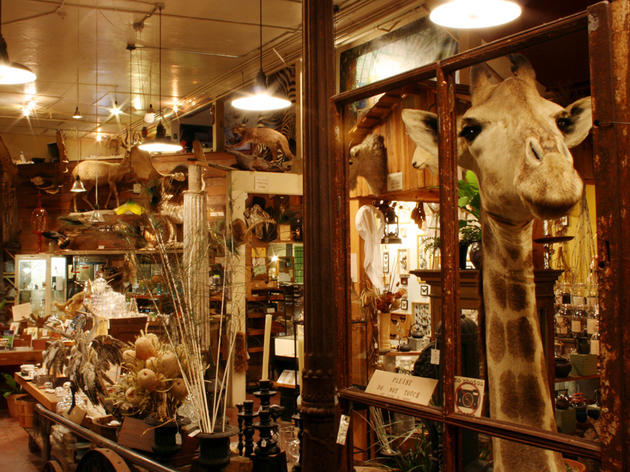 Shopping, Design and interiors
A taxidermy unicorn is stationed at the door of this eclectic den of plants, animalia, and oddities, drawing gawking window shoppers in off the street. The store has an off-kilter, mystical feel inspired by plants and the natural sciences. Anatomical posters and scientific illustrations adorn the walls, and lush plants hang overhead. Glass cases contain jewel-toned entomology specimens, small taxidermy (including tiny stuffed mice dressed as religious figures), fossils, earrings fashioned from butterfly wings, animal bones (red fox penis bone, anyone?) and pocketknives. All are interspersed with an assortment of garden supplies, whether tools or hummingbird feeders and hanging planters. Work your way back, past the humid greenhouse, until you emerge in the peaceful landscaped courtyard. All the plants here are for sale, including flowers, ferns and air plants. In addition to the retail store, the duo behind Paxton Gate—Sean Quigley and Todd McCrea—run a construction and landscape-design company. The team is responsible for building a number of stores and restaurants around the city, including Central Kitchen, Salumeria, Flour & Water.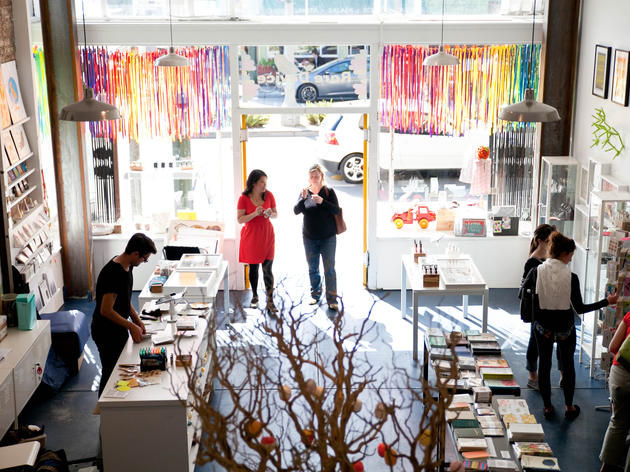 Shopping, Gifts and stationery
This colorful shop is located at the apex of the cooler-by-the-day NoPa neighborhood, a stone's throw from the Mill (that of the famous $4 toast, not to be confused with the women's clothing shop), locavore grocer Bi-Rite, perennial brunch fixture Nopa and Alamo Square. Since 2011, the store has been headed up by Giselle Gyalzen, who has a particular penchant for handcrafted, thoughtfully designed and eminently giftable goods. That haul includes affordable art prints, ceramics and tableware, gourmet foodstuffs, locally designed jewelry, beauty products, design tomes and kids' toys. (Plus, several twirling racks filled with letterpress cards for topping off impromptu gifts.) The space also doubles as a gallery, with a focus on Bay Area–based illustrators and screen-printers. Take a spin through the store after brunch, then stroll through the Divisadero Farmers' Market, which unfurls every Sunday just across the street
Show more
See more design and gift shops
Thrift stores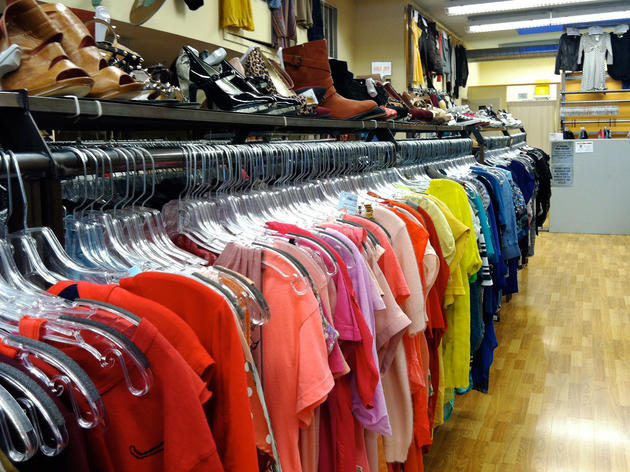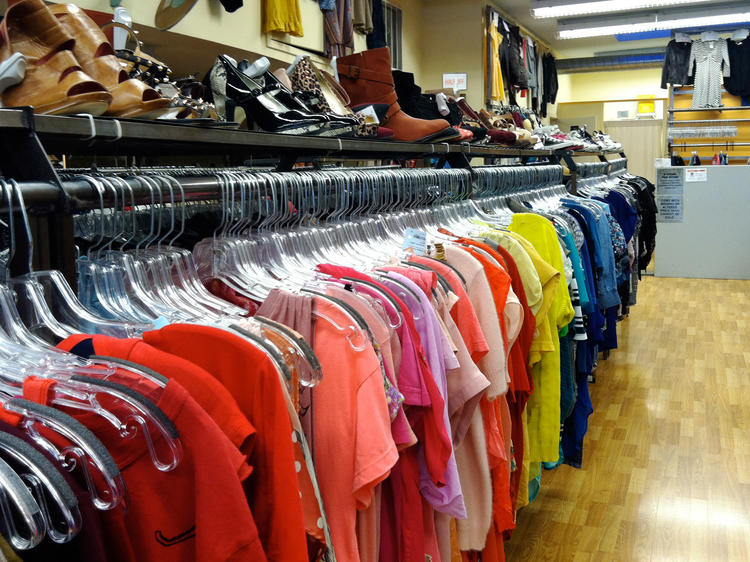 Opened in 1991, the very first Crossroads store is packed with a seasonal inventory of contemporary clothing and accessories for men and women. Located on Fillmore Street (Pacific Heights' main retail drag), it should be no surprise that there's lots of fashionable secondhand treasure to be hunted here. Keep your eye out for incredible deals on designer handbags and shoes, leather jackets and one of the best selections of denim in town. Should the mood strike, you can literally sell the shirt off your back, on the spot—for 33% of the sell price, or 50% in trade. The now-national chain has three other stores in the city.
This Nob Hill boutique is worth a visit for ladies and gents who get weak-kneed at the prospect of high-end labels, like Chanel, Giorgio Armani and Gucci, at reasonable prices. (Department store brands are also available.) All the classic and contemporary dresses, shirts, suits and accessories—arranged by color— are in stellar condition. And since the clean, bright space is on the smallish side, poring through racks and ogling shelves doesn't feel overwhelming…even for not-a-fan-of-shopping-types.
Show more
See more thrift stores
Sex shops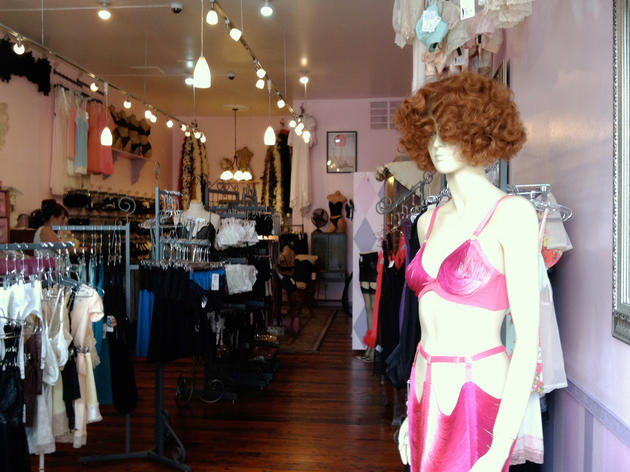 This is an unparalleled boudoir for Bettie Page fetishists and wannabes, filled with pin-up inspired lingerie from the '30s to '60s. The voluptuous mannequins are draped in silk, satin and lace; you'll find no itchy polyester or garish rhinestones here. Though the bulk of the merchandise consists of peek-a-boo bras, panties and vintage slips, you'll find all manner of alluring extras, including tassels, garters, corsets, lace thigh-highs, girdles and feathered toys. The sizing flatters women of all sizes, from A- to G-cups. Forget Spanx: Bettie packs the largest array of vintage shapewear in the city, from waist-cinchers (for faking that hourglass figure) to girdles. In addition to dead-stock vintage attire, the shop also carries pin-up inspired styles from contemporary brands like Mary Green, What Katie Did, and Felina & Jezebel. If you fall for the Dita Von Teese aesthetic, check out Dollhouse Bettie's sister store down the block, Bettie Page, where you'll find retro frocks to complement your new underthings.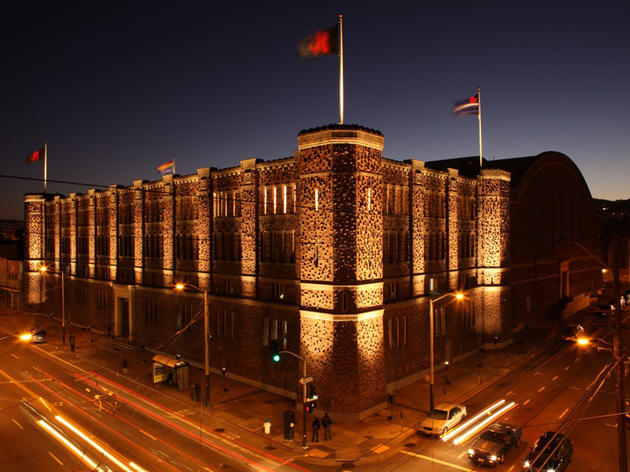 Welcome to the castle of kink—literally. This 20,000-square-foot palace houses the studios of Kink.com, a porn production company specializing in BDSM and bondage videos. The building, originally built in 1914, was formerly home to the National Guard; now porn actors and voyeurs roam its cavernous halls. Tours happen every day (consult the website for times), during which you'll be led through various sets by a guide who may or not be a Kink.com "model." Most of the filming happens in the basement, where you might encounter a human-sized cage or dungeon-like set. Expect to see a proportionate number of whips, chains and kinky sex toys. Tours conclude in the velvet-walled, Victorian-style salon on the fourth floor, which is suggestively furnished with X-rated art.
Show more
See more sex shops
Markets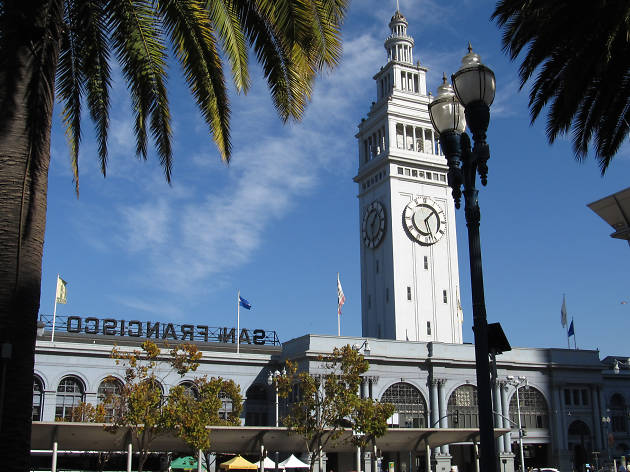 Shopping, Markets and fairs
The Ferry Building Market is a required weekend pilgrimage for both tourists and locals. The building itself is a gorgeous feat of architecture, with a second-story walkway commanding views of the action below. Though the Ferry Building is best known for the world-famous Cuesa farmers market, it's also packed with a range of browseables beyond food. Within the main hall, admire beautiful glazed ceramics and home decor at Heath Ceramics, Gastboards cutting boards and gardening tools at the Gardener, and dozens of varieties of honey alongside beeswax candles at Beekind. Out front, an open-air artisan market pops up every Saturday, where dozens of vendors peddle their art, jewelry, clothing, leather goods and other handcrafts. Though the shops close at 6pm, the building itself (and some of the restaurants therein) are open until 10pm. At dusk, admire the Ferry Building's iconic clock tower backed by the glittering Bay Lights.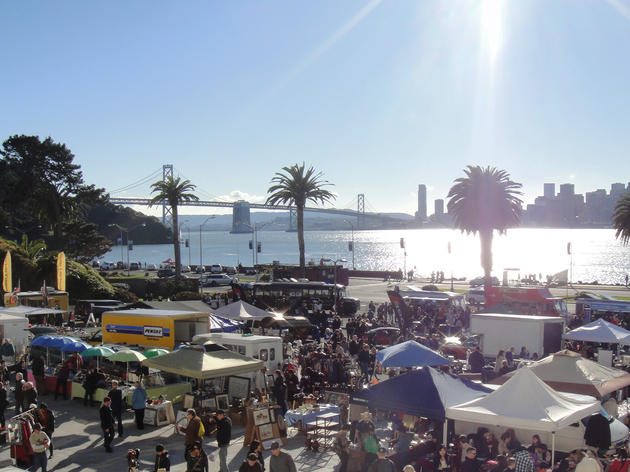 This monthly market is located just across the Bay—easily accessible by Muni, car, or water taxi—and affords scenic views of the city and Bay Bridge. The man-made island, originally built in 1937, formerly served as a naval station and military base. (Since the '80s, the island's old airplane hangar has been employed as a soundstage for movies and TV.) Though the Treasure Island Flea operates year-round, the best time to visit is April through November when it's stationed on the Great Lawn, where dogs are welcome to frolic and live musicians play. (You'll know you're headed in the right direction when you spot artist Marco Cochrane's glinting, 40-foot-tall dancing woman sculpture, a relic of Burning Man festivals past.) Around 350 vendors attend each month, selling vintage clothing and housewares, art, upcycled furniture, jewelry and crafts. Apart from shopping, the market hosts around 20 food trucks and a well-stocked bar, so it's a prime spot for browsing and picnicking. DIY workshops like wine tasting or terrarium building are conducted at tents in the center of the lawn.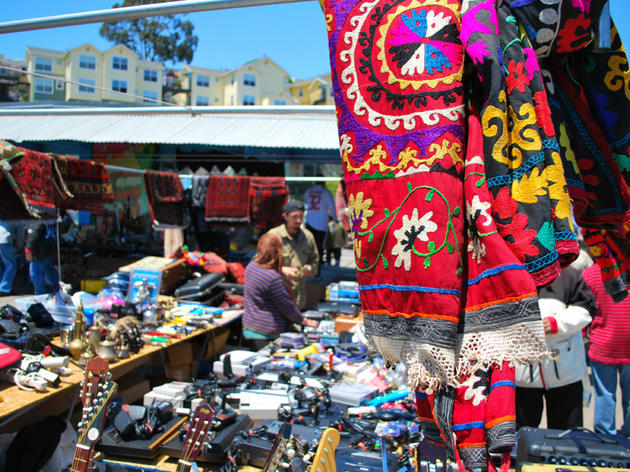 This flea market in the shadow of the I-280 overpass isn't fancy, but what it lacks in ambiance, it makes up for in affordability and eccentricity. The specialty is antiques and artisan works, though that designation is relatively loose. (The first Sunday of each month is "Garage Sale" day, when anything goes.) Dozens of dealers back their trucks into the lot and unload wares onto rows of folding tables. The prices here are decidedly cheaper than the hipper, less frequent Alameda Flea, and both the shoppers and vendors are seasoned hagglers. (Unlike Alameda, things don't start right on time. Vendors may still be setting up when the market opens at 6am.) You'll find a wealth of furniture, art, picture frames, sports gear, chinoiserie and costume jewelry among the piles. But it's the weird, one-of-a-kind finds that seal this SF market's oddball appeal.