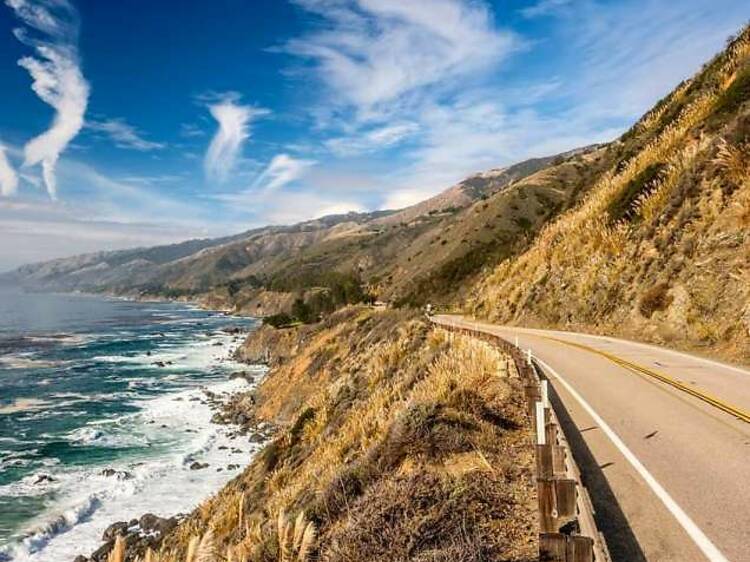 Photograph: Courtesy See Monterey
With winding mountainside roads, sweeping beaches and breathtaking sunsets, is it any wonder the Big Sur is the subject matter of so many songs? (The Thrills and Buckethead, we're looking at you.) Ok, so it's pushing it on the day trip scale from San Fran, but if you head out at the crack of dawn, or thereabouts, the drive will be totally worth it. Plus, the high quality of relaxing and eating that can be done there is sure to send you back singing. Make your way in on Highway 1, lap up the crazy beautiful views, and beeline for the beach—Pfeiffer is the stretch of shoreline where you can see the arched rock that forms a stunning light tunnel at sunrise/set. Then wander up to the vantage point at McWay Falls to admire the tropical island-like vibes, before swanning off for lunch.
Sierra Mar, the restaurant at Post Ranch Inn offers a three-course prix fixe lunch with a view of the Pacific. Or stop in at Nepenthe amid the trees for 'The Famous Ambrosiaburger'—a ground steak sandwich, served on a French roll with housemade ambrosia sauce. After that, you'll likely want to relax a bit before the hefty drive back, so chill out at Ventana Inn, a wooden-lodge-style hotel that welcomes day guests at their spa. Don't forget to stop in at the Henry Miller Memorial Library, where they host a range of events like Philip Glass's Days and Nights Festival in late September, before heading back up the coast.
Distance from San Francisco: 2 hours 45 mins