The best swimming pools in San Francisco
Whether you're a casual water baby or a serious lap logger, make a splash in one of the city's finest swimming pools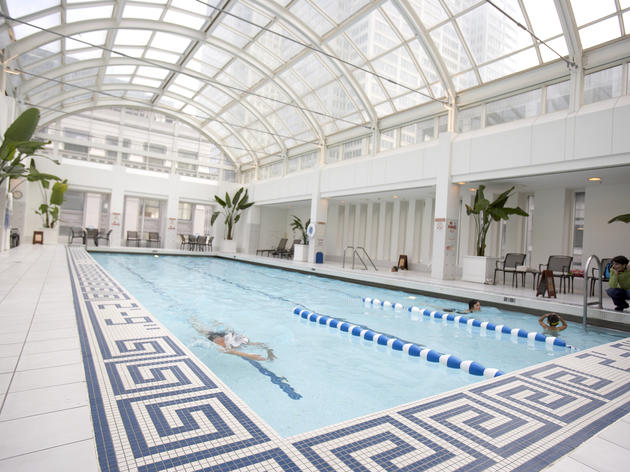 Despite its shades-of-gray tendencies (thanks, Karl the Fog), the City by the Bay possesses a solid number of must-visit pools. From tucked-away neighborhood spots and intense spa soaks to a rock'n'roll-tinged hotel redefining the local pool-party scene, we've rounded up 12 swimming pools to dive for. Once you've dried off, grab a bite at one of San Francisco's best restaurants or meet up with friends for happy hour.
Best swimming pools in San Francisco
1
This midcentury motor lodge-turned-hipster haunt in the gritty Tenderloin district becomes quite the scene in summer, when cool out-of-towners (like David Bowie and the Red Hot Chili Peppers) mingle with staycationing San Franciscans. The life of the party? An egg-shaped pool sporting a Francis Forlenza mural of 6s and 9s that draws sun-soakers as if it were magnetically charged. Only hotel guests can gain access, but the adjacent restaurant—retro den Chambers Eat + Drink—hosts occasional poolside parties.
Check prices
Read more
2
Step inside this San Francisco institution, and you'll be struck by the chandelier-strung, glass-domed Garden Court, known for its just-so afternoon teas and scrumptious brunches (it's where Green Goddess dressing was invented). Ascend to the fourth floor to find the pool, a sunlight-bathed beaut, under a second arched atrium. It measures in at a long, lean 20' by 60', just right for logging morning laps before attacking the day. The pool is open to hotel guests only. Pool hours: Mon–Fri 5am–10pm; Sat–Sun 6am–10pm.
Check prices
Read more
3
Bakar Fitness & Recreation Center
Buy a day pass to this Mission Bay UCSF fitness center, and you get access to not one but two pools. The first is a heated indoor expanse just right for making waves, but the second is the real reason in-the-know city dwellers visit: Edged with scene-setting palm trees, it's an outdoor roof-topper with an epic view of the city skyline. Stake out a lounge chair on the sizeable deck and soak it all in. One-day access for non-guests costs $20 for adults; $10 for kids. 1675 Owens St (415-514-4545, campuslifeservices.ucsf.edu/fitnessrecreation). Mon–Fri 5:30am–10pm, Sat–Sun 7:30am–8pm.
4
Drawing on the ancient traditions of bathhouse cultures from Greece to Russia, this Hunter's Point water world features private soaking tubs, heart-pounding plunge pools, saunas, a sun-kissed roof deck with neck-craning bay views and a few kitschy touches (a borscht and smoked-salmon menu, mosaic-laden columns). Need to impress a boundary-pushing date? The banya is open till midnight. A basic, three-hour pass costs $37.
Read more
6
This tranquil, dimly lit bathhouse on an unassuming corner in Japantown feels not only like an escape from city life, but also from the city itself. As you soak in a steaming communal pool (104 degrees) or succumb to a sense-scrambling Eastern-influenced massage, you'll have to keep reminding yourself that you are indeed smack dab in the middle of SF. Or maybe an invigorating plunge in the cool pool (55 degrees) will snap you back to reality. Bath rates start at $25; $15 with a treatment.
Read more
7
Technically, you can't swim in the shallow, shimmering 75-foot pool of this decades-old tiki bar under The Fairmont San Francisco (lest you're prepared to be immediately escorted outside). But the castaway vibes, waterside tables, rum-heavy drinks in fresh pineapples and half-hourly rainstorms complete with thunder and lightning make for one of the city's most atmospheric poolscapes. $5 cover after 8:15pm on weekdays; $7 after 8pm on weekends.
Book now
Read more
8
Despite the fact that San Francisco's fog is so legendary it has a persona (hey, Karl), the Mission neighborhood is a sun-drenched enigma of a micro-climate. Just a block away from café- and boutique-lined Valencia Street and a short stroll to popular weekend chill zone Dolores Park, this recently renovated swimming hole is the only city-operated outdoor pool in San Francisco. Lanes can fill up quickly, but that deck is a near-perfect spot for catching some rays. One swim costs adults $6; kids $1.
Read more
9
Every day feels like a pool party at this lively Lower Pacific Heights community pool, thanks to a pair of tubular slides that blast guests into the water a la Super Mario Bros. warp pipes. Aside from the slides (reportedly the city's only, and practically worth the trip alone), you can fine-tune your backstroke during designated lap-swim hours. One swim costs adults $6; kids $1.
Read more
10
This contemporary high-rise hotel, a quick five-minute trot to Union Square, houses one of the city's most picturesque pools. Float on your back as if you're in guppy swim class, spend way too long in the hot tub or bask on one of the lounge chairs: The sun filtering through the peaked solarium ceiling will make you feel as if you're lounging alfresco (albeit protected from rogue gusts of wind). Access to the pool and adjacent fitness center costs $25/day for non-hotel guests and hotel guests not staying on the Imperial Floor or in a suite. Pool hours: Daily 6am–10pm.
Check prices
Read more
11
Kiddie pool hours aren't exactly what you want out of a sophisticated stay, which is why we appreciate the 24-hour access to this swank hotel's pool. The sexy, low-slung lounge furniture and pillow-topped window seats might have you believing you've been transported to a Miami beach club, but classic San Francisco stretches out below (have a look). You can dip to your heart's content as a hotel guest; otherwise book a spa treatment at on-site Remede Spa for access. Pool hours: Daily 24/7.
Check prices
Read more
12
Bay Club at the Gateway
At this tennis-focused athletic club, you don't just have the dream rooftop duo of a lap pool and splash pad. You also have the location (that'd be the ocean across the street) and the views. From the comfort of your poolside chaise, you can play a game of "I Spy" with the city's most iconic buildings: that would be the Ferry Building's clock tower to your left and the Transamerica pyramid to your right. One-week access to the pool and gym is available for $110. 370 Drumm St (415-616-8800, bayclubs.com/gateway). Mon–Fri 5:30am–10pm; Sat–Sun 7am–8pm.