Heads up! We're working hard to be accurate – but these are unusual times, so please always check before heading out.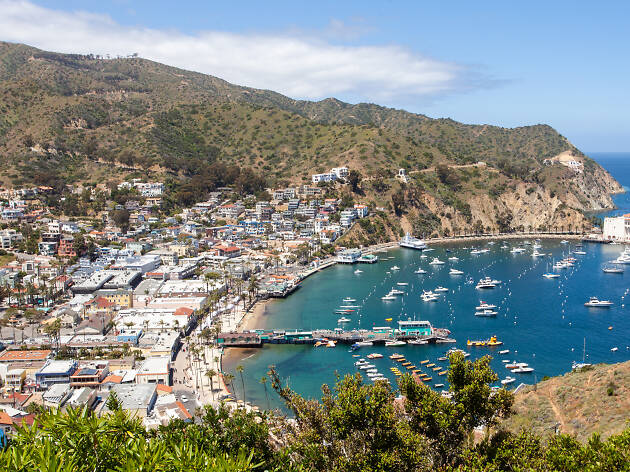 The best things to do on Catalina Island
From flying fish to laid-back luaus, here are our picks of the best things to do on Catalina Island
Once a getaway for Hollywood elites to escape from paparazzi, Catalina Island has in recent decades become more of a not-so-secret treasure for everyday Angelenos and visitors looking for a simple, relaxing vacation (and, yes, bachelor and bachelorette parties itching for debauchery within the constraints of a somewhat-sleepy marine town).
Cars are few and far-between on the island, and just about everything is either walking distance or a short golf-cart-taxi-ride away; whether you're shooting for a family vibe, an outdoor-sports experience or a party-heavy hang, Catalina's got something for everyone in both its main port town of Avalon and out into the wild island interior. Here are the best things to do no matter your vibe once you hop off the hour-long boat ride from the mainland.
Done something on this list and loved it? Share it with the hashtag #TimeOutDoList and tag @TimeOutEverywhere. Or find out more about how Time Out selects the very best things to do all over the world.
Best things to do on Santa Catalina Island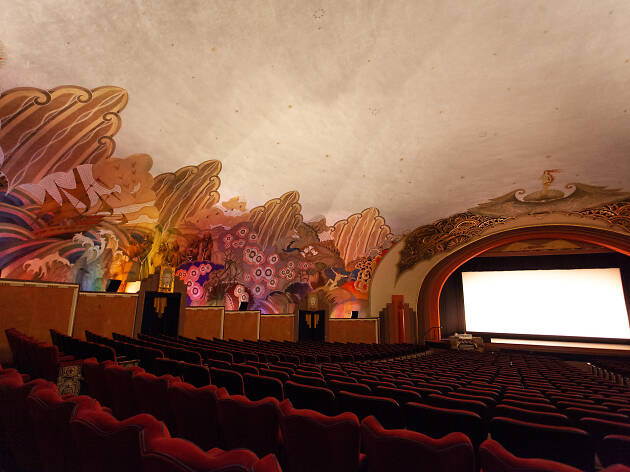 Photograph: Michael Juliano
1. Watch a movie in the Catalina Casino
What is it: Not a gambling hall—rather, it's a palatial special-events venue complete with a beautiful art-deco movie theater.
Why go: The sort-of-Roman-looking Catalina Casino is the most iconic building on the island, and its walls are full of stories: These days, the ballroom hosts special events ranging from jazz nights to weddings, but it's steeped in over 90 years of history, which you can learn more about on three different walking tours offered through the year. If a tour's not your thing, it's still worth going to a movie there (first-run films show nightly at 7:30pm): The art deco theater is gorgeous, and there's often pre-show music played through its 1920s-era organ.
Courtesy CC/Yelp/Tina J.
2. Stroll around the Wrigley Memorial & Botanical Gardens
What is it: A beautiful ode to the island's famous founding father.
Why go: William Wrigley, Jr. (yes, the gum guy) is responsible for the development of Catalina, and the garden and memorial that carries his name is one of the most beautiful spots on the island. It's about a 30-minute moderate hike from the beach (you can also get up to it by renting a bike, or via golf cart—more on that in a bit), and once you're there you'll be immersed in a 37-acre botanical garden focused on plants endemic to California and the Channel Islands, and a tower overlook built from quarried rocks culled from the island itself.
3. Set sail on a Flying Fish Voyage
What is it: One of the only opportunities you'll ever have to watch fish fly. Seriously.
Why go: For nearly a century, Catalina's flying fish boat has been wowing visitors with a surreal experience that seems culled from a dreamworld: Every night over the summer, using powerful searchlights to draw them out, the crew lures Cheilopogon pinnatibarbatus californicus (otherwise known as flying fish) out of the water for not-quite-actual-flying-but-it-sure-looks-like-it glides up to 100 feet. Bring a jacket—it can get chilly—and keep your eyes out: The fish often end up landing inside the boat.
Courtesy CC/Yelp/Sandee T.
4. Have a drink on the sand at Descanso Beach Club
What is it: The 'fancy' beach on the island, with cabanas, booze and more.
Why go: Sure, you can set a blanket on Avalon's main beaches just off of main street for free if you'd like. But—especially if you're on the island to party—it's worth taking a walk just past the Casino to Descanso, which offers rentable chaise lounges and cabanas and, maybe more importantly, is the only beach where you can legally drink alcohol on the island. There are also rentable paddleboards, snorkel sets and kayaks, and, over the summer, DJs and live bands on weekends.
Courtesy CC/Yelp/Shreya D.
5. Get wiki wacked at Luau Larry's
What is it: A classic burger-and-drinks shack—with the best fries you'll ever have.
Why go: First time visitors to Catalina can't help but notice slews of tourists sporting straw hats, and one trip to Luau Larry's explains why all of them look so ecstatic: It's because they've all gotten their Wiki Wacked by ordering a heavily-alcoholic drink of the same name, which comes with one of the ubiquitous headpieces. Grease the drink down with their curly fries, which are always perfectly crispy, and seasoned with—well, it's a secret, but it's gotta be magic, whatever it is. The burgers aren't bad, and there are often live-music singalongs at night.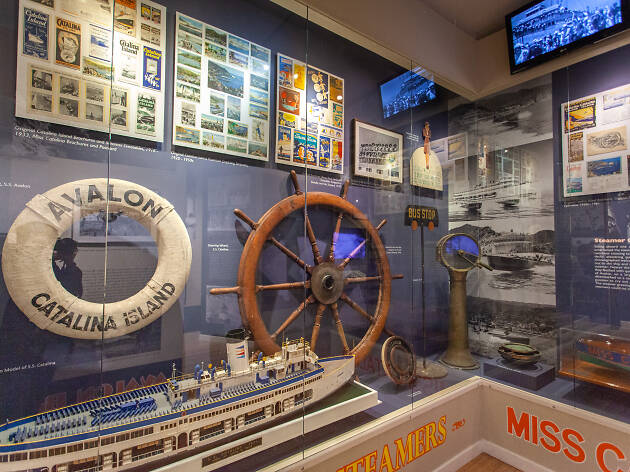 Photograph: Michael Juliano
6. Celebrate the island's centennial at the Catalina Island Museum
What is it: A well-curated museum that explores the island's intriguing history.
Why go: Don't be confused if you see a stick of gum on drink menus during your visit: Catalina is celebrating a century since chewing gum magnate William Wrigley, Jr. purchased the island to transform it into a vacation destination. If you're hungry for more backstory, the elegant Catalina Island Museum dives deep into a fascinating history that touches on Chicago Cubs spring training, proto-CIA military exercises, Natalie Wood's suspicious death and Wrigley's vision for a vacation utopia. If you're looking for a more hands-on encounter with the past, the Island Company's lengthy anniversary tour includes stops at the former Wrigley Field, inside the Catalina Casino and atop Mt. Ada.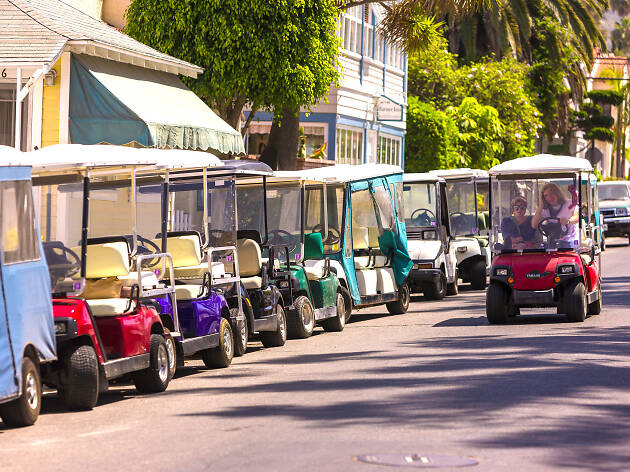 Photograph: Shutterstock
7. Scoot around in a golf cart rental
What is it: The best way to see a large percentage of Avalon—and get a great view.
Why go: Sure, you could spend all your time on Catalina in town in Avalon. But if you want to explore more of the island, the best way is via golf cart: In about two hours you can get up and over the top of town for beautiful views, check out some of the historical structures on the island and explore some off-the-beaten-path spots.
Viator
8. Whiz through a canyon on the Zip Line Eco Tour
What is it: A high-intensity aerial experience.
Why go: High-octane adventure seekers should seek out two Catalina experiences: the Ocean Runner boat tour, which blasts through the water at high-speeds on a ribcraft boat, and this high-flying tour, which descends over five ziplines, 600 feet above Descanso, from a unique vantage point to learn about the island's unusual ecosystem if you're not just in it for the thrills.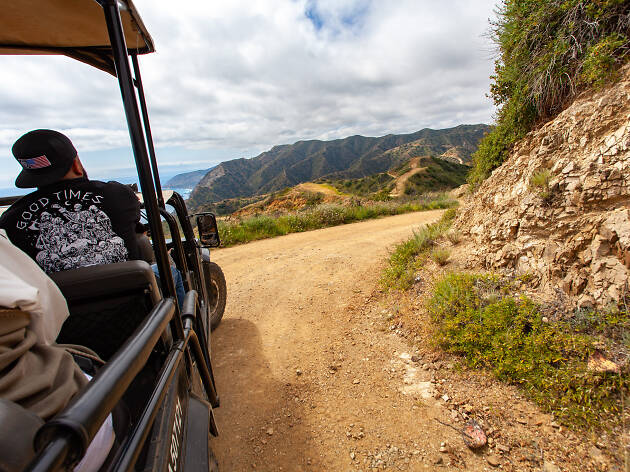 Photograph: Michael Juliano
9. Go off-roading on the East End Adventure
What is it: A two-hour tour aboard a biofuel Hummer of the island's eastern interior.
Why go: As you approach the island via the Catalina Express, you're greeted with a breathtakingly rugged, mountainous coastline. But if you stick to Avalon, you'll see nothing but paved pathways. Split the difference and climb aboard this tour—which starts from the center of town. Survey the island's remote interior with a two-hour off-road (read: bumpy, very bumpy) tour on an open-air biofuel Hummer, which tears past rolling hills, steep coastline and—fingers crossed—a wild bison or two.
Courtesy CC/Yelp/Romeo K.
10. Lace up and hit the hiking trails
What is it: An outdoorsperson's prime reason to visit.
Why go: Catalina's inland is covered with hiking trails and camping spots, with over 165 miles of trails to explore ranging from easy to expert. Obviously, it's a way to get closer with nature: The island's host to tons of interesting plants and animals, including tiny island foxes and imposing bison, the latter of which became an island mainstay after they were exported for a movie shoot (as one story goes), and then began procreating; with some luck, on an inland hike, you'll see a herd peacefully grazing.
Photograph: Courtesy Tripadvisor/Catalina Escape Room
11. Solve some real-life brainteasers at Catalina Room Escape
What is it: Avalon's newest family-friendly activity.
Why go: Opened in 2018, the island's only escape room (pirate-themed, naturally) isn't quite as high-tech as its competitors on the mainland, but that's part of its charm: Using lo-fi effects and hints, it's a challenging and fun way to spend an hour, especially on a hot day (thank you, AC). Just keep in mind: duck, and then look up. We didn't, and needed to ask for a hint. You're welcome.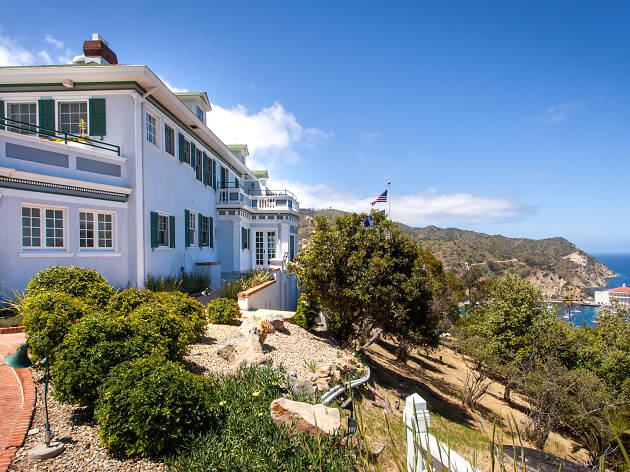 Photograph: Michael Juliano
12. Take in the view over lunch from Mt Ada
What is it: William Wrigley Jr.'s old mansion—and your fancy lunch spot.
Why go: Though the restaurant options have improved in recent years thanks to spots like Avalon Grille and the Bluewater, the bulk of the culinary spots are of the casual and ultra-casual variety. But Mt Ada (once William Wrigley Jr.'s mansion, and now the fanciest hotel on the island, with just six rooms available for guests) is an exception to the rule. It's only open for lunch to visitors, with a three-course menu that's not exactly formal dining (don't worry, you can still wear your flip-flops), but does have an air of classiness that's not part of the island's general anything-and-a-burger culture.
Explore more of Catalina Island
From oceanside dive bars to fresh, affordable seafood, the town has lots to offer.