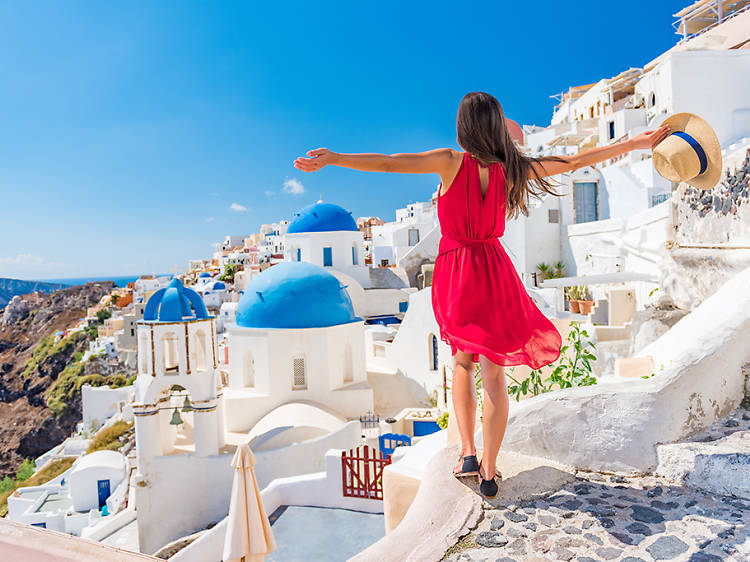 Photograph: Shutterstock
The most romantic spot on Santorini is Oia. This village seems to tumble down the side of the northernmost clifftop of the island. The corner has morphed into its own exclusive destination. That's because it's the quietest village, catering to the romance of the island, with most honeymooners and couples opting for a stay at the boutique cave hotels designed with modern amenities but resembling the traditional whitewashed dwellings of the island's past. Think, smooth curved white painted rooms, private plunge pools, sea view hotel pools, cave pools and terraces that frame the heavenly sunsets that Oia is known for.
Eat
Oia has its share of romantic restaurants to pair up with its famously romantic hotels. The Red Bicycle, set on the village's main walkway, serves Greek dishes prepared with locally sourced products. The terrace boasts outstanding views of the cliffs around the edges of the island. End your meal here with a local butter pastry called melitini.
Drink
With its unofficial designation of being the romantically quiet and northernmost village of the island, Oia isn't known for its nightlife. However, there is one bar that keeps a chill vibe, with classic cocktails and a laid-back vibe – Hassapiko.
Do
One of the finest spectacles to experience on Santorini is the sunset. Hundreds of people often gather at the island's edges in Oia to take in the sun's fiery descent. Grab a space early because spaces fill up quickly.
Stay
The Esperas Hotel's white, arch-roofed cave houses are built into the side of the island and each one is perfectly cosy, featuring private terraces which are conveniently comfortable and incredibly romantic at sunset hour.
If you do just one thing head down to the lower part of Oia to magical Ammoudi Bay. This tiny fishing village is known for its light turquoise waters that splash onto a charming little dock, which is lined with a handful of traditional Greek seafood tavernas. The best? The traditional Katina's Taverna, where the tables are set just inches from the sea