Beers we love
More than just a summer fling…
Beer for dummies Q&A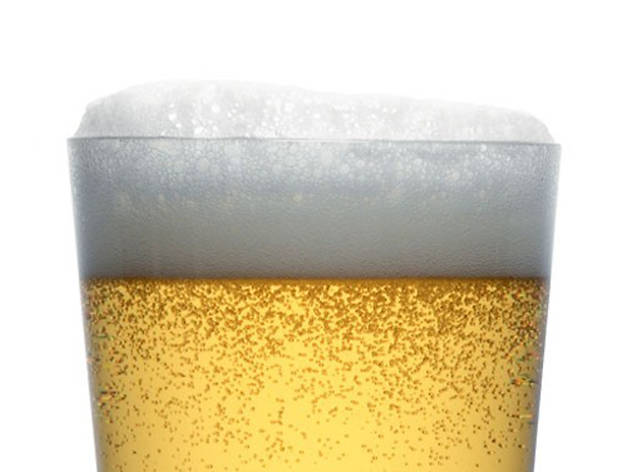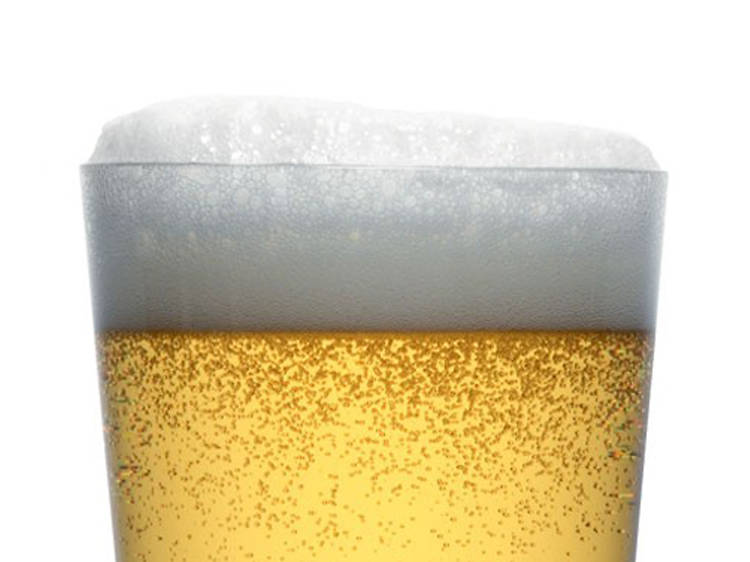 William A. Miller
Bill hails from West Virginia but developed a taste for craft beer while working in Hawaii. When he found out he was leaving for Korea, he started making his own beer. Now, he's the brains behind many of the beers that you love: –the Hallasan Golden Ale, Jirisan IPA and Bukhansan Pale Ale at Craftworks; Bill's Pale Ale at The Booth; –and the Southie Irish Red Ale and Combat Zone IPA at Maloney's.
What is beer?
"According to the German purity law, beer is made up of four ingredients: water, grain, hops and yeast. Some people argue for whole craft beer (micro beers) and against non-craft beers (macro beers). I'm not too concerned to be honest. If someone likes Budweiser, more power to them. I personally don't drink it, but I don't condemn anyone for drinking it."
What is the difference between a lager and an ale?
"Ale yeast ferments at a higher temperature and lager yeast ferments at a lower temperature."
Why does the price of beer differ?
"Beer gets expensive for various reasons. I'd like to believe it's the cost of the ingredients. Craft beer typically requires specialty grains and lots of hops. Some beers are very difficult to produce and involve longer fermentation times, barrel aging, and funky, unique fruits. Other beers are expensive because of the name or demand."
What makes craft beer stand out?
"Craft beer stands out from those things I mentioned like specialty grains and hops. But the most important reason to me is the passion of the brewery and brewers. A brewery can only make high quality beers if the entire business buys into the concept of full-flavored beer. Most craft beers have benefits that macro-brewed beers don't have... mostly that craft beers haven't been pasteurized and highly filtered. So all the vitamins remain within the yeast."
Why does the beer change with the seasons?
"I go with IPAs all year round. IPAs are typically straw to copper in color and have an alcohol percentage of more than 6%. When it's cold, I like stouts and porters. In most modern beer aficionados' parlance, stout is a darker beer that focuses on the tastes derived from roasted barley and is more astringent. I like the fall and winter foods that go with the beer, too—roasted meats, savory types of dishes. Pilsner is a great hot weather beer. On hot days, a nice wheat beer is good... and even a good German pilsner in fact. It's clean, crisp and very refreshing."
Show more
Beer challenge accepted!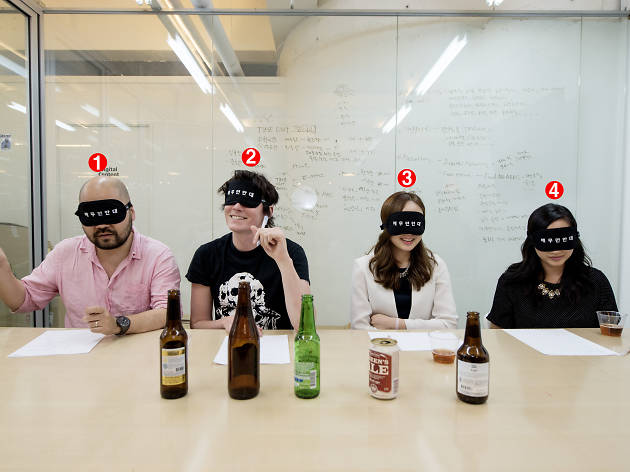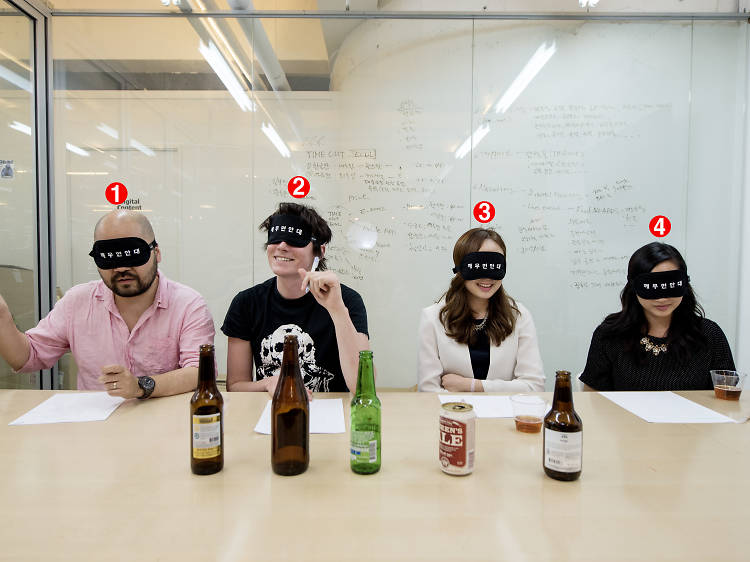 How much could you tell about a beer without looking at the label? Think you have refined tastes to distinguish between domestic, imported and craft beers? We took four average beer drinkers and put them to the challenge.

Kwon O-hyun: I drink maybe 10 liter of beer a week? Too many to count, really. I'm not necessarily an expert, but I think I know well enough.
Iain Whyte: Weekdays, I'll drink whenever there's band practice or something. On weekends, I'll have 2, 3 beers an hour. Stay up for 10, 11 hours. You do the math.
Han Hee-jin: Just a Hoegaarden or two at home, four times a week maybe. I like a lot of the imported beers and I think I'm quite average in beer knowledge.
Jennifer Rogers: I'm with Hee-jin. I'll have a beer about four times a week. My favorites are the Great White or Asahi. I might not know much, but I enjoy it.
Kwon O-hyun: Cass? Miller? I don't know. Definitely never drank this before.
Iain Whyte: Tastes like grandfather piss. Reminds me of something I used to call the "shitty kitty".
Han Hee-jin: Hmm. It seems heavier than a Cass or a Hite. A lager maybe?
Jennifer Rogers: This is very fizzy and tastes like champagne a little bit. Kinda bitter, too.
Show more
The inside scoop on Seoul's best beer bars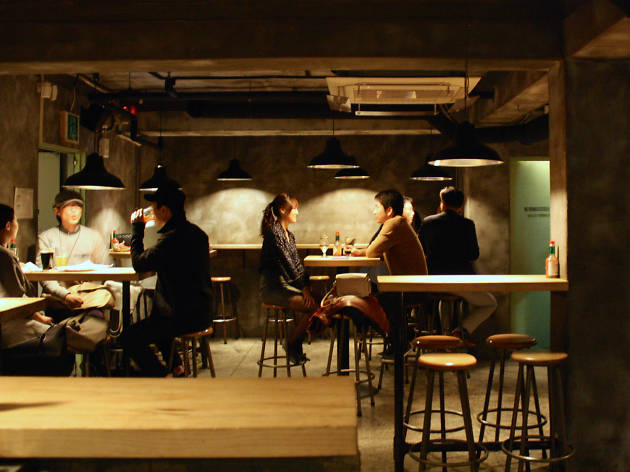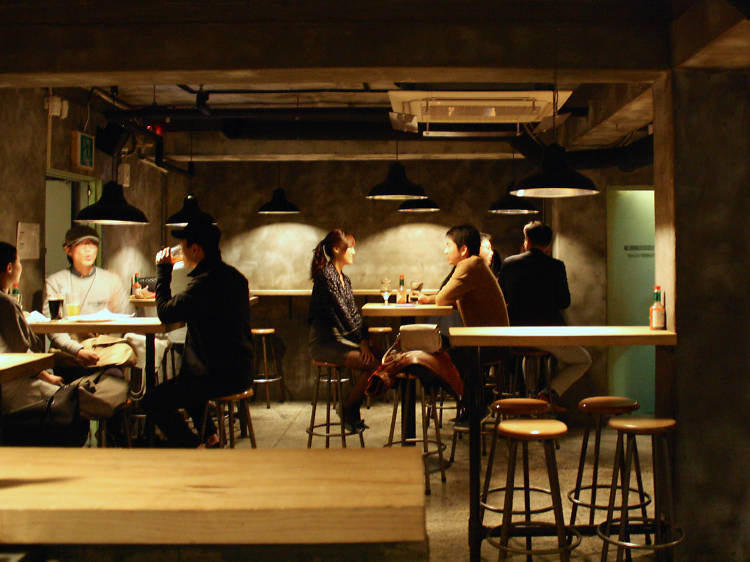 Magpie… It's the original craft beer in Korea for the hip and with it. First opened as a corner side bar in Noksapyeong in 2012, it now has another branch in Hongdae and one in Jeju as well. They also distribute their beer to many sought-after Seoul restaurants.
Behind the bar… We talk to co-owner Erik Moynihan in Noksapyeong. He's from Windsor, Ontario but could easily be mistaken for a lower Manhattan foodie. He and the other founders didn't have a professional background in beer but started homebrewing as a hobby at first. Now, after years of hands-on experience, they also teach classes on tasting and brewing.
House recommendations… While the Magpie Pale Ale and the Porter are the most popular, Erik recommends the more experimental Belgium Golden Strong which tastes like a pale ale but has a high alcohol content. We're fans of the Gose, a German sour beer reminiscent of a grapefruit mimosa. While they have a strong focus on beer, their pizza's just as good. Not too many places in Korea have mastered the Hawaiian, but Magpie has.
The vibe… On summer nights, this place swims with hipsters and artsy types out on the stoop. Inside the lights are dim, but bright enough to catch the graphic posters on the wall featuring Magpie's beers. Ladies, want to meet a bearded man with a dog? Magpie is the place to do it.
Comment box: Lots of beer owners will talk about catering to the tastes of certain demographics. For Magpie, Erik says, "We make beer we want to drink and we just want to grow a community of beer nerds."
244-1, Noksapyeong-daero, Yongsan-gu. Beers from 5,000 won. Upstairs: Tue–Sun 3–10pm. Basement: Tue–Sun 5pm–1am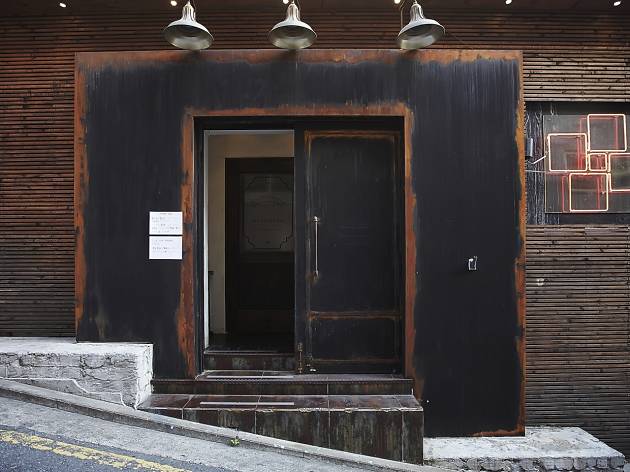 Hopscotch… Even the latest GPS apps can leave you in the lurch when trying to find this speakeasy-style bar. At the Nonhyeon-dong branch, there's no sign outside and the large building itself reveals no trace of the hip bar hidden within. One of the only bars to specialize in single malt whisky and craft beer in Korea and the only bar of its kind in the Gangnam area, it's "hops" for the beer and "scotch" for the whisky.
Behind the bar…. Hopscotch co-owner Bryan Do is so passionate about beer, he left a nine-year career at Microsoft for it. He now also runs operations at Hand and Malt Brewery, which make up most of what's on draft.
House recommendations… Bryan's personal favorite is the Slow IPA. It has low alcohol content, it's not bitter and goes down smooth. Other best sellers include the Belgium Wit and the Mocha Stout. Chef David Cho comes from Beverly Hills and his duck frites and mac n' cheese are two foodie favorites to go with the drinks.
The vibe… Who knew beer could be so upscale? While beers prices hover around 10,000 won, the atmosphere, with its classic interior and dark finish, is an undeniable value-added plus. Go when the weather's good for extra seating space—the bar's a lot more crowded when the weather's bad because a lot of Gangnam beer-lovers don't want to trek up to the Itaewon area. (P.S. For those north of the river, they have an equally fabulous bar in a Gwanghwamun hanok.)
Comment box: The front area of the bar has a plush round couch that looks up at a glass ceiling. Bryan says "Come on a rainy day, sit here with a date, have a whisky and it's a game changer for the relationship."
Nonhyeon-dong branch: 35, Eonju-ro 134-gil, Gangnam-gu. 02-511-0145. Beers from 8,000 won. Mon–Sat 6pm–1am.
Show more