The inside scoop on Seoul's best beer bars
Beer gets personal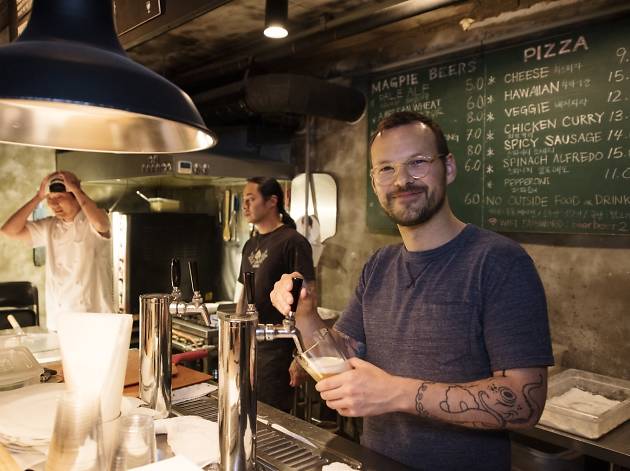 Hipster approved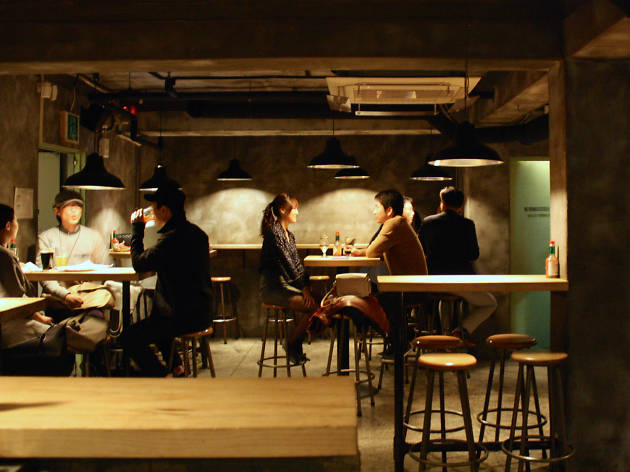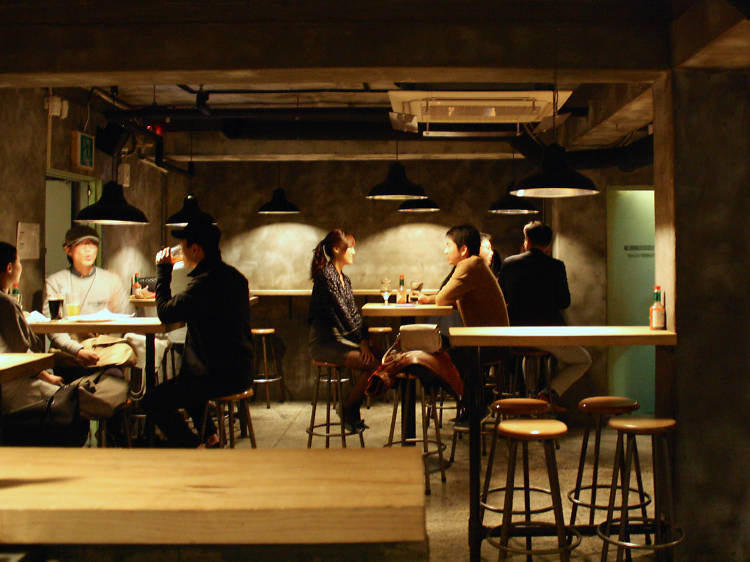 Magpie… It's the original craft beer in Korea for the hip and with it. First opened as a corner side bar in Noksapyeong in 2012, it now has another branch in Hongdae and one in Jeju as well. They also distribute their beer to many sought-after Seoul restaurants.
Behind the bar… We talk to co-owner Erik Moynihan in Noksapyeong. He's from Windsor, Ontario but could easily be mistaken for a lower Manhattan foodie. He and the other founders didn't have a professional background in beer but started homebrewing as a hobby at first. Now, after years of hands-on experience, they also teach classes on tasting and brewing.
House recommendations… While the Magpie Pale Ale and the Porter are the most popular, Erik recommends the more experimental Belgium Golden Strong which tastes like a pale ale but has a high alcohol content. We're fans of the Gose, a German sour beer reminiscent of a grapefruit mimosa. While they have a strong focus on beer, their pizza's just as good. Not too many places in Korea have mastered the Hawaiian, but Magpie has.
The vibe… On summer nights, this place swims with hipsters and artsy types out on the stoop. Inside the lights are dim, but bright enough to catch the graphic posters on the wall featuring Magpie's beers. Ladies, want to meet a bearded man with a dog? Magpie is the place to do it.
Comment box: Lots of beer owners will talk about catering to the tastes of certain demographics. For Magpie, Erik says, "We make beer we want to drink and we just want to grow a community of beer nerds."
244-1, Noksapyeong-daero, Yongsan-gu. Beers from 5,000 won. Upstairs: Tue–Sun 3–10pm. Basement: Tue–Sun 5pm–1am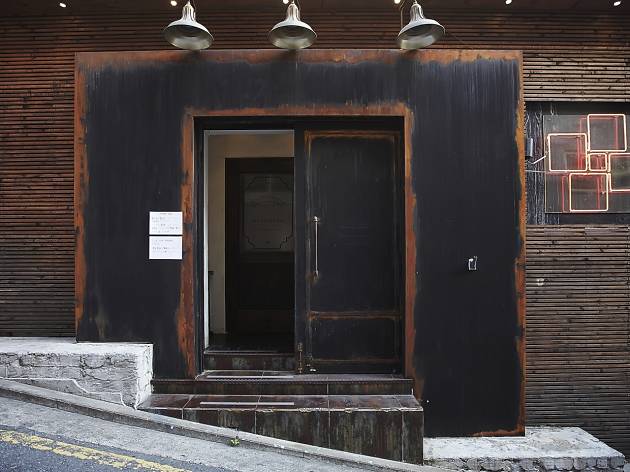 Hopscotch… Even the latest GPS apps can leave you in the lurch when trying to find this speakeasy-style bar. At the Nonhyeon-dong branch, there's no sign outside and the large building itself reveals no trace of the hip bar hidden within. One of the only bars to specialize in single malt whisky and craft beer in Korea and the only bar of its kind in the Gangnam area, it's "hops" for the beer and "scotch" for the whisky.
Behind the bar…. Hopscotch co-owner Bryan Do is so passionate about beer, he left a nine-year career at Microsoft for it. He now also runs operations at Hand and Malt Brewery, which make up most of what's on draft.
House recommendations… Bryan's personal favorite is the Slow IPA. It has low alcohol content, it's not bitter and goes down smooth. Other best sellers include the Belgium Wit and the Mocha Stout. Chef David Cho comes from Beverly Hills and his duck frites and mac n' cheese are two foodie favorites to go with the drinks.
The vibe… Who knew beer could be so upscale? While beers prices hover around 10,000 won, the atmosphere, with its classic interior and dark finish, is an undeniable value-added plus. Go when the weather's good for extra seating space—the bar's a lot more crowded when the weather's bad because a lot of Gangnam beer-lovers don't want to trek up to the Itaewon area. (P.S. For those north of the river, they have an equally fabulous bar in a Gwanghwamun hanok.)
Comment box: The front area of the bar has a plush round couch that looks up at a glass ceiling. Bryan says "Come on a rainy day, sit here with a date, have a whisky and it's a game changer for the relationship."
Nonhyeon-dong branch: 35, Eonju-ro 134-gil, Gangnam-gu. 02-511-0145. Beers from 8,000 won. Mon–Sat 6pm–1am.
Oldies but goodies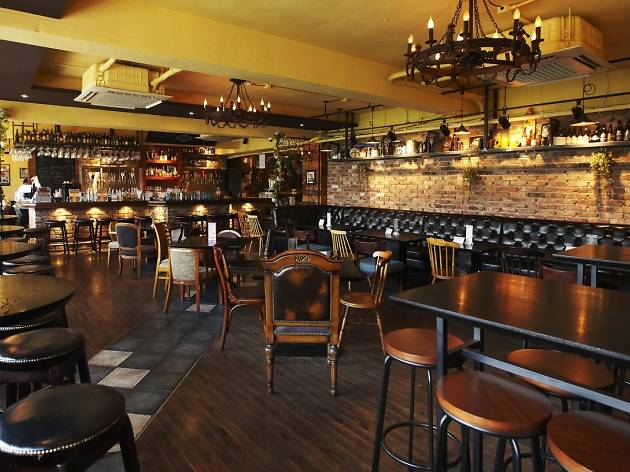 Reilly's Taphouse… Opened in 2013, they boast a reputation as Korea's first all craft beer taphouse. The 28+ beers they have on tap operate on a direct refrigeration system and the bar itself is managed by one of Korea's only beer cicerones.
Behind the bar… If there's anyone to ask for a beer recommendation, it's co-founder Troy Zitzelberger. Being a cicerone means he's a certified expert on tasting and smelling beer, as well as pairing it with food. "It's about matching intensities to intensities," he explains in front of a Jeju IPA and a plate of spicy mango chicken wings, both Reilly's Taphouse hits. He lists a few Korean food-craft beer pairings, too: Samgyeopsal with any roasted brown ale, sweet and sour pork with any IPA, gimbap with any blonde ale.
House recommendations… The most popular beer, the Jeju IPA, is made from the island's famous hallabong citrus and in this case, the bitterness of the IPA is meant to accentuate the spiciness of the wings.
The vibe… The bar's décor is nothing fancy but it's well-lit and spacious, playing mainstream pop music in the background. While no longer officially on the menu, they do still serve their ever popular beer cocktails.
Comment box: Actor turned bartender Troy Zitzelberger can wax on about beer the way most high school chemistry teachers can about the periodic table but says "I like beer because it's not pretentious at all."
About Opened in 2013, they boast a reputation as Korea's first all craft beer taphouse. The 28+ beers they have on tap operate on a direct refrigeration system and the bar itself is managed by one of Korea's only beer cicerones. The vibe The bar's décor is nothing fancy but it's well-lit and spacious, playing mainstream pop music in the background. While no longer officially on the menu, they do still serve their ever popular beer cocktails.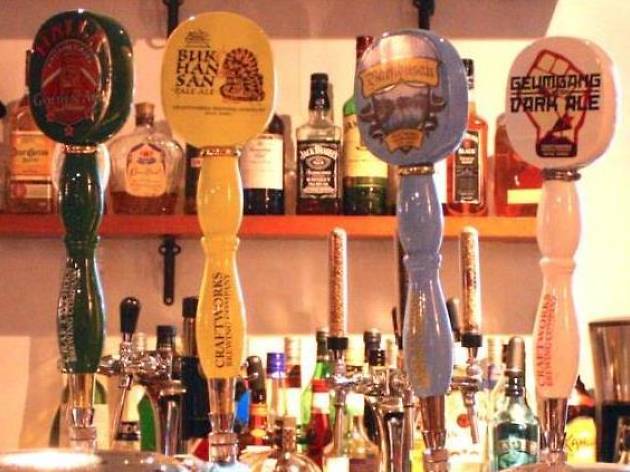 Craftworks… The first in Seoul to specialize in craft beer, Craftworks truly deserves credit for making the scene happen and bringing the community together. After opening in 2010 in Namsan, they now have three other locations in Korea (Itaewon, Euljiro and Pangyo).
Behind the bar… Co-owner Dan Vroon takes us behind the bar at the most recent Itaewon branch and shows us the tap stand he's custom built as well as the long draw system to which it's connected. All of his kegs are full of fresh beers only three to four weeks old. For the uninitiated, Dan has a helpful way of explaining beer time. "Think of beer like milk or bread. Some mass produced lagers have been made months ago because that's cheaper—our beers are fresh."
House recommendations… His life and his beers are intertwined, as many of the beers are named after his beloved mountains. (The Namsan Pure Pilsner? It's the most accessible beer named after Seoul's most accessible mountain.) Our favorite was the Baekdusan Hefeweizen, a less hoppy wheat beer with a soft taste that has notes of sourness and banana.
The vibe… Bright lighting combined with friendly staff makes it more of a home-restaurant with a craft beer twist, than just a bar. Food here doesn't just feel like side dishes. Try two house favorites: the chicken wings or the sidewinders (fries with melted cheddar, beef and tomato bacon jam).
Comment box: Despite Craftworks' immense success, that wasn't necessarily Dan's intention. "All I ever wanted was a nice beer and a place to hang out with my friends."
Friends with beerefits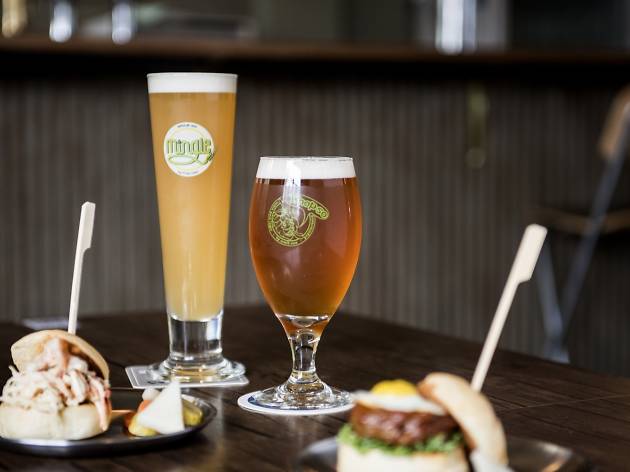 Craft One… Located in Yeonnam-dong, this bar opened last June combining good craft beer with a local flavors. Made by locals, they exemplify the next stage in Korea's beer evolution.
Behind the bar… Bar owner, Ray Chung, seems like the strong, silent type—until you talk to him about beer. He remembers his first craft beer at Alley Kat back in 2005 and just wanting to have more beers like that here in Korea. Get Ray talking and he will suggest a beer he thinks you'd like, even if it's not at their bar.
House recommendations… The most popular beers at the bar are the Mingle and the IHOP. The Mingle's an aromatic American style wheat beer that's soft to taste while the IHOP is a fresh pale lager great for summer. Ray used to run a burger place in Hongdae called the Peppergrill. We personally liked their shrimp and wasabi burger paired with the Mingle. The burgers here do have a Korean twist, but they're not bad.
The vibe… While the bar feels young and vibrant, it's quite devoid of decoration or daintiness. It's not Itaewon and the crowd here has considerably many more Koreans, and more males than females. Trek out here for the Mingle (the beer), but not necessarily to mingle.
Comment: Ask Ray what the best beer is and he's adamant that "there's no one beer for everyone, it's all about the conversation and getting to know the person before you can really say."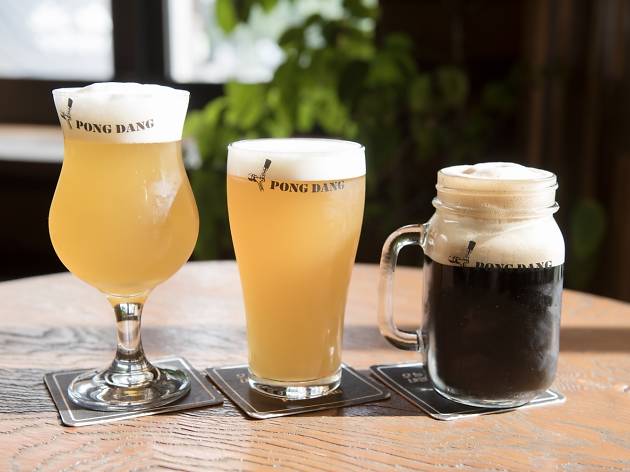 Made in Pongdang... At the Noksapyeong branch of Pongdang, all of the recipes for the beers on the menu were made by the owner himself. Although Pongdang is located in three different areas of Seoul (Noksapyeong, Yongsan and Sinsa), each have a different concept.
Behind the bar... We met owner Lee Seung-yong at the Noksapyeong branch where he talks about how he got into beer in the first place. Of the many bar owners we've met, he is particularly inviting and down to earth. Much like the bar itself, he has a "good neighborhood friend" feeling to him.
House recommendations... Highlighted on the chalkboard menu of the bar are also the two most popular beers, Pongdang's Belgian Blonde Ale and Espresso Stout. The Espresso Stout comes in a mug cup and smells slightly of berries. That's probably because there are actual fruits inside. While more of a drink for the winter, it's also a good caffeine pick me up to start your night if you're in the mood for something creamy.
The vibe... An employee from the Sinsa branch comes in for a drink on his day off. Seung-yong asks, "What are you doing here?" and he answers that he just wants a drink. The feeling is casual and amicable. There's baseball on silently while hits from Jack Johnson and the Backstreet Boys play in the background. Always busy from 8 to 11pm, it's a place where a lot of customers (especially women in their 20s) come to wind down, have a beer and chat.
Comment: Seung-yong says he used to drink more than 20 bottles of average commercial beer daily. With craft beers, it's different and he has "just" four or five beers a day. "I just drank so much, I decided to start a place of my own to save money. The success of the business? Just luck, really."
Mad about beer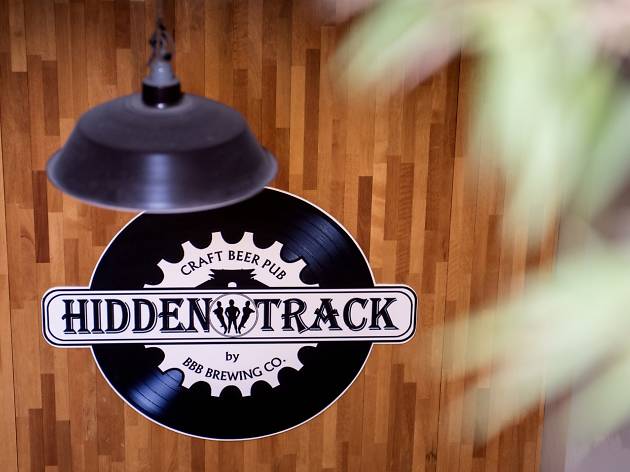 Hidden Track... A craft beer bar hidden in the backstreets of Anam-dong. Why this location? It was just the right size to fit the three brew kettles and five conical beer fermenters. Standing as big tanks just under 10 feet tall, this bar has the advantage of being one of the two bars within Seoul with a brewery on-site (there's one more called Vaneheim in Nowon-gu).
Behind the bar... Lee Hyun worked in an office for almost a decade while keeping beer as a hobby he indulged in with friends. While taking home brewing classes and drinking craft beer, he and two friends decided to open up a place of their own. Today, working alongside the big machines of the bar, he looks nothing short of a longtime beer expert.
House recommendations... Lee smiles when we ask him about the beer list. His personal favorite? With the "perfect balance of malty and hoppy," it's the India Pale Lager (IPL). "Even without having been filtered, it's extremely clear," he boasts. Though not always in season, he hopes to make it a normal run. The American pale ale, Elise, is the most popular beer. Appreciated by beer snobs but also loved by noobs for its milder, more accessible tastes, it's named after the official cheer song of nearby Korea University.
The vibe... Out of all the bars we've been to, this one seems to have the most diverse crowds. From exchange students and professors to moms with their babies, its playlists change with the demographics—rock music on rowdier nights for pre-gaming students and blues for the mellow post-work crowd. There's live music from time to time too.
Comment: Despite the stress of the bar's day-to-day, Hyun says "interacting with the people, playing music for them and knowing they enjoy the beer—all of that feels really good."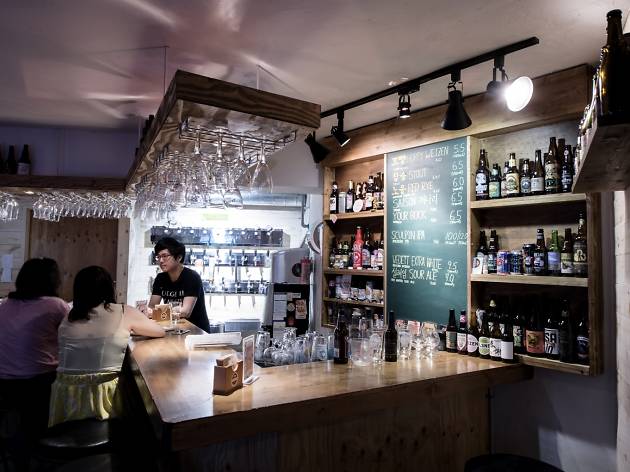 Four Seasons… A self proclaimed bar for craft beer maniacs, this is a bar that doesn't have beer for the mainstream beer lover. Bar owners and fanatics come here for the expertise of the owners.
Behind the bar… Heard about the success of online dating? The same extends to beer communities apparently. The creators of this bar met in an online community called "Beer Forum" and wanted to start a physical space to discuss beers while drinking the best of them. We ask manager Kang Dae-in about the Sriracha Rogue beer that's on the shelf. "Oh that? I got that while traveling Hong Kong," he remarks.
House recommendations… While Dae-in may be out collecting exotic beers on vacation, he's also quite diligent in studying the ones here. Beers change with the seasons. However, one beer that sells consistently well is their American amber ale, Red Eye. Shining with hues of red, this beer's name also plays on the word "rye," from which it is made. Dae-in's also sure to spotlight their collection of over ten sour beers. "It's a trend in the beer community these days and you can hardly get them at most bars, but here there's nine bottled and one on tap."
The vibe… Green Day music flows from near the cash register and into the dimly lit space of the half-basement bar filled mostly with Koreans. In contrast to the bar's proximity to Itaewon, they don't necessarily cater to the foreign community. Some of this is exemplified in the flaky, buttery pastry crust of the jalapeño pizza… It's a bar for beer maniacs, not for those seeking ambience or food per se.
Comment: Dae-in says when deciding upon their menu, they take into consideration the uniqueness of Korea's climate as well. "Brisk and beautiful for the spring, easy to drink and light for the summer and dark and creamy for the winter. A beer for all the seasons Korea has."