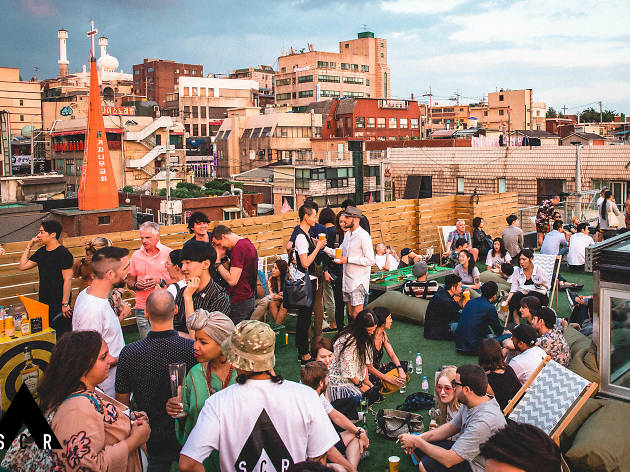 Top 21 outdoor bars in Seoul
Here're the 22 best outdoor bars in Seoul
There's nothing better than drinking out in the open, on a rooftop or outdoors. Here are the best spots in Seoul for you to enjoy the summer night breeze under the starry sky.
Rooftop bars
Once upon a time, there was a culture space called Platoon Kunsthalle. If you're still mourning the demise of the former creative hub, you'll be happy to hear that the Platoon team is back, this time in the heart of Itaewon. If the opening party was an indicator of things to come, the future looks bright—a completely packed out venue with a healthy mix of foreigners and Koreans. Platoon Sonnendeck just might be the hippest place in Seoul this summer. The venue, with floor-to-ceiling glass walls, a motorized roof and generous grassy areas— albeit artificial—lives up to its promise. This will be a space to properly chill out in the signature beanbags, sipping on cocktails and beer. The daytime vibe on the roof is relaxed and calm, but on weekend evenings people get into a dancing mood thanks to electronic music by resident DJ Tobias and guests. Diverse program formats like the Donnerstags Bar, which takes place every Thursday; parties; and the odd exhibition keep it interesting and worth visiting any time. And in case you don't feel like partying all the time, you can apply to rent one of their co-working desks that come with perks like free coffee and juices and are available weekdays.
The 100 Burger with 100% Korean beef, the Real BBQ Cubano Panini, Nutella Bacon and more. This hot place in Huam-dong grabbed people's attention as soon as it opened. They are not only popular for their dishes with high calorie counts but also for their rooftop with an amazingly beautiful view of Seoul. Unfortunately, you can no longer drink beer with this view as your side dish. Due to regulatory issues they aren't allowed to operate on the rooftop. But you can still enjoy your food and drinks inside the bar and check out the rooftop later for the view. At least they will be keeping it open.
Show more
Bars with Terrace
Even after numerous visits, I still get lost in the alleys of Hyehwadong, where the German House is located. Although its name suggests something else, the bar is located in a renovated hanok and sells various, unfamiliar beers from around the world. And they have explanations about different beers on the menu. For example, the Lindemans Pecheresse has peach nectar added to it and the Tripel Karmeliet has a soft yet deep taste. What sets the bar apart from others is that there are a lot of people who come here to drink alone. They enjoy their time sitting in the quiet courtyard under the sun, working on their laptops or listening to music while nursing their beers. Their Port wine is just as great as their beers so imbibe that as well.
This wine bar opened in Ikseondong, one of the hippest areas in Seoul these days. It's actually more of a pocha (tent street bar) than a regular bar and the owner says he wanted to create a space where you can drink affordable, quality wine. What makes this bar more interesting is the variety of people frequenting it. Thanks to all the gay bars in the vicinity that have been around before the neighborhood started to get popular, stylish gays pay a visit to have wine and chat. As there are a number of guesthouses and hotels in the area, laid back foreign tourists are spotted quite often as well. It's like a street café in the alleys of Barcelona or Bangkok. If you want to drink wine in a mysterious atmosphere in the center of Seoul, head here ASAP!
Show more
Bars with garden
The alley next to Hannam-dong's Harley Davidson dealer leads you to the black gate of a two-story residential building. There's no need to be skeptical of whether it's someone's home or a restaurant because as you get closer, you'll know what it is by the beautiful outdoor area. Its only been open about two weeks and it offers up a barbecue buffet and alcohol. Top blade steak, pork neck steak and spicy pork ribs are just some of the meats you can nosh on as part of their all-you-can-eat buffet. The abundance of nature will make it seem like you're not in Seoul.
When passing through one of the tight alleys somewhere in Itaewon, you might find yourself delighted by a three-story building with a neatly decorated garden. It's like someone transplanted a little cottage from the French countryside and set it down here. Even the garçon and the owner are Frenchmen. Although the food didn't meet expectations when it first opened, this time around the Lamb Meatball with Ragu Sauce and Escargots weren't all that bad. With a bottles of French wine starting at 50,000 won, it's worth the visit.
Best Gamaek places in Seoul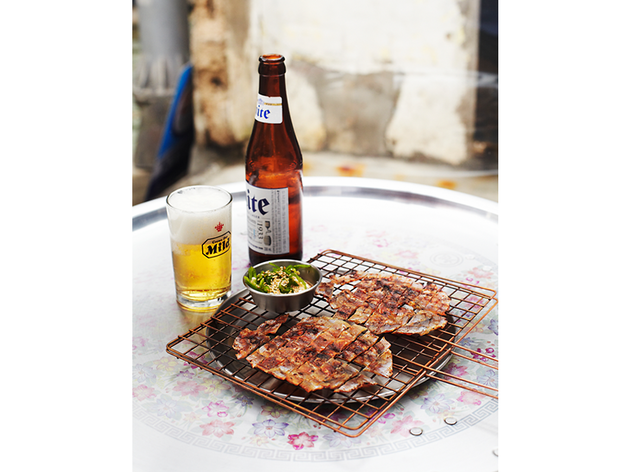 It's a supermarket, but it's also a gamaek place—a combo of the words for store (gagae) and beer (maekju)— where its owner grills meoktae (dried pollack) and dried filefish fillet on charcoal. They settled here in 2015, when Ikseon-dong was not as crowded as it is now, and they only sell domestic bottled beer. You'll definitely fall in love with the atmosphere of this renovated hanok.
neighborhood, but the gamaek joints in Jeonju inspired it. They sell dried pollack or calamari along with drinks, and the walls covered in messages
scribbled by customers give you an idea of how inspirational this place can get.
29-1, Yeonhui-ro, Mapo-gu.
This is a popular spot at Sungshin Women's University. Tables are set up so you can consume the dried snacks and drinks you buy here. It may sound like a convenience store, but the owner sells some side dishes, like crispy grilled meoktae, tteokbokki, sundae and ramen, which he makes himself.
16, Bomun-ro 30ga-gil, Seongbuk-gu.
Café terraces to enjoy a glass of beer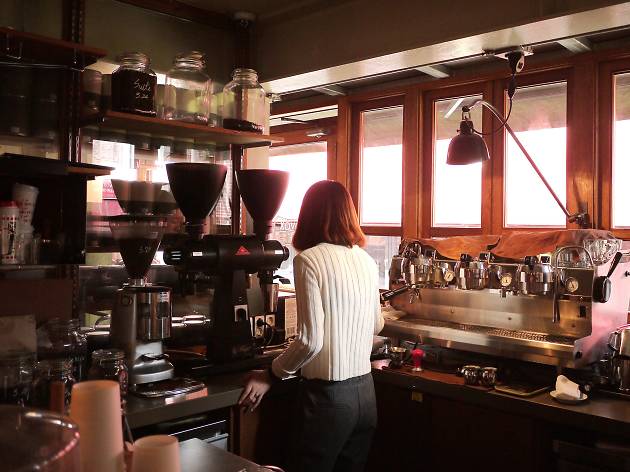 With an interior boasting an ambience that's both vintage and contemporary, this café is famous for roasting their own coffee beans, resulting in some pretty good coffee. For beer though, they only sell pale ale. Pale ale 6,500 won.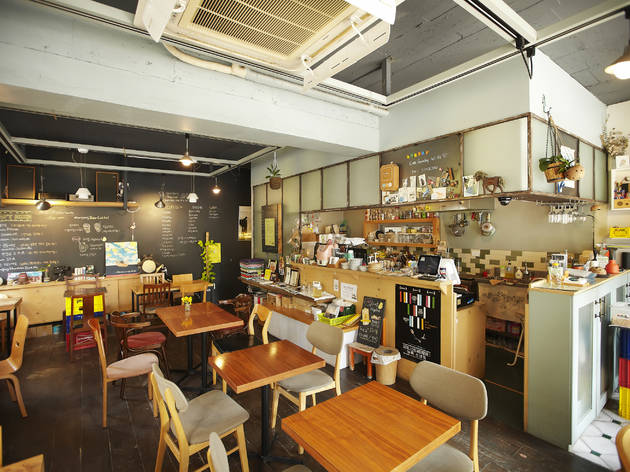 As the sun sets, this café and its outdoor area tranform into a scene filled with people sipping and drinking their wine or beer. They serve a variety of craft beers to choose from.
Namsan pilsner 7,000 won.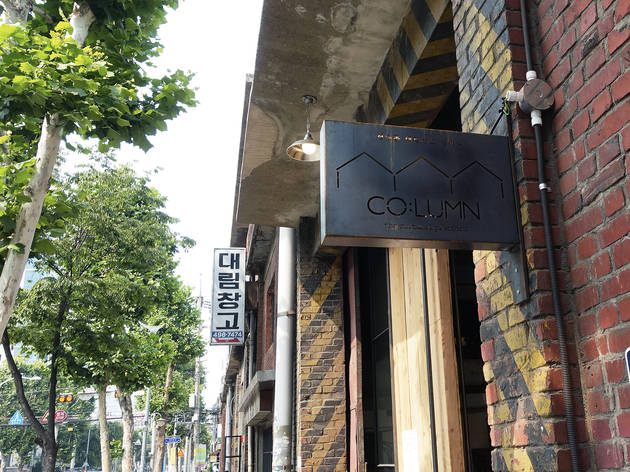 A hot-spot in Seongsudong, Daelim Changgo gets way too crowded on weekends. But it's the perfect place for a leisurely daytime beer during the week. Taedonggang beer 9,000 won.
Adding an or/er at the end of a verb can change the word into a noun. That's where the name or.er originated. The free and open atmosphere is ideal or enjoying some beer with a friend during the day.
18, Yeonmujang-gil, Seongdonggu.
facebook.com/cafeorer. Blanche
de Namur 11,000 won.
Famous convenience stores for drinking beer
Located across from Seongji Motel in Itaewon, they have tables, seats and potted plants outside. The best thing is the tent that keeps you dry in the rain. This is the most popular place for drinking in Gyeongridan.
12, Hoenamu-ro 26-gil, Yongsan-gu.
Located on the hill between Itaewon and Noksapyeong, this place has a small terrace where you can drink while people watching. They only have plastic stools behind a wooden fence, but it's comfortable enough.
55, Noksapyeong-daero 40-gil,Yongsan-gu.
On one side of this convenience store located inside Seoul Forest are a wooden deck and a terrace. What makes it even better is the view of grass, a pond and a fountain. 'Tis a great place to do some daytime drinking.
Insect Botanical Garden, Seoul Forest Park. 9, Wangsimni-ro 11-gil, Seongdong-gu.
This one is on the way to Hapjeong Station from Rolling Hall in Hongdae. A lot of people watch sports on TV while drinking beer in front of this convenience store.
5, Dongmak-ro 5-gil, Mapo-gu.
Everyone who goes on a picnic to Boramae Park drops by this convenience store to have a snack at the tables in front of the store or drink beer at one of the wooden tables in the park.
33, Yeouidaebang-ro 20-gil, Dongjak-gu.