Tonkatsu Baekban Shinmun-ro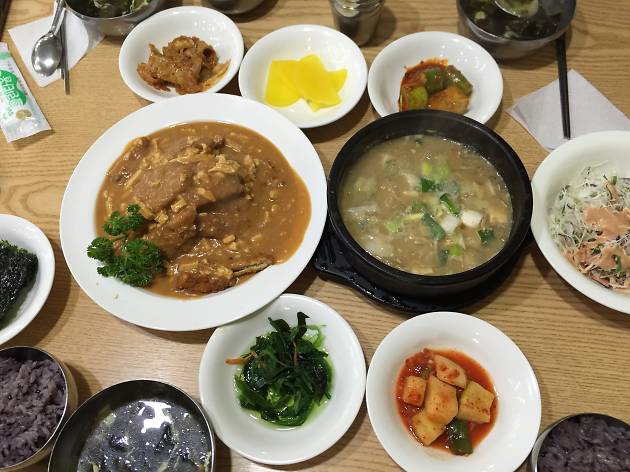 This restaurant mainly caters to office workers around the area. The waiting line during lunch time can, accordingly, get extremely long on weekdays. It's one of those 'baekban' restaurants offering a meal consisted with rice, soup and side dishes, but its real charm comes from its unlimited tonkatsu deals. In addition to the crispy goodness, you'll get 3 side dishes: Sautéd spinach, eokmuk (fish cakes) and radish kimchi. Then the dwenjangjigae (bean paste soup) along with a sauce-covered tonkatsu will be delivered.
You will be first given 2 pieces of tonkatsu, which is often enough to fill your stomach, but you are always welcomed to order more if you need. If you ever visit the neighboring art museums, Tonkatsu Baekban Shinmun-ro's decent side dishes along with unlimited tonkatsu deal will certainly make for a sweet deal, especially if you're with a child. The price is set at 11,000 won per person, and for children it is offered at 6,000 won.
Venue name:
Tonkatsu Baekban Shinmun-ro
Contact:
Address:
신문로2가 44
종로구
서울


Opening hours:
11:00~20:30, 일요일 휴무
Price:
돈까스 백반 정식 1만1000원