Joy in the suffering, Sports Climbing
"The Climb" better than Miley Cyrus'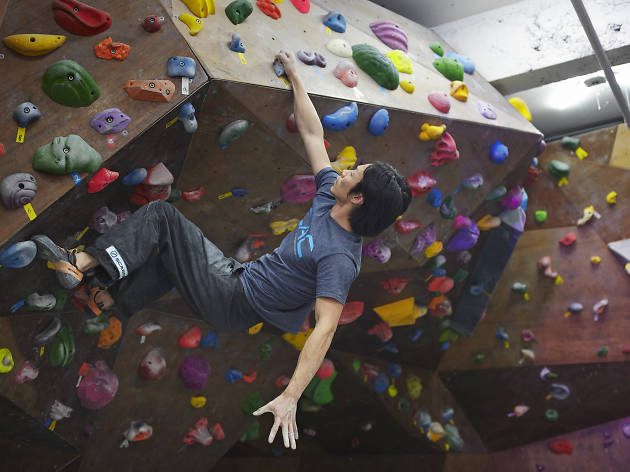 Great for Active and energetic people, those who hate repetitive motions.
Not great for People with back problems, as falls can strain the back.
Indoor rock climbing is more commonly known as "sports climbing" in Korea. As soon as you enter a sports climbing center, you'll see artificial structures with colorful holds (a place to temporarily cling, grip or stand in the process of climbing) scattered across the walls. These walls were first made by those who wanted to enjoy rock climbing without being restricted by the weather or for training purposes, but now it's become an independent sport for everyone to enjoy. There are three styles of climbing. The first one is "lead climbing," where you basically see who can go the highest. Then, there's "bouldering," where you climb a 3-5 meter artificial wall largely without equipment. Lastly, there's "speed climbing," which is pretty self-explanatory. First timers would imagine that lead climbing, where you get to use ropes and other equipment might be easier than any other style. But in fact, bouldering, which uses very basic equipment, is best suited for newbies. It's also one of the most popular styles in most sports climbing centers. In the past, people would use these facilities to train for actual outdoor rock climbing, but these days, it's being utilized as a dynamic workout for urban dwellers. Once you reach the top, you get a sense of achievement and you also get to use a lot of muscles you would normally never use in your usual workout routine. It's already very popular all around North America, Europe and Japan. Although you might not get the same exhilaration as you would from outdoor climbing, you can get a taste of it through sports climbing!
Sports climbing, challenge accepted!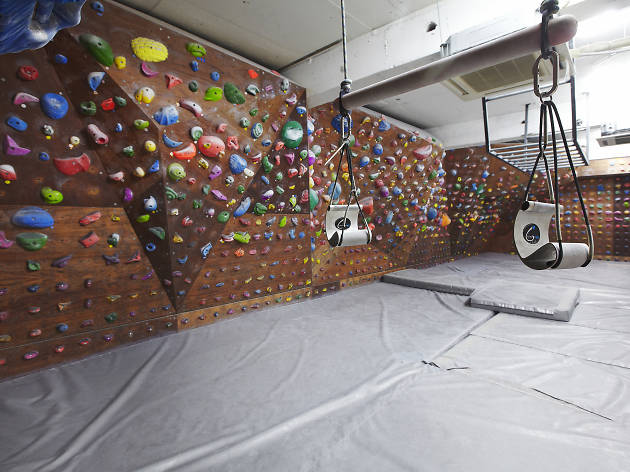 The Ja's Climbing Gym is an indoor climbing gym with an artificial wall that is 3.8 meters high. The best of rock climbers in Korea, Kim Ja-ha, Kim Ja-bi and Kim Ja-in (if the "Ja" in all three names didn't give it away, they are siblings), opened this gym on Garosugil in 2013. Kim Ja-in finished the 2015 season as the number one climber in the world for lead climbing, bouldering and speed climbing. Kim Ja-ha is the coach and Ja-bi represents Korea as a climber at international competitions and is also a trainer at The Ja's. There's no room for boredom at The Ja's, especially when you are surrounded by other young people and hear hip-hop flowing out of the speakers. Once every two months, they change the bouldering course, and they have a competition (or more like a party) amongst all the gym members. The Ja's is currently giving one-day rock climbing lessons. It's 40,000 won for five people, which makes it less than 10,000 won per person. You can also opt to take a lesson on your own.
This is how the one-day lesson goes
When you are climbing, you support your body weight with your hands and feet. The very first thing you do is follow the trainer's instructions and stretch out your muscles.
You need to wear climbing shoes that are almost a size smaller for your feet. Because you are holding your body up with your toes gripping onto the holds on the wall, the tight shoes help you focus your strength at the tips of your toes.
You learn to master the basic stance for climbing, which is the three-point position. You make a triangle with your hands and feet as you balance yourself. Practice by moving up, down, right and left in this basic stance. Don't forget to put chalk on your hands to prevent from slipping.
Show more
Equipment & Price
Equipment
Climbing shoes 100,000 won (you can rent for free for a one-day lesson), chalk bag 45,000 won, chalk 10,000 won, climbing tape 8,000 won.
Price for the first month
Basic lesson fee 130,000 won + one month membership 130,000 won + equipment 170,000 won = 400,000 won (estimate)
From personal experience….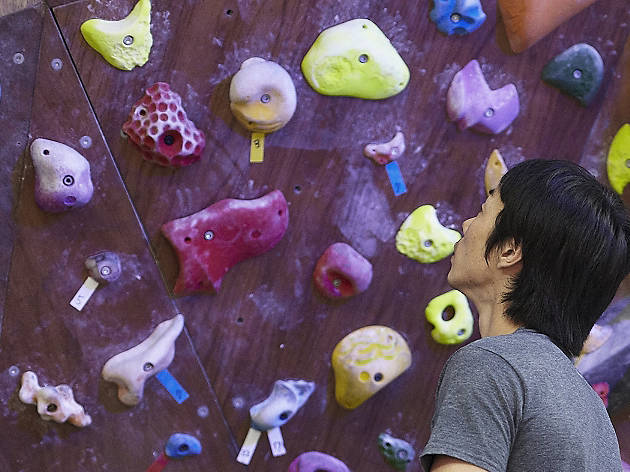 "I don't think I can do it!" That was probably what I said the most as I learned how to climb. Honestly, the only workout I usually get is the walk from the bus stop to my house after work. Mastering the three-point position was not bad at all. But I really struggled with the course with 14 holds. I couldn't get past holds #4 and #5, and I would fall to the ground. Kim Ja-ha told me this was the easiest course in the gym and continued to encourage and assure me that I could do it. Unfortunately, my shaking hands and arms could no longer sustain my body weight. I tried to grip and hold on with all my might, but when I glanced over at the clock, I couldn't even stay on one hold for five minutes. It actually felt like more than 30 minutes! I looked up a muscle that has never felt sore until this day, and I found that it was the brachioradialis (the forearm muscle). I couldn't complete the one-day session, but it was enough to experience the fun of sports climbing. It's a good place for you to get your mind off other things and concentrate only on climbing; not to mention you will feel your muscles burn from the workout. That's why I said, "I'll be back after I get stronger!" as I left The Ja's. The New Year is when you make resolutions and challenge yourself to do something new. It's the perfect time to head to a gym. I recommend you try sports climbing for an intense workout. I know I'm definitely going back.
A question for owner Kim Ja-ha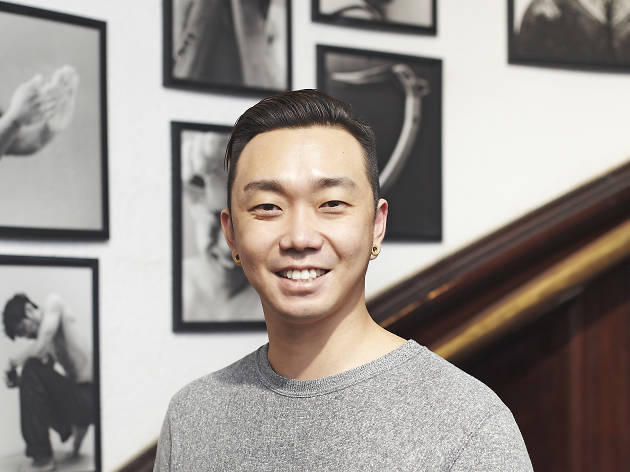 Does sports climbing help shape your body?
If weight training focuses on building muscle, climbing emphasizes how to climb well. When you look at people who are good at climbing, they're not big and bulky, but they have a lot of smaller muscles that are well defined. You don't pull yourself up with your arm strength, but push your body with your feet. In order to move along a slanted wall, you need to keep your feet pressed up against it. That means you need core muscles, essentially meaning a full body workout. Many women hate getting bulky, but since climbing helps tone the smaller muscles and not the big ones, it's better for if you really want to be toned.
Another indoor climbing gym
Jo Gyu-bok, who is a professional rock climber who has been climbing since the early '90s, runs this place. He'll also train you for outdoor climbing.
This is the biggest indoor climbing facility you will find in Korea. You have courses for bouldering, lead climbing and speed climbing. Plus, it's equipped with a coffee shop and playroom for kids.