Seoul after dark: Battle of the styles
How are you going to spend your precious summer nights?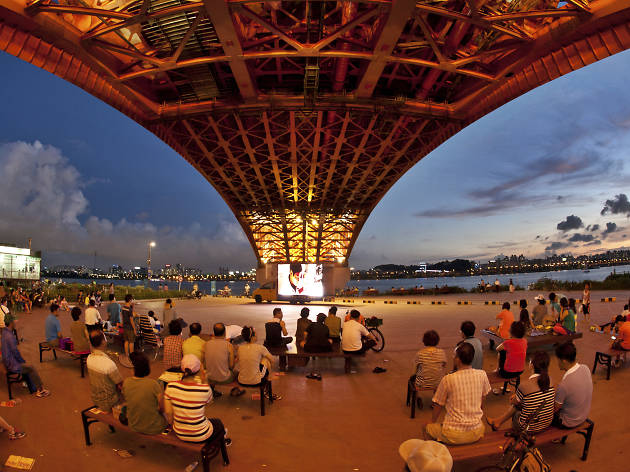 Ajussis vs. clubbers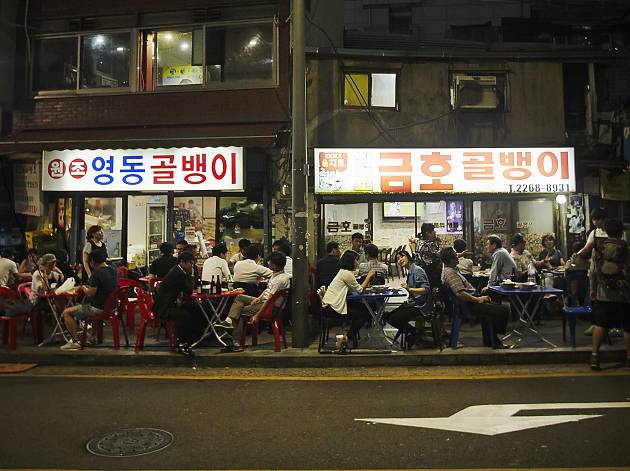 Things to do, Late openings
Oftentimes in Seoul, life can mean long, stressful hours at the office, so suffocating that the last thing you'd wanna do is rush around and move your body trying to meet new people. While this affliction is most common amongst office worker ajussis, it's also felt strong by the city's millennials. Where do you go after work if you just want to be out, talk and relax? Euljiro`s Golbaengi Muchim Alley is the representative haven for working class ajussis uniformed in collared, sleeved shirts and slacks to become grown-up boys for a while. Though the delicacy of choice is golbaengi (a sea shell variation known as "whelk" in English), people mostly come here for the playground of plastic furniture that's set up outside the restaurants. Cheap beer and soju from green bottles are the drinks du jour and there's a certain aesthetic to the swirling cigarette curls as the lights dim. Replace golbaengi with slices of meat and Jongno 3-ga's Korean Barbecue Alley exists in the same fashion. Pressed tightly between the other restaurants, Jeju Abang is one place that's particularly talked about for its various cuts of pork from the island. Save a little room for the kimchi fried rice after and you won't regret it. As good as the food is, a trend amongst Seoulites these days is to aim for no pretenses at all by drinking outside convenience stores. Yanghwa-ro 6-gil in Hapjeong-dong has a CU and a 7-11 that face each other diagonally within a single block. The CU has a television out front an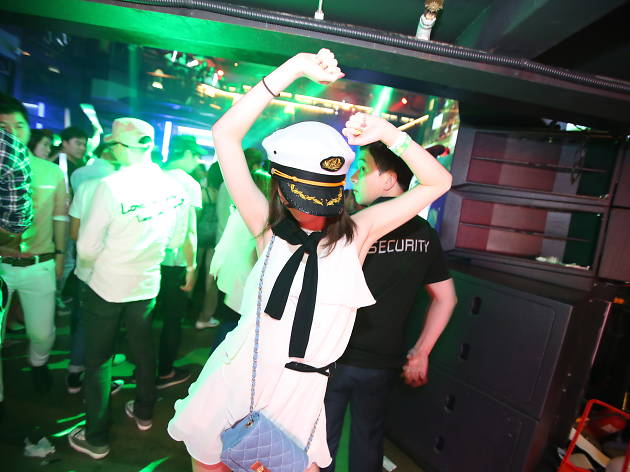 Things to do, Late openings
Feeling hot and bothered as summer comes to a close? Seoul's the perfect place to dance away your frustrations. Beating out Berlin's Berghain, Club Octagon in Gangnam is listed as number six on DJ Mag's list of Top 100 Clubs in 2015. Bringing in big names like Manufactured Superstars (Aug 8) and Andrew Rayel (Aug 14) all summer long, don't let the 30,000 won entrance fee and expensive cocktails stop ya. Pregame at the convenience store up the street and go before 11pm for the discounted price of 10,000 won. Rumor has it that Ellui is where Seoul's hottest people hang out (though ironically, not much mingling happens here) and The A has the most elite VIP area. South of the river, I.D. checking is strict and the dress code's stricter. No shorts for men, no sandals, no slippers and ladies must have backs on even heels. To stay closer to the bars, head to Itaewon to go all rounds in one hood. There's less pretense about what to wear and you're not bound to one club for the night. Cakeshop still reigns but since it's blown up, weekends are packed and crowds are younger. The evolution means it's better for mingling, but not necessarily everyone there is a music-head anymore. Want alternatives? Head over to Cakeshop's younger brother Pistil for mellower times with chill beats and great food (Thursday's free) or to B1 Lounge Club if bumpin' and grindin' is on your mind. Open every night of the week, B1's the go to place for post-hweshik night fever. Let's not leave Hongdae out of th
Singles vs. couples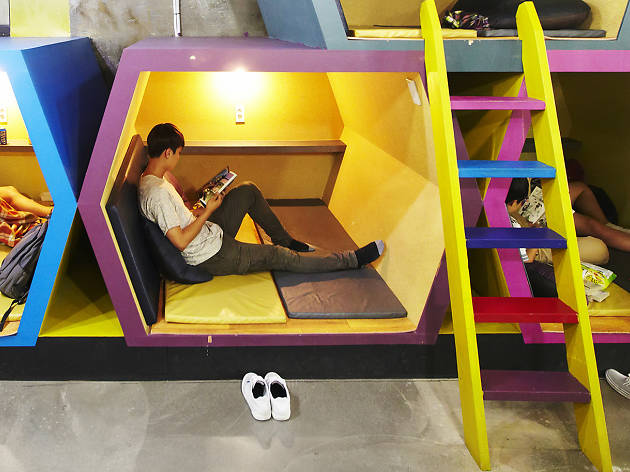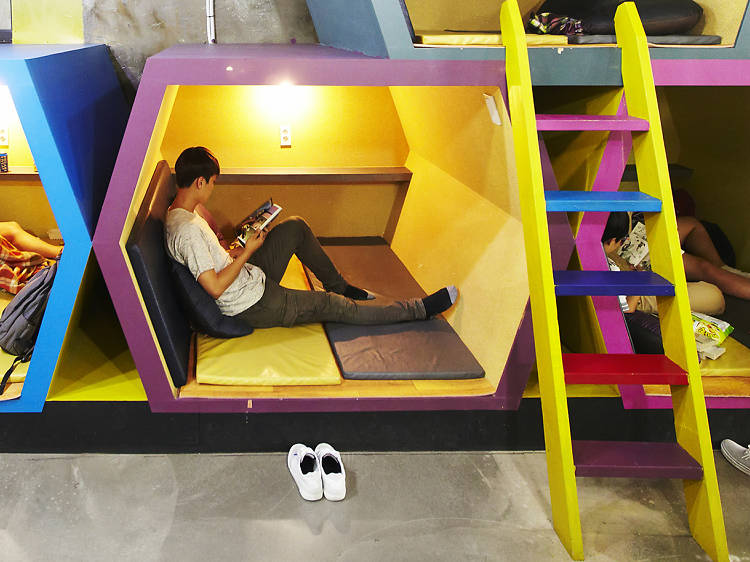 Summer is the time for singles to own it. No having to hold hands when it's sticky out. No having to check in with anyone. Do what you want whenever you want. One of Seoul's long standing havens for solos is the manhwa-bang (comic book room). We recommend Comic Café Hue, a library fully packed with everything from the comic classic Slam Dunk, to popular webtoons like Misaeng and Ikki, and the Marvel series (what great news to those lonely ones with passion for cartoons!). Advance warning about the lack of English reading, but hey, maybe it'd be a good way to study Korean? Think about yourself, reflect on life and all that existentialist goodness. Go before 2pm or after 8pm if you want to guarantee yourself a spot as Hue seems like the it place. FYI, the oh-so-comfy body pillows are around for your cuddling needs (and don't complain when you don't call). There is absolutely no shame in getting a little snooze here, as you only need to pay 13,000 won for a night with the pillow bae (11pm–7am). Want to be lost in your own thoughts? Lego café Get&Show is the ultimate destination for the true Lego lovers (27, Dongmak-ro 3-gil, Mapo-gu, 070-4763-9148) who want to focus on their own creations for a while. Head over to Gangnam if you get hungry. Omae in Gangnam has individual bar seats with a single-serve table grill for your fun fledged solitary gourmet eats.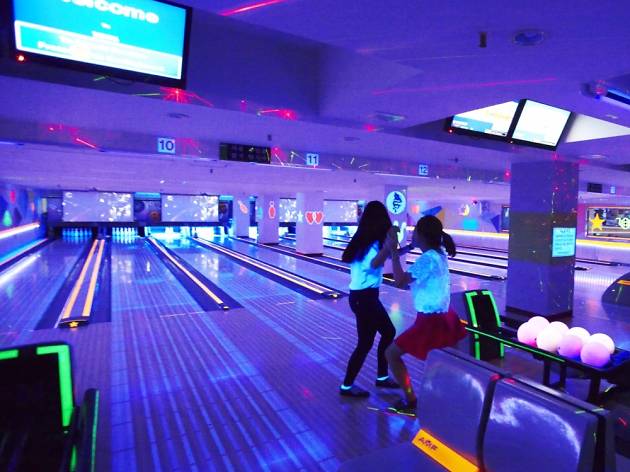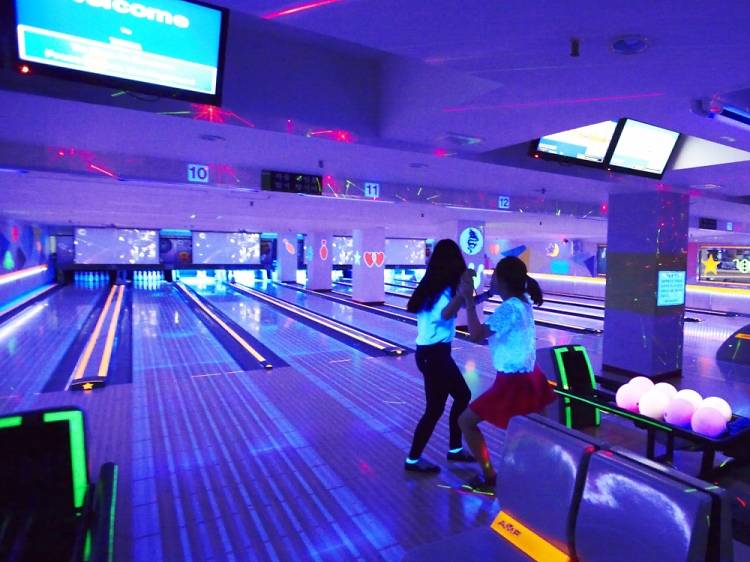 Rumor has it that you get close to each other when you sweat with each other. But is getting drenched and looking gross in front of your significant other really worth it in this humid Seoul weather? A bowling alley is a great alternative for you to get active without dripping buckets. Yes, yes, it's a bit like an American high school date from the '50s but go ahead, be guiltlessly cliché about the whole thing and it'll be even more fun. Stick two straws in that gigantic coke, reach for the bowling ball and see who can strike out more often. Regular bowling not good enough for ya. We've got a place where you can do it in the dark. Taehwa Bowling Alley in Hongdae's all decked out with neon lights and glow-in the-dark pins. The place is also equipped with the state-of-the-art sound system and a decent playlist to add music to those awkward but cute silences. Even if you can't play, it's a win-win game. Scary movies only get you to cuddle, so how about some food with that fear? At Noneun Zombie, the waiters are literally zombies. Some of the most popular choices on the menu include Bloody Chicken and Zombie soju, a shot of soju cocktail with a teeth-shaped jelly in it.
More to explore