Take your companion animal along with you this time, don't leave them at home.
There are a plenty of places to visit with your animal friends in Seoul (including bars)!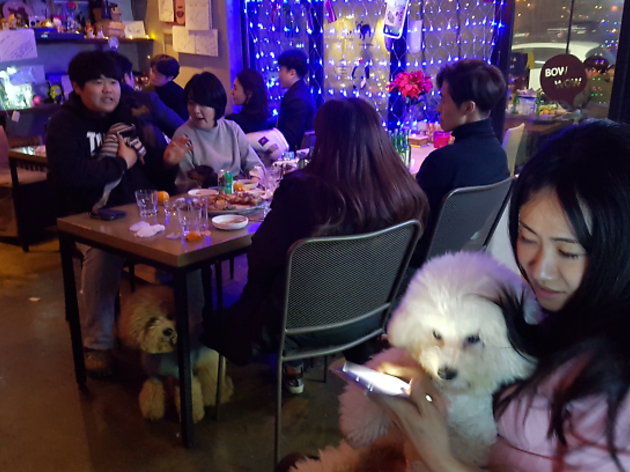 With the recent release of The Secret Life of Pets, we might imagine that our pets left at home would go on wondrous adventures with neighboring pets. But we all know that's not the case. Behind closed doors, they tirelessly wait for their owner's return from work or a day out with friends, purely excited by the thought of reuniting with their loving owners. Knowing that, we feel guilty leaving them home alone, especially when we're going out to have fun ourselves. Well, Time Out has put together a list of actually decent places you can go with your pets. There are a few things to know beforehand, though: there are 3 different categories of what we can call 'pet cafés. They include cafés that have pets running around inside the venue, cafés that allow pets, and cafés dedicated to pets. If you're thinking of treating your pet, where you want to go are the cafés that are dedicated to pets. They have all the facilities and equipment for pets available inside and all you have to do is pay the cover (which is likely to include a drink) and just bring your pets to spoil them for a day. Cafés that have pets are places you can go to play with pets, especially if you don't own one already. And finally, there are cafés that allow pets. For these, there 2 types: one that allows you to bring pets but keep them leashed or in an enclosed area and the other that allows you to bring your pets and let them free within the whole vicinity of the café, bar or restaurant. Time Out introduces pet cafés and cafés that allow pets this time around. Both owner and pet will be able to comfortably have a nice day out at these places. You won't have to deal with the constant worry of someone being allergic to your pet, or bothering anyone else because of your pets' presence. Nonetheless, there are always some manners you have to keep. Simply, clean up after your pets or put some diapers on them if you're not too confident about your pet's toilet habits. Also, your pets must be fully vaccinated, and of course, don't touch other people's pet's unless they are okay with it. These might be common sense to a lot of us, but it's always good to remind ourselves once in a while.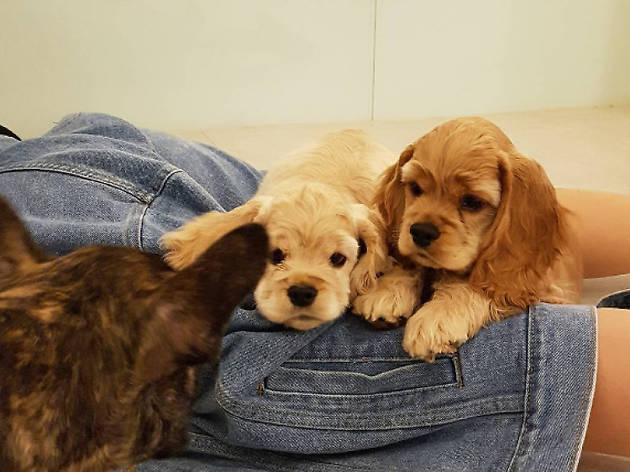 If you've been thinking of taking your pet out on a nice little date, don't just end it with a short stroll around your neighborhood – go all out and take them to some of the pet cafés around town. Here are a selection of nice pet cafés in Seoul, each offering unique experience for both you and your pet. You can swim with them, get them a spa treatment, and even feed them pizza.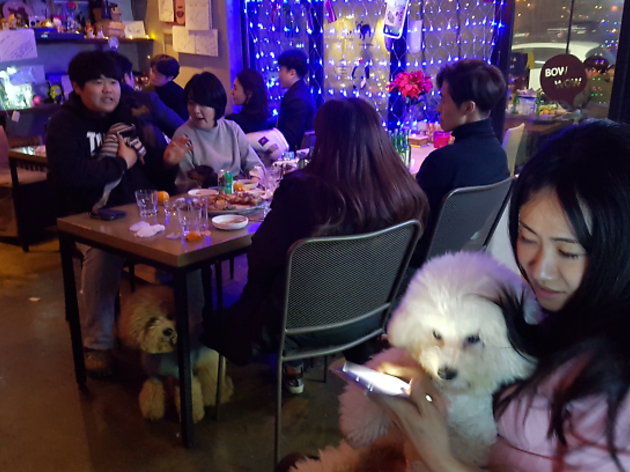 What do you do when you want to party and don't want to leave your companion animal at home? Well, next time you plan on grabbing a few drinks with your buddies, ask them to meet at one of these places in Seoul and take your furry friend with you!